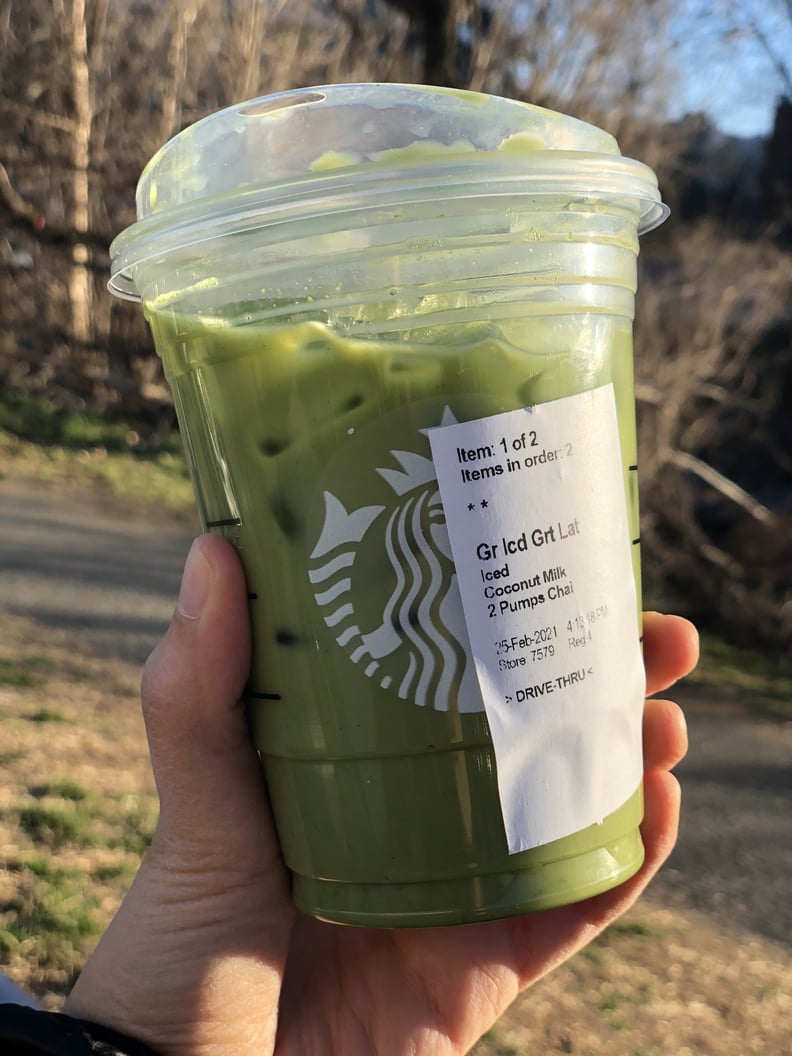 POPSUGAR Photography | Karenna Meredith
POPSUGAR Photography | Karenna Meredith
Just when I thought I'd broken my bond with Starbucks, something pulls me back in. I pretty much curbed my tea habit during the pandemic, opting for sparkling water over my go-to iced chai on slow afternoons. I can't tell you the last time I visited a coffee shop (shout-out to social distancing), but after seeing a recent matcha trend go viral on TikTok, I decided I needed to get into gear and find a Starbucks drive-through location. My order? An iced matcha latte with two pumps of chai.
The iced matcha order heard round TikTok can be traced back to @swanmuse (aka Robin), who called the latte the "best drink in the world" and vowed it tastes "like the moon herself." Is anyone's palate really prepared for that kind of wonder? As it turns out, yes. Several creators vouched for Robin's recommendation, including Lizzo! A similar drink has actually been quietly chilling on the Starbucks secret menu for ages, under the moniker Cha Cha Latte — I might be late to the party but thrilled to be here all the same.
The internet didn't lead me astray this time, folks. I can't say for certain whether there's anything lunar about the drink, but as a firm fan of both matcha and chai, I would absolutely order it again. The matcha flavor is faint, definitely leaning more heavily toward chai with that slight green tea earthy aftertaste. Full disclosure: I did ask for my drink to be made with coconut milk to spare my lactose-intolerant stomach. I think it'd be amazing with oat milk, too, whenever Starbucks makes that option available. A few commenters also advised to add some sort of sweet foam to the order, whether that's vanilla or pistachio, but I think the drink is plenty sweet enough as is. If you're looking for something light and refreshing to add to your spring drink selection, consider giving TikTok's concoction a try.