How to Make Starbucks's Mango Dragonfruit Refresher at Home
In the Mood For a Starbucks Dragonfruit Refresher? This At-Home Recipe Only Has 4 Ingredients
If you're feeling the heat, grab your favorite reusable Starbucks cup and prepare to cool down with this copycat Starbucks Mango Dragonfruit Refresher recipe. The sweet drink can be re-created in minutes and only calls for four ingredients: watermelon iced tea, pink lemonade, dried dragonfruit chips, and honey. So, yep, I'll be serving this over a grande cup of ice and enjoying every sip without even leaving the house.
To tweak the recipe to your liking, you can even swap the honey for a sweetener of choice to make the drink vegan-friendly or add a splash of vodka for some extra summer fun. Keep reading to find out exactly how to make this refreshing drink for yourself at home all summer long.
Copycat Starbucks Dragonfruit Refresher TikTok Recipe
TikTok user My Nguyen, @myhealthydish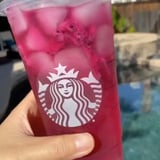 Ingredients
1/2 cup dried dragonfruit chips
1 packet watermelon iced tea
1 cup pink lemonade
1 tablespoon honey
Water
Directions
Rehydrate 1/2 cup dried dragonfruit chips in an inch of warm water.
Soak 1 packet watermelon iced tea in 1 cup room-temperature water.
In a sealable cup, add 1 cup pink lemonade to the watermelon iced tea.
Pour in the rehydrated dragonfruit chips, along with 1 tablespoon honey.
Seal the cup with a lid, and shake to combine.
Serve over ice, stir, and enjoy!
Information
Category

Drinks, Summertime

Yield

1 Grande Drink

Total Time

7 minutes, 59 seconds