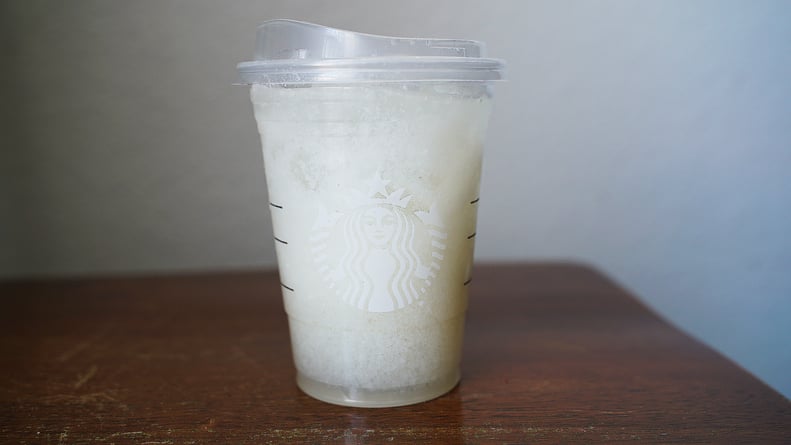 POPSUGAR Photography | Kalea Martin
POPSUGAR Photography | Kalea Martin
"Wait, did you just order straight-up coconut milk?!" my sister asked when I returned to the car with my creamy white drink from Starbucks. Though it did look deceptively plain, it certainly didn't taste that way, and coconut milk is just one of the delicious ingredients in this unofficial menu item. Coined "the Virgin Malibu" by Starbucks barista Mariam Alaouie, who shares her customized drink creations on TikTok as @sublime_artist, this coconut-y drink is said to taste like nonalcoholic Malibu rum. Spoiler alert — it actually does!
What's in the Drink?
Along with coconut milk, the Virgin Malibu is made with sweetened lemonade and vanilla syrup. While these are strong flavors on their own, in this drink, they make for a sweet, tart, and creamy combination. I hardly ever order Starbucks lemonade because I'm not a fan of sourness in general, but the vanilla syrup tones it down and adds a whole other flavor profile that I honestly never thought you could get with lemonade. Interestingly enough, the drink tastes more like one of its refreshers than its lemonade, so if it's the lemonade that's keeping you from ordering the Virgin Malibu, trust me when I say it's worth trying.
Despite containing no rum, the heaviness of the vanilla syrup and the coconut milk give the drink a surprisingly rich consistency, so it doesn't taste like there's anything missing. Honestly, I was expecting to taste mainly coconut milk, since that's how the drink looks, but it's not the case in the slightest. There's no overwhelming coconut flavor, and all the ingredients complement each other well, much like a Malibu cocktail.
How Do You Order It?
This drink is both easy to order and easy to make, so if you're like me and you're afraid to inconvenience your barista with over-the-top customizations, don't stress, because this isn't that kind of drink. Whether you're ordering through the app or in person, you'll start by requesting a sweetened lemonade with coconut milk instead of water and two pumps of vanilla syrup. It's really that simple! Just make sure you're asking for sweetened lemonade, because Starbucks has so many different lemonade options on its menu now, and it's always helpful to be specific. If you want to mix things up, other TikTokers have been asking for their drink blended or substituting the two pumps of vanilla syrup for a scoop of vanilla-bean powder, and the consensus has been overwhelmingly positive. I decided to stick with Mariam's original, and now I totally get why her TikTok went viral. I only wish I'd given it a chance earlier.
How Much Does It Cost?
Custom Starbucks drinks often end up being pricier than the items on the fixed menu, but save your star rewards for another time, because even if you order a venti or a trenta, the Virgin Malibu is on the cheaper side. A grande comes out to around $3, or 50 cents more for a venti, which is less than I usually spend on my $5 cold brews. I'd say the Virgin Malibu is 100 percent worth the hype, and if you're in the mood for a new iced drink to try, I highly suggest this one.