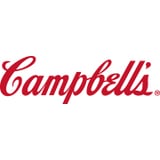 We partnered with Campbell's® to help take your weeknight dinners up a notch.
If you're looking for ways to spice up your weeknight dinners without going too overboard with complicated recipes, this savory pasta from chef Megan Mitchell is for you. The key to the rich red sauce? Campbell's® Condensed Tomato Soup pulled right from the pantry. All you need to do is drop in a few on-hand ingredients, simmer, and add your pasta when you're in the mood for a belly-warming meal.
Spicy Penne with Turkey Sausage and Basil
Megan Mitchell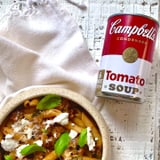 Ingredients
16 ounces penne pasta
Salt and pepper, to taste
1-2 tbsp. extra virgin olive oil
5 spicy turkey sausages, removed from casings
1/2 tsp. chili flakes
1 10.75-ounce can Campbell's® Condensed Tomato Soup
1/2 cup freshly grated parmesan cheese, plus more for garnish
1/4 cup chiffonade basil, plus more whole leaves for garnish
4 ounces soft goat cheese, broken into small pieces
Directions
Bring a large stockpot of water up to boil. Season liberally with salt. Cook the pasta per the package directions until al dente.
While the water come up to boil and the pasta cooks, make the sauce. Bring a large 12-inch nonstick skillet up to heat over medium. Drizzle in the EVOO and add in the sausage, breaking up into smaller pieces. Cook for 8-10 minutes until golden brown. Turn the heat to low and add in the chili flakes and Campbell's® Condensed Tomato Soup, stir.
Add the pasta directly to the skillet along with 1/4 to 1/2 cup of pasta cooking liquid. Mix together so everything is fully coated. Taste for seasoning, adding more salt or pepper if needed. Remove from heat and stir in the parmesan cheese and basil.
To serve spoon some into a shallow bowl, dot with a few chunks of goat cheese and finish with more parmesan cheese and basil leaves. Serve immediately.
Information
Category

Pasta, Main Dishes
Image Source: Megan Mitchell