Vegan Marshmallow Pumpkin Pie Recipe
This Vegan Pumpkin Meringue Pie Is a New Staple in My Plant-Based Home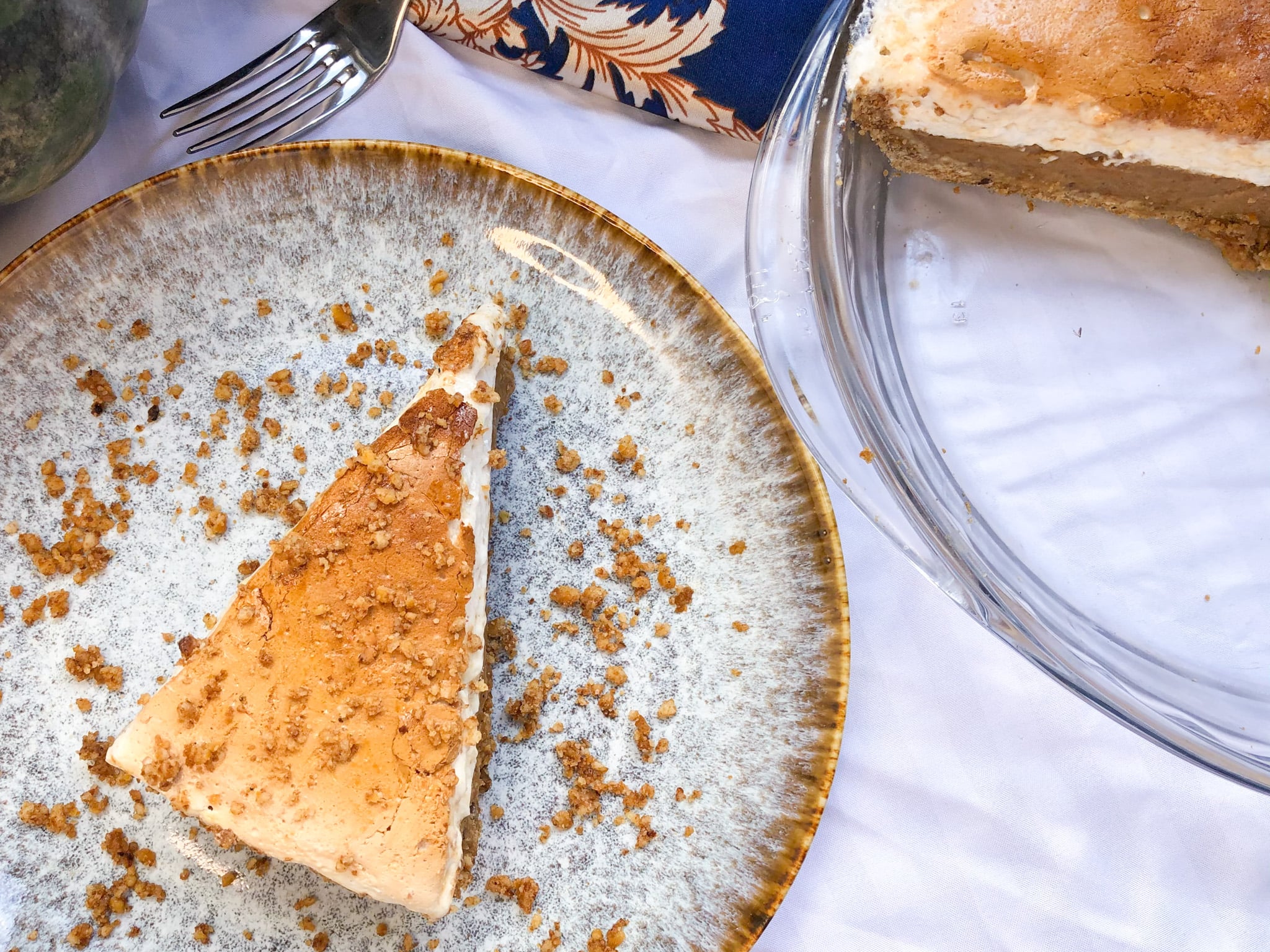 Of the many wonders that fall brings, comfort foods — especially pastries — rank highest on the list. Be it a flaky spiced apple hand pie or broiled candied sweet potatoes, the enticing flavors of allspice, cinnamon, and ginger are staples of the season that usually can't be missed — especially if you follow a plant-based lifestyle.
This Vegan Marshmallow Meringue Pumpkin Pie by A Whisk and Two Wands delivers in both flavor and ingredients, as it is free of animal byproducts such as dairy, eggs, and gelatin. With a sweet and salty crust, deliciously spiced pumpkin filling, and fluffy vegan marshmallow meringue topping, this pumpkin pie is a surefire hit for your next plant-based holiday meal.
The crust is a delicious, crumbly combination of pretzels, brown sugar, and coconut oil.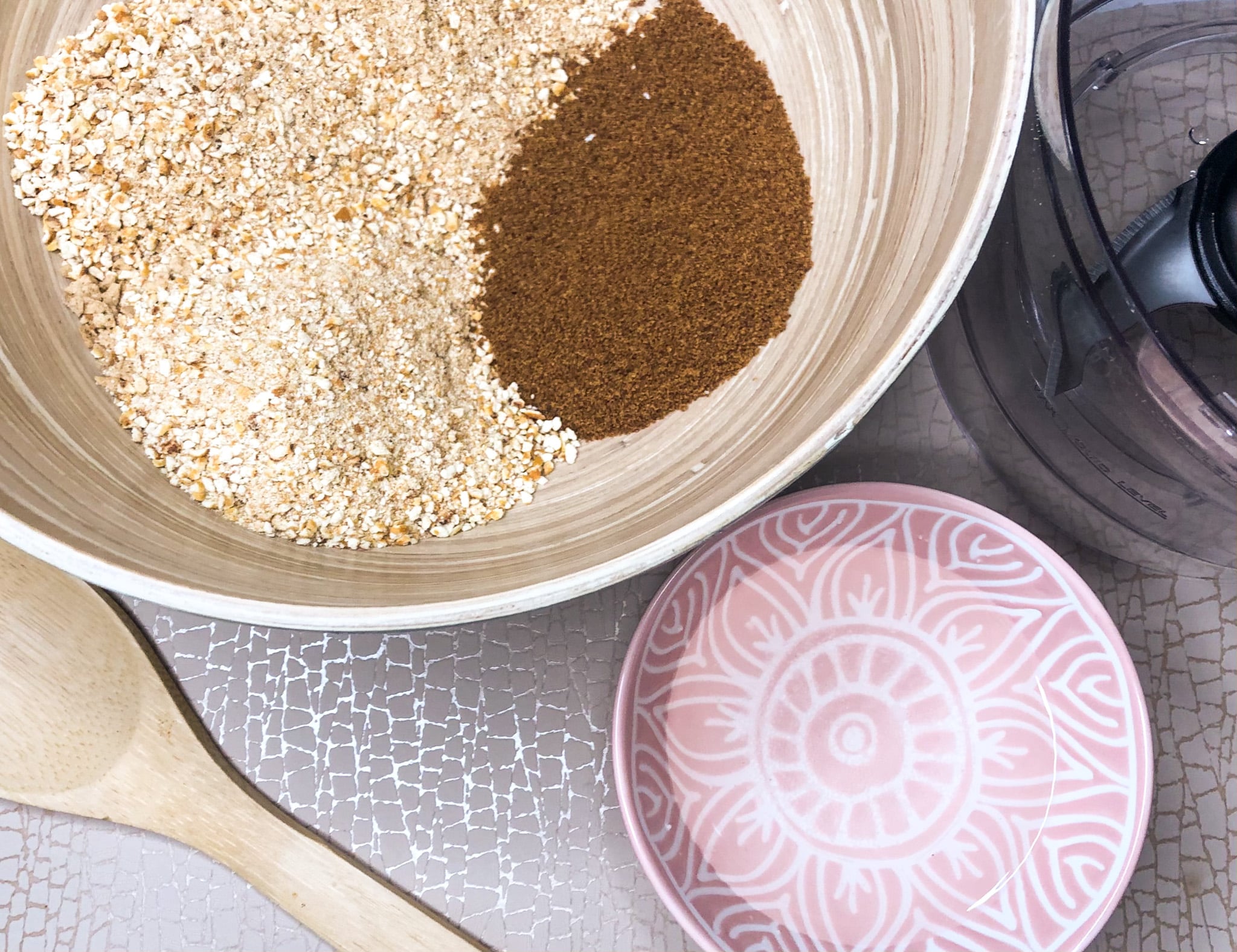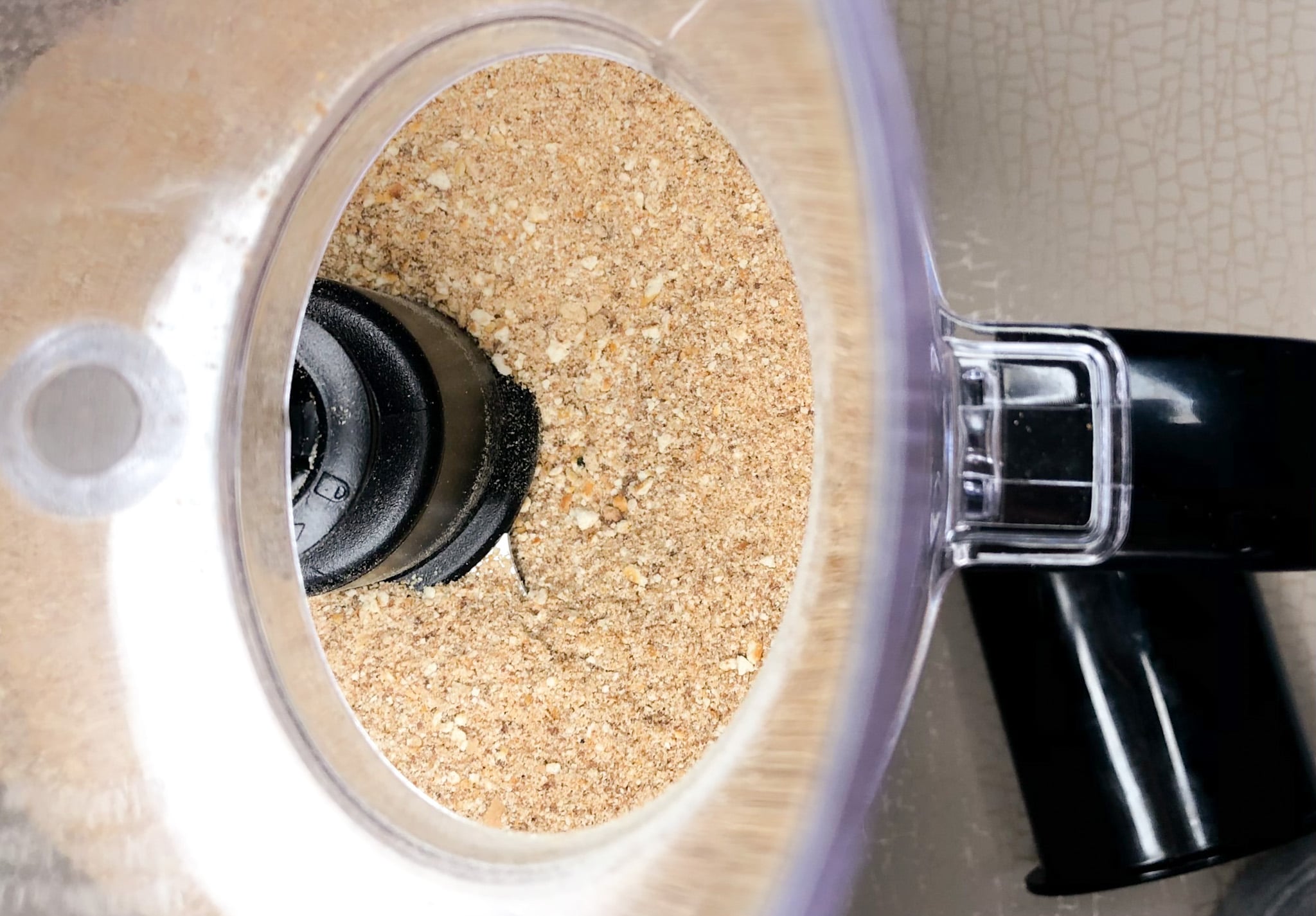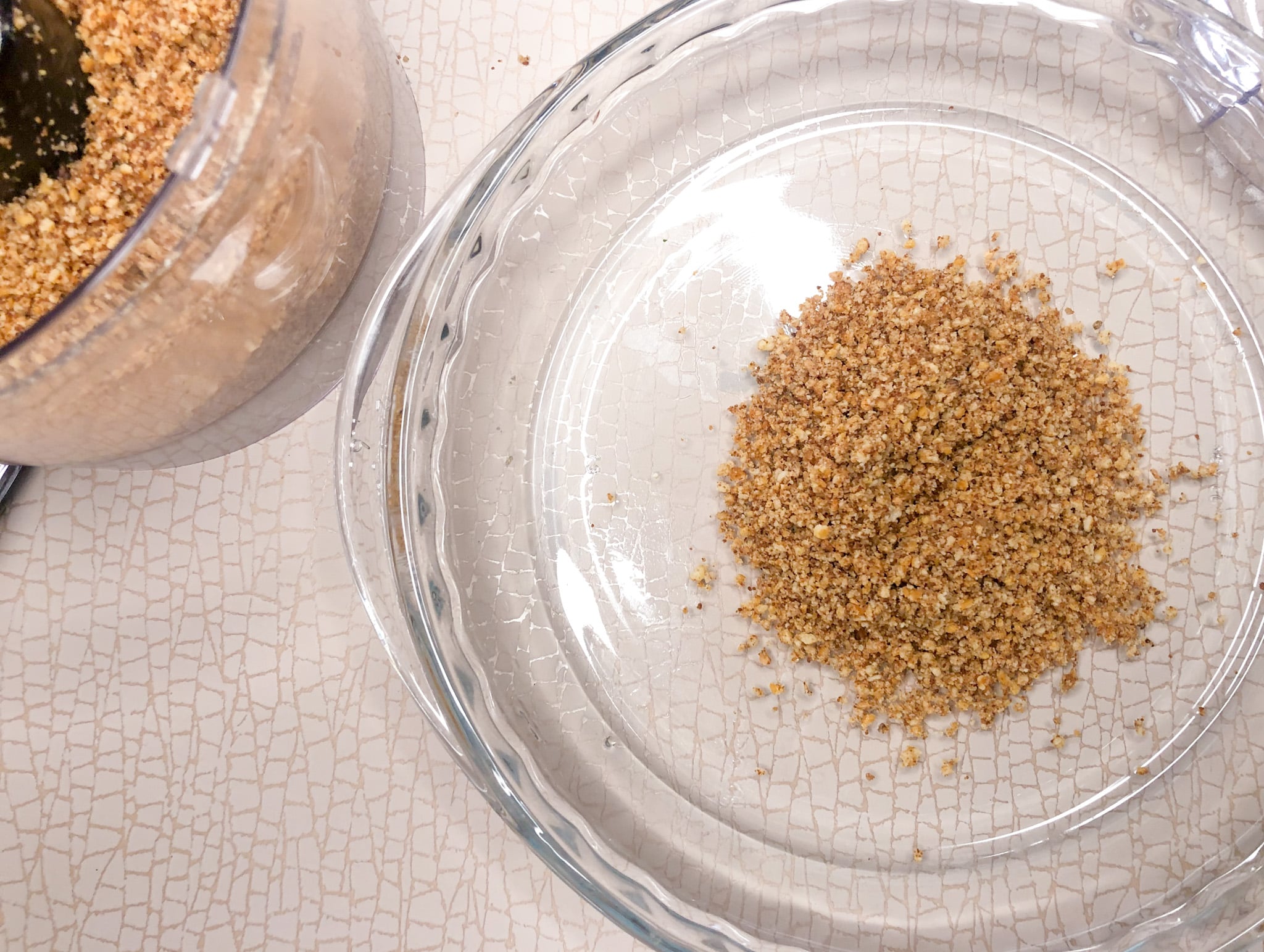 The crust before baking: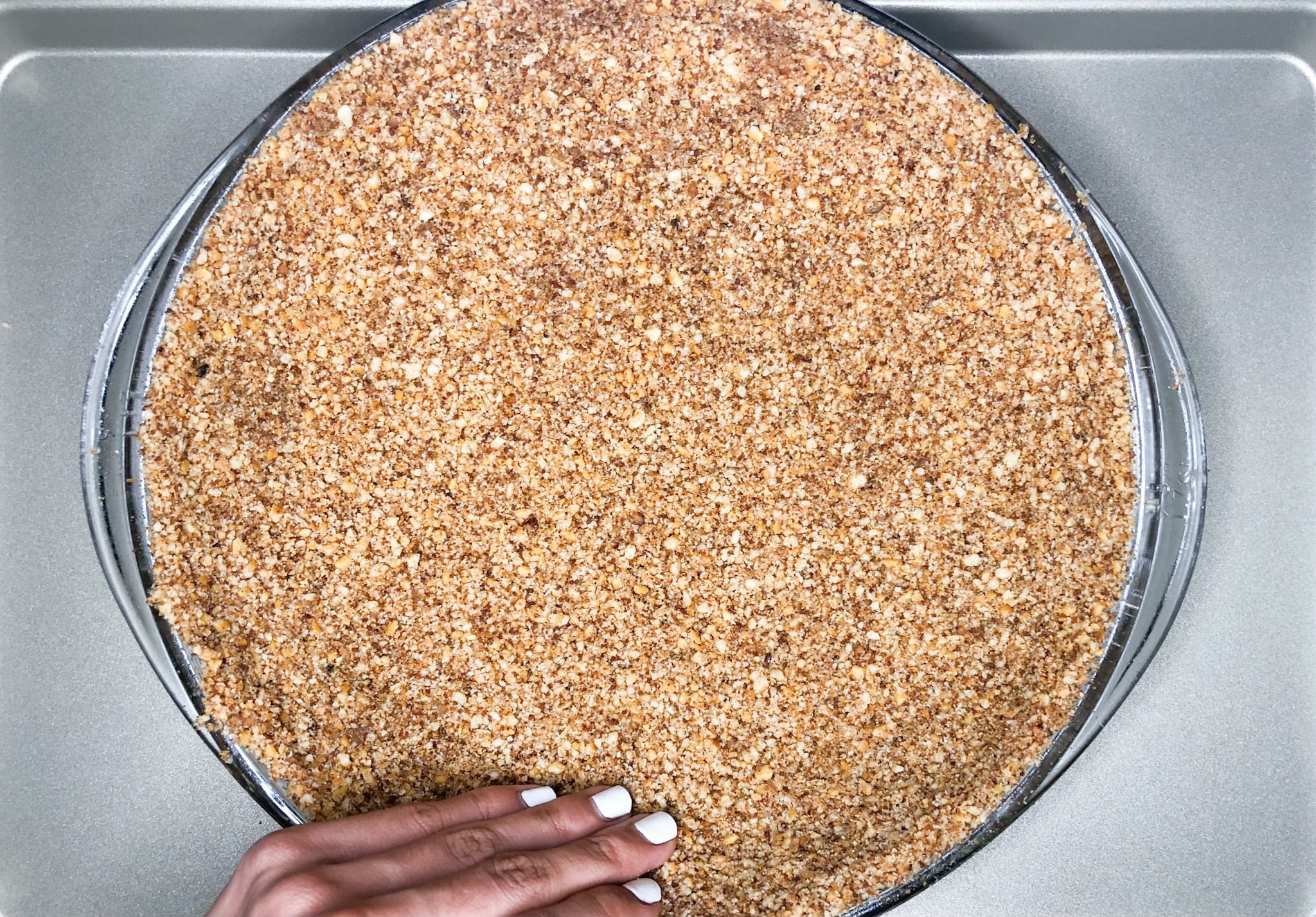 The crust after baking: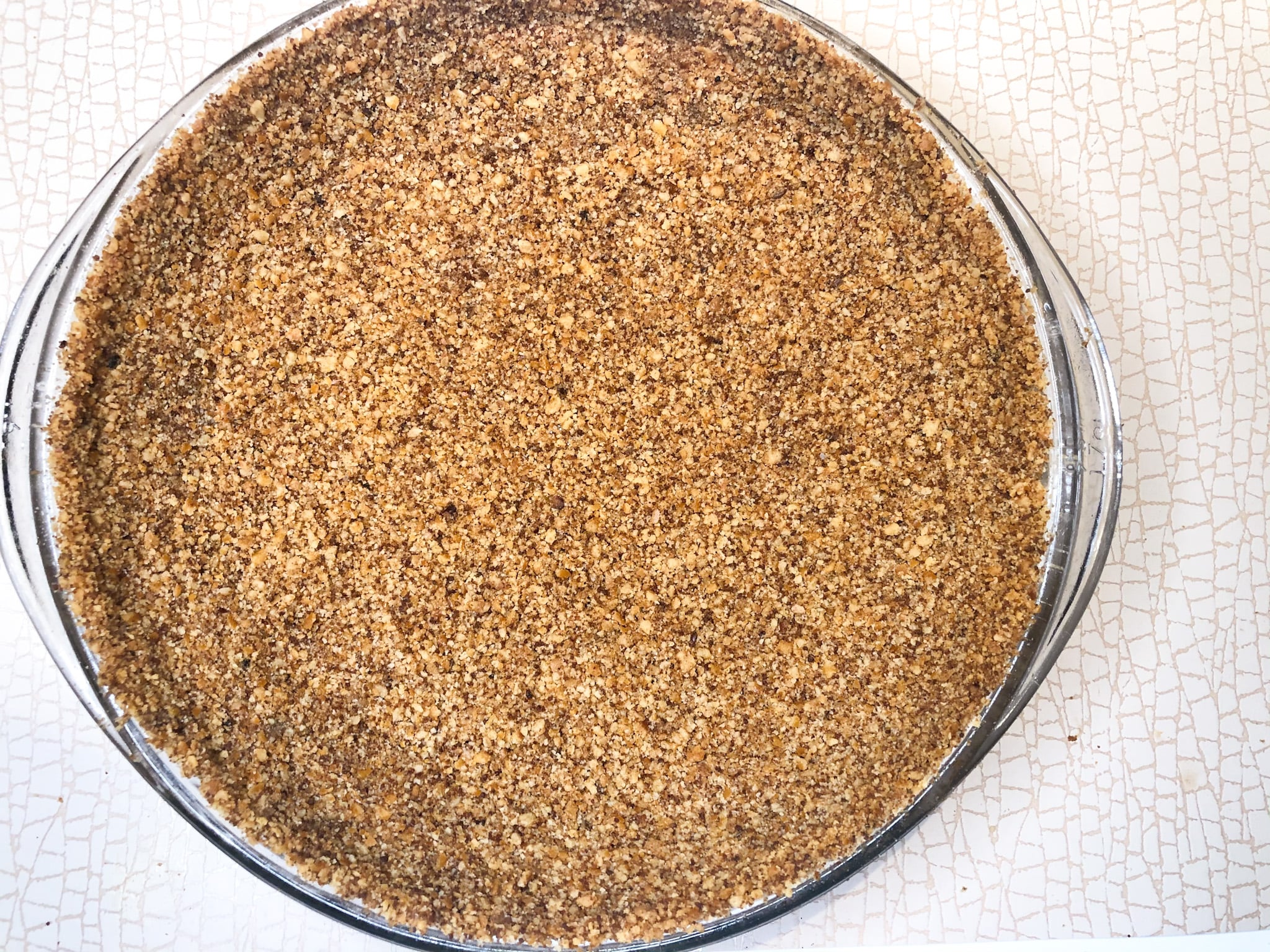 The vegan pie filling replaces milk with any unsweetened, dairy-free alternative and is sweetened with natural coconut. The pumpkin spice flavor adds a delicious aroma when the filling is simmering on the stove, and the cornstarch gives it a thick, jiggly texture after a few minutes of bubbling.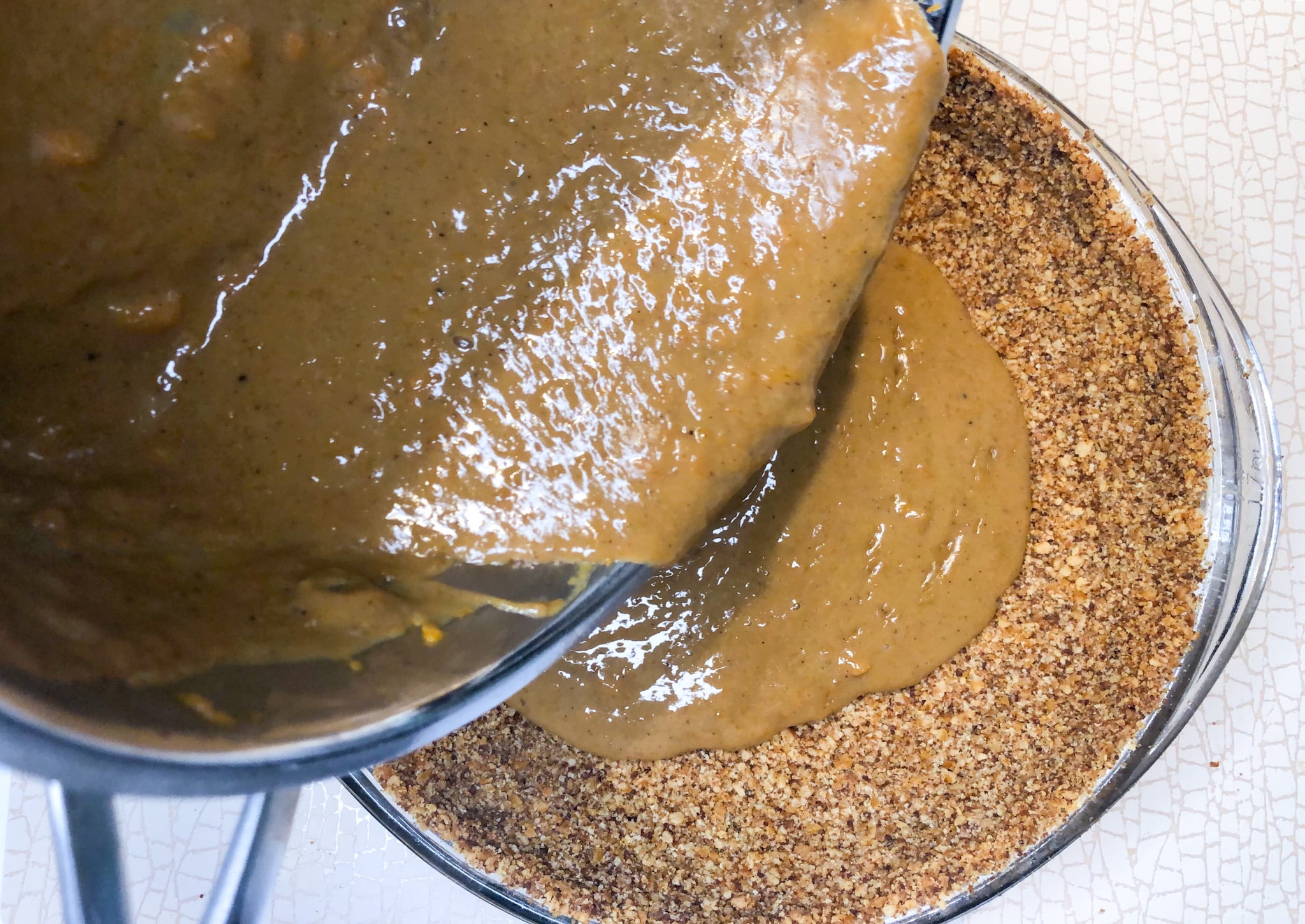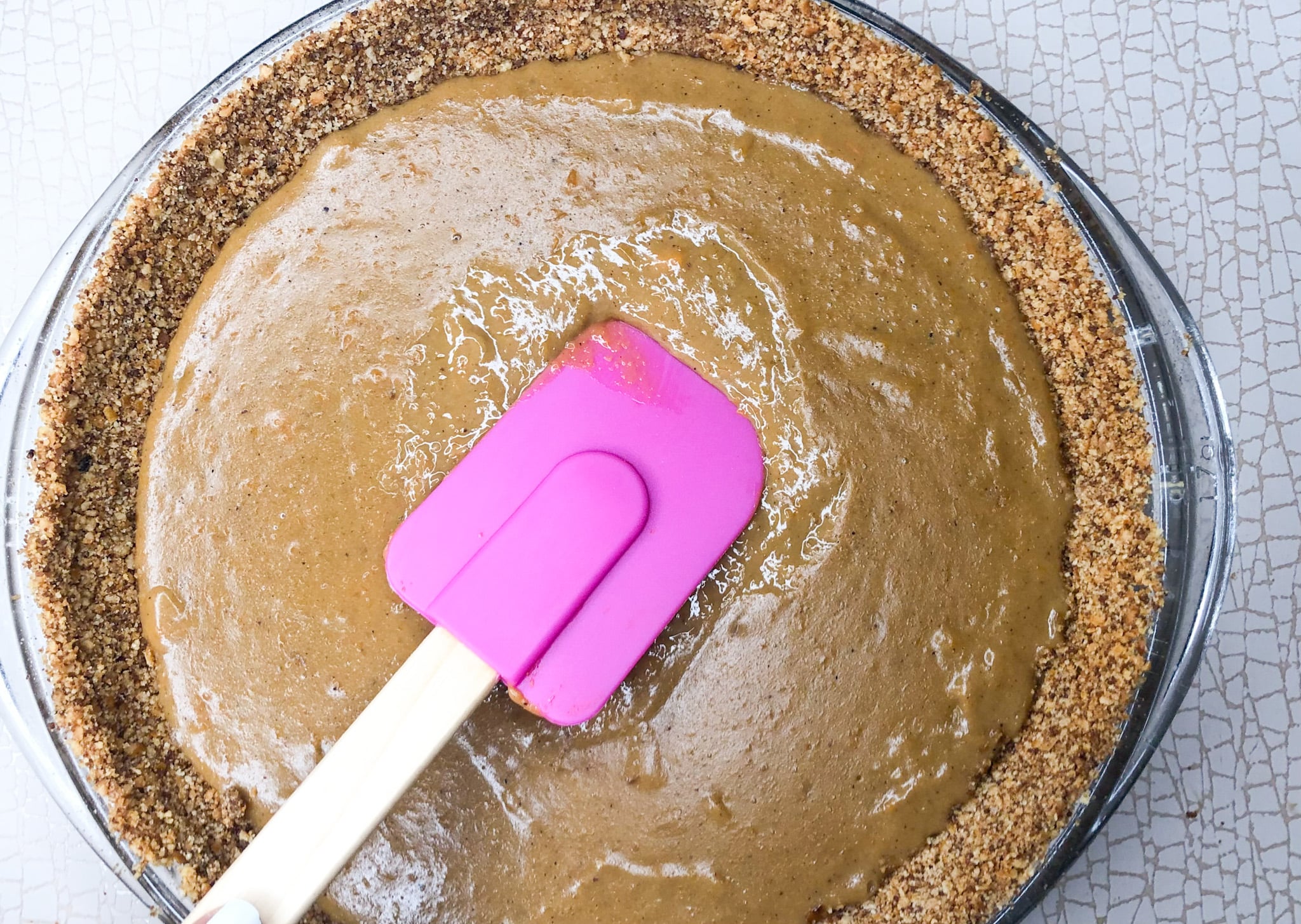 The meringue is made using aquafaba (the liquid from a can of chickpeas — make sure yours is unseasoned!) and cornstarch, to which melted vegan marshmallows are added. In the original recipe, mini marshmallows are used in both vanilla and pumpkin flavors. In my kitchen, I used large vegan marshmallows in the flavor "vanilla." I found that the vegan marshmallows melted almost just as well as their gelatinous counterpart and just needed a little extra elbow grease in between microwave intervals to get them fully combined and melted.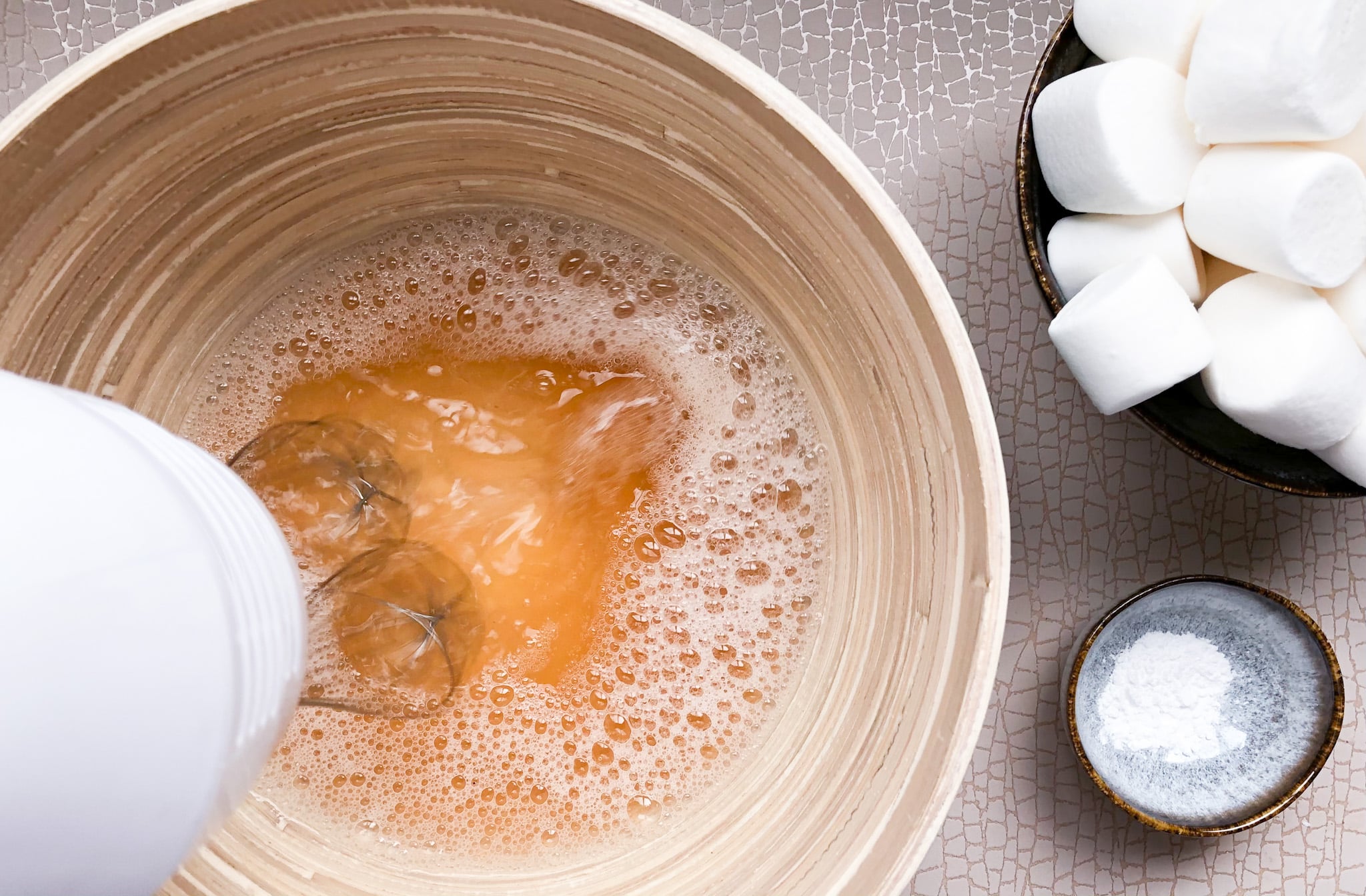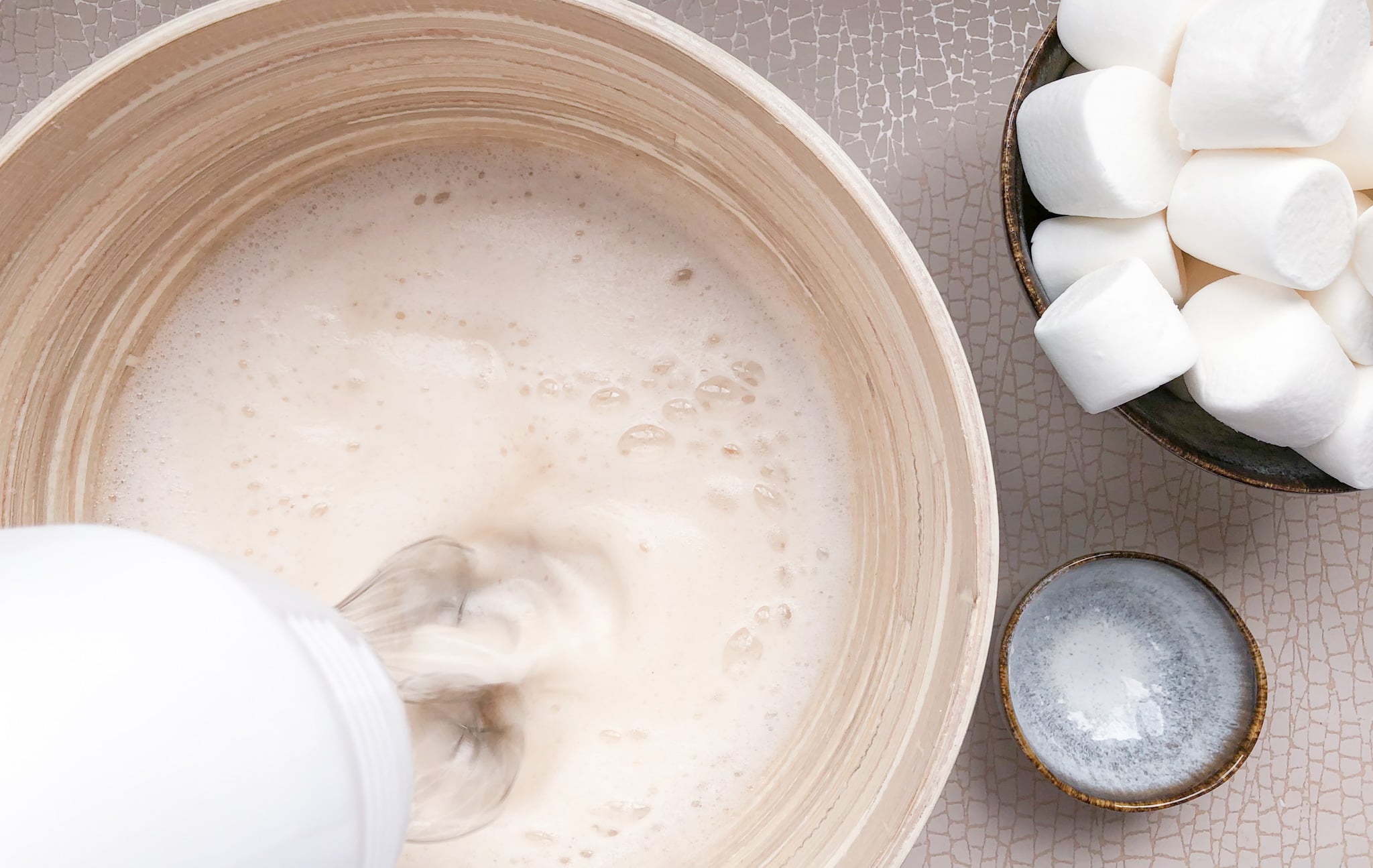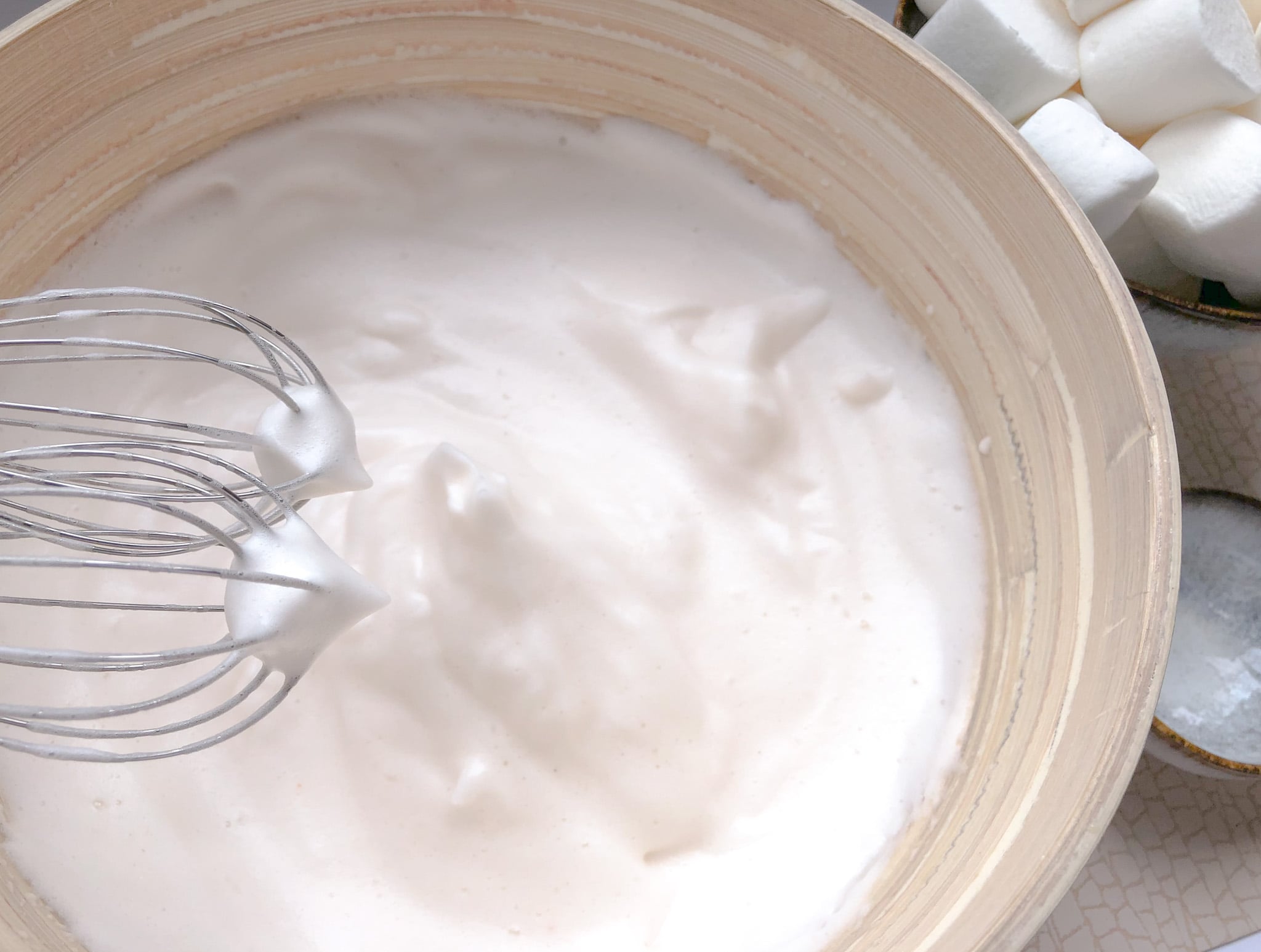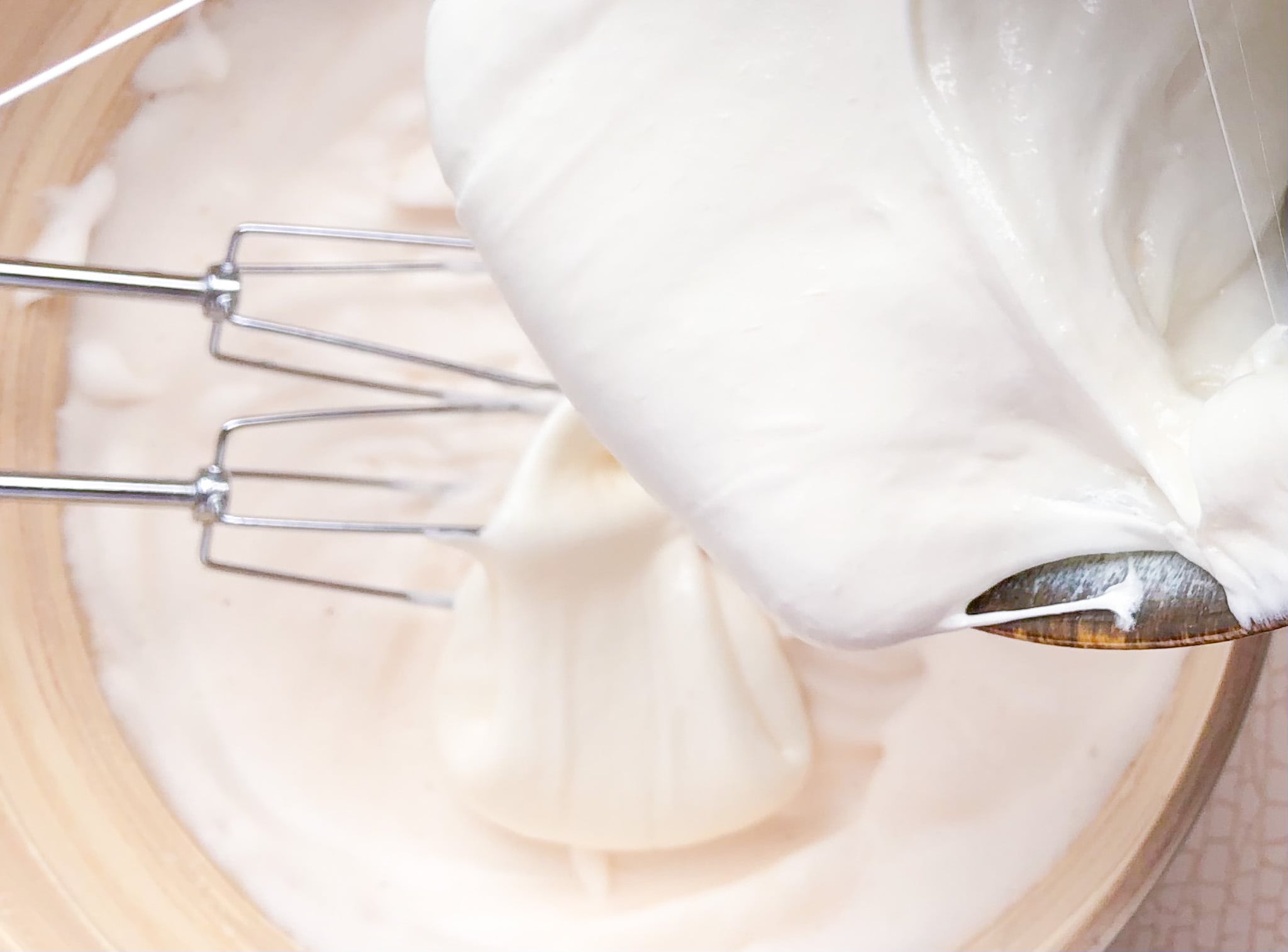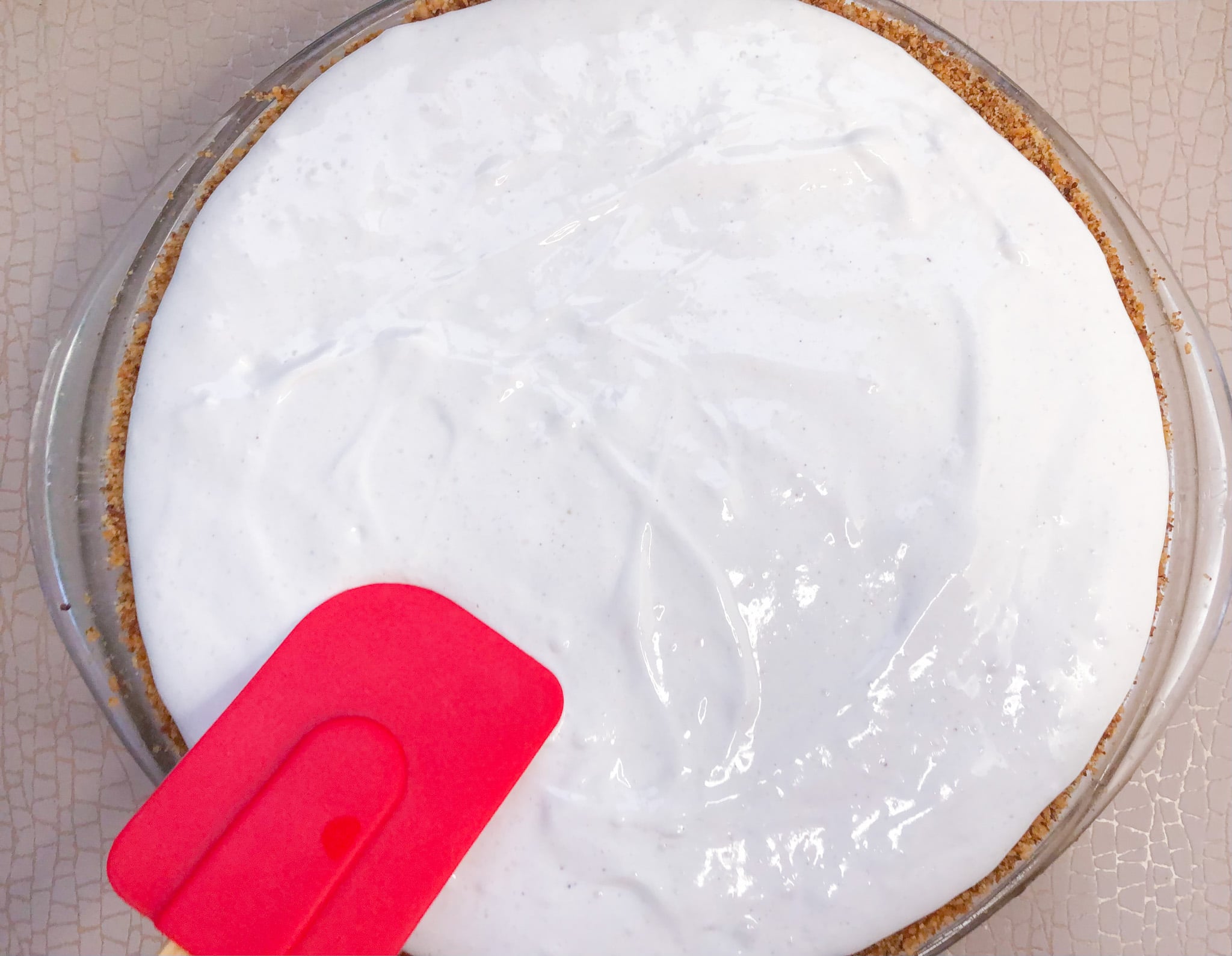 After baking, make sure the pie is completely cooled before serving.
Then, enjoy!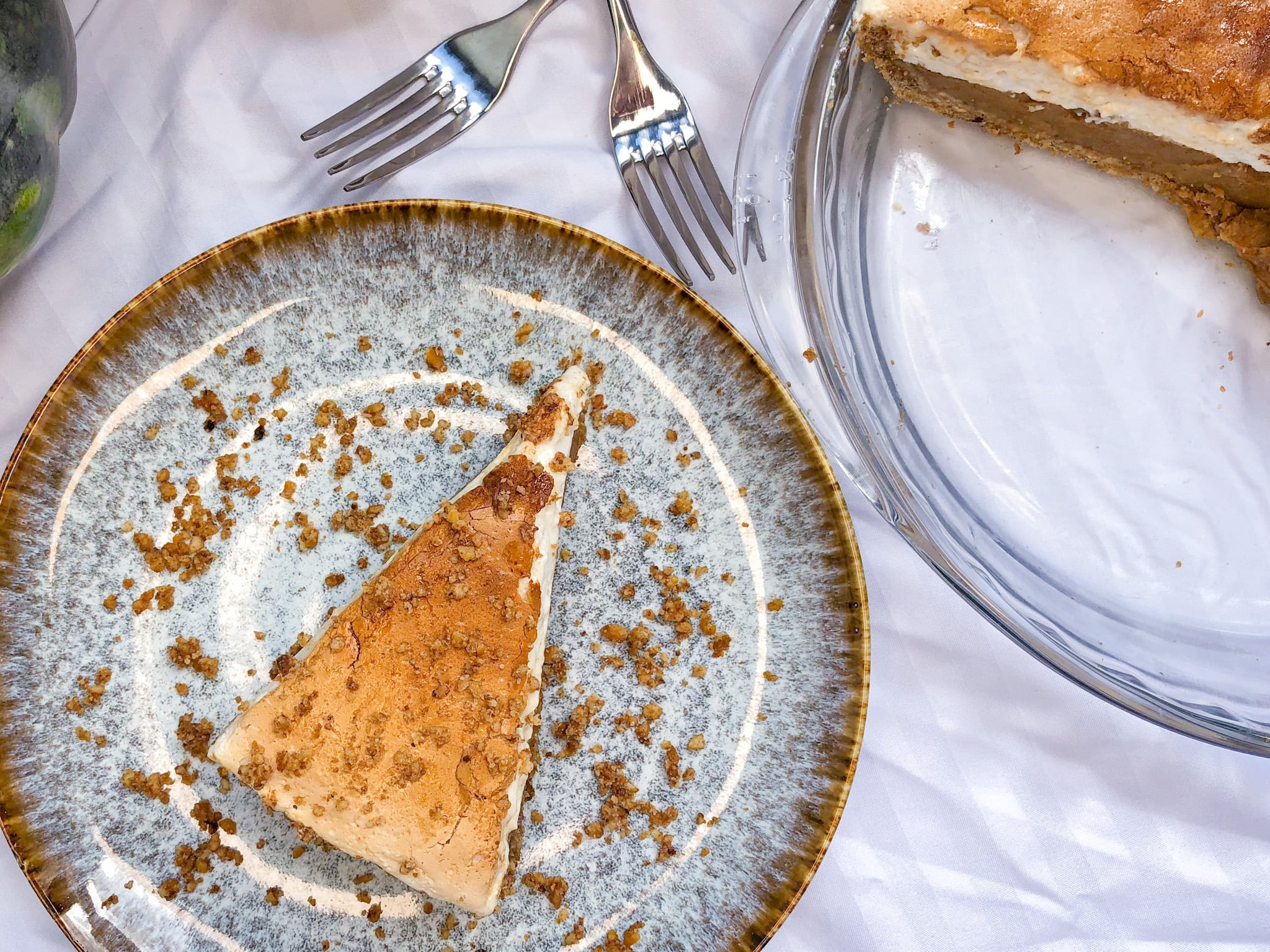 Vegan Marshmallow Meringue Pumpkin Pie
A Whisk and Two Wands
Notes
Make sure the pie is completely cooled before cutting in.
For a reduced-sugar pie, cut the marshmallow meringue recipe (as shown) in half.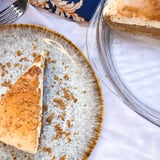 Ingredients
Pretzel Crust:
1 1/2 cups pretzel crumbs
1/2 cup coconut oil or vegan butter, melted
1/4 cup coconut palm sugar
Pumpkin Pie Filling:
1 cup pumpkin puree, not pumpkin pie filling
1 2/3 cups unsweetened dairy-free milk
3 tablespoons plus 2 teaspoons cornstarch
1/2 cup coconut palm sugar
1 teaspoon pumpkin pie spice
Pinch sea salt
1 teaspoon vanilla extract
Marshmallow Meringue:
2 10-oz. bags vegan Dandies mini (one plain and one pumpkin flavored)
2 14.5-oz. cans aquafaba (liquid form)
2 teaspoons coconut oil
1 teaspoon cream of tartar
Directions
Preheat oven to 350°F. In a food processor, process pretzels until you have fine crumbs.
Place measured crumbs and coconut palm sugar in food processor, and pulse. Add in coconut oil or butter and process until incorporated.
Press crust into the bottom of a standard glass pie pan. You can press it halfway up or all the way up the sides if making a double batch of marshmallow meringue as shown; if wanting half the amount, you will only want to go halfway up the sides. Press firmly and evenly.
Bake crust for 10 minutes.
While the crust is baking, whisk together pumpkin pie filling ingredients, except vanilla, into a medium saucepan until there are no lumps. If you end up with lumps you can't get rid of, you can blend it in a blender quickly.
Place the mixture over medium heat and bring to a low bubble — not boil — whisking often. Once it starts bubbling and getting thick, reduce heat to medium-low and continue cooking until a visible ribbon forms when spooning it across the top. It should be thick and kind of jiggly, about 5 minutes. During this process, switch to a rubber spatula to stir in vanilla. Let set for 15 minutes. At this time, your crust should be cooled and you can pour your pudding into the crust and place in the refrigerator to set, at least 4 hours or overnight.
You can make the marshmallow meringue ahead of time or just before serving. Either way, you will need to bake it for 4 minutes to set and get a golden brown top. While you can do this ahead of time, it won't be as good and won't have that same meringue texture. You can make a double batch, as shown, or just one.
In a stand mixer, whip aquafaba (liquid from can of chickpeas) of one of the cans of chickpeas and 1/2 teaspoon cream of tartar just until stiff peaks form in the meringue.
Meanwhile, spray a microwave-safe bowl (I like to use glass) with coconut oil spray — while optional, this will help the marshmallow from sticking and slide right into the mixer. Combine 1 teaspoon coconut oil and 1 bag marshmallows. In 30-second intervals, giving a quick stir between each, microwave until marshmallows have fully melted (do not overcook as you will end up with lumps in your meringue).
Add marshmallow mixture into the stand mixer with the meringue and whip together just until smooth.
Spread over top of chilled (already set) pumpkin pie if serving soon. If making marshmallow meringue ahead of time, place in an airtight container in the refrigerator.
Repeat with the second batch of fluff if making a double. I did plain marshmallows and then pumpkin marshmallow on top. Be sure when washing utensils between batches they are clean and dry.
Spread second layer on top of the first and swirl or design as desired, lifting to make peaks.
Just before serving, heat oven to 400°F and place pie in the oven to toast meringue for about 4 minutes, just until golden brown. You can also use your broiler — just watch carefully.
Enjoy!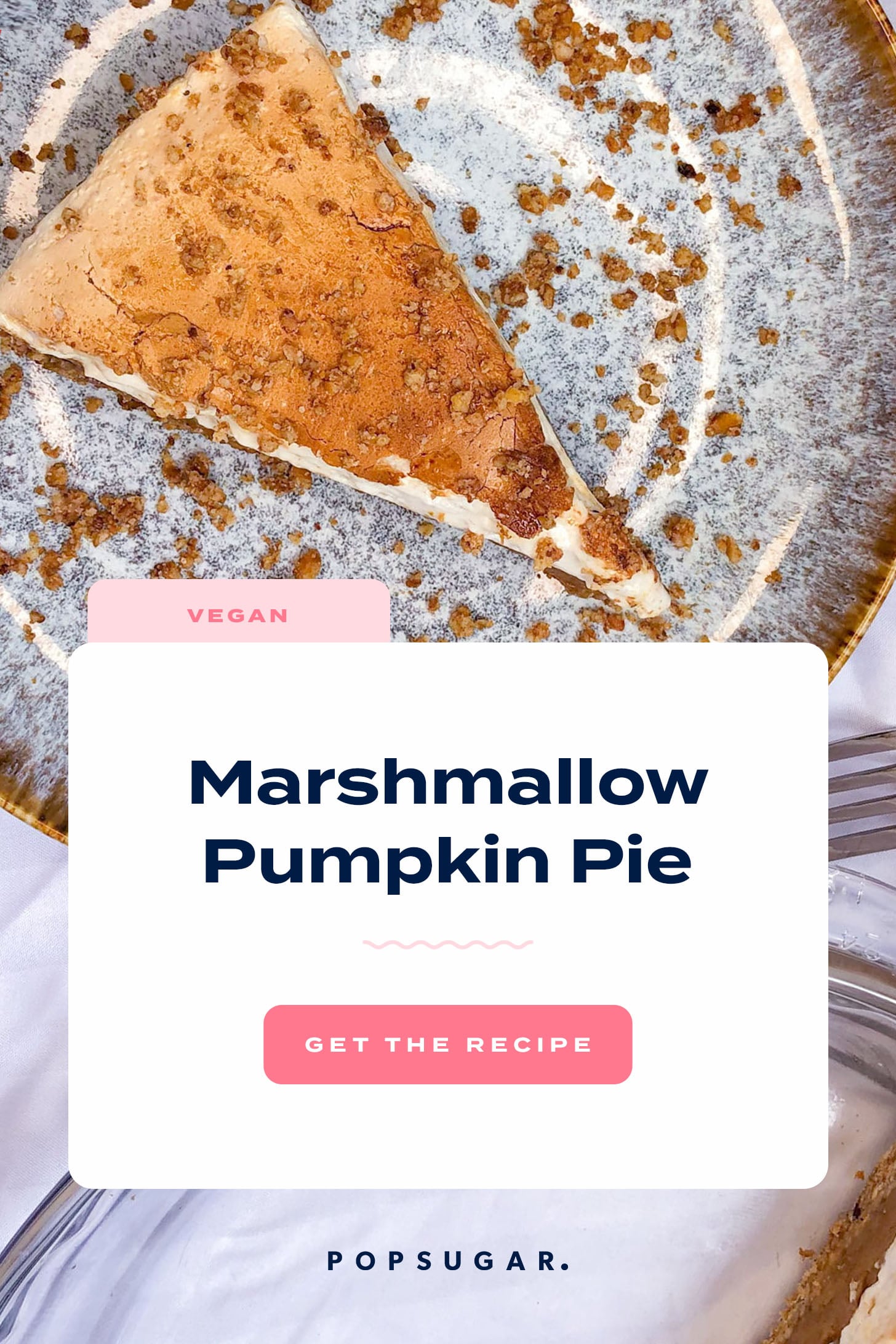 Information
Category

Desserts

Yield

8 slices

Total Time

29 minutes, 59 seconds