Hotel Cecil Is the Real-Life American Horror Story Hotel
OMG, the Real American Horror Story Hotel Is Scarier Than the Show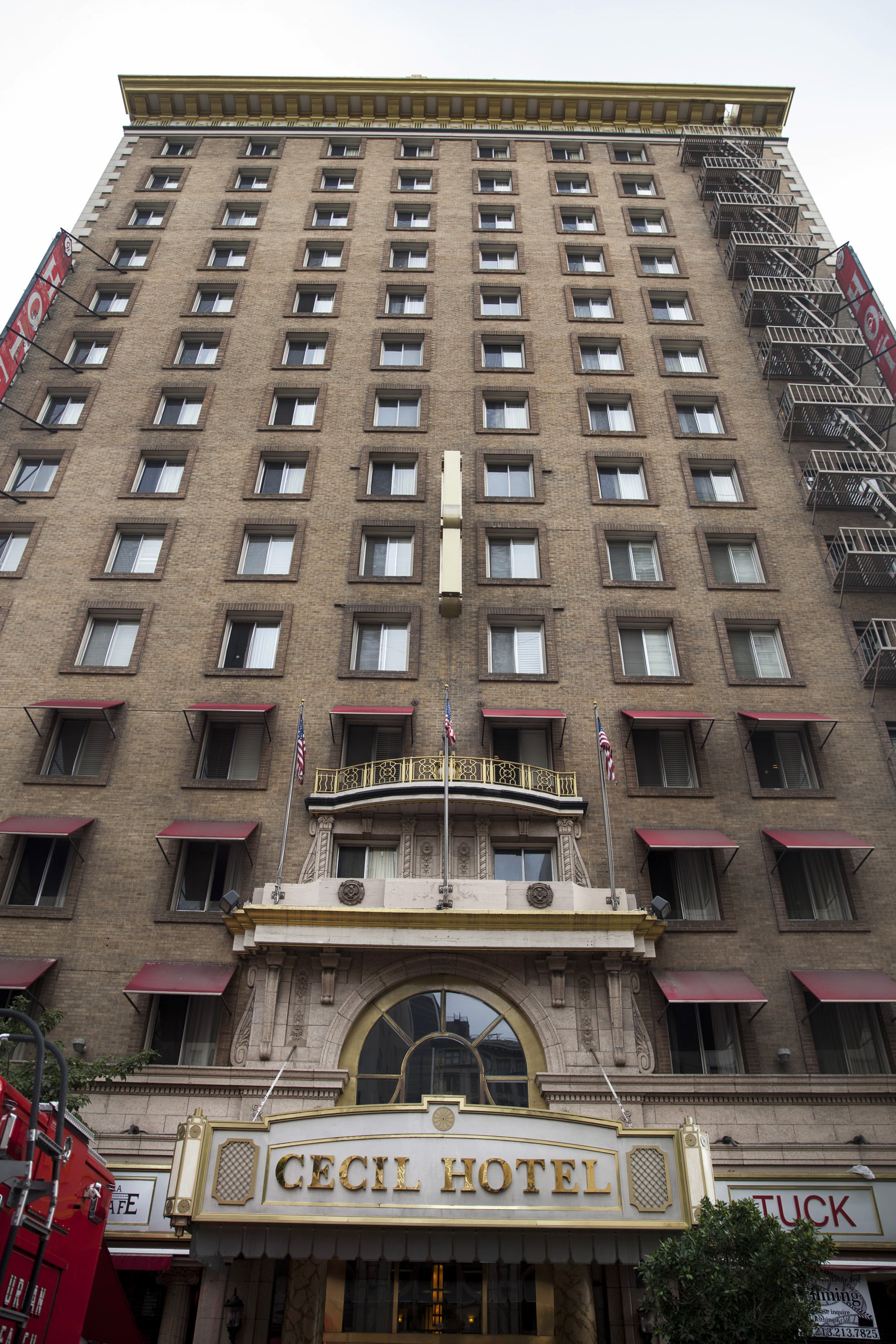 Image Source: Getty / Jay L. Clendenin
American Horror Story: Hotel has only just premiered, and it's already living up to eerie expectations — but it turns out there's something even more terrifying than the show's plotlines: the story of the real-life hotel the show is based on. Ryan Murphy revealed to EW that the Cecil Hotel on skid row in downtown Los Angeles inspired him this season.
The grand lobby of the 700-room, 14-floor Cecil Hotel belies a dark and disturbing history. Since it opened in 1927, the hotel has been the site of a string of suicides, at least one murder, and several alleged ghost sightings and has a roster of sinister guests; serial killer Richard Ramirez, aka the Night Stalker, was in residence at the Cecil during his 1980s crime spree, and a decade later international serial killer Jack Unterweger also stayed at the hotel while committing brutal crimes.
Ryan hinted he was most influenced, however, by a 2013 incident at the Cecil Hotel involving Elisa Lam, a Canadian woman who disappeared shortly after checking in, only to have her body found weeks later in the water tanks on the roof of the hotel. A surveillance video of Elisa acting erratically in the hotel elevator shortly before her disappearance particularly resonated with him.
AHS: Hotel's heebie-jeebie-loving fans have reportedly been flocking to Hotel Cecil, now a hostel renamed Stay on Main. For an up-close look at the infamous hotel, you can book a room from around $55 to $135 per night — if you dare.
Image Source: Getty / Boston Globe
Image Source: Flickr user alejandro jofré
Image Source: Kym B. via Yelp.com
Image Source: Phillip W. via Yelp.com
Image Source: JH. via Yelp.com