How to Buy a Couch
How to Find the Perfect Couch, According to Experts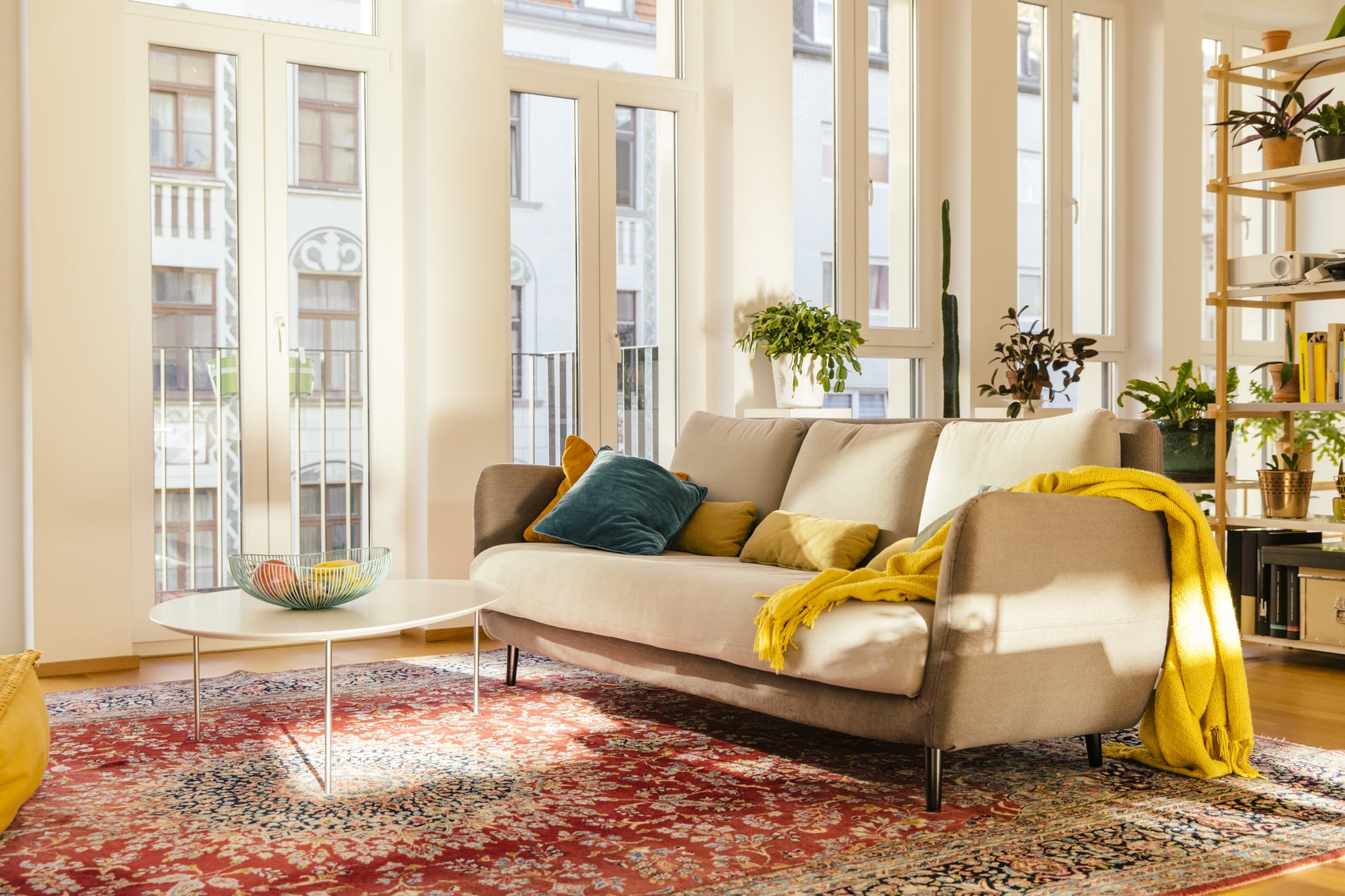 For many of us, our lives revolve around couches. Whether we're hosting holidays, entertaining a group of friends, or binging a new TV series, our couches are at the center of it all. Couches and sofas are arguably the backbone to any living space, so picking the right one isn't a choice you should take lightly.
While the terms "couch" and "sofa" are often used interchangeably, they have distinct differences. Before you begin shopping or visit a show room, it's important to know which piece of furniture you're in the market for. "A sofa will always have a back and two arms, however that's not always the case for couches," Daria Demin, an interior designer at Circa 22 Design Studio in Brooklyn, New York, tells POPSUGAR. "A couch is a less formal type of seating, and often brings in a more relaxed and 'lounge-y' feel to a space."
Though both sofas and couches are viable options for any living space, they vary in size, style, type, fabric, and price. Naturally, the couch or sofa you do choose will influence how you style and decorate the rest of the space. And as much as it needs to fit your space, it also needs to fit your lifestyle. POPSUGAR spoke with interior designers about what to consider before buying a couch, and what you can expect from each type and style. If you're looking to shop online, check out our picks for the best and most comfortable couches and sofas.
What to Consider Before Buying a Couch
Before you begin couch shopping, you should take dimensions, lifestyle, fabric, and budget into consideration. These are the building blocks to finding the right couch, and will serve you well when making a final decision.
Couch Dimensions
Balance is key when trying to gauge the right size of a sofa or couch for your home. "Your sofa or couch should fill about two thirds of the space you're staging," Demin tells POPSUGAR. "That will include the side tables and any additional accessories."
Typically, saving space is a big concern among apartment dwellers, as you want your couch to fit, not swallow your already limited space. To maximize on both comfort and room, Demin recommends opting for a three-seater. "The rule of thumb is that an average person needs at least 24 inches of space to seat comfortably, hence the smallest comfy sofa size for three is 72 inches," Demin says. If you're browsing loveseats for additional seating, she suggests leaning towards something more compact, around 48 to 52 inches.
For homes and larger living spaces, you can size up your furniture. "I recommend going with a couch that seats four to five people, and will be at least 96 inches long," Demin says. In this scenario, she'd consider anything under 65 inches an appropriate size for a loveseat.
If you found pieces you love visually, but aren't sure how they'll fit physically in your space, Demin recommends mapping out a potential layout. "My advice is to make sure you have at least two to three feet of space to walk around the piece," Demin says. "When you're arranging a chair and sofa, leave at least two feet of space between them. If there are more than two seating areas, make sure there is a wide and clear passage through furniture pieces to the main seating area."
For couches or sofas that come with removable legs, Demin suggests deciding on whether you want them on or off before assembly. Not only will it help conceptually, but it's a lot easier to dissemble furniture before you begin furnishing the rest of your space.
Lifestyle
Do you like entertaining? Do you live with roommates, your partner, children, or pets? Your answers to these questions will influence what kind of fabrics, types, and styles of couches will be most suitable for your space. "As exciting and interesting [as a couch] may seem at first, it can start to annoy us later on," Demin states. Before handing over your credit card, she advises asking yourself, "How will this couch impact my lifestyle in the long run?"
For example, if you're someone who frequently hosts large gatherings, it's going to affect the types of couches you'll consider. "If you have a big family with different age groups, choosing minimalistic, armless, and low sitting couches aren't great," Demin explains. "As we get older, we need higher and firmer seating, compared to young relatives who can adjust more easily."
On the other side of this, if you're live with a roommate, you'll likely want to aim for a couch that seats three. Demin explains that you should expect only one to two people to sit on the couch at a time, and the space between will act as a visual separation. If you find yourself in this category, you may want to consider investing in additional seating, like a plush chair.
Fabric
Once you know what dimensions you're working with, you can filter your couch browsing based on fabrics. However, some fabrics may suit your lifestyle better than others, especially if you have kids or pets.
Leather: According to Demin, leather is a fabric that is built to last, as it's easy to clean and repair minor scratches. However, if you're someone who runs cold, it may not be for you. "Leather is cold to the touch and slippery for fabric throws and fabric pillows," Demin explains. She suggests choosing a more premium leather like grain leather, as it's more durable and not as slippery.

Also, keep in mind that leather is a naturally stiffer material than fabric. It takes longer to break in, so a leather couch may feel firmer and unforgiving in the beginning, Brittany Marom of Brittany Marom Interior Design in New York City, tells POPSUGAR. If you like the look of leather, but want something that's already broken in, Marom suggests looking for leather hides that are more oiled and waxed during the tanning process such as nebuck leather.

Performance fabric: Both Demin and Marom agree that performance fabric is great for those with kids or pets, as the fabric tends to be more forgiving, durable, and easy to clean. The downside is that performance fabric isn't very budget-friendly. However, the investment may be worth it depending on your lifestyle and household size, per Demin.
Velvet: Velvet is one of the most popular upholstery trends today, as it can really elevate your space by making the room and accent pieces feel luxe and rich. Plus, the color options are vibrant and endless.

However, it's important to know that there is velvet and performance velvet, and the differences are significant. "Velvet looks luxurious and silky soft to the touch, however, there are cons," Demin says. "Velvet is more expensive, longevity is an issue, it'll develop spots on used areas, it's hard to clean, and the coloring will fade if placed near a window."

Additionally, sheen velvet is harder to upholster and may have lots of variation in coloring because it has a dark and light side. "When upholstering a velvet couch, the back and seat cushions always run in the direction of the weave of the velvet, but the fabric on the sofa's frame will generally run the long way of the roll, to give the appearance of less seams," Marom explains. "This can result in different appearances from the frame to cushions."

Performance velvet, on the other hand, is the exact opposite. "Made from polyester fiber, performance velvet is durable, stain resistant, and more affordable," Demin explains. "However, know that it doesn't have that extra luxe sheen and soft feel."

Microsuede: While microsuede seems to be on the up and up, it isn't a fabric Demin necessarily recommends. "It's soft to the touch and looks cozy, but the interior design community is still very cautious about the fabric, and so am I," she explains. The reason behind this is that microsuede is dull in application, and it's long-term performance is unknown, making it a dicey fabric choice for an investment piece.

Linen: If you're looking for a fabric that's light, versatile, durable, textured, and natural looking, then perhaps a linen couch is in your future. But, pet owners, parents, and messy eaters be warned: Linen couches are a pain to clean. Demin suggests adding an extra finish such as scotch guard, or another form of stain protectant to help prevent marks.
Natural fabrics: Natural fabrics like linen and wool can brighten up a room, and are considered good upholstery material due to their durability. However, they're some of the most difficult fabrics to clean, so if you have kids or pets, they shouldn't be your first (or even second) choice.

"Natural fabrics bring texture to the space and make it so alive and luxurious," Demin says. "But, my suggestion is that it's better to use natural fabrics in drapes and pillows, and to go for performance fabric in upholstery. I think furniture is there for us to use and enjoy, and not to worry about spills and stains."
Budget
Investing in a new couch can be a big expense, and without a budget plan, it could end up becoming a headache. So how much should you expect to spend on a new couch? A basic, new couch will probably cost you at least $1,000, says Demin, but be prepared to see most prices start around $1,500. Before you start actively shopping, she recommends creating a good, better, and best budget worksheet. That way you have a clear grasp on what you feel you can afford, and consequently, avoid spending outside of your means.
A "good" couch should meet your basic requirements, a "better" couch has a few bells and whistles, and lastly, your max budget is your "best" couch. Crafting a budget will vary from person-to-person, but in her professional experience, Demin has found that good and better couches typically fall between $2,500 and $5,000. "This is where most of the medium- to high-end couches sit, and you'll have lots of different types and styles to choose from. Though, sectionals tend to run a little higher, so keep that in mind," she says.
The most successful way to avoid breaking the bank is shopping within your budget. While a luxury couch may sweep you off your feet, those fuzzy feelings will eventually fade, especially if it's fragile. Plus, going over budget could mean you have to cut back somewhere else, like decor. Your couch doesn't have to be the most expensive thing you own, but do invest enough for it to be well-made, comfortable, and make you happy — these are guidelines only you can truthfully answer.
If purchasing a brand new couch is out of your price range, consider reupholstering your current sofa, or giving a secondhand couch a makeover. "If your couch has great bones and fits your space perfectly, then give it a facelift! Sometimes, new fabrics and cushions is all a couch needs to really transform a space," Marom tells POPSUGAR. "[There's a chance that] upholstering can be just as expensive as purchasing a new sofa. But between manufacturing and shipping delays, and if you know you love the fit and feel of your sofa, I suggest taking the upholstering route."
Types of Couches
Another way to fine tune your search is to focus on a certain type of couch. Popular ones include sectionals, sleepers, loveseats, traditional, and modular. However, bear in mind that each type has its own pros and cons, so choose wisely!
Sectionals
While convenient, comfortable, and versatile, sectionals are space guzzlers, and can look overwhelming in small spaces. However, if you have the space for one (and extra room for other furnishings), a sectional is definitely worth considering. "Sectionals tend to be pricer than just your average couch," Demin explains. "But because they are kind of all in one, you save by not buying extra chairs and couches."
Sleepers
Sleeper sofas add extra guest sleeping space, and they come in a variety of foldable and motorized variations. However, they also come with a hefty price tag. And ironically, a sleeper sofa's selling point is also one of its downfalls.
"Because the mattress has to be able to neatly fold inside the frame of the sofa, it's not going to be super comfortable or supportive," Demin tells POPSUGAR. "Consequently, this also means the overall comfort of the couch will be on the harder side since the cushions don't have as much inside support as other couch types. I would keep sleepers as a secondary seating option, or advise to invest in a high quality product to avoid disappointment down the road."
Loveseats
Perfect for filling space and reading nooks, loveseats can feel homey and really tie a space together. According to Demin, they usually fall on the less expensive side, and you can shop from tons of fun styles, too. That said, a downfall to loveseats is that they only comfortably seat one person (two people, if you're OK getting cozy). Before you decide on one, make sure you have a secondary place for guests to lounge.
Traditional
Traditional couches are useful, versatile, and known for being budget-friendly. Typically featuring a higher back, side arms, visible legs, and higher cushions, you'll find that traditional couches come in all sorts of colors, from subdued earthy tones and rich dark hues, to white and bright colors. Demin recommends choosing a traditional couch if you plan on mixing and matching decor.
Modular
A modular couch features deep seats, low backs, and generally sits lower to the ground. It's made up of separate pieces that can be rearranged or modified almost like Legos. For example, combining a square ottoman with a corner chair makes a chaise lounge. Because modular sofas are easy to reconfigure and seat lower, Demin recommends modular couches for young individuals, roommates, and couples.
However, the different pieces or "cubes" that make up a modular couch sometimes tend to slide, so you may notice pieces will slowly move apart, or your feet may slip away from the ottoman. You may also find that modular couches aren't as comfortable, typically lack side arms, and are pricey. "The product is expensive because you're paying for construction quality, premium novelty, and design," Demin says.
Styles of Couches
Now that you have an idea of what type of couch you're looking for, you can narrow your potential picks based on the style of couch. From English roll arms and round sectionals, to cloud sofas and bench seats, the options are endless. The style of couch will dominate the space, and other items in the room such as additional seating and furniture will need to fall within the same aesthetic, so proceed with caution!
Tufted Chesterfield
Described as a more refined and polished style of seating, a tufted chesterfield is a traditional couch with a tufted button back and arms that roll up on the sides, creating a classic flair. The back is usually the same height as the arms, but there are some styles that feature a higher back. On tufted chesterfields with exposed legs, you'll often seen ornate ball detail.
The only drawback to a tufted chesterfield is that it demands a lot of space. "Tufted chesterfield is a beautiful sofa choice, but watch out for its size as it will always look bigger than you think," Demin warns. Play it safe with the dimensions, and ensure there's an extra foot or two of room in the event that it is larger than you originally thought.
Armless Sette
Armless settees are budget-friendly sofas with high backs, but no arms. They're also extremely versatile as they can be found in different shapes and sizes. An armless sette with legs can be styled alongside a dining table or as accessory seating in a bedroom. Modern armless settes that sit low with no legs (sometimes available as u-shaped) can be used as a cozy loveseat alternative in a living room.
English Roll Arm
If you're going for an understated yet elegant look, you'll love an English roll arm. What makes this couch distinct is the way the arms are tightly rolled up on the sides. The rolled arms sit lower than traditional sofa arms, allowing for a tight back and deep seating. "You can use the traditional roll arm style in almost any interior," Demin explains. "The best thing about it is that it doesn't take a lot of visual space, and it looks great in small spaces. Plus, you can go absolutely wild with upholstery."
U-Shaped and Round Sectional
While a popular option, U-shaped and round sectionals are clunky and restrictive due to how much physical space they command. Depending on the size of the room, you may have minimal leftover space for freestanding decor. On the bright side, you probably won't need any additional seating with a U-shaped or round sectional. "They're a great choice if you need to frame a space with minimal effort and maximum convenience, and they go great with all kinds of throws and pillows," Demin says.
Cloud Sofa
As its name implies, cloud sofas are incredibly comfy, and are ideal for big families and hosting large gatherings. However, they can overrule a room with their large size. Demin notes that cloud sofas are best utilized in big family and living rooms over apartments.
Midcentury Modern
The midcentury modern style takes the traditional couch design, and reimagines it with straight, clean lines. Whereas traditional couches have oversized cushions that sometimes fall outside of a couch's frame, the cushions on a midcentury modern couch stay within the perimeter of the seat. In some instances, midcentury modern couches won't feature an extra back cushion, only seat cushions. This gives the couch a crisp and modern appearance.
"Midcentury modern couches create a fun and engaging atmosphere, and you can mix and match them into a fusion of styles, textures, and colors," Demin says. The downside, however, is that they're not always the most comfortable. If there's a couch you should definitely try out in-person before purchasing, it's a midcentury modern.
Tuxedo Sofa
While fun and colorful, tuxedo sofas tend to have higher backs and arms, resulting in an uncomfortable and unsupportive seat. "I can certainly see the appeal to buying them, but be careful with it. I've yet to sit in a comfortable tuxedo sofa — they're not for everyone," Demin says. Try these out in person before going all in.
Bench Seat Sofa
Bench seat sofas are clean, durable, minimal, and bring casual elegance to the space. As the name implies, this couch features a bench seat cushion that spans the length of the sofa, without breaking up into separate seats. Thanks to their understated and minimal appearance, bench seat sofas easily adjust and fit in with any decor aesthetic. This also offers room for creativity when it comes to styling the sofa with accent pillows and throws.