How to Decorate the Living Room For Fall
You Won't Believe This Living Room Was Transformed For Fall in Just 5 Simple Steps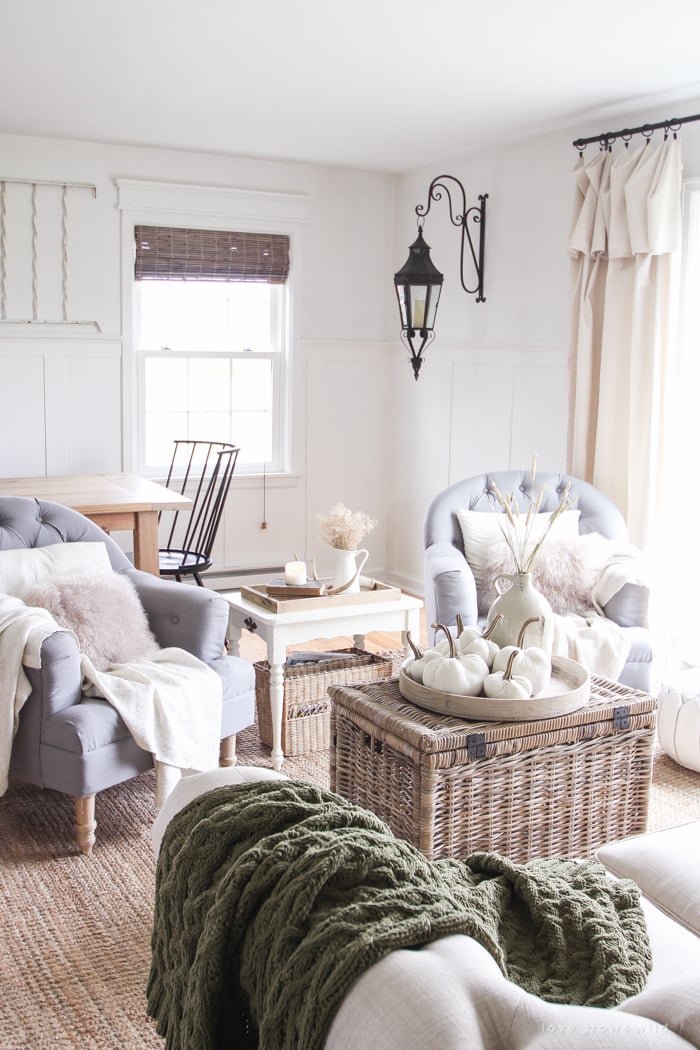 This dreamy Fall living room seems like it lives in a constant state of autumnal awesomeness, but it was actually updated for the season by a few simple — and refreshingly affordable — changes. Below, check out the five things blogger Liz Fourez of Love Grows Wild added to the space to transform it. Then, visit Love Grows Wild for the full scoop.

1. Blankets
Liz tossed warm blankets on seating areas, like the sofa and armchairs, to make them extra inviting.
2. Rich textures in neutral tones
Chunky knits and faux furs are a few of the fabrics Liz looked for in decor pieces, such as pillows, to make the space feel cozy. For the color scheme, she looked to rich neutrals, which popped off her light and bright furniture.

3. Rustic accents
Liz filled the room with rustic seasonal decor pieces, like velvet pumpkins, an old jug, and an aged wooden tray on the coffee table.
4. Dried flowers
Not only is baby's-breath super affordable at $2 a bushel, but when it dries out, Liz discovered that its brown stems and white flowers look extra autumnal. She peppered the space with them, using pitchers and vases to display them to stylish effect.
5. Candles
Nothing sets the tone as quickly and easily as scented candles. Liz lit a few candles to complete her living room's fallification.