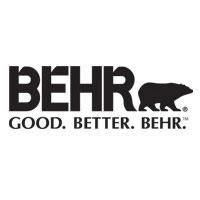 It's official: we can't get enough of this trendy hue. To help you add a pop of color to your own life, we've partnered with BEHR® to share DIY home upgrades you'll love.
When I was 8 years old, all I wanted was a New Kids on the Block T-shirt and an orange room. Yes, I wanted to paint my room a shade of orange. The entire room, walls and doors, and I wanted a light orange canopy bed to top it off. It will come as no surprise to you that my mother quickly vetoed this proposition. She did cave on the canopy bed, although I'm still waiting on my New Kids T-shirt. The days of preteen neon bedrooms are long behind me, but there's still something very appealing about the perfect shade of orange and how it can add a subtle yet meaningful moment of color in any room or to any piece of decor.
Fortunately, I no longer have to convince my mother about the utility of orange — the design world has my back because colors in the same family are having their time in the spotlight. And it's not just for 8-year-olds anymore.
When it comes time to choose how you'll use this hue in your home, it's probably best to avoid going four-walls-full-speed-ahead, and when selecting a shade, go a touch lighter than you think you want. No need to worry about stressing over the perfect color either, because BEHR MARQUEE® Interior Paint comes in over 1,000 one-coat shades that will pair with whatever vibe you're going for. To live out our light-orange obsession for this DIY, we're using Balcony Sunset to show how to add the perfect dose of color to any home decor project you have in mind. Follow these easy tips for three creative ways to celebrate 2017's chicest shade.