The Next Big Kitchen and Bath Trends
These 7 Emerging Trends Represent the Future of Kitchens and Bathrooms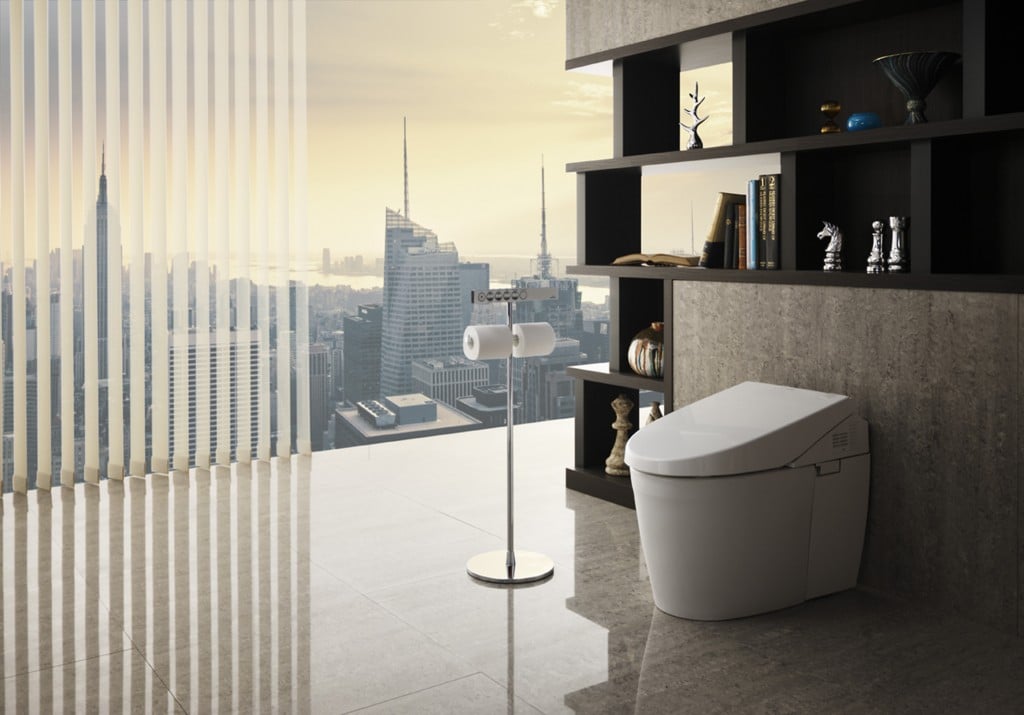 From the futuristic to the beautiful and even to the absurd, the newest and most innovative kitchen and bath products went on display at the Kitchen and Bath Industry Showcase in Las Vegas last month. Stacy DeBroff, brand strategist and CEO of Influence Central, was in attendance, and using her insider knowledge and killer instincts, she's identified the next big trends. The key themes? Personalization and responsiveness — two words oft associated with the increasingly powerful millennial generation of consumers.
Keep your home ahead of the curve by checking out appliances and technologies Stacy predicts will be filling homes in the near future below.
Lighting as a Design Element
Mood lighting will extend well beyond a dimmer in the dining room to become colorful, sparkling, and ubiquitous in the home. Think colored lights that transform the shower into a disco and gas fireplaces glowing in unexpected hues. "This trend — which started with light bulbs that come with an app to change their hue — has exploded across every room of the house, and innovative brands have added lighting where homeowners never dreamed, such as rimming the ceiling molding," says Stacy.
Kitchen Conveniences Throughout the Home
"Kitchen appliance manufacturers have all started showcasing under-the-counter fridges, so cold beverages or snacks await homeowners in the bedroom, TV room, or anywhere else in the house where families sack out and can't be bothered to work their way to the kitchen fridge," explains Stacy. She adds that they seem to be taking a page from luxury hotels in offering ensuite conveniences, such as a a coffee maker in the bedroom or master bath.
Artisan Fireplaces
Bye bye, wood burning fireplace. The next iteration of fireplaces are gas and function as both a heating and design element. Stacy describes what she saw at KBIS as, "warm fire lights dancing across clear glass stones in long and narrow bands that shimmer and take the place of wall art." This might be a longer term shift because, as she adds, "designers will, however, have to provide homeowners with a heads up that gas lines will need to be run in order to fuel them, and installation can be tricky."
Fantasy Kitchen Appliances
"As kitchen brands take innovation to the next level, appliances have become more aspirational — fitting right in with the high-end residences of homeowners' dreams," Stacy says. Viking Range is coming out with a new oven that will allow the home cook to prepare food faster than ever thought possible and GE put a lot of research on cooking temperature and pizza qualities into oven presets. Even standard kitchen equipment is becoming more specialized, with manufacturers creating professional-grade lines made to fit into home settings. "Kitchen manufacturers have replaced traditional [handles] with thick stainless bars on ovens to fridges so they more closely resemble professional kitchens," says Stacy.
Indoor-Outdoor Lifestyle
A slew of new products designed to make the backyard as functional as any other room in the house are on their way to the market. Outdoor kitchens will practically be more sophisticated than their indoor counterparts, explains Stacy: "Built-in units now have options for everything — including grills that turn into smokers, nugget ice makers, butane burners, and beverage refrigerators." Beyond kitchen appliances, outdoor surface areas, are also getting an upgrade with options like never fade wood-like decks.

Hyper Organized Kitchens
The intense focus that was once on closet organization has shifted to the kitchen, where drawers are being outfitted with all types of built-in holders, cutouts, and racks. "Cupboards with the push of a button lower to give easy access to upper shelves — no more reaching, no more kitchen stepladders — and cup holders for coffee simply lower down as needed. Drawers have split levels, so when they open fully, the upper tray can be pushed back to reveal a whole new tray underneath," she explains.
High-End Toilets
"Bathroom suppliers have zeroed in on the family toilet for a stunning array of high-end updates," says Stacy. Amongst the innovations, she describes heated seats, water-saving flushes, illuminated basins, and rinsing apparatus that make bidets look dated. These features, however, come with a big price tag.