Walker Edison Round Coffee Table Review
This $117 Marble Coffee Table Is the Most Expensive-Looking Piece in My Living Room
As POPSUGAR editors, we independently select and write about stuff we love and think you'll like too. If you buy a product we have recommended, we may receive affiliate commission, which in turn supports our work.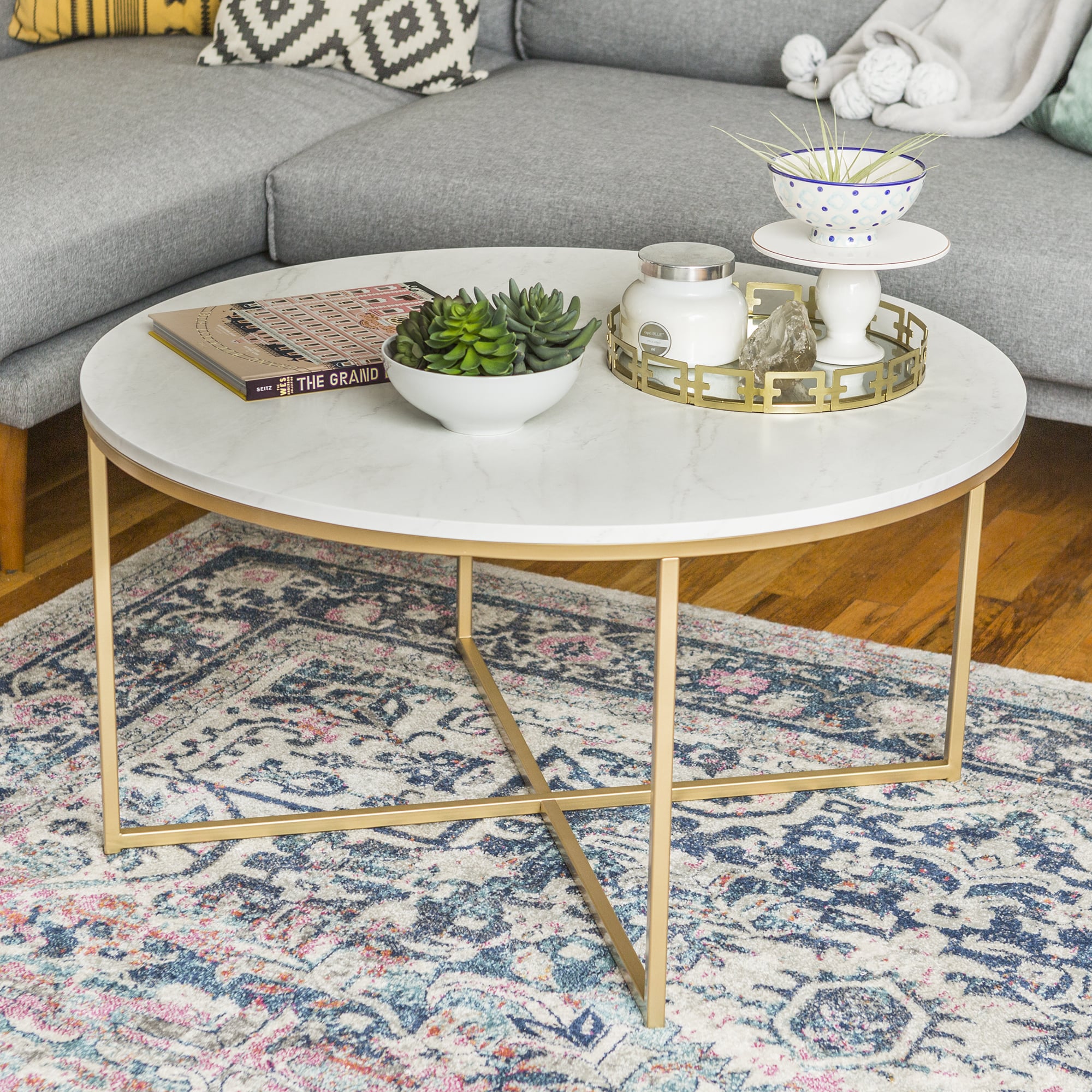 I'm lucky enough to live in a big apartment, but I had a hell of a time furnishing it. When we first moved in, my boyfriend and I had literally nothing. We were completely overwhelmed by the fact that furnishing a whole place is super expensive. We needed it all. I'm talking everything from dinnerware to trash cans and TVs. I was able to snatch a few hand-me-down pieces from friends and family, but one room was really lacking: my living room. It was pretty much just a sofa and an Ikea shelf. I knew I needed to spruce the place up and on a budget. During my search for the perfect coffee table, I stumbled across this Walker Edison Round Coffee Table ($117) and was instantly sold.
One of my decor dreams had always been to own a sleek white marble table. After almost having a heart attack at the price of real marble choices, I switched my focus to faux-marble tabletops. While the real ones are undoubtedly beautiful, not only are they far out of my budget, but they can stain or ruin easily. I didn't want that kind of stress, so I was happy to invest in a cheaper option that worked for my space.
Surprisingly enough, I discovered this table from Walmart. The affordable retailer is filled with an array of stylish and reasonably priced options. It wasn't just the pretty top that sold me. I love its gold metal legs. It gives off the vintage, art-deco-inspired vibe that I was going for in my apartment. The best thing: it looks so expensive! My guests constantly ask me where it's from, and they never believe the price. Its durable laminate top has withstood dings, dents, and even red wine spills. I couldn't be happier that I got exactly what I wanted for a fraction of the price.