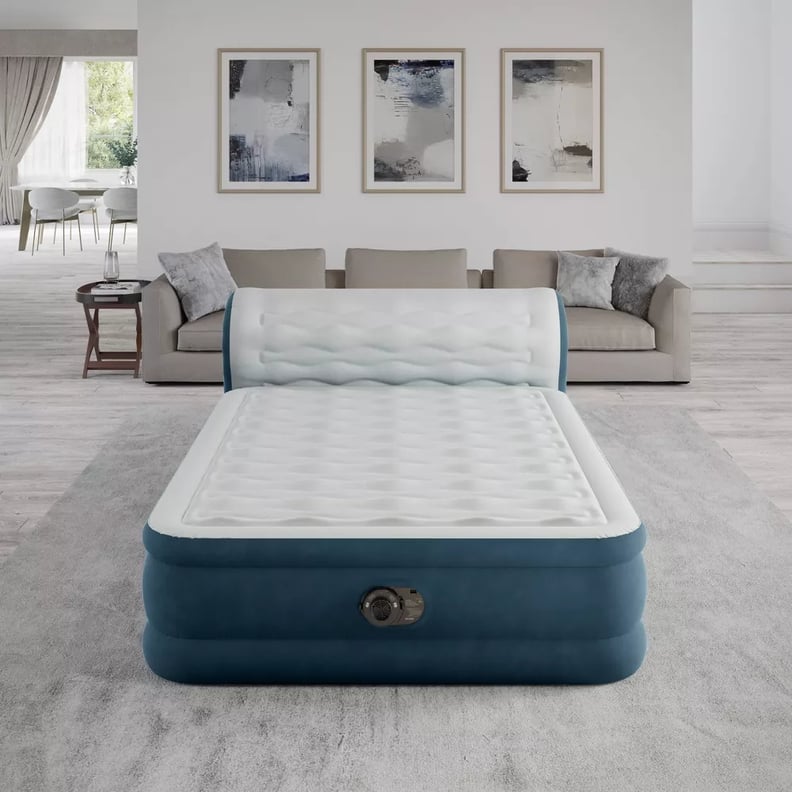 Walmart
Walmart
As POPSUGAR editors, we independently select and write about stuff we love and think you'll like too. If you buy a product we have recommended, we may receive affiliate commission, which in turn supports our work.
You never know when you're going to need an easy-setup air mattress. Whether it's an unexpected visit from the in-laws or a friend needing a place to crash, being prepared with a high-quality and comfortable option will is always a good idea. An air mattress proves to be a great solution for accommodating overnight guests, especially in small spaces with limited bedrooms. Its portability and ease of setup make it a versatile choice, perfect for camping trips or temporary housing situations like subleasing.

Air mattresses often get a bad reputation for deflating easily, leaving you feeling like you're sleeping on the ground after putting in all that effort to inflate them. But fear not, we've gathered the top ten options that come with electric pumps, taking all the hard work out of the equation. In just a few minutes, these air mattresses will be fully inflated and ready for a comfortable night's sleep. What's more, some of these options allow you to adjust the firmness to your liking. Comfort is not compromised either, as these air mattresses boast ultra-soft surfaces, with a few even featuring built-in headboards or raised sections that double as pillows. To top it off, one of our picks even includes a removable mattress topper. And if you're still craving extra comfort, you can easily add a mattress topper to any of these options. Explore our top picks ahead.

Best Cheap Air Mattress
INTEX 64149ED Dura-Beam Standard Pillow Rest Air Mattress ($35, originally $40)
You can't beat the price of this air mattress, which is the most affordable on our list and an Amazon bestseller. It comes with an electric pump that inflates it in just two and a half minutes (!) and has a built-in pillow for comfort. "It was so comfortable, easy to inflate and deflate, very roomy, and cheap," writes a reviewer who gave it a perfect five-star rating.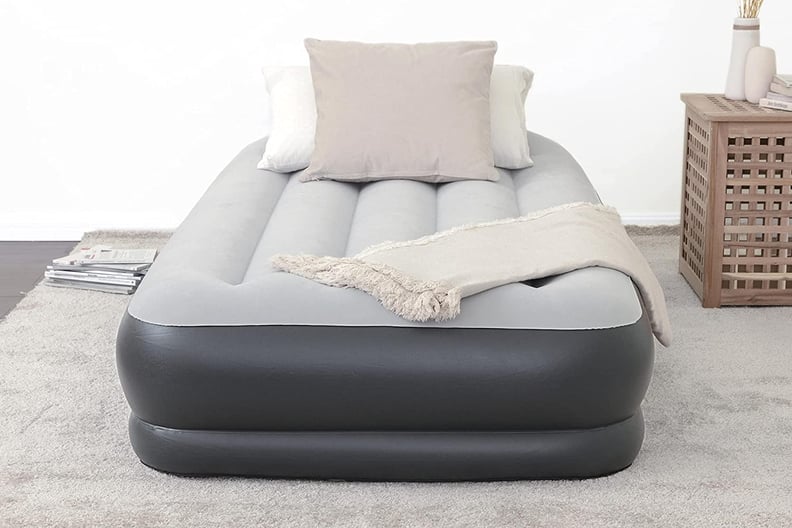 Best Air Mattress With a USB Charger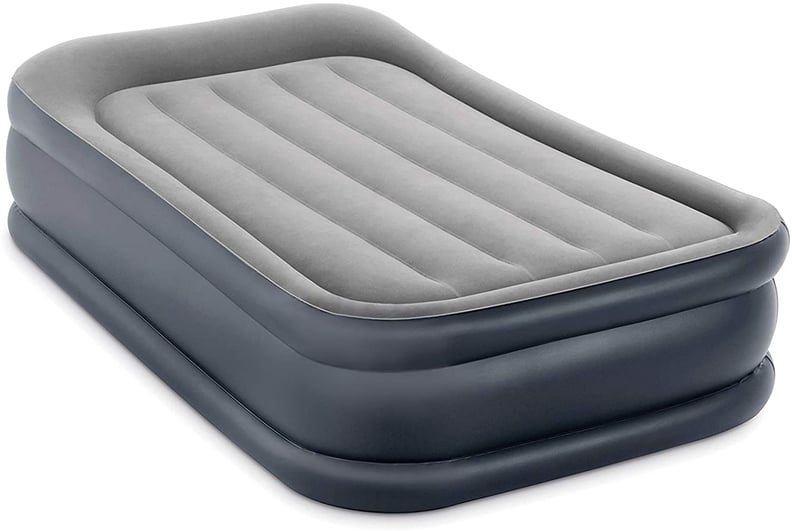 Best Twin-Size Air Mattress
Intex Dura-Beam Series Pillow Rest Raised Air Mattress with Internal Pump ($47)
This affordable twin air mattress comes with a built-in pump with an inflation time of around two minutes. It has indented sides to help keep fitted sheets in place, and it leans more firm, with a velvet soft surface and has a raised section that doubles as a built-in pillow. Over 3,000 Amazon shoppers have given it a five-star rating, describing its effortless inflation process as a standout feature.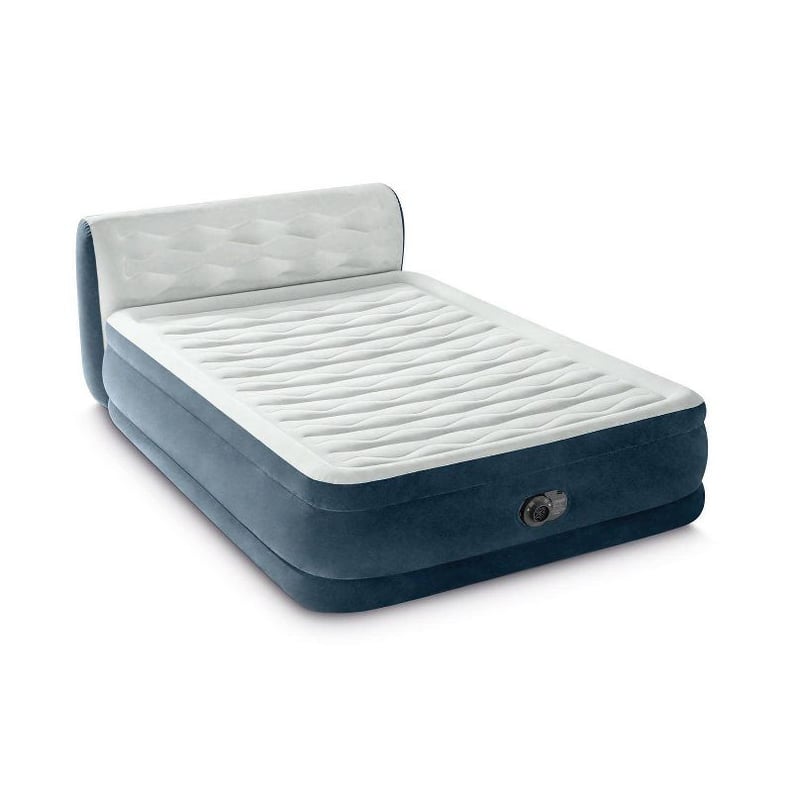 Best Air Mattress With Headboard
Intex 18" Pillow Top Air Mattress ($90)
This air mattress features a built-in headboard, which'll help guests sleep soundly without worrying about their pillows slipping off the bed during the night. With its built-in pump, you can inflate and deflate the mattress in a matter of minutes, saving you time and effort. Plus, the plush top adds an extra layer of coziness, while slightly raised edges provide support and stability.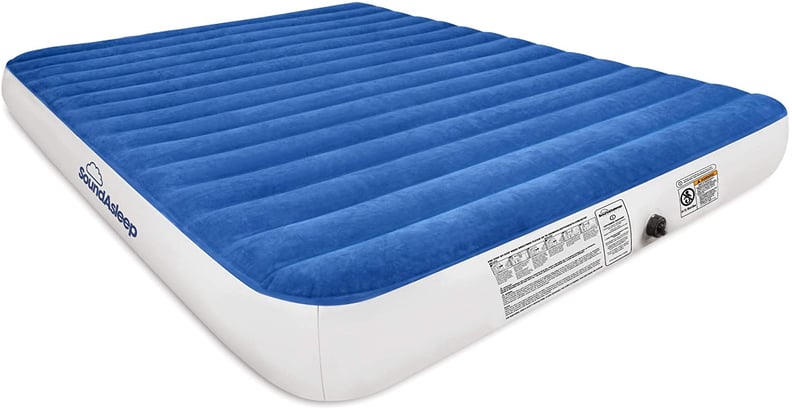 Best Air Mattress For Camping
SoundAsleep Dream Series Luxury Air Mattress ($90, originally $120)
If you're an avid camper and love exploring the great outdoors, this air mattress is the perfect match for you. Designed specifically for outdoor adventures, it's waterproof and crafted from extra-thick, eco-friendly PVC material. What's more, it comes equipped with a compact yet powerful rechargeable air pump that can be conveniently charged at home or via a car charger. The best part: it reaches full inflation in just three minutes, so your campsite will be set up in the blink of an eye.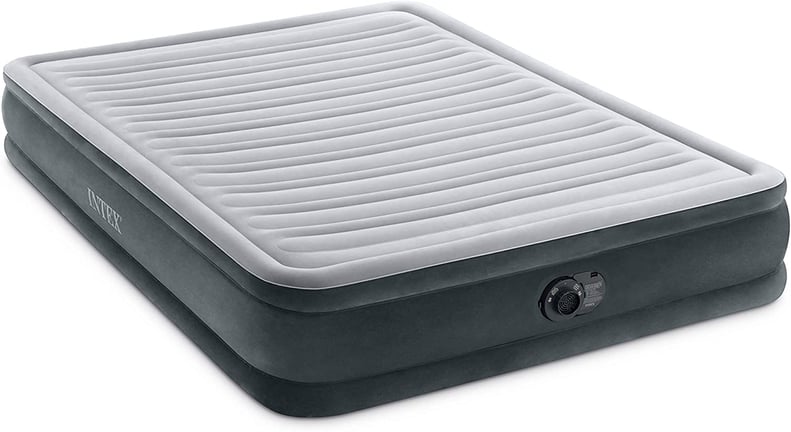 Best Air Mattress on Amazon
INTEX 67769ED Dura-Beam Deluxe Comfort-Plush Mid-Rise Air Mattress ($69, originally $75)
This air mattress comes in twin, full, and queen sizes and three height options: 13, 18, and 22 inches. It has a built-in internal pump that can inflate and deflate in around three minutes with just a switch of a button. It comes with a carrying bag for storage and portability. It's a durable bed that is water-resistant. It's stable and supportive with a design that won't dip. Plus, it has a soft, velvety top.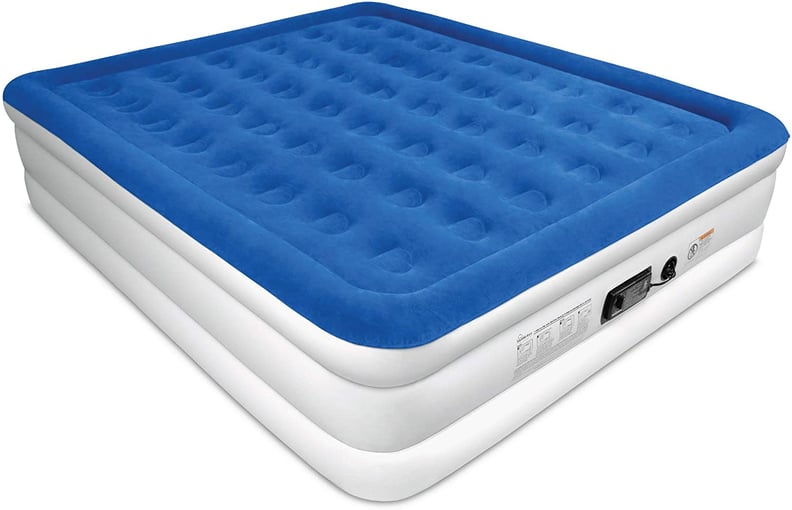 Best King-Size Air Mattress
SoundAsleep Dream Series Luxury Air Mattress ($132, originally $260)
On the hunt for a king-size air mattress? This one has 48 internal air coils for added durability and support. It's perfect for those who prefer something firm and steady. It has a built-in pump that can inflate and deflate in under six minutes. Plus, this one can stay inflated for days. It's made from durable, puncture-resistant, eco-friendly PVC that is also water-resistant. It comes in sizes ranging from twin to king and is 18 inches tall.
Best Air Mattress For Guests
Nautica Home Support Aire Air Mattress with Built in Pump ($97)
This air mattress is perfect for overnight guests or for temporary-housing situations. The built-in pump can inflate and deflate in minutes. It also has a mattress topper or cover that makes the air mattress feel comparable to a regular mattress. It's on the firmer side and stays inflated all night long. It's puncture-resistant and durable, as well. It's 16-inches tall and a full-size bed.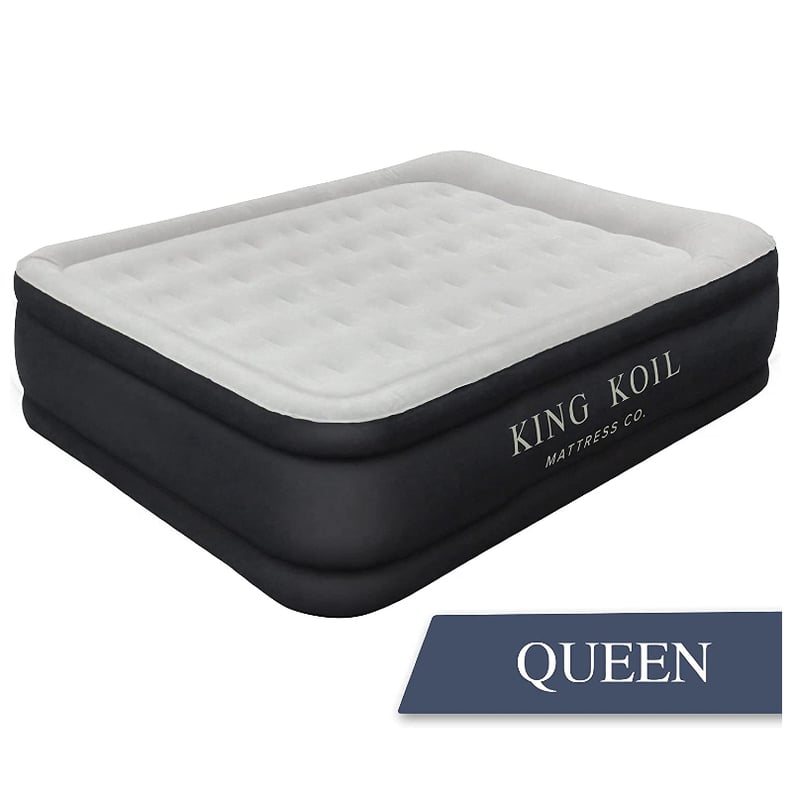 Best Luxury Air Mattress
King Koil Luxury Air Mattress ($150, originally $170)
Guests will feel like royalty when they sleep on this air mattress. It's a full queen-size bed with a suede top that has a slightly raised built-in pillow, as well. It's durable and waterproof, with a built-in pump with adjustable inflation and deflation valves so you can adjust the firmness level. It can inflate and deflate in two minutes and specifically designed for indoor use. But don't just take our word for it — several Amazon shoppers have unanimously praised it as the best air mattress they've ever slept on.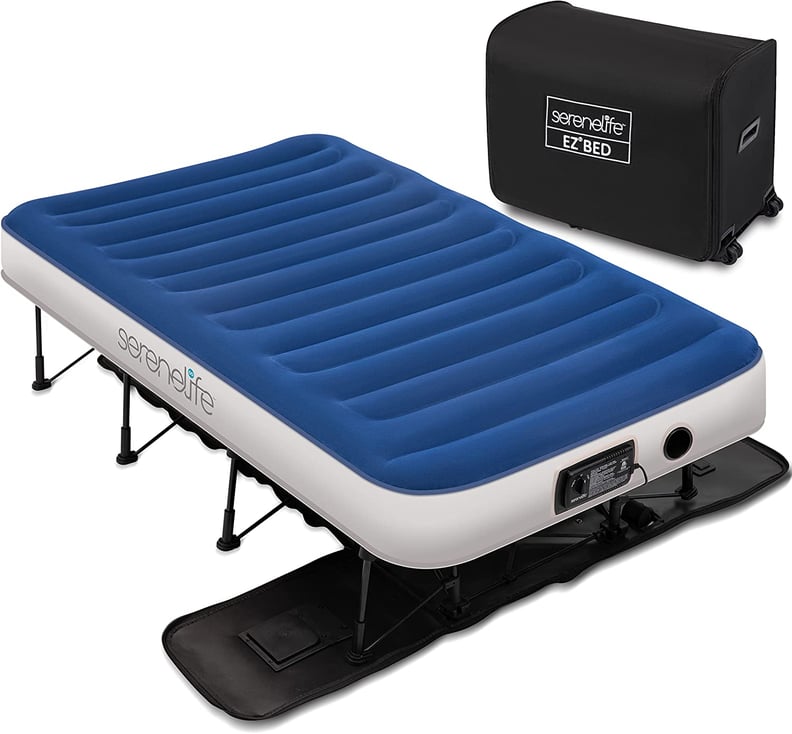 Best Air Mattress With a Frame
SereneLife EZ Air Mattress with Frame & Rolling Case, Foldable Self-Inflating Air Bed ($196, originally $280)
Air mattresses don't typically come with a frame to lift you off the ground like a real bed, but this one's different. "When you inflate the mattress, the frame extends automatically, and the bed then sits elevated on the frame," writes an Amazon shopper who gave it a five-star rating. Another said: "The frame made it seem like getting in and out of a real bed."