10 Essential Decor Items We Found at Ashley
Ashley
Ashley
As POPSUGAR editors, we independently select and write about stuff we love and think you'll like too. If you buy a product we have recommended, we may receive affiliate commission, which in turn supports our work.
You know how every home has a piece of furniture or an item of decor that just makes the space? As gorgeous as those one-of-a-kind family heirlooms and vintage finds might be, it's always a little disappointing when you can't scoop up one of the same for your own home.
That's why we're pretty excited by what we've discovered at Ashley: 10 super-stylish furniture and decor finds that feel special and are 100 percent accessible. From a farmhouse writing desk to an elegant marble dish, they'll add something special to your space — and you don't have to worry about tracking them down.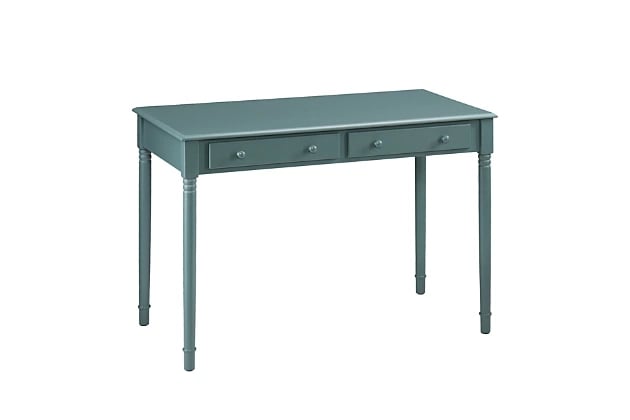 Clara 2-Drawer Writing Desk
Decked out in an unconventional yet agreeable blue-green, the Clara 2-Drawer Writing Desk ($136) is one versatile find. Its drawers make it a useful addition to entryways, bedrooms, and offices — yet its footprint is compact enough that it won't gobble up a ton of space. It's cute enough to design a full room around, if that's your thing.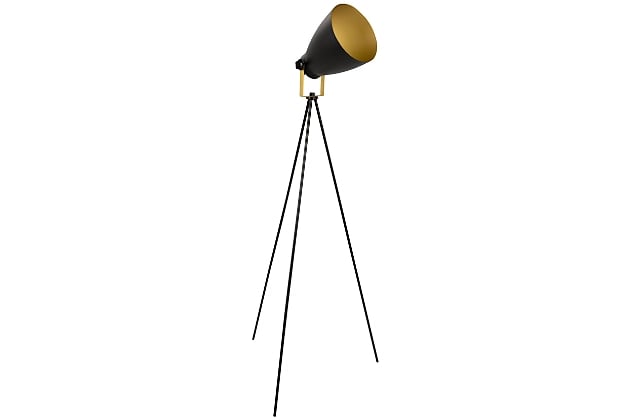 Modern Floor Lamp
This Modern Floor Lamp ($94) adds instant glamour to the living room. The tripod legs make it easy to squeeze into a dark corner, while the shade allows you to direct light as you see fit.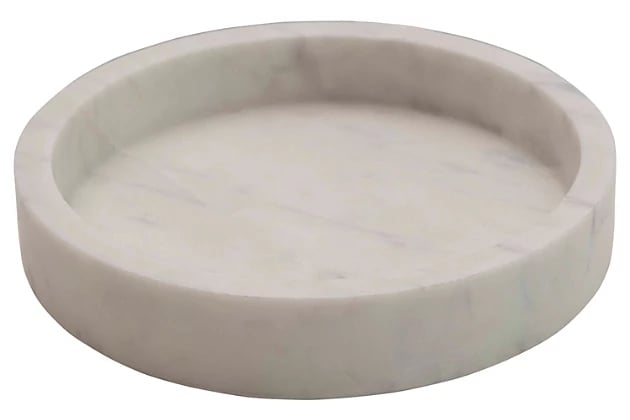 Carved Marble Tray
Even a hint of white marble makes a room feel more sophisticated (and, let's be frank, expensive). Case in point: this Carved Marble Tray ($42). It makes a table or dresser look instantly chic and will never go out of style. And the best part? It looks like something you picked up at an artsy little boutique in the Left Bank.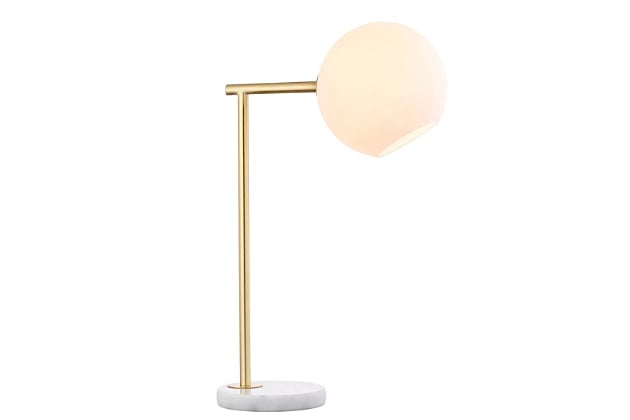 Jonathan Y Charles Table Lamp
If you gravitate toward midcentury or modern design, this Jonathan Y Charles Table Lamp ($76) will fit right into your space. It's got that marble allure once again, plus a frosted-glass lampshade that casts a soft and pretty glow.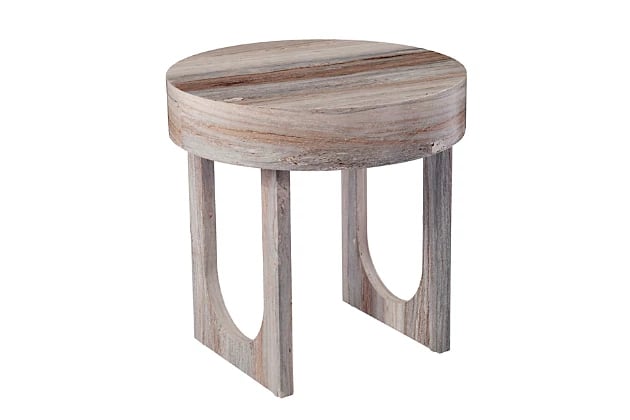 Southern Enterprises Treston Round Faux Marble End Table
Natural stone is always gorgeous, but it isn't the most forgiving material when it comes to furniture. (Have you ever tried to move stone furniture?!) Get the best of both worlds with this Southern Enterprises Treston Round Faux Marble End Table ($180), which has the look of carved natural stone and is much lighter.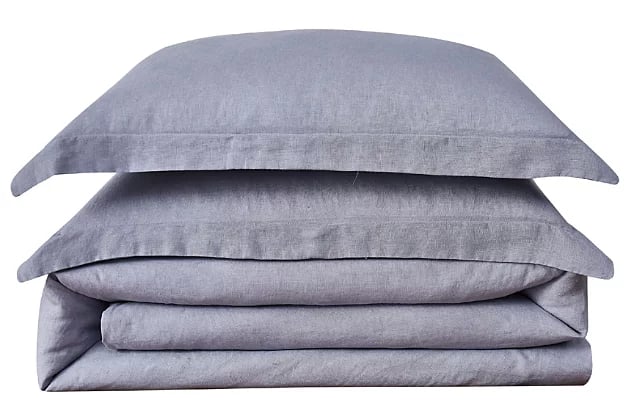 Brooklyn Loom Linen Duvet Set
Linen bedding is luxurious and prohibitively pricey . . . or is it? This Brooklyn Loom Linen Duvet Set ($114-$170) retains the upscale look and feel of linen, minus the sky-high price tag. It comes in a bunch of color options, too!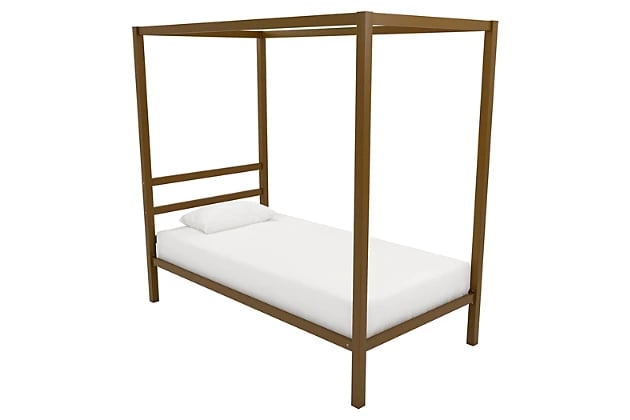 Modern Metal Canopy Twin Bed
Most of the time, canopy beds come in queen and king sizes — which is nice, but not everyone has enough room for a big bed. Ah, but look what we have here: the Modern Metal Canopy Twin Bed ($220), sized for smaller spaces blessed with high ceilings. It packs just as much visual drama as the larger version, but it takes up far less square footage.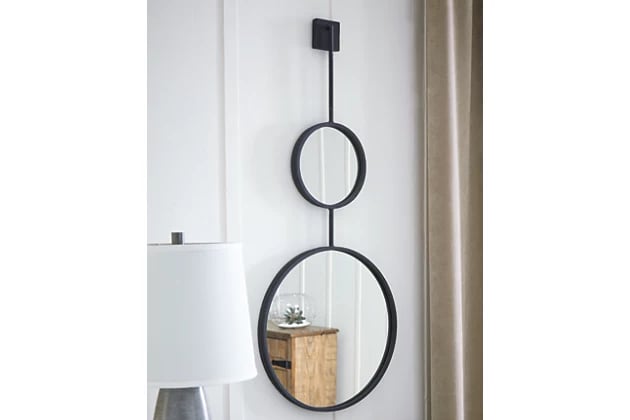 Brewer Accent Mirror
Everyone has at least one spot on the wall that needs . . . something. Not a photo, not a painting — but something to fill in the blank without taking up too much room. This Brewer Accent Mirror ($110) solves that problem with an abstract geometric silhouette that feels delightfully unexpected.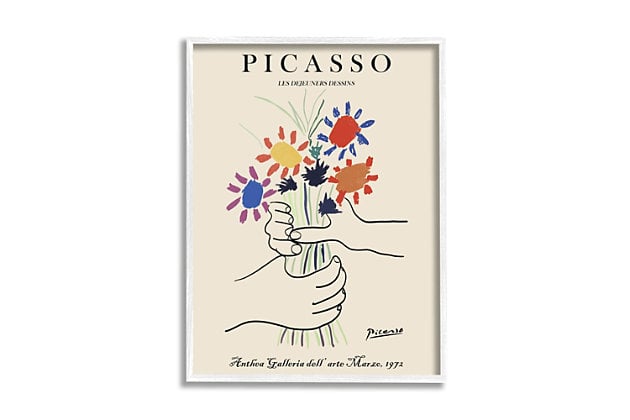 Stupell Picasso Wall Art
Framed and ready to hang, this Picasso print ($77) is cheerful and colorful — just the thing to liven up a ho-hum kitchen or hallway.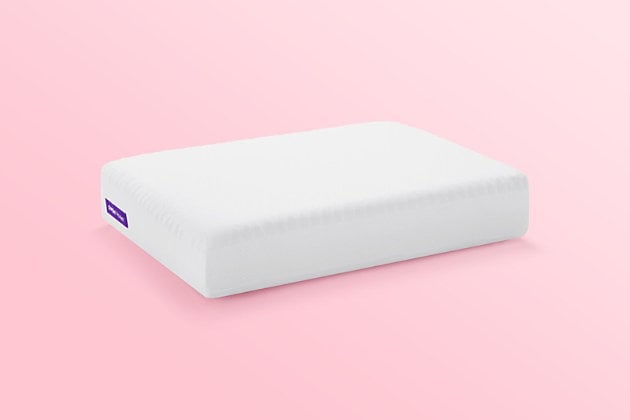 Purple Pillow
Finally, did you know that Ashley stocks the highly rated Purple brand of mattresses and pillows? This pillow ($107) has a unique GelFlex Grid interior that provides ergonomic support for your head and neck. Now you know!