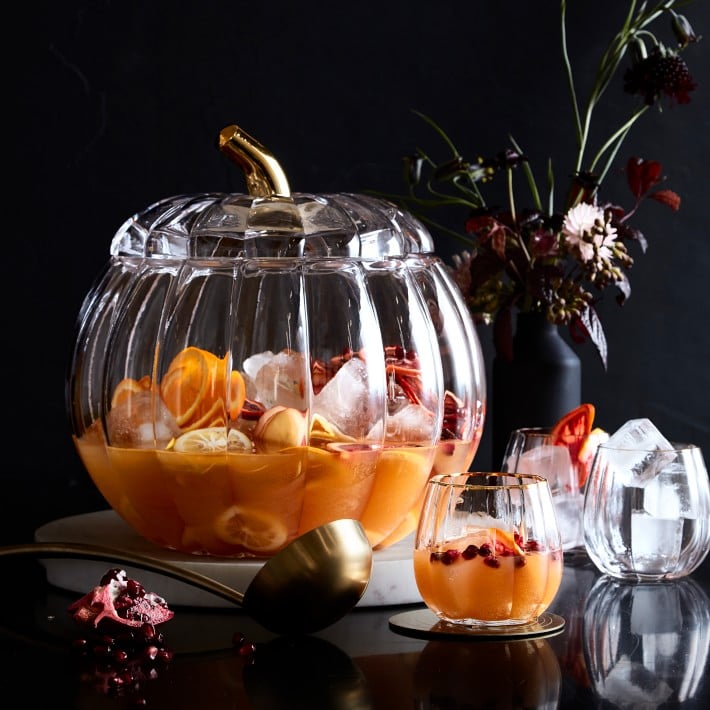 Williams-Sonoma
Williams-Sonoma
As POPSUGAR editors, we independently select and write about stuff we love and think you'll like too. If you buy a product we have recommended, we may receive affiliate commission, which in turn supports our work.
Any Halloween-decor aficionado knows it takes time to transform a space into something that will haunt visitors forever. It's why there's never been a better time than now to start collecting the pieces that will turn your place into a scary-movie set. We turned to Williams Sonoma for our Halloween decor shopping, as its seasonal ornaments give us the chills in the best way.
No matter if you're going for a friendly aesthetic with items that pay tribute to the holiday subtly (like a pumpkin punch bowl) or you want something to disturb your home for a haunted bash (like a black cauldron), there's surely an ornament in here that will match your Halloween needs.
From richly textured goblets to decorative black and gold pumpkins, these festive pieces are the proper way to celebrate Halloween. But wait — there's more. We couldn't help but include some treats that have us drooling like a pecan pumpkin butter spread and frosted Halloween cookies (you've been warned!) — there are even serving bowls and kitchenware to serve them in! Go ahead and find your Halloween decor match ahead.
— Additional reporting by Shelcy Joseph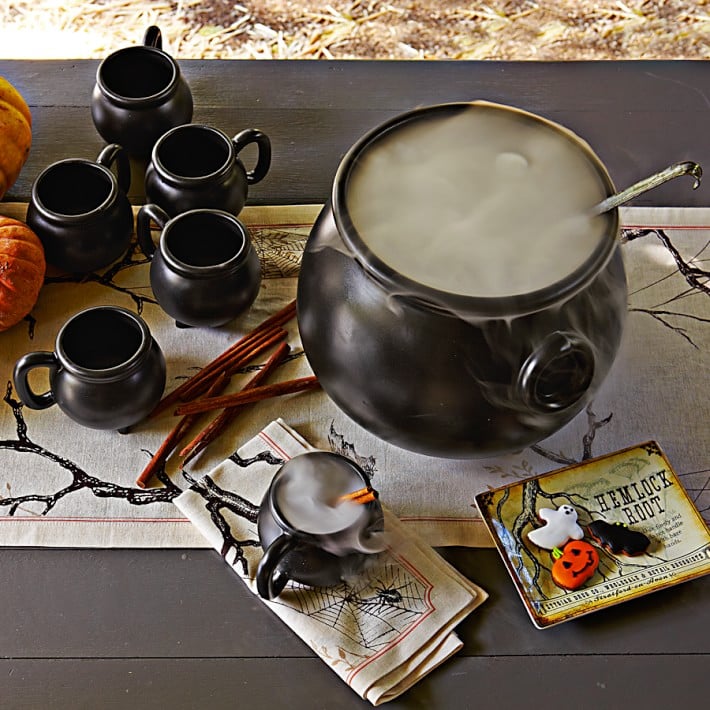 For the Next House Party: Black Cauldron Serving Bowl
Designed by hand from stoneware, this Black Cauldron Serving Bowl ($80) has a stylish matte-black glaze that gives it a special spellbinding effect. Fill it with punch or a hot concoction of your choice for your next house party. Hint: dry ice is a good option if you want to create a dramatic fog.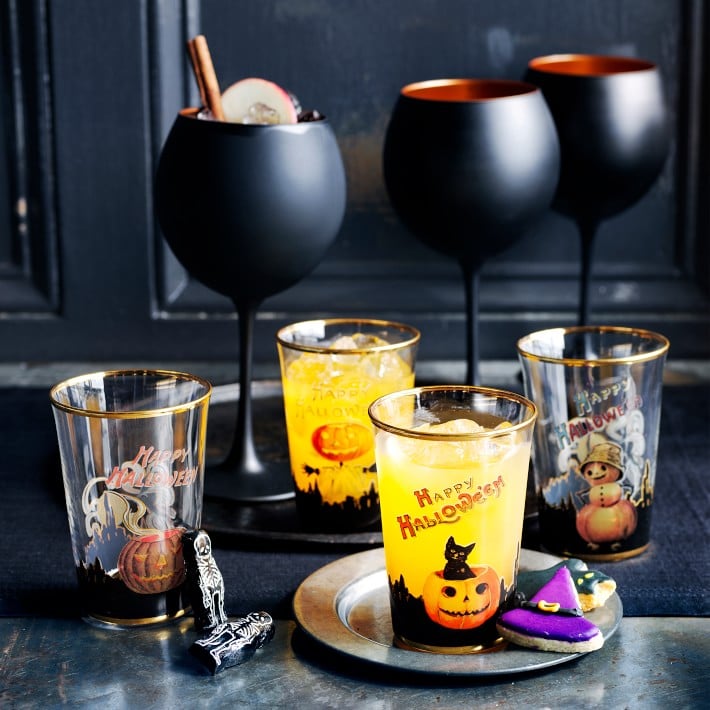 To Spruce Up Your Drinkware Collection: Black Matte & Copper Wine Glasses (Set of 4)
To preserve the matte-black finish of these Black Matte & Copper Wine Glasses (Set of 4) ($60), the brand recommends hand-washing them only. They are designed to channel the spirit of Halloween with their bewitching presentation. We love their copper interior, which complements their matte black finish in a spooky way.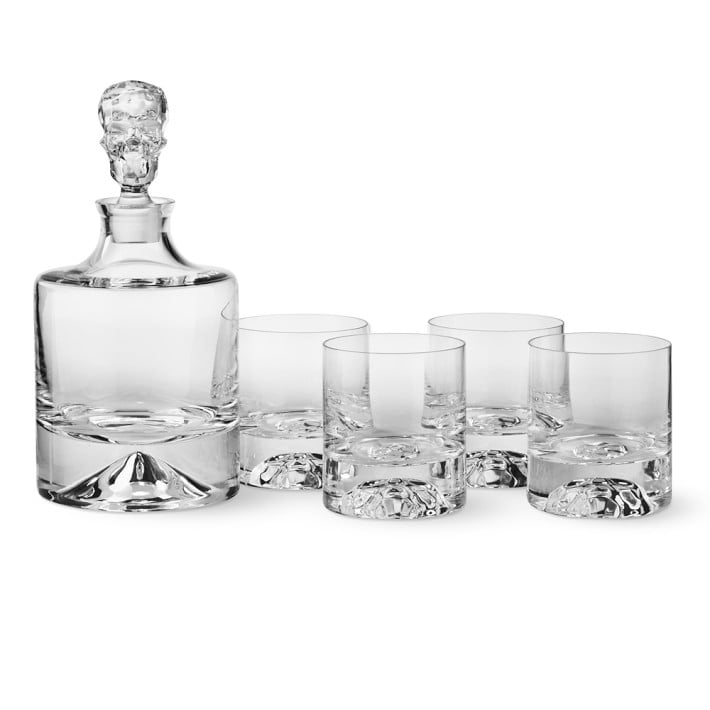 For Gothic Vibes: Shade Skull Decanter & Double Old-Fashioned Glasses (Set of 4)
Spice up your usual bar accessories with these Shade Skull Decanter & Double Old-Fashioned Glasses (Set of 4) ($215). They are crafted of lead-free crystal, so you know they will shine bright and are safe to drink from. The glasses' unique design is guaranteed to add a haunted element to your party cocktails.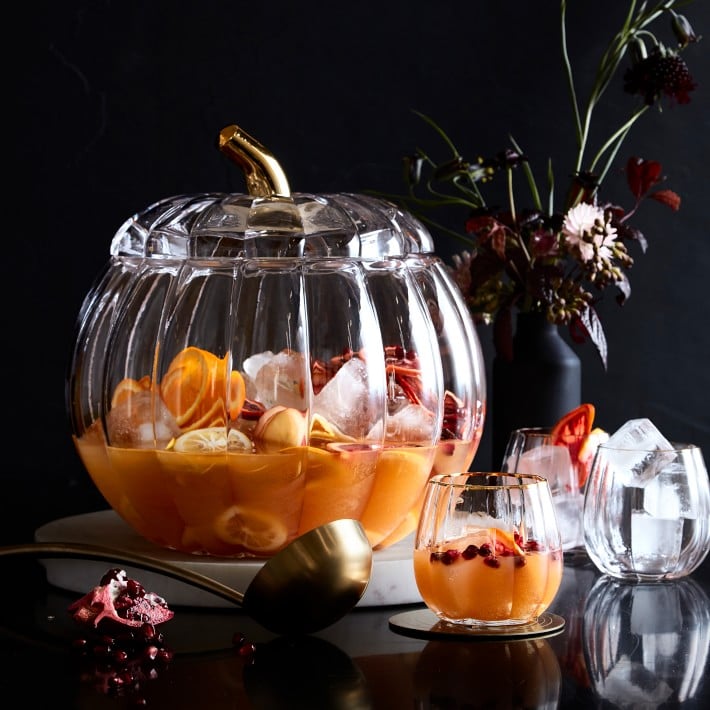 To Impress Your House Guests: Pumpkin Punch Bowl and Punch Cups (Set of 6)
From the gold stem to the ridges, everything about the Pumpkin Punch Bowl and Punch Cups (Set of 6) ($160) feels expensive, playful, and elegant. They're perfect for serving up cocktails or kid-friendly juice. The set includes a punch bowl and six glasses that are perfect for your next Halloween bash.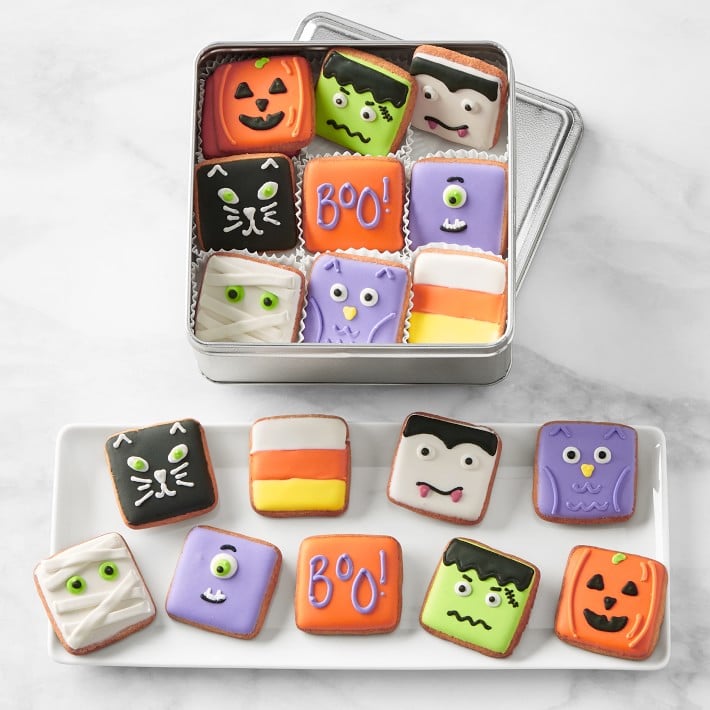 For Dessert: Frosted Baker Halloween Cookie Tin
Your sweet tooth will always be tempted whenever you're around this Frosted Baker Halloween Cookie Tin ($60). The rich vanilla butter cookies are made from scratch and are hand decorated with colorful icing in nine spooky cute designs. The tin contains 27 cookies that make the best Halloween gift.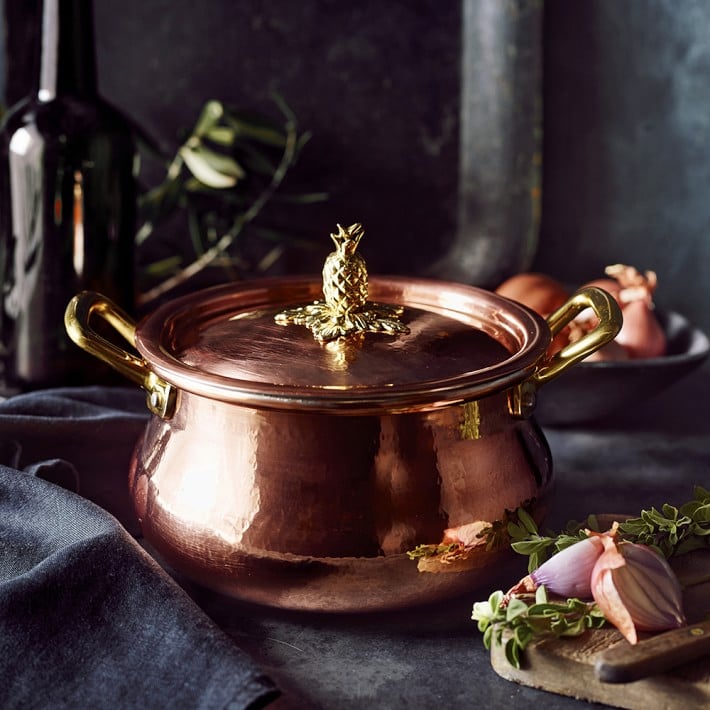 For Chic Kitchen Essentials: Ruffoni Historia Hammered Copper Stock Pot With Pineapple Knob
For a Halloween Statement: Decorative Black & Gold Pumpkins
These Decorative Black & Gold Pumpkins ($20-$80) will be put on display long after Halloween. Crafted of high-fired stoneware, they are durable, chic, and sculptural. The pumpkins are glazed with a satin matte finish that captures and reflects light in an eerie-cool way. The pumpkins are available in three sizes that make for festive mantel or dining table decorations.
For a Statement Piece: Autumn Vine Dome With Base
How pretty is this Autumn Vine Dome With Base ($150) to look at? Handcrafted by master artisans, this special-occasion piece is perfect for showcasing all your meals. Its base is finished with a scalloped stainless steel rim that looks so pretty rested atop your surfaces.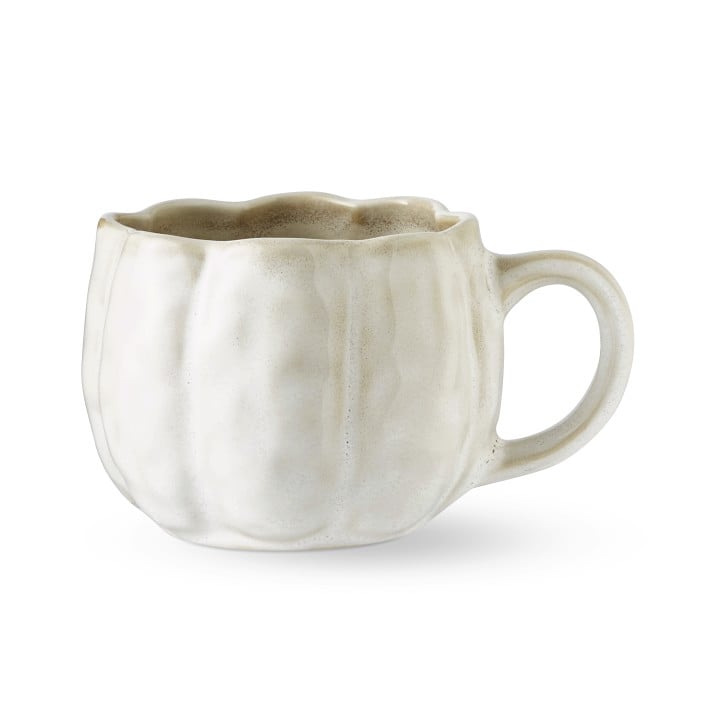 For Your Morning Beverage: Sculptural Pumpkin Mug
We love the quirkiness of this Sculptural Pumpkin Mug ($17), which mimics the shape of a harvest pumpkin. Your morning coffee routine just got a stylish upgrade with this white glaze mug. It's dishwasher- and microwave-safe, too, and blends in seamlessly with existing kitchenware. The more fall mugs, the better — are we right?
If You Have a Sweet Tooth: Williams Sonoma Pecan Pumpkin Butter
This Williams Sonoma Pecan Pumpkin Butter ($17) is a customer favorite, which you can enjoy on English muffins and toast. It combines pumpkin purée and pure brown sugar with a custom blend of autumn spices, including cinnamon, ginger, nutmeg, allspice, and cloves. It's a delicious topping for anything — from pancakes to ice cream.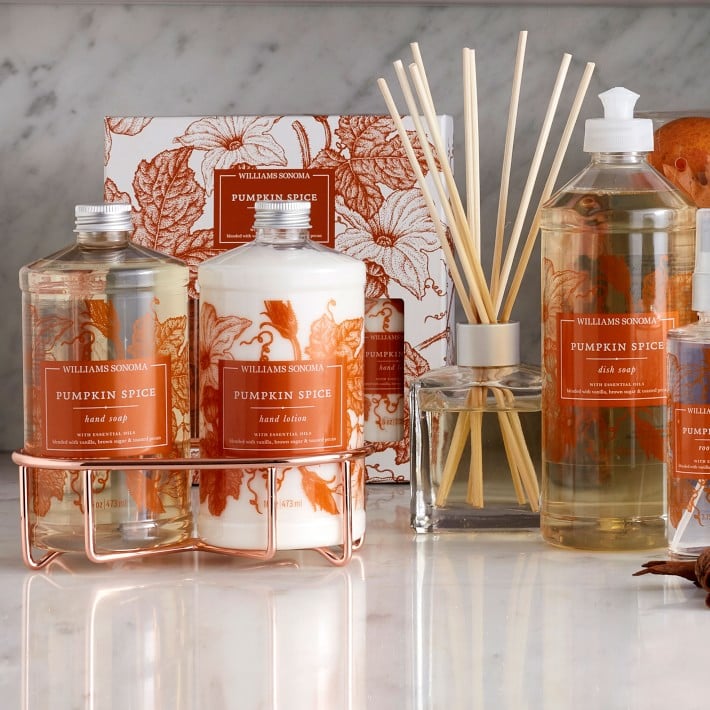 To Set the Mood: Williams Sonoma Pumpkin Spice Fragrance Diffuser
Inspired by the aroma of pumpkin bread, this Williams Sonoma Pumpkin Spice Fragrance Diffuser ($30) will infuse your space with a delightful essential-oil scent. It's made from a blend of fresh pumpkin, butter, and brown sugar and contains notes of vanilla, toasted pecans, and warm spices.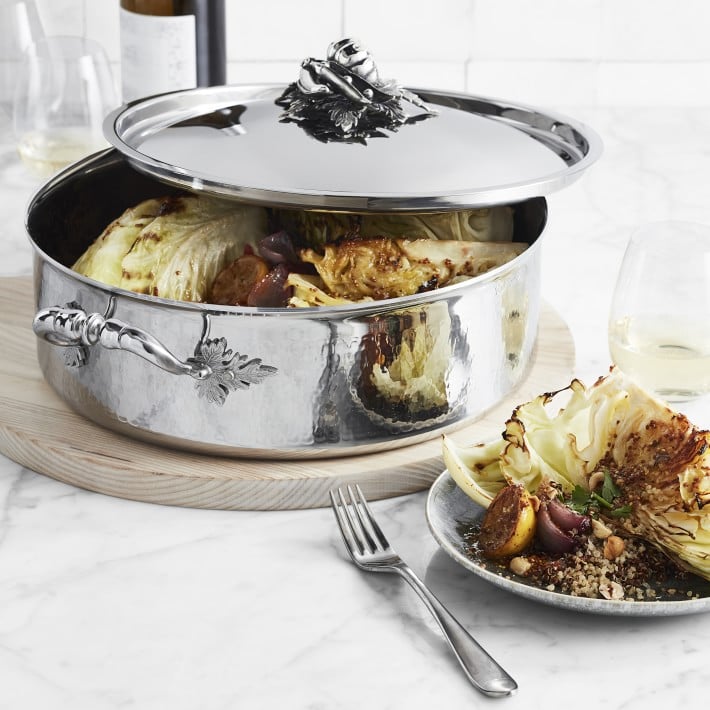 For an Elegant Dinner Party: Ruffoni Opus Prima Hammered Stainless-Steel Braiser With Pumpkin Knob