As POPSUGAR editors, we independently select and write about stuff we love and think you'll like too. If you buy a product we have recommended, we may receive affiliate commission, which in turn supports our work.
In the midst of summer, the last thing you want to do is sit inside on a nice day — other than for the AC, of course. The warm weather calls for evenings spent outdoors, and if you have a patio, balcony, deck, or other outdoor space of your own, this is your sign to invest in an egg chair ASAP. The nest-shaped chairs are ideal for cuddling up in, enjoying the fresh air, reading a book, listening to your favorite podcast, drinking a beverage, or simply relaxing in. No matter if your patio is small or large, there's an egg chair sized for it.
Whether you're looking for a hanging egg chair that gives you the weightless feel of a hammock, a standing egg chair that doesn't require mounting, or an egg chair that's big enough for you and a plus one, there's one in here for every need (and budget). We've gathered the best egg chairs made from wicker and aluminum that are perfect for cocooning up in after a long day at work. From oversize chairs to small chairs for tiny balconies, these are our favorite egg chairs available to shop for right now.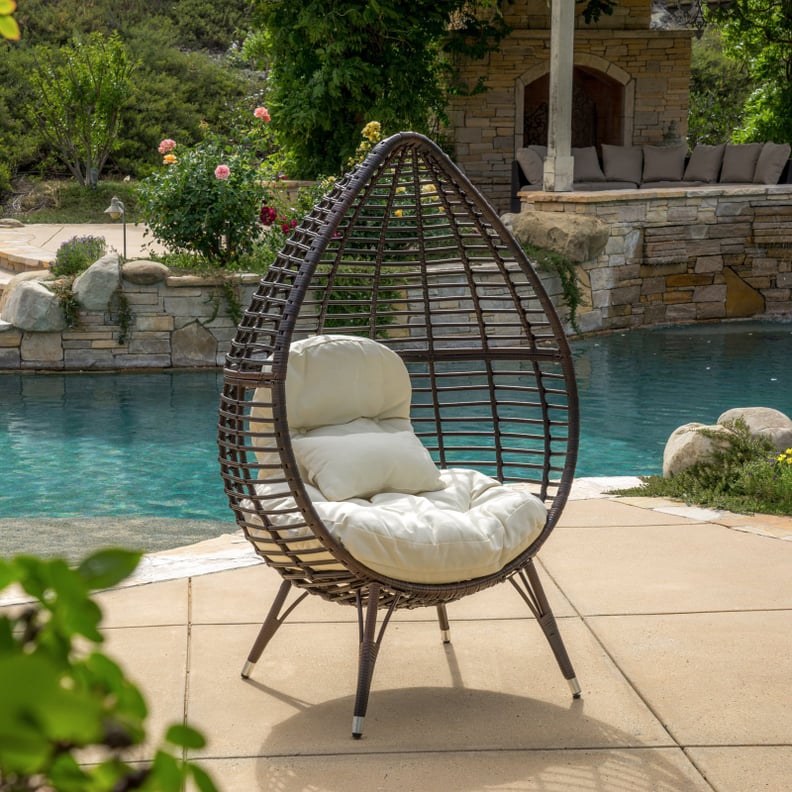 A Wicker Egg Chair: Montecito Lounge Chair With Cushion
Bring comfort right outside your back door with this Montecito Lounge Chair With Cushion ($475, originally $534). The lounge chair is made with resin wicker that blends in nicely with pre-existing patio furniture and can withstand all kinds of weather. It comes with a waterproof cushion as well, so you can ensure you're comfortable.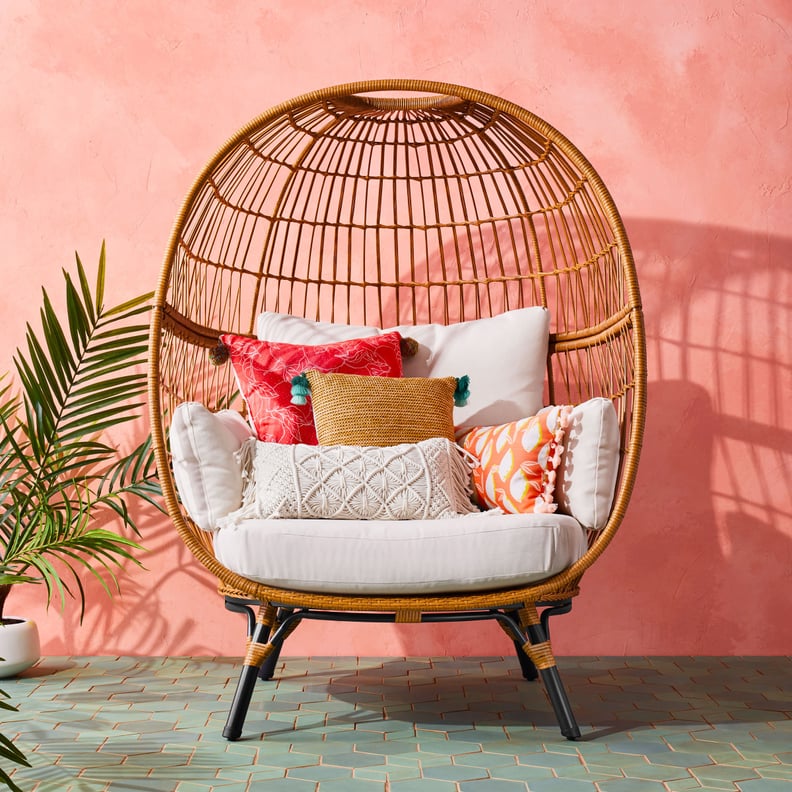 A Deep-Seated Egg Chair: Opalhouse Southport Patio Egg Chair
Load the Opalhouse Southport Patio Egg Chair ($468, originally $550) with pillows galore and relax while listening to your favorite podcast. Its rounded, egg-like wicker design adds a free-spirited element to your outdoor space. It comes in green, gray, and black colors, so you choose whichever one best suits your space.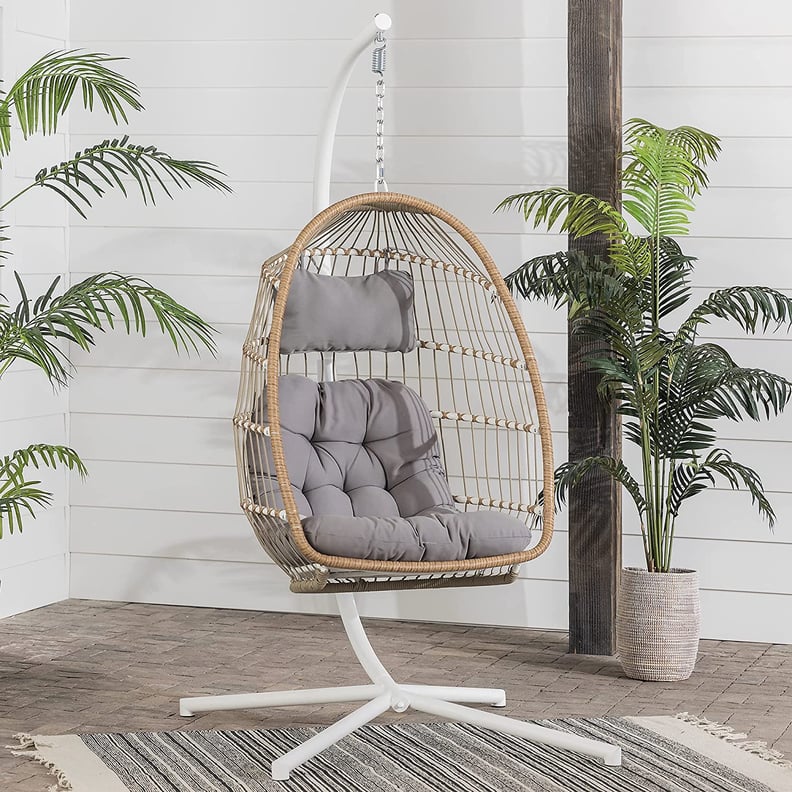 A Hanging Egg Chair: Rattan Hanging Egg Swing Chair
Curl up with your favorite book on the Rattan Hanging Egg Swing Chair ($499, originally $595). Its nest frame, comfortable seat, and hanging design will make you fall in love. Its powder-coated metal stand and resin-woven rattan chair blend together seamlessly.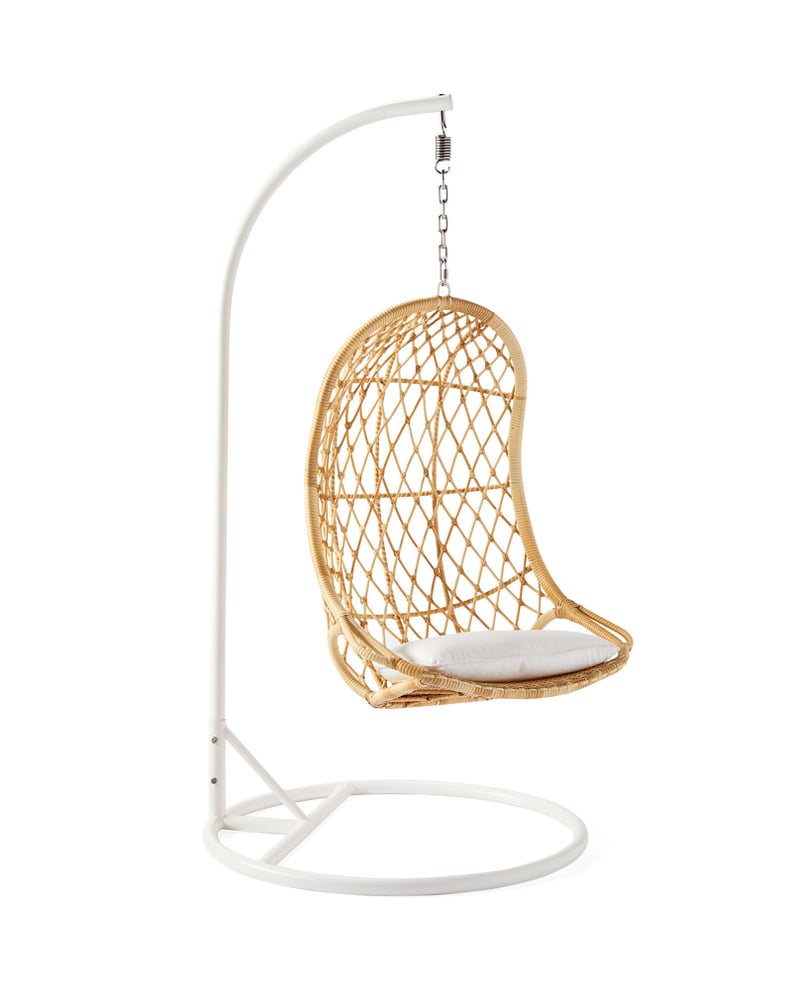 A Scooped Egg Chair: Capistrano Hanging Chair and Stand
The Capistrano Hanging Chair and Stand ($1,000, originally $1,698) puts a twist on the average egg chair with a unique scoop seat. The seat is the perfect spot to relax in, and its base can be moved around so you can get this chair's floating effect anywhere. Place it on your patio in the summer and sunroom in the winter — it's great for both.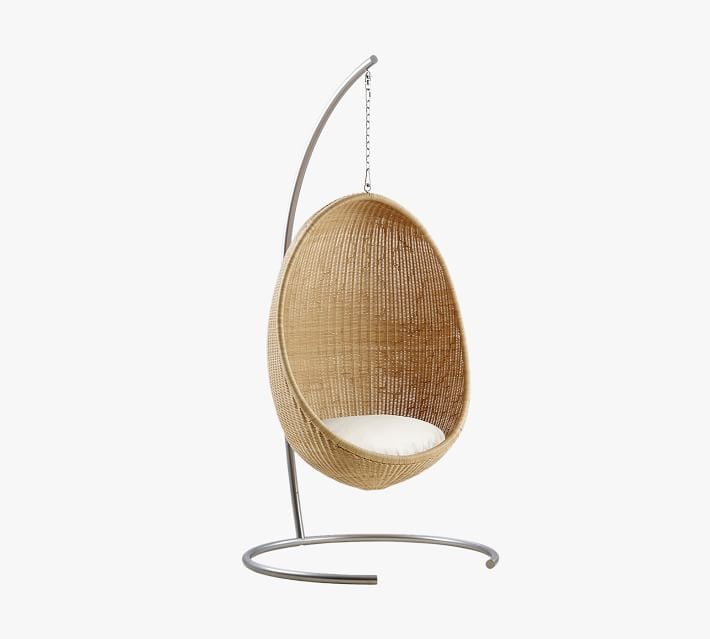 A Handmade Egg Chair: Nanna Ditzel Alu-Rattan Hanging Egg Chair
The Nanna Ditzel Alu-Rattan Hanging Egg Chair ($5,561) is handmade of alu-rattan, aluminum, steel, and polyethylene in Indonesia. It's a one-of-a-kind seat with a comfortable cushion that will suck you in for hours on end. Its cushion liner repels moisture to resist mold and mildew. Place it in your favorite spot outside to enjoy endless hours of relaxation.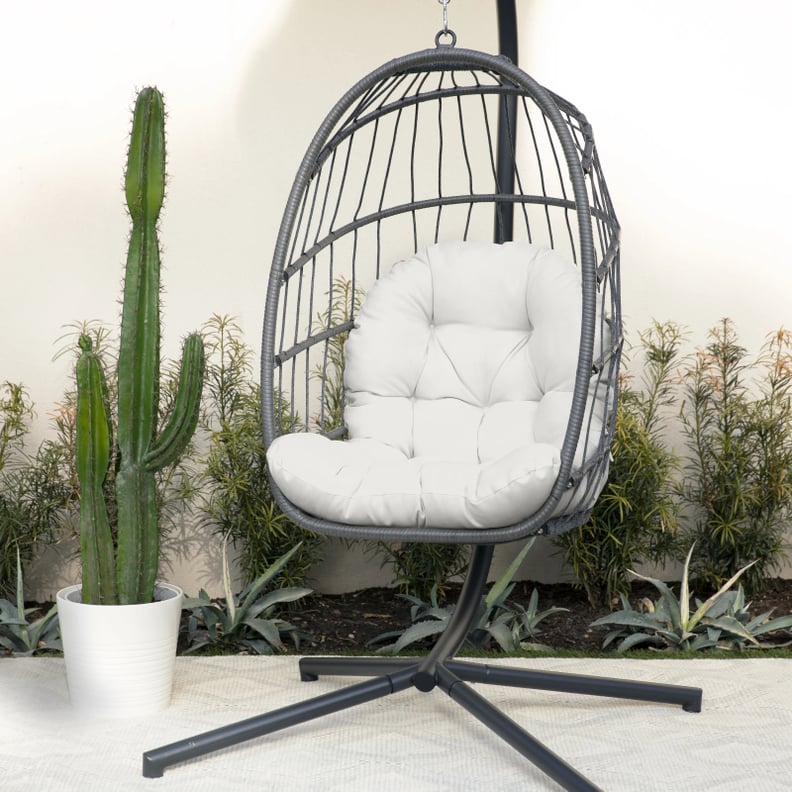 A Small Egg Chair: Outdoor Sunbrella Egg Chair
Ideal for small patios, this Outdoor Sunbrella Egg Chair ($176) is the perfect combination of function and style. Not only is the chair small with a cozy seat, but its billowy cushion is standout. Made of Sunbrella fabric that's known to be extremely weather resistant, you can guarantee this chair will last you seasons to come.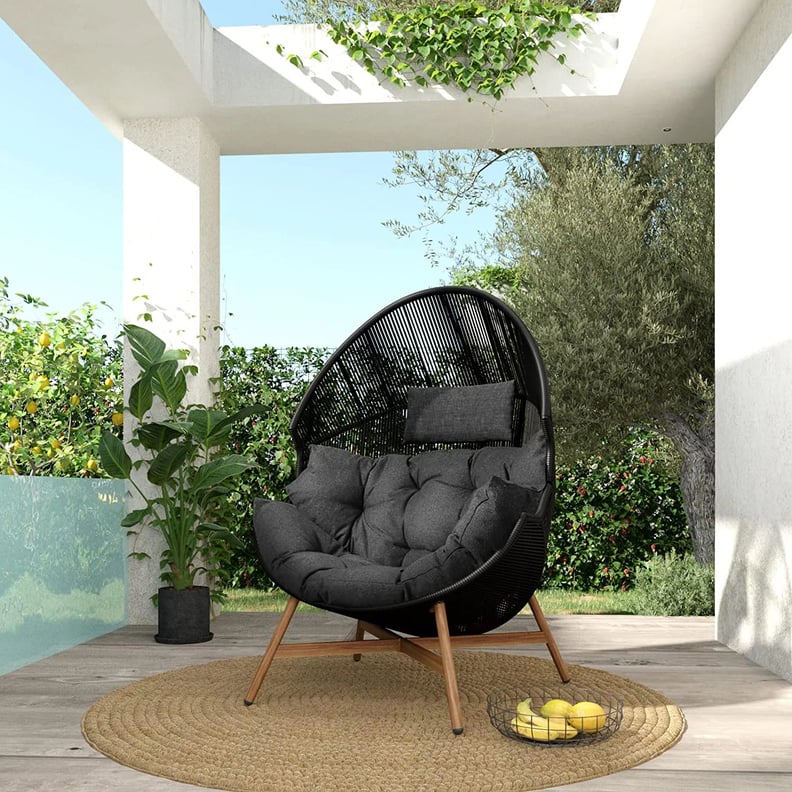 An Extra-Wide Egg Chair: Geofrey Ppasan Chair
Constructed of wicker, this Geofrey Ppasan Chair ($510, originally $590) is as aesthetically pleasing as it is durable. Its wide base is great for cozying up with a partner, and its tall opening won't make you feel constricted, either. Rest assured that the chair's powder-coated frame is made to combat UV rays and rust, so you don't have to worry about it wearing out any time soon.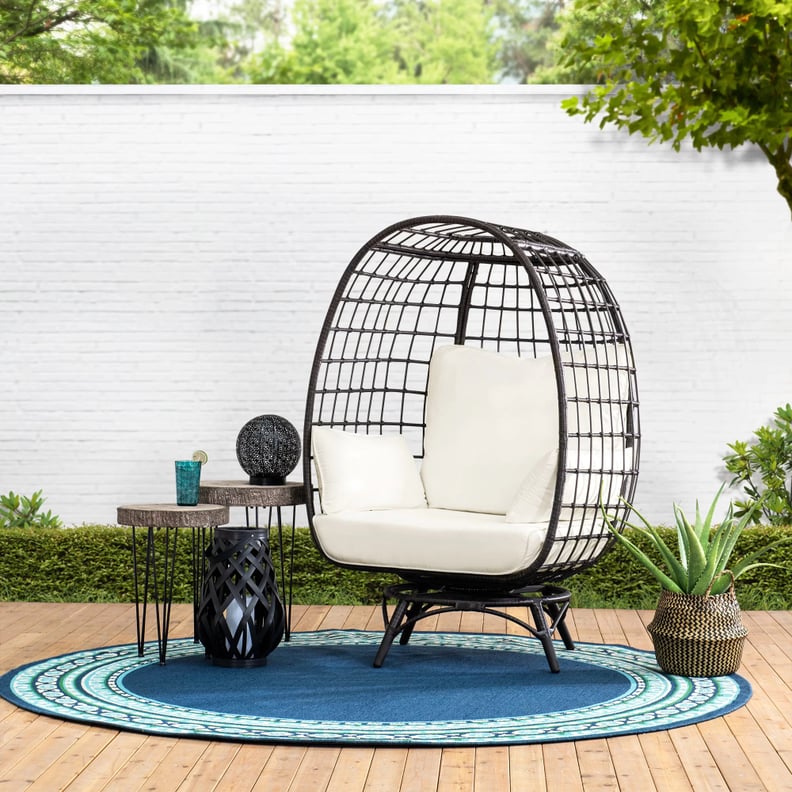 A Modern Egg Chair: Wellow Baytree Egg Swivel Patio Chair
Create a statement in your backyard with the Wellow Baytree Egg Swivel Patio Chair ($710, originally $950). The chair is small in size, making it a fit for both small and large spaces. Its simple and clean construction is ideal for modern patios. Pick it up in a black or brown frame for a look that's well suited for your outdoor space.