As POPSUGAR editors, we independently select and write about stuff we love and think you'll like too. If you buy a product we have recommended, we may receive affiliate commission, which in turn supports our work.
The backyard is one of the most underappreciated parts of a house. Inside, the kitchen is always bustling with cooks, cleaners, and snackers. The living room is home to movie nights, family gatherings, and lazy days on the couch. The bedroom is a sanctuary for self-care and a good night's rest. The closet is made for impromptu fashion shows and last-minute outfit changes. The dining room is the dedicated spot where holiday meals are eaten or homework is done. And while the space inside can sometimes feel too cramped, the backyard is often still neglected. But, what if we told you that you could turn your outdoor area into a room that rivals the living room with one simple fix? All you need is an outdoor gazebo.
Luckily, Target is full of gorgeous tents, domes, gazebos, and more. The fan-favorite retailer has a slew of affordable options, ranging in price, style, and size. These outdoor additions will instantly transform your space, creating a new area where you can relax and enjoy the fresh air. These gazebos offer optimal coverage from the sun and bugs, meaning you can relish your time outside without pesky distractions. Feel free to pair these domes with outdoor furniture like chairs, lounges, tables, and more. You can also add decorative accents to warm up the space like rugs, lanterns, and string lights. Get creative and make this revamped outdoor space the best room of the house.
01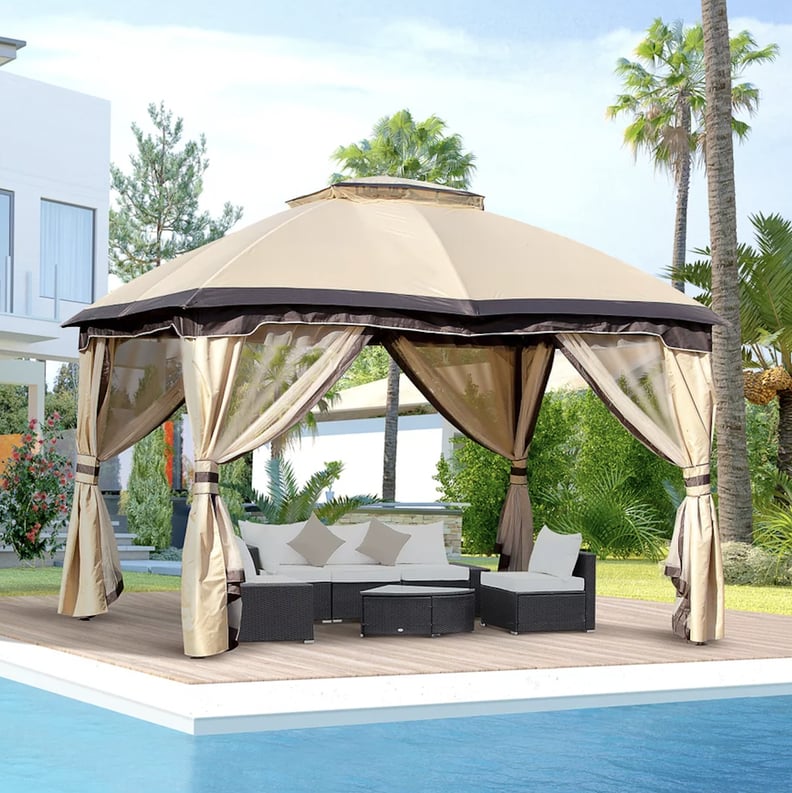 Outsunny 10' x 12' Outdoor Gazebo
Ideal for the sunny spot by the pool or the open space on the grass, this Outsunny 10' x 12' Outdoor Gazebo ($380) features corner curtains and mesh walls that provide shade and privacy when needed. It has a solid steel frame that's durable and stable as well as eight ground stakes to ensure the deck canopy doesn't blow away in strong winds.
02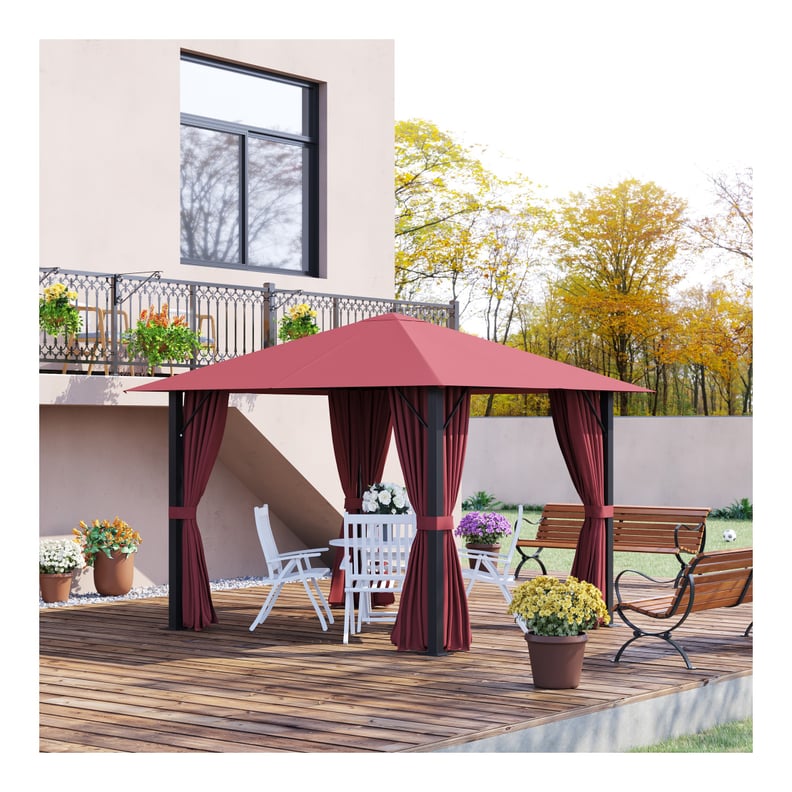 Outsunny 10' x 10' Patio Gazebo
If your backyard bakes in the sun, this Outsunny 10' x 10' Patio Gazebo ($280) is equipped with features to keep you cool. Complete with a vented roof that lets air in as well as lightweight, removable polyester curtains, this tent will let you bask in ultimate comfort even on the warmest afternoon.
03
Outsunny Hardtop Gazebo
Want to throw the best dinner party? All you need is this Outsunny Hardtop Gazebo ($1,040). It's spacious enough to hold eight people, meaning you can have BBQs, family meals, and more right inside. It also has built-in ceiling hooks that can be used to hang lights, fans, lanterns, and decor. Additionally, the hard reclined roof prevents water, snow, and dirt from accumulating, making it ideal for all-season use.
04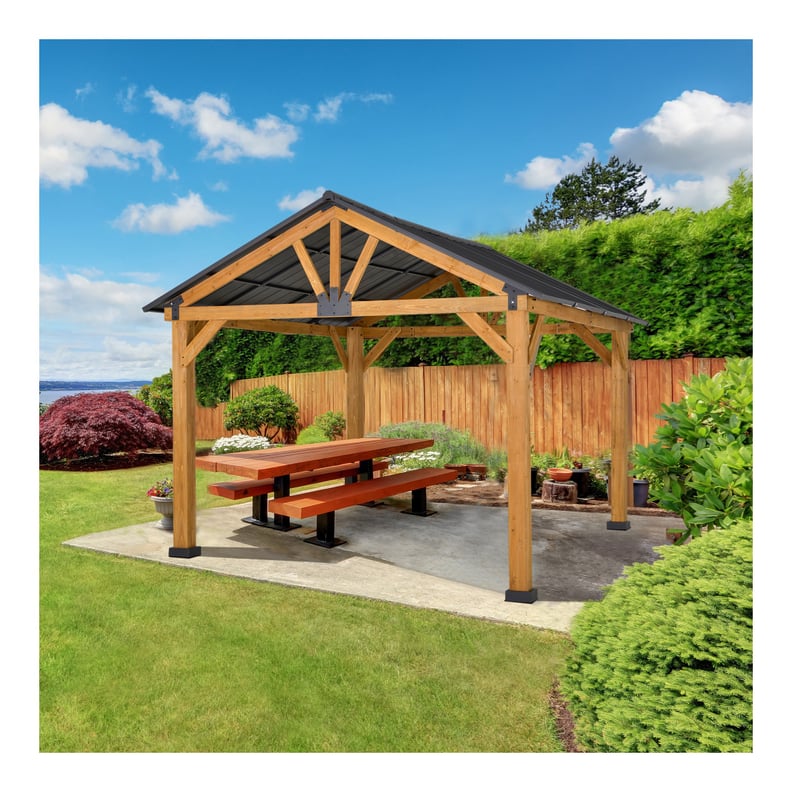 Outsunny Hardtop Wooden Frame Gazebo
If wind, rain, snow, and sleet are common occurrences in your area, you need an outdoor gazebo that can withstand the elements. That's where this Outsunny Hardtop Wooden Frame Gazebo ($2,450) comes in. It's made with a weather-resisting solid wood frame and features an extra-stable triangle design that'll guarantees it stays strong in storms.
05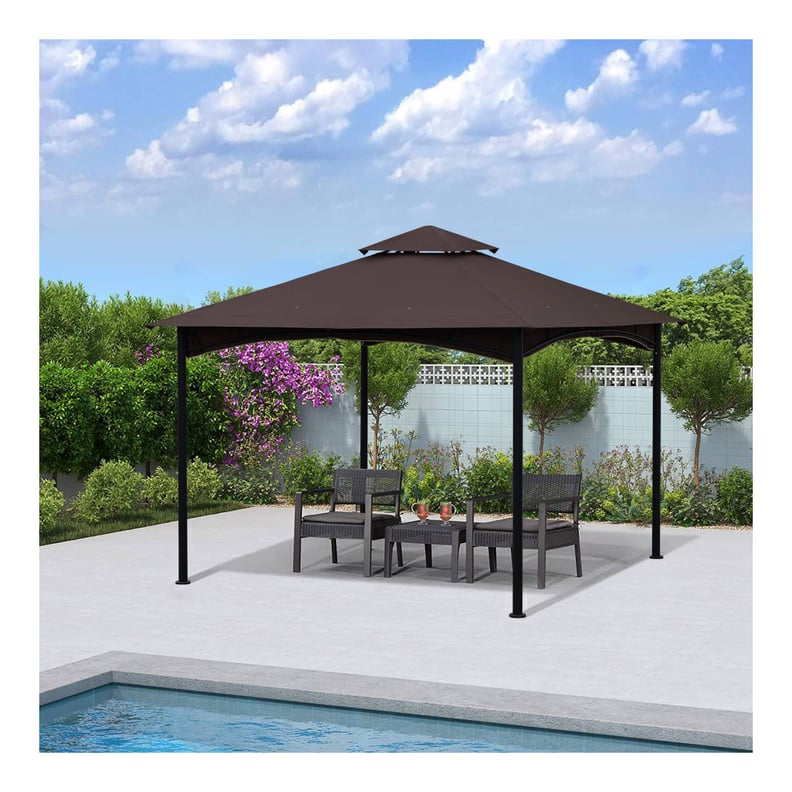 Outdoor Patio Square Steel Gazebo
If you want an easy-to-assemble outdoor shade source, the Outdoor Patio Square Steel Gazebo ($473) will give you all that and more. The frame of this tent is made with rust-resistant, powder-coated steel, while the canopy features high-quality polyester that can protect you from rain and UV rays.
06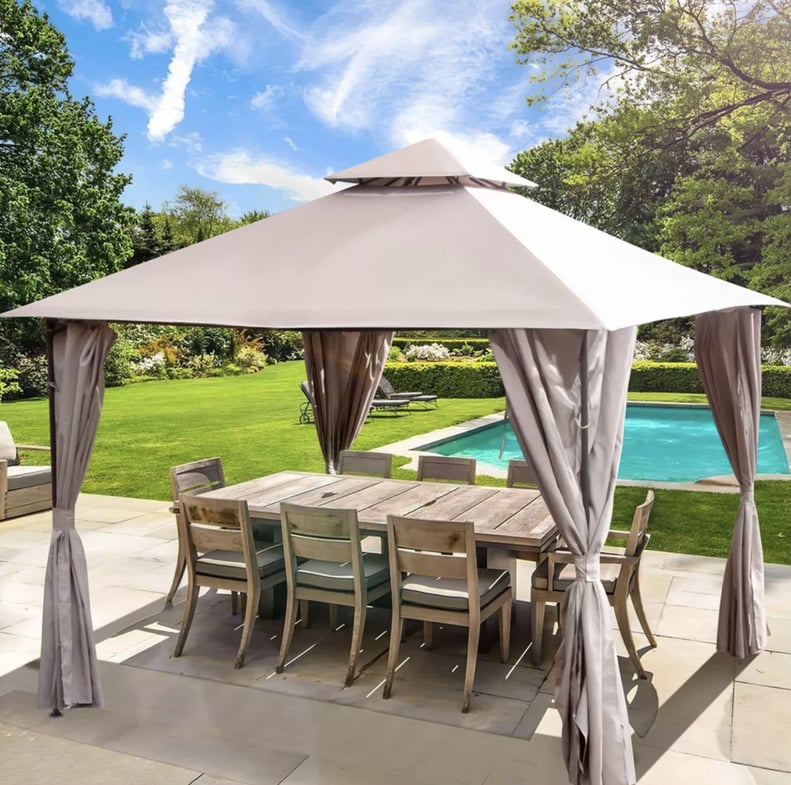 Khaki Outdoor Gazebo with Curtains and Vented Double Roof
This large Khaki Outdoor Gazebo with Curtains and Vented Double Roof ($340) has enough room to accommodate up to eight people. Tables, chairs, and lounges can be set up underneath it, making it a great spot for poolside lunches, outdoor gatherings, and more. The gazebo also has a double rooftop that helps to provide efficient air circulation.
07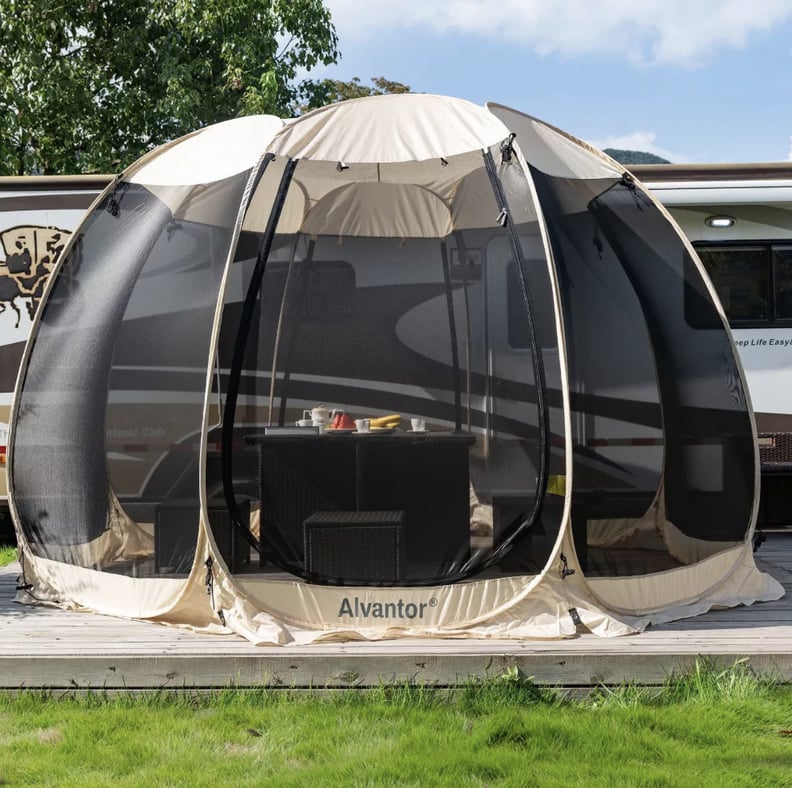 Pop Up Portable Gazebo Screen Tent
Believe it or not, it only takes one minute to assemble this Pop Up Portable Gazebo Screen Tent ($300). It features a durable roof that is made with tough fabric to prevent rips and tears caused by outside elements as well as fiberglass pole frames that are lightweight yet sturdy. It can fit eight to ten people, so everyone can enjoy it.
08
Outdoor Grill Double-Tiered Canopy
If BBQs are your thing, this Outdoor Grill Double-Tiered Canopy ($162) is calling your name. It has a double-ventilated roof, so barbecue smoke can air out quickly, as well as two convenient shelves that can hold grilling accessories, plates, food, and more. The durable steel frame of the tent has a powder-coated finish that is rust-resistant, so you don't have to worry about it in the rain or cold weather.
09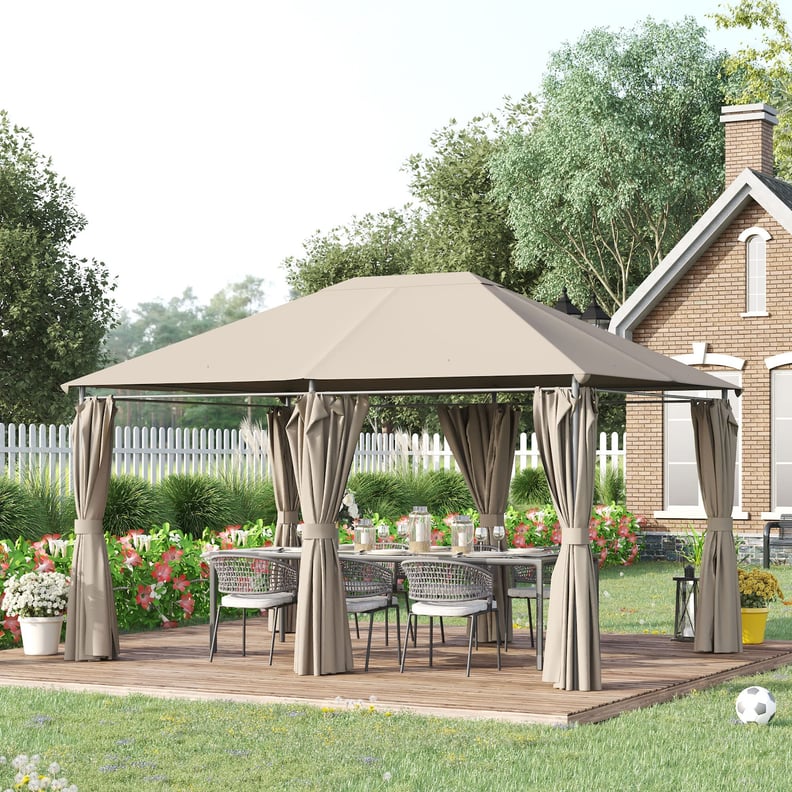 Outsunny Outdoor Patio Gazebo
To make a large outdoor space more inviting, we suggest setting up this Outsunny Outdoor Patio Gazebo ($230). It has removable curtains that can provide privacy as well as eight built-in grommets to ensure water is properly drained. Just add a table and chairs!