Best Wine Fridge From Target | Review
Love Wine? Here's Why You Need to Add This Fridge (on Sale!) to Your Cart
As POPSUGAR editors, we independently select and write about stuff we love and think you'll like too. If you buy a product we have recommended, we may receive affiliate commission, which in turn supports our work.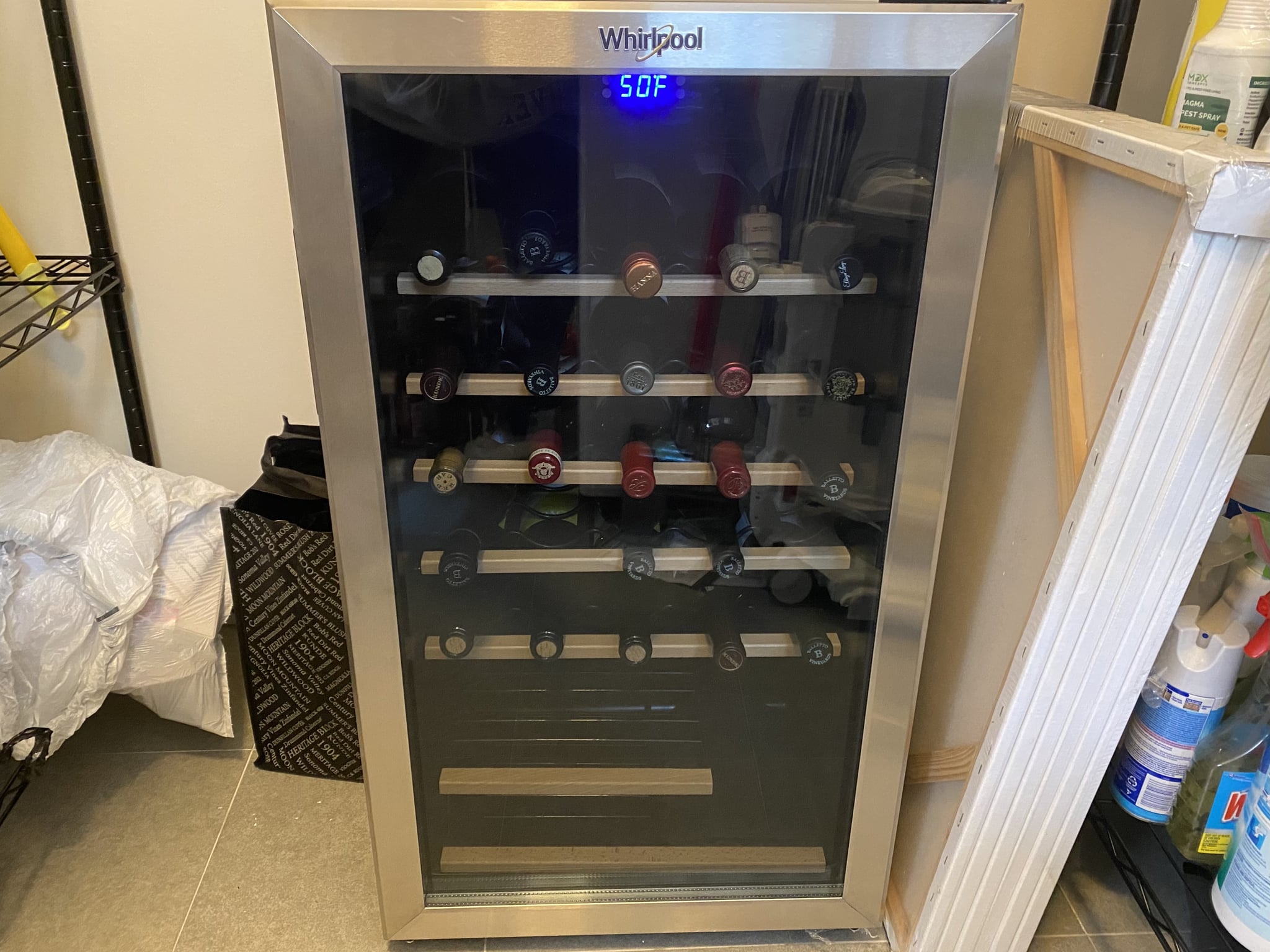 Ever since my fiancé and I moved from the East Coast to sunny San Francisco, we've seriously upped our oenophile status. Now that we have a formal dining room, we love to pop open a bottle of vino and invite our friends over for a dinner party. And in true oenophile fashion, we also love to schedule tastings in Napa and Sonoma. (I mean, can you blame us? We're so close to wine country, and I'm hellbent on channeling my inner Meredith Blake.) But somewhere between receiving bottles as hostess presents and picking up our favorite varietals from our most recent tasting, we often wind up with more wine than storage. And let's be real: having a bunch of bottles surrounding our bar cart isn't doing our home decor any favors.
When we moved into a new, larger apartment just a few weeks ago, my fiancé made an offhanded comment about putting a wine fridge in our laundry room. The idea was downright genius — and I immediately added Whirlpool's wine fridge ($249, originally $280) to my Target e-cart. Clocking in at 3.6 cubic feet, this option can fit up to 33 bottles of wine. (Yes, I know, that's a lot of vino.) I love that we have somewhere to stash our wine — and make our bar cart look more civilized in the process. Since this fridge is small enough to fit in the corner of our tiny laundry room, we can keep our collection out of sight and out of mind — well, until our next dinner party, that is. It also acts as an audit of our wine collection; if our fridge is ever completely packed with vino, we know we can cool it on our post-tasting purchases. (After all, nobody needs 34 or more bottles of wine in their home.)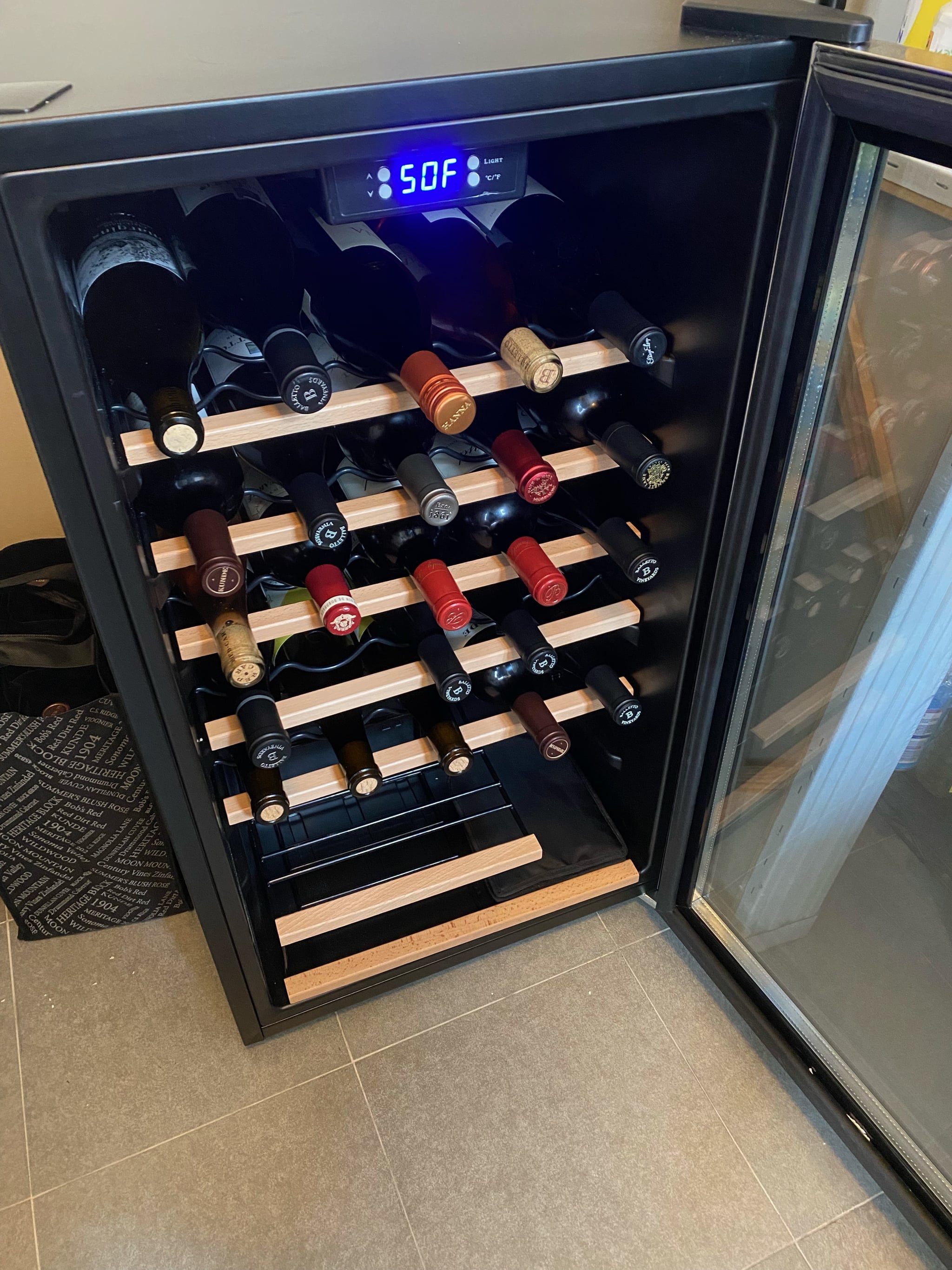 But while I first fell in love with our wine fridge for its organizational benefits, I quickly learned it's also a clutch hosting tool. Since we keep our whites, rosés, and bubbly varietals at a cool 50 degrees, we have perfectly chilled bottles of wine on hand at all times. So whether we schedule an impromptu hangout or want to open another bottle of wine during a particularly fun dinner party, I can find some solace in knowing we're prepared hosts. Oh, and did I mention Whirlpool's wine fridge is also pretty affordable? Most styles cost a couple hundred or thousand dollars, but this option is currently on sale for $250. (I mean, some people have spent more than that on an aged vintage.)
Make no mistake, I know a wine fridge isn't as essential as, say, a stove or normal refrigerator. If you don't have the space or really curate your bar cart, you might not need the extra storage. But if you want to make the most of your place and flex your hosting muscle in the process, I couldn't recommend this more.
Image Source: POPSUGAR Photography / Kelsey Mulvey