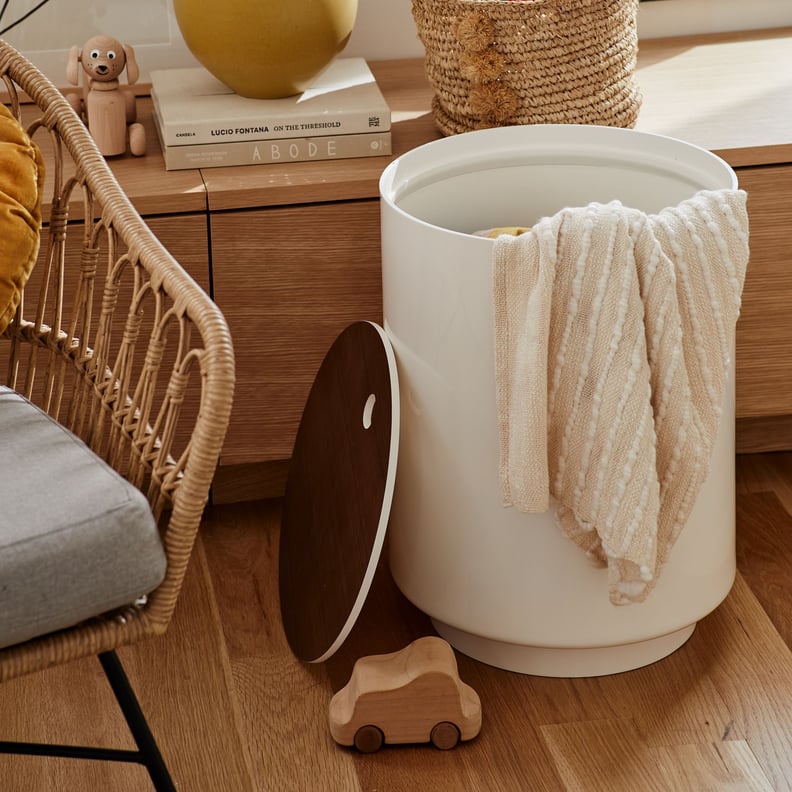 West Elm
West Elm
Every editorial product is independently selected by our editors. If you buy something through our links, we may earn commission.
Figuring out how to effectively, and even stylishly, store blankets is kind of like folding a fitted sheet. It's a necessity, but it's a skill plenty of adults can't recall learning. We're constantly using blankets for warmth or to cozy up; there are throw blankets, wool blankets, and weighted blankets. But with so many varying materials, sizes, styles, and weights, organizing blankets can prove to be a tricky task. "With so many types of wonderful blankets to collect, you may find yourself running out of creative storage ideas," Marty Basher, organization professional with Modular Closets, tells POPSUGAR.
Blanket storage ideas might be hard to figure out if you're overwhelmed by different types of blankets, and a handful of challenges can easily get in the way. Heavy, large comforters might not fit on a normal shelf. Limited closet space and small room restrictions also pose a challenge while trying to tuck away blankets. Not to mention, storing blankets in an aesthetically pleasing spot — while making them easily accessible — can also be difficult. That's why we've curated helpful blanket organizer products, blanket storage solutions, and expert advice — thanks to a few professional organizers and interior designers — to make storing blankets an effortless task.
How to Store Wool Blankets
There are few things cozier (or warmer) than a wool blanket on a chilly night. Unlike a fleece throw blanket or a handmade quilt, wool material can be susceptible to pests — especially moths and beetles. Keep wool blankets protected from unwanted invaders by storing them in a resealable plastic storage bag or a large plastic container. Either one will keep wool blankets safe and confined. "Wool blankets are a little more pretentious than other synthetic blankets," Maegan Bucur, editor in chief of Rhythm of the Home and project designer, tells POPSUGAR. "It is best to completely dry wool blankets before storing them." Aside from plastic containers, Bucur finds wicker baskets to be a smart storage solution for wool blankets. "Since they can be quite bulky, we recommend dedicated wicker baskets," Bucur suggests. "Wicker is a great material for wool blankets because it keeps them dry and well-aired."
How to Store Down Blankets
Down blankets provide all the luxury of a fluffy, crisp, five-star-hotel duvet, but they're not the easiest to store away. "These bulkier items can take up space and can also collect dust," Lisa Galano, principal of Lisa Galano Design Consultancy, tells POPSUGAR. Galano suggests a foolproof method for stashing away down blankets while keeping them clean and sanitized. "I find it's very important to protect your heavier blankets and down comforters when not in heavy rotation by first laundering them appropriately, then storing them in an airtight, recyclable container or bag with a zipper or a tight seal." Keep down blankets smelling extra fresh by throwing in a common household laundry staple. "I also like to throw in a Meyer's dryer sheet or two when storing linens to keep them smelling fresh."
How to Store Throw Blankets
Throw blankets make for an easy accent in a living room or bedroom — plus, they're smaller and more manageable than other blankets, making them a little easier to keep contained. "An average living room will usually have up to two throw blankets, so my go-to in this instance is to fold them neatly over the arm or back of the sofa," Galano tells POPSUGAR. "Some people like to put it across the chaise of a sectional." The design expert's reasoning is simple. "Keeping throw blankets out for easy access is functional, and it's also a nice styling accent."
Of course, throw blankets can also be folded and placed into a large basket or trunk. Or you can repurpose a magazine rack to keep them contained. "There are so many eclectic magazine racks on the market today, whether new or vintage; why not grab one to store rolled throws?" Basher says. "Grab a magazine rack in classy rattan or mod art deco, and carefully roll two to three blankets, positioning them upright inside. They are affordable to purchase, take up little space, and add a cool aesthetic to your blanket storage."
Small-Space Blanket Storage Ideas
A lack of space can make storing anything tricky, but especially bulky blankets. One home expert encourages us to make use of every available, unused section a space has to offer. "The secret to storing blankets when low on space is utilizing dead spaces next to the ceiling," Stefan Bucur, founder and owner of Rhythm of the Home, tells POPSUGAR. "Install floating shelves, ones that ideally come with built-in hangers, on the walls close to the ceiling to increase the storing capacity of the room tenfold." Though if the place you live contains a great level of humidity, Stefan warns against storing wool or cotton blankets close to the ceiling.
Blanket Storage Basket
"I like to store blankets in places that are easy to access, have a dual purpose, or act as hidden storage," Beth Diana Smith, HomeGoods style expert and interior designer, tells POPSUGAR. In addition to storage trunks, Smith finds baskets to be particularly helpful. "I love using trunks and oversized lidded wicker or seagrass baskets," Smith says. "Baskets are great for hidden storage and can be beautiful decor pieces!"
Blanket Storage Coffee Table
Functional furniture is having a moment right now. Blanket storage coffee tables are no exception, and they offer an easy solution for blanket storage in common areas, such as a living room. Get rid of an overwhelming pile of blankets by folding them neatly and storing in a blanket storage coffee table. Typically, a blanket storage coffee table will have a deep, built-in sliding drawer or a tabletop that lifts up into an empty compartment as a convenient storage hiding place.
Blanket Ladders
Ladders and ladder shelving are huge right now. Whether they're in a bathroom, living room, bedroom, or den, these decorative items are a great way to store — and show off — lighter-weight blankets. "Never underestimate the hardworking blanket ladder," Basher tells POPSUGAR. "A blanket ladder can hold several blankets at one time, making it space-saving, functional, and also has decorative appeal. Today, you can find a blanket ladder for every type of home decor, from rustic wood to stylish industrial piping."
— Additional reporting by Anvita Reddy
01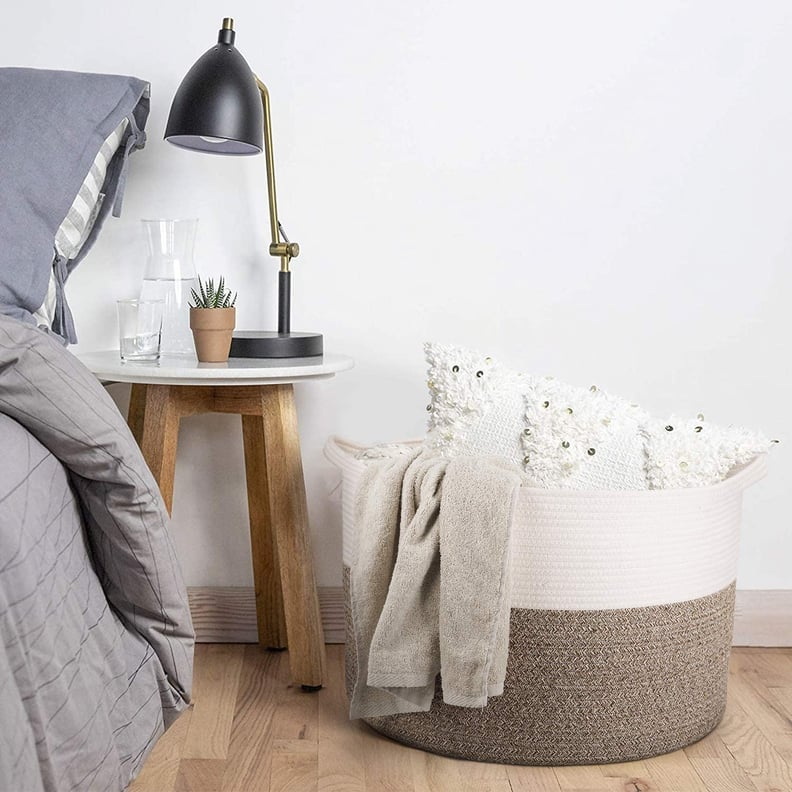 Best Wool-Blanket Storage
Indressme XXXLarge Cotton Rope Basket ($30, originally $38)
The Indressme Cotton Rope Basket is the perfect storage solution for wool blankets. It's a durable and flexible basket made out of cotton, yet it's sturdy enough to stand on its own. This one comes in plenty of colorways, so you can choose the one that fits your interior decor. Place the basket in a guest bedroom, next to your couch, or near your own bed for easy access.
02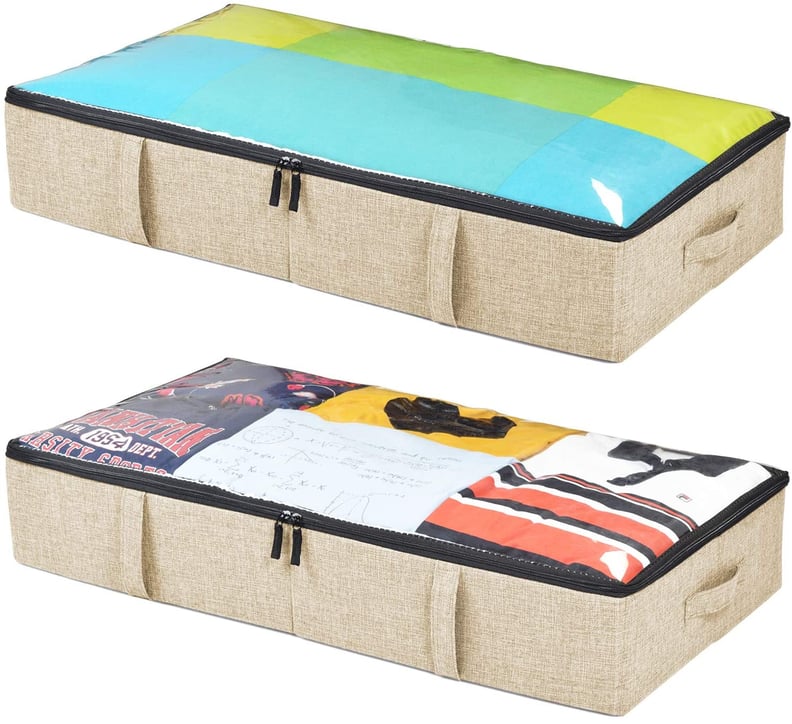 Best Blanket Storage For Under the Bed
StorageLAB 2-Pack Underbed Storage Containers ($30)
"We like to store large and heavy blankets in the under-bed compartment storage that already comes incorporated with some beds," Maegan Bucur says. "When the bed doesn't have a built-in storage compartment, there are plenty of reliable products like these StorageLAB 2-Pack Underbed Storage Containers that can get the job done." These underbed storage containers have firm borders so they keep their shape without overfilling them, plus with the sturdy handles, you can easily pull them out from under the bed.
03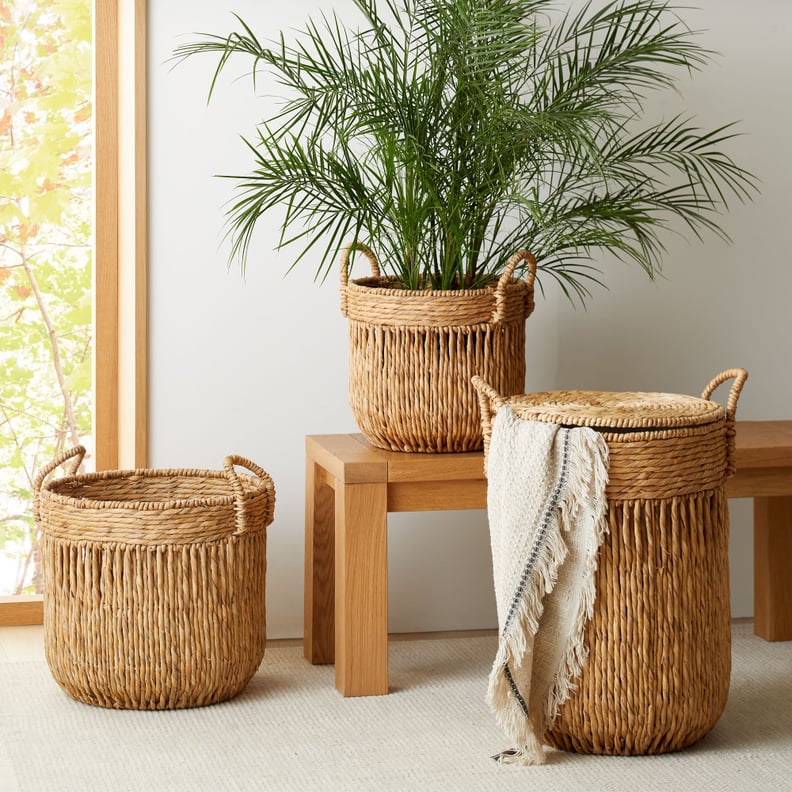 Best Blanket Storage Made From Seagrasss
West Elm Vertical Lines Seagrass Basket ($85-$130)
Looking to add a boho flair to your decor? These seagrass baskets from West Elm are a stylish and sturdy option for your blanket storage needs. You can choose between two different options: one is shorter and wider, and another is a taller, hamper-style design with a lid. Both options have a vertical pattern that will give your space a more elongated look.
04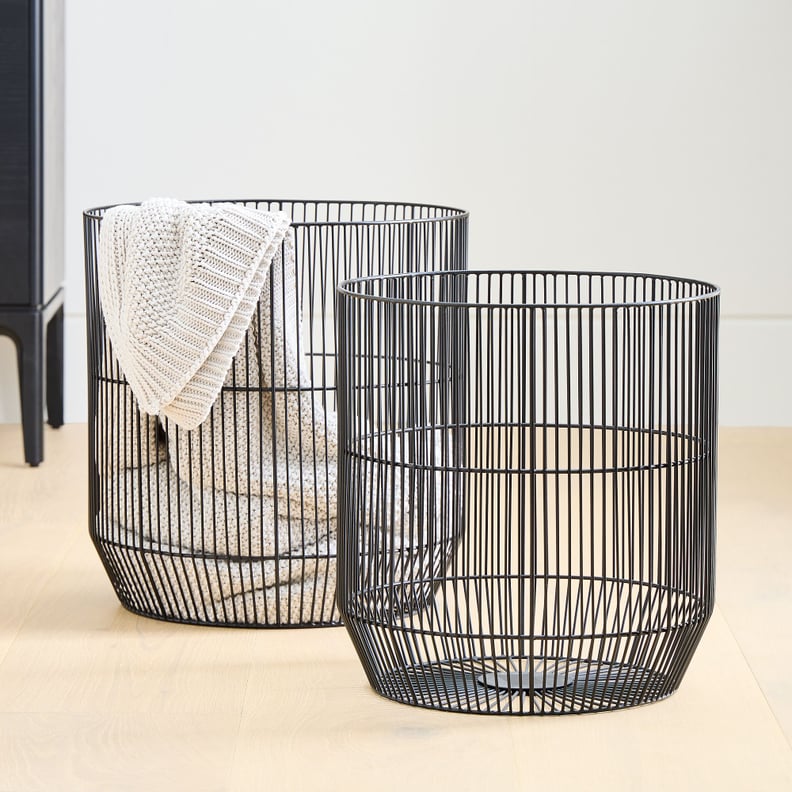 Best Blanket Storage For Modern Spaces
West Elm Fine Line Metal Round Basket ($71-$79, originally $89-$99)
Just because you live in a more contemporary or modern space doesn't mean you can't embrace those cozy vibes. The West Elm Fine Line Metal Round Basket is the perfect place to store your plush throws when not in use. The clean-lined design is available in black, which goes with nearly everything, and gold for a more glam look.
05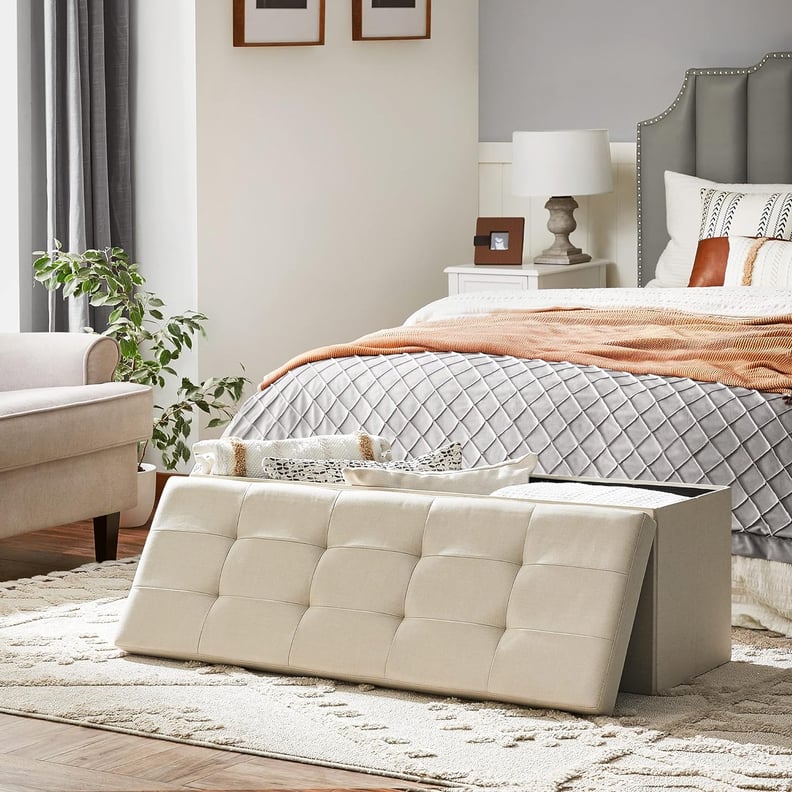 Best Blanket Storage Ottoman
Songmics Folding Storage Ottoman Bench ($67)
If you want to add a bench to your living room or bedroom, getting something like this storage ottoman for a super-practical blanket storage solution. It's available in a variety of colors, so you can find an option that matches your existing decor. This can serve as extra seating and a footrest, too.
06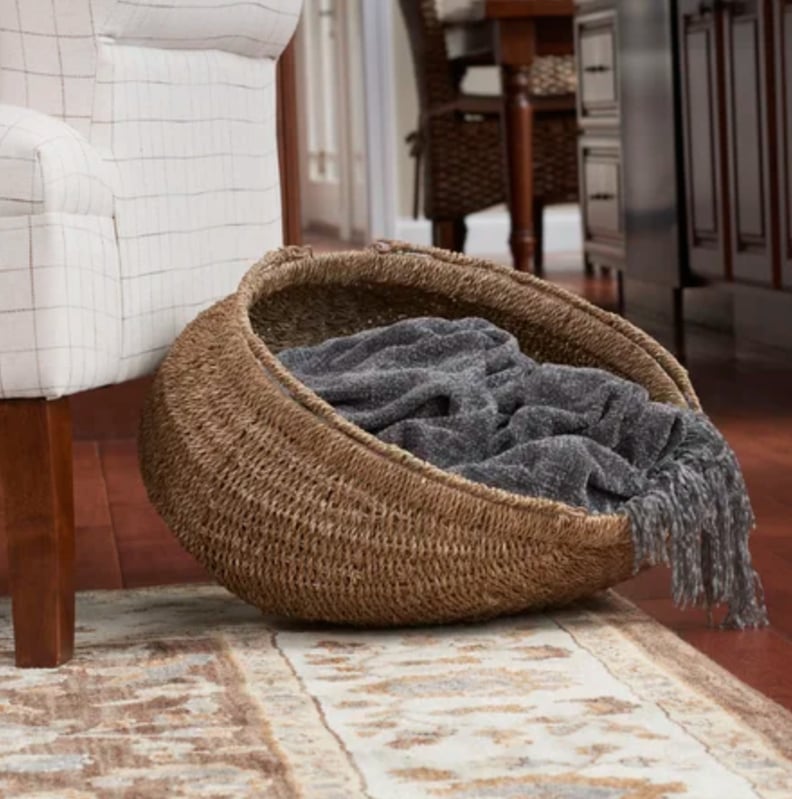 Best Decorative Blanket Storage
Sand & Sable Decorative Seagrass Basket Set ($47, originally $99)
The Sand & Sable Decorative Seagrass Basket Set has a unique shape and style for a different take on traditional blanket storage baskets. Throw blankets will fit perfectly inside, and it'll add dimension to your space. Place this next to a fireplace or a couch for an extra cozy and comforting feel.
07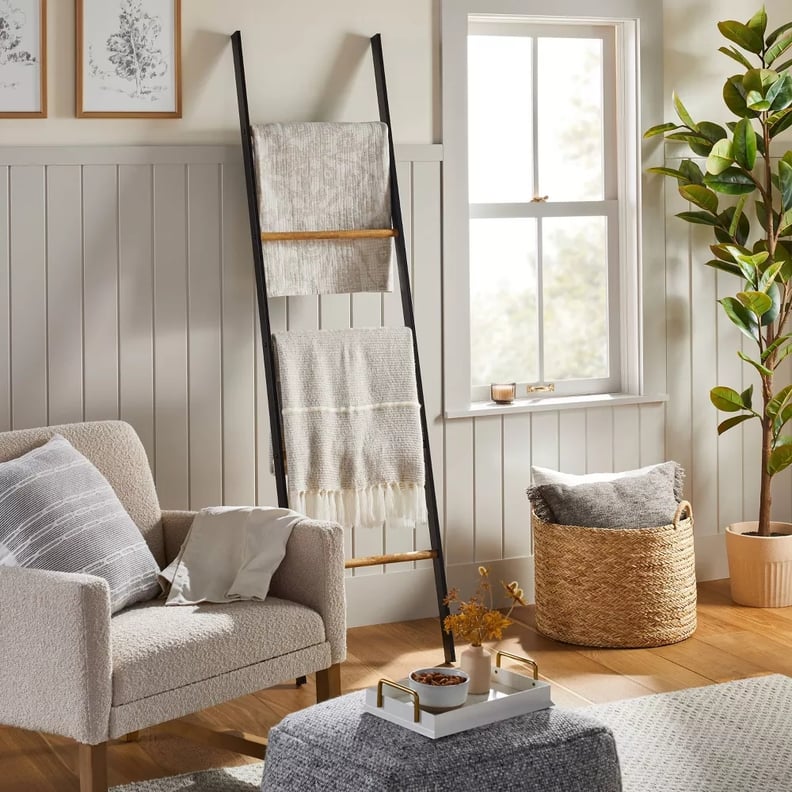 Best Blanket Storage Ladder
08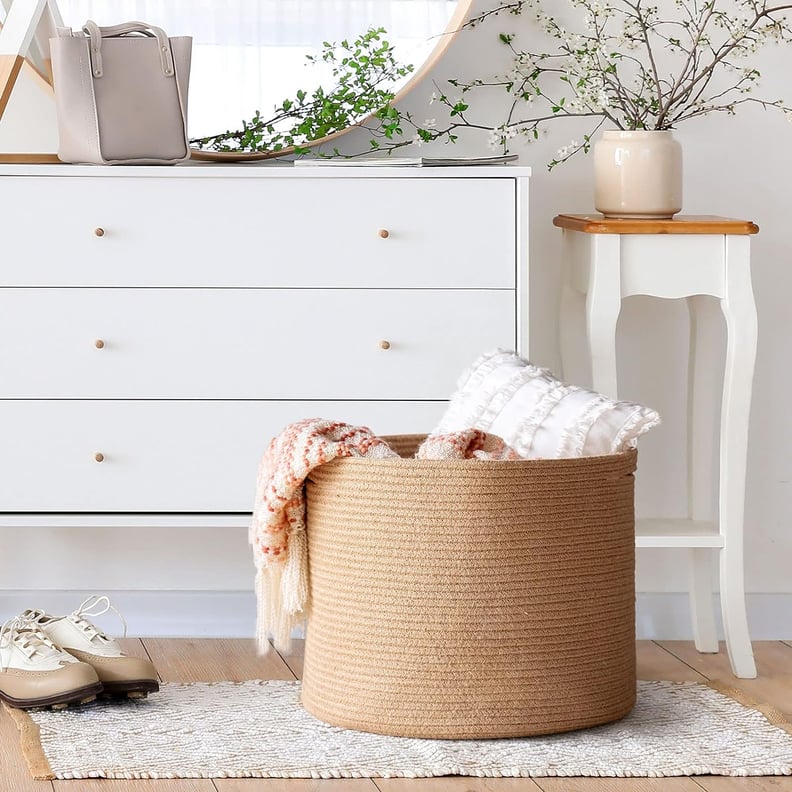 Best Blanket Storage For Rustic Homes
Goodpick Round Wicker Storage Basket ($27, originally $36)
If you're living in a rustic or farmhouse-inspired space, this Goodpick Round Wicker Storage Basket is a must. It'll warm up any room it's in and provide all the storage you need for your cozy throws. Place it next to your couch or by a table to round out your space. Get it in a variety of colors and sizes as well.
09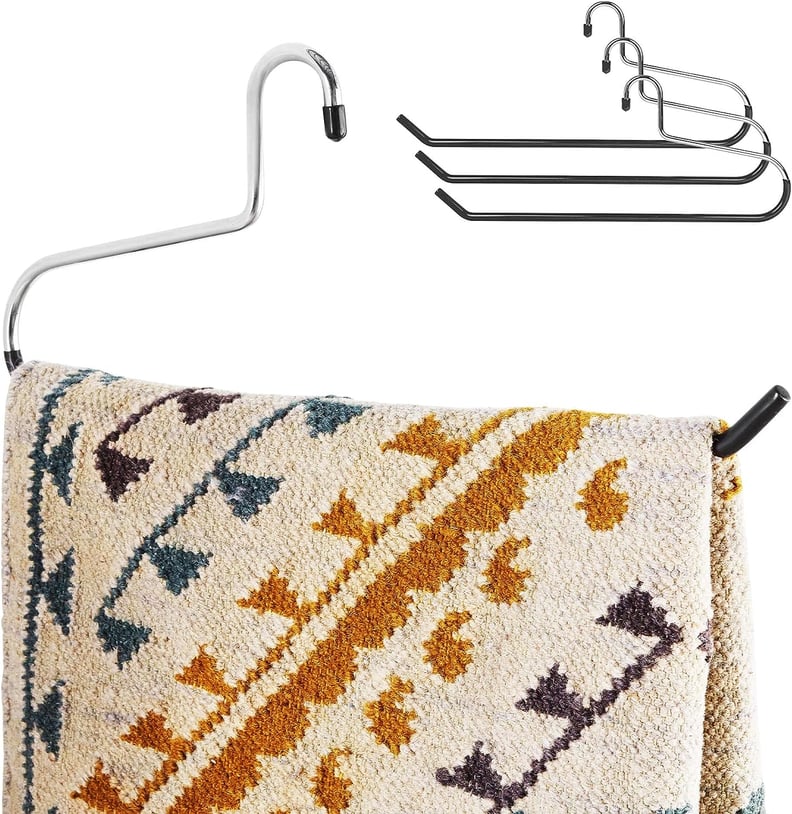 Best Blanket Storage For Closets
Stock Your Home Blanket Hangers ($28, originally $38)
"These are my go-to options if you want to implement the 'blanket hanger method,'" Maegan Bucur says of these Stock Your Home Blanket Hangers. This set of six long stainless-steel hangers is perfect for heavier and chunkier blankets like quilts and comforters. You can hang and display all your most used or favorite throw blankets in your closet and easily access them when you want to cuddle up.
10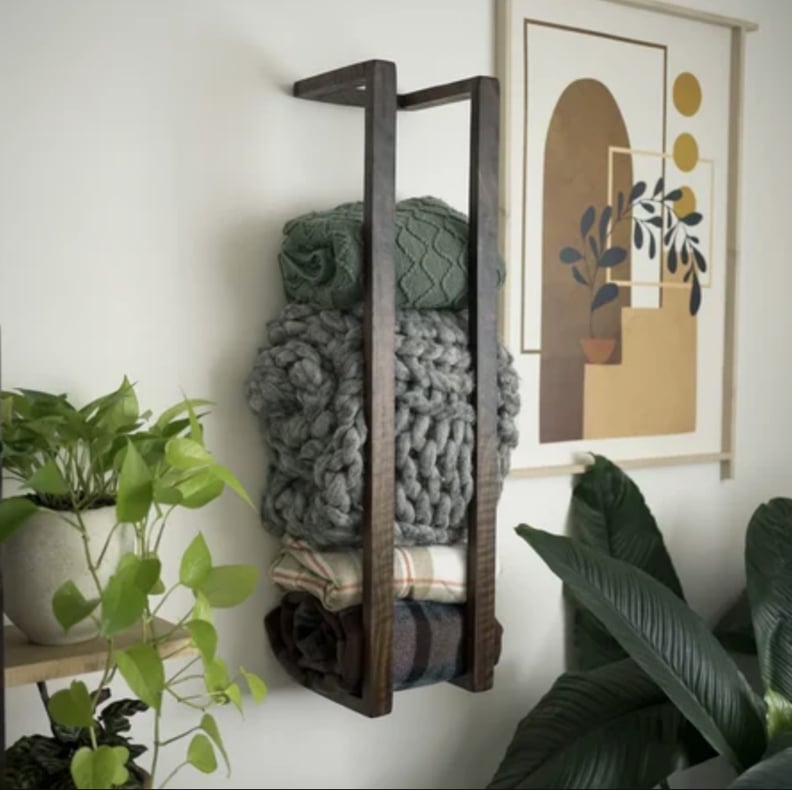 Best Blanket Storage Using Wall Space
The Iron Roots Designs Wood Blanket/Quilt Rack ($193, originally $210)
If you don't have a ton of space in your living room, fold blankets neatly in The Iron Roots Designs Wood Blanket/Quilt Rack. It makes for a tidy display and doesn't take up too much space. You can roll up your favorite blankets when not in use and store them away without taking up prime floor space. It's great for a contemporary space, and it makes for a unique decor moment that's also functional.
11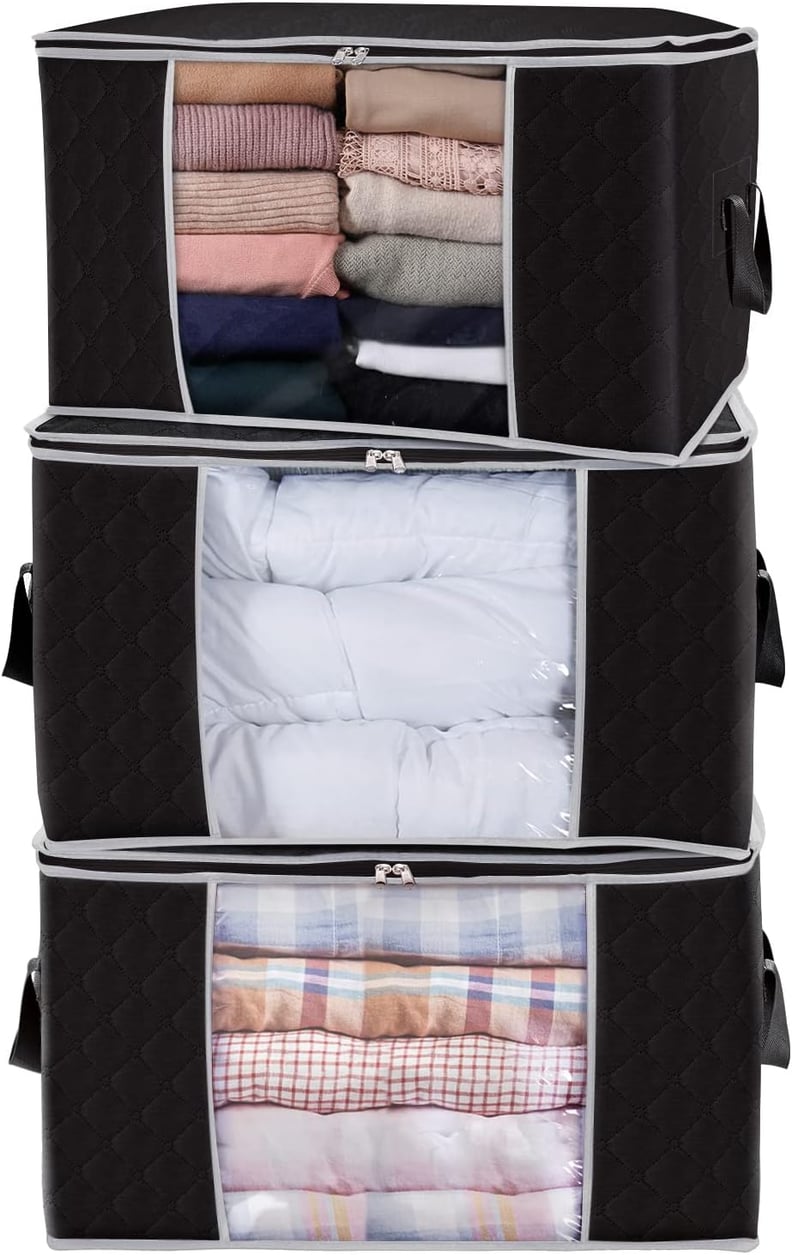 Best Blanket Storage With a Large Capacity
Lifewit Large Capacity Clothes Storage Bags ($16, originally $30)
If you have a plethora of thicker blankets to store away, the Lifewit Large Capacity Clothes Storage Bags are worth getting. With this pack of three, you'll be able to properly store your extra blankets in closets in an organized manner. The resealable bags have reinforced handles, a thick fabric shell, and a sturdy zipper to keep everything secure and well-preserved. Plus, these storage bags have a clear window so you can see which blankets are stored without needing to take them out.
12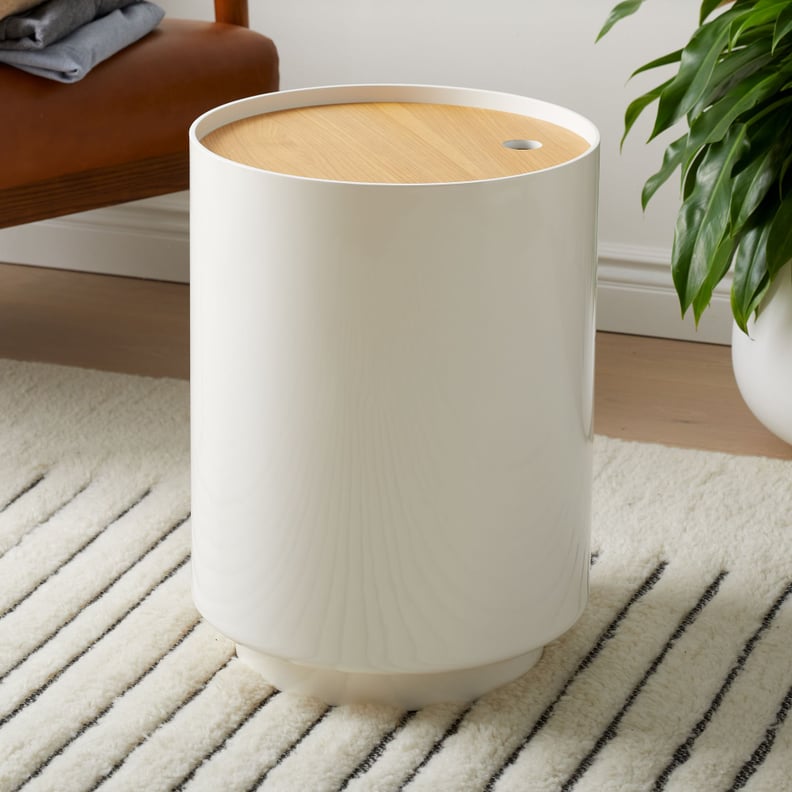 Best Blanket Storage With a Lid
West Elm Jasper Wood Lidded Baskets ($160)
Looking for something durable and sturdy? You can't go wrong with this stylish and sleek piece from West Elm. It comes with a lid that keeps your throw blankets protected from dust and also out of sight. This storage basket can also serve as a side table. You can get this in a light wood shade or a darker wood shade.
13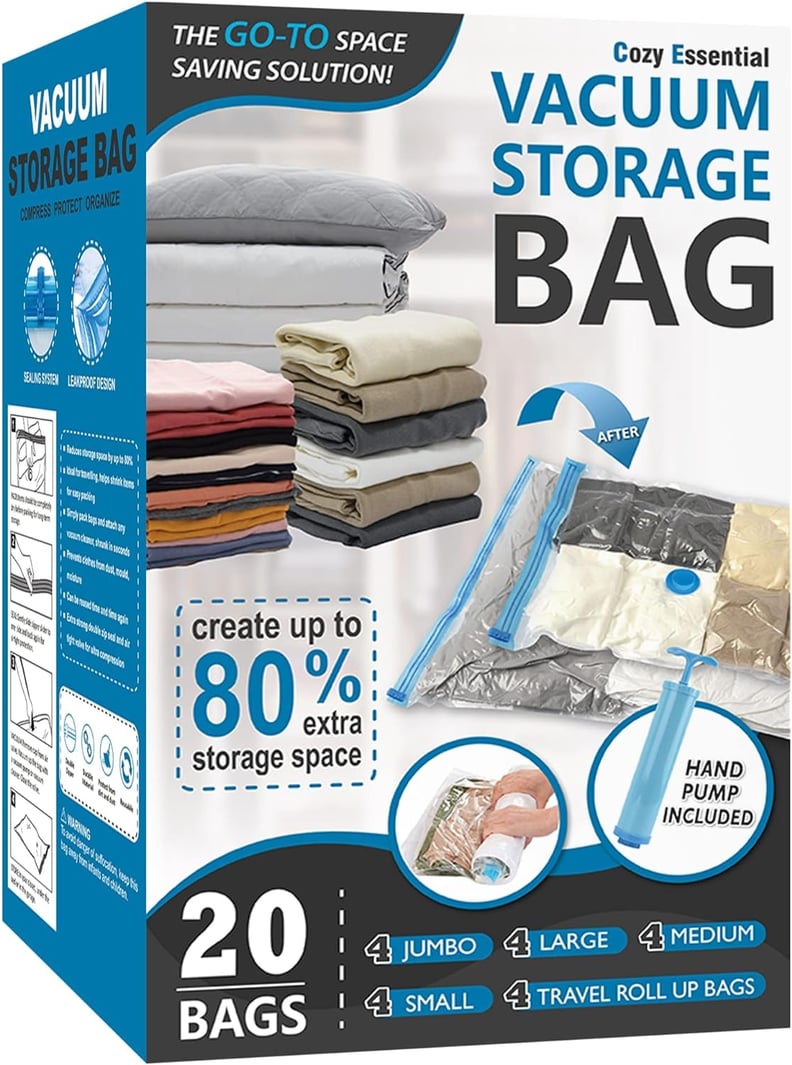 Best Blanket Storage Using Vacuum Sealing
Cozy Essential Vacuum Storage Bags ($25, originally $30)
If you're looking for a storage solution that takes up minimal space and can easily be stored away, look no further than these vacuum storage bags. This set of 20 storage bags lets you store away everything from bedding and clothing to all sorts of blankets that are not in use currently. You can use your vacuum cleaner to help suck the air out of these bags and completely compress your blankets. Plus, they're reusable and durable.