Drowning in Clutter? These Furniture Pieces Have Built-In Storage to Keep You Organized
As POPSUGAR editors, we independently select and write about stuff we love and think you'll like too. If you buy a product we have recommended, we may receive affiliate commission, which in turn supports our work.
People are obsessed with getting organized. But while you might truly want to be organized, actually making it happen is another story. In reality, it's hard to stay organized when you're struggling to find storage space — a common problem among apartment dwellers and people who live in older homes. (Hello, tiny closets!)
That's where storage-conscious furniture can help. Smartly designed items with discreet shelves, drawers, and lift-up compartments can provide you with places to store everything from off-season clothes to frequently accessed (but not-so-cute) items like the TV remote. And when everything has its proper place, suddenly being organized is looking pretty doable. Read on to see some of our favorite furniture pieces with built-in storage.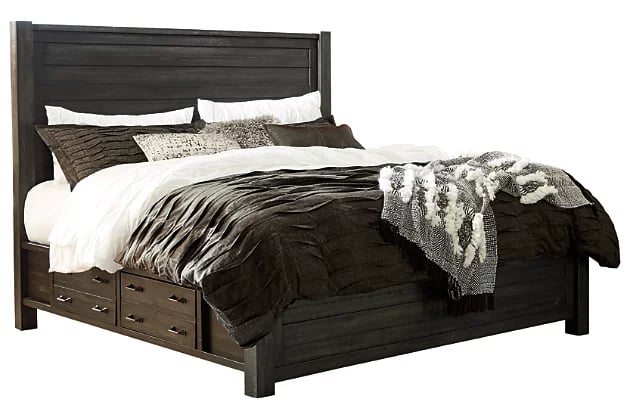 Baylow Queen Bed
If you favor a vintage (but not-too-precious) vibe, this Baylow Queen Bed ($1,750) is a good investment piece. Not only does it have antique-style zinc hardware and a slightly distressed finish, it also has — wait for it — two drawers on each side of the bed. Store extra sheets, towels, and even your evening reading materials in them, and watch the clutter simply disappear.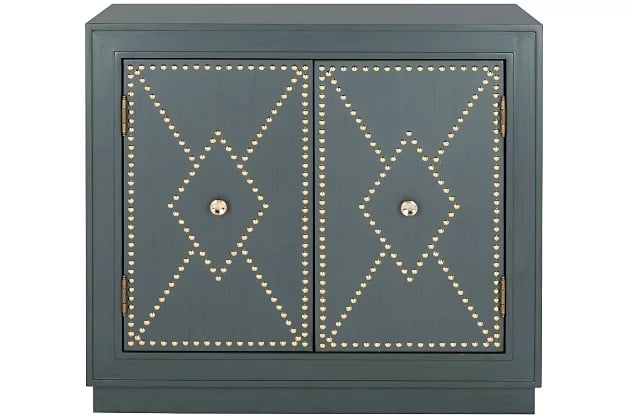 Safavieh Erin Chest
Equally stylish as a nightstand or side table, this Safavieh Erin 2 Door Chest ($352-$397) features a pretty nailhead pattern on its doors and generous storage space inside.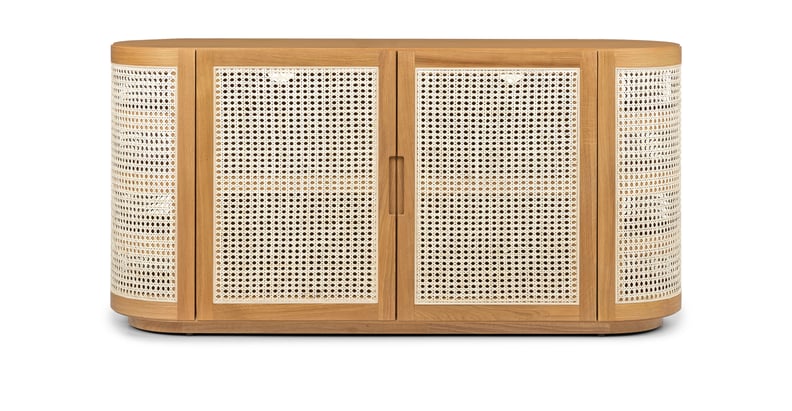 Candra Oak Sideboard
Ideal in an entryway or a dining room, this Candra Oak Sideboard ($1,199) can store everything from barware to winter mittens and gloves. The cane rattan detail looks luxurious, and it teases out a glimpse of what's inside.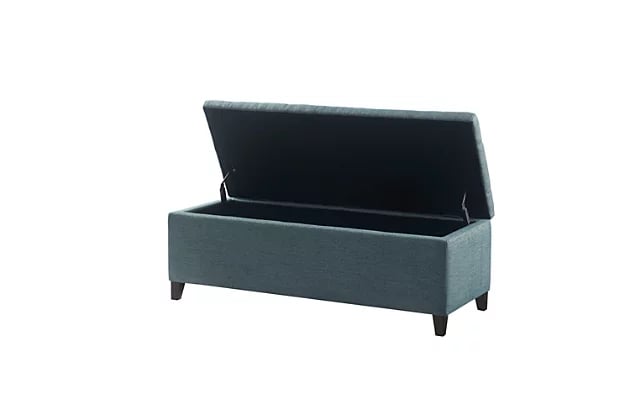 Shandra Storage Bench
Tired of your entryway looking like a tornado of shoes, mittens, hats, and totes? This Shandra Storage Bench ($323) is here to help. Lift the lid to reveal abundant space to contain the mess. Live with roommates or family members? Slot in labeled baskets so everyone knows exactly which drop zone is theirs.
Hammock Sling Coffee Table
This clever Hammock Sling Coffee Table ($498) sports a faux-leather sling beneath its tabletop, which is just perfect for tossing in remotes, coasters, and other little items.
Dorel Heidi Storage Ottoman
The living room always looks good with a throw blanket and pillow or two, especially when they're seasonally appropriate. When it's time to swap for a new season, lift the top of the Dorel Heidi Storage Ottoman ($291-$356) to reveal storage for the items you won't need for a while. (And if you do happen to need them, you won't have to wander far to access them.)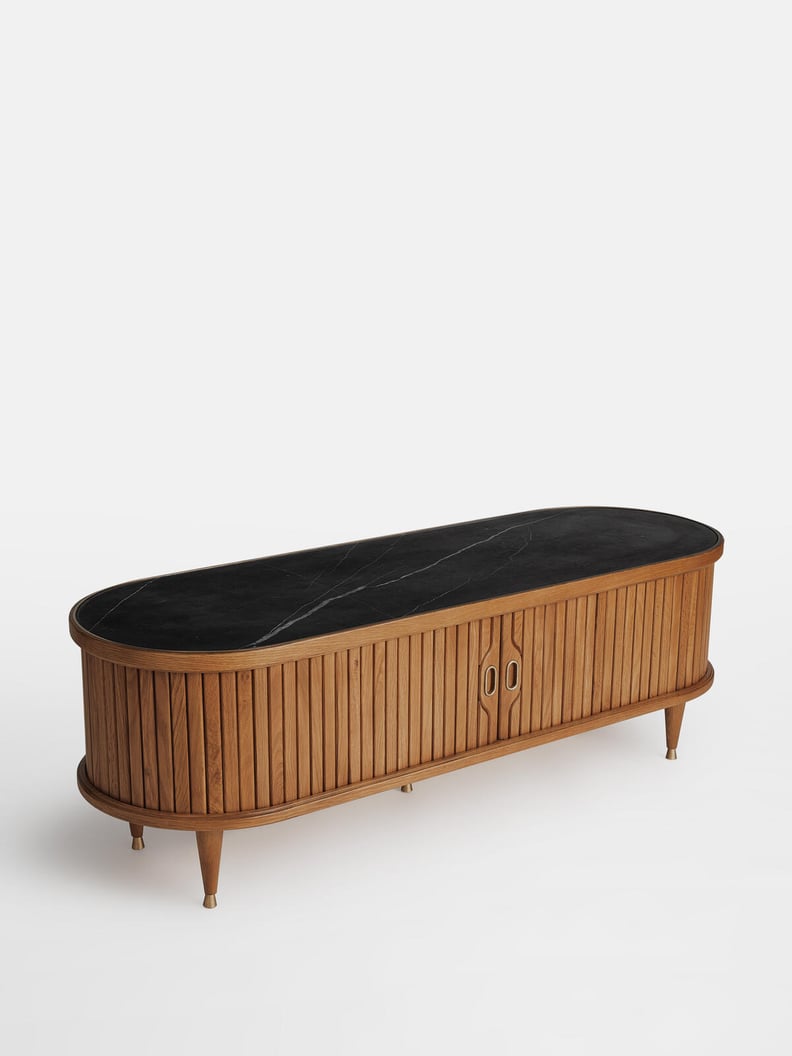 Nora Tambour Media Unit
Inspired by the interiors of White City House in London, this Nora Tambour Media Unit ($2,795) is a sleek spot to place a television. Its oak doors slide to reveal shelving without screaming, "Hi, I'm hiding lots of things inside."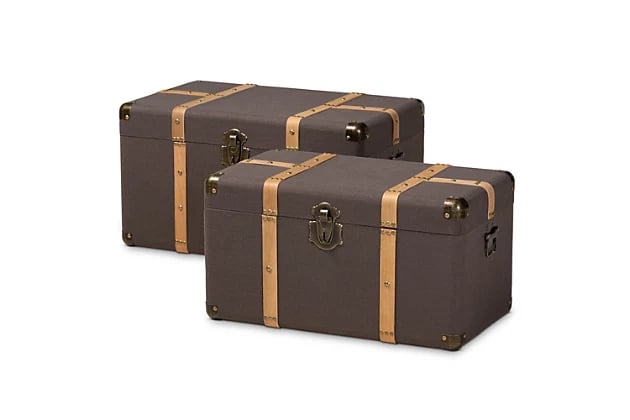 Baxton Studio Stephen Trunk Set
For more than 100 years, travel trunks have been an endlessly chic accent for bedrooms and living rooms. This Baxton Studio Stephen Trunk Set ($242 for two) has the classic look, minus the stratospheric price of a vintage Vuitton trunk. Use them to stash everything from pillows to off-season clothing, then add a tray on top to use them as side tables. Yes, a timeless look really can be that simple.