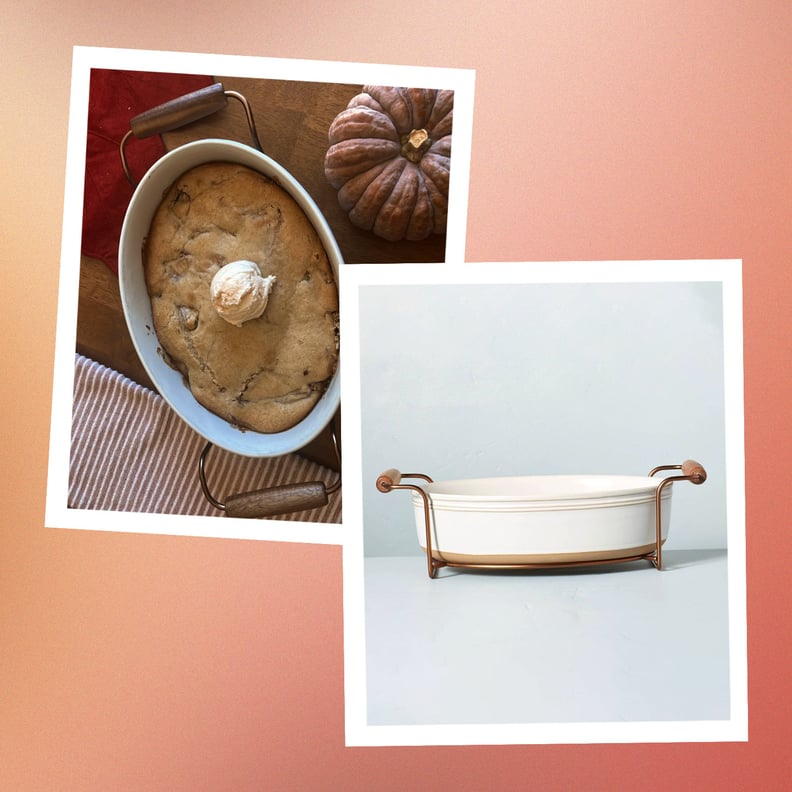 POPSUGAR Photography | Kyley Warren
Target
Photo Illustration: Keila Gonzalez
POPSUGAR Photography | Kyley Warren
Target
Photo Illustration: Keila Gonzalez
As POPSUGAR editors, we independently select and write about stuff we love and think you'll like too. If you buy a product we have recommended, we may receive affiliate commission, which in turn supports our work.
I can't quite pinpoint what it is about the fall season, but come October every year, I find myself burdened with the inexplicable urge to transform (albeit figuratively) into Martha Stewart. After months of fussing about the warm weather and just generally being the most unproductive person alive, I'm suddenly gifted with this newfound energy to embrace my inner homemaker — doing everything from staging warm tablescapes and planting new spices in my (basically nonexistent) herb garden to whipping up endless fall desserts and always managing to overestimate my love for pumpkin (believe it or not, there is actually such a thing as too much pumpkin).
As much as I enjoy entertaining this idea that I'm a professional baker who's only one pastry away from competing on "The Great British Baking Show," I am, in fact, far from being a pro — and more often than not, actually need to keep my cooking processes as simple as possible in order for them to work at all (but don't tell Martha!). It's for this reason that I love relying on multipurpose cookware that can help me to avoid overcomplicating any baking or serving prep. Naturally, it's also the reason I was drawn to the Hearth & Hand With Magnolia Oven-to-Table Baking Dish ($35), which combines all the same durable properties of a classic, oven-safe baking dish — just with a chic, metal carrier design for added style when serving. Everyone say: "Thank you, Joanna Gaines!"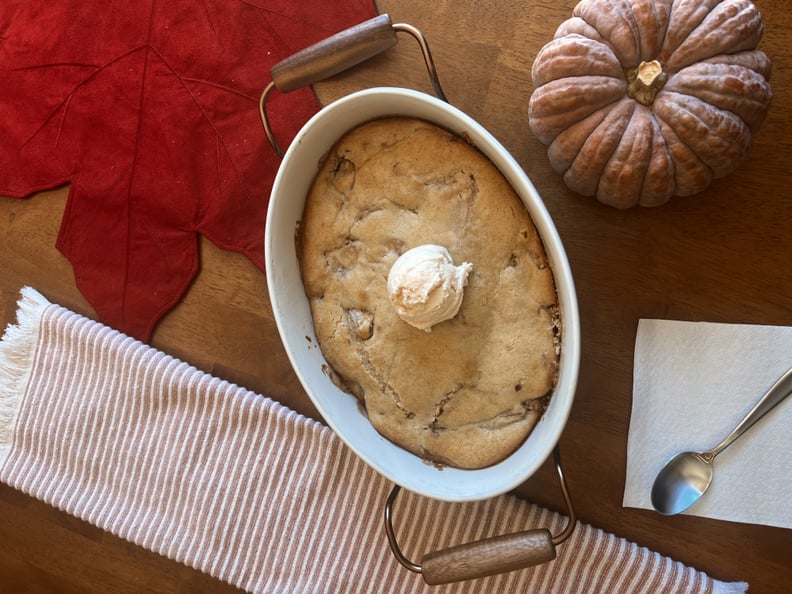 In all seriousness, I've been using this oval baking dish for almost a month now and already managed to reignite my love for easy cooking in the process. Keep reading to see my honest review and why I think this Magnolia bakeware is a kitchen essential — especially heading into the holiday season.
What I Like About This Magnolia Baking Dish
The easy answer here is just that I love all of the convenience this Magnolia baking dish provides. I can't tell you how many times I've ruined the look of a dessert or casserole simply because I've had to transfer it from an oven-safe dish to a table-ready serving plate or bowl. It might not seem like an extensive step, but after a day filled with baking or cooking over a hot stove, you really just want to skip to the part of getting to actually enjoy what you've spent all this time making — rather than having to move it around and dirty more utensils in the process. With the versatility of the dish, I can cook easy dinners like lasagnas or savory casseroles, and I can also use it for sweeter treats, like my go-to apple cobbler recipe (seen above).
As with most things in Target's Hearth & Hand With Magnolia collection, I'm obsessed with the rustic yet timeless style of the product, too. It's simple, with a sour-cream-like coloring and finish that pairs with everything (even your most basic plate sets), plus a metal stand and wooden-accented handles that complete the baking dish with a warm charm.
What's Worth Noting
My only qualm with this product is in regard to its tight frame and the way the design complicates actually getting the dish from the oven and into the metal carrier stand. Because of its snug, oval base and the handle placement, there have been moments where I've struggled transferring the oval dish into the carrier because there simply isn't enough space between the items to just place it in — especially with oven mitts on. As such, I'm forced to gently slide the dish into its frame, maneuvering around the hotness of the product and hoping I don't drop it altogether. I think a more practical design would have been to put the handles on the longer sides of the frame rather than at the ends of it, where users are less likely to be holding the actual dish. It's a small detail, I know! But when you're as uncoordinated and prone to kitchen accidents as I am, you really value having cookware that doesn't leave room for any spills or missteps.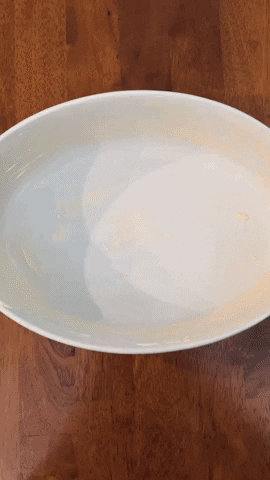 Who Is This Magnolia Baking Dish Best For?
If you (like me) have dreams of being a world-class host whose home is the go-to for good food and cozy aesthetics but still need a little extra support in the baking department from time to time, this stoneware dish is such a worthwhile investment. From cobblers to casseroles, the bakeware has allowed me to whip up some of the easiest and most delicious meals and desserts — giving me the freedom to throw all of the ingredients into the dish base, cook it to perfection in the oven, then seamlessly take it straight to the dining table with the metal carrier (no need to transfer to another, more stylish serving plate and run the risk of ruining my bake). If you value convenience, you can't beat how much easier this product makes the serving process — especially if you are cooking a big holiday meal for family or just have a lot of other dishes to worry about at once. I have a hunch this baking dish will prove to be even more useful come the holiday season, and I'd recommend any avid cook or baker invest in one before then!
Where Is This Magnolia Baking Dish Available?
The Hearth & Hand With Magnolia Oven-to-Table Stoneware Baking Dish is available to shop at Target. Shoppers can also get an square-shaped version ($40) of the dish, too.
Additional Details
This versatile baking dish is built to withstand it all and is microwave-, freezer-, dishwasher-, and oven-safe up to 500 degrees Fahrenheit.
While the metal carrier with wooden handles is not safe for use in the oven, users can pull the stoneware dish out of the oven and place it onto the stand, allowing it to act as a cooling rack.
I baked my go-to apple cobbler in the Magnolia dish, though the retailer specifies that the kitchen product is great for cooking more savory dishes like casseroles or lasagnas, too.
Rating:
★★★★★