Please Allow Interior Designer Dabito's Bold and Beautiful Designs to Inspire Your Own Space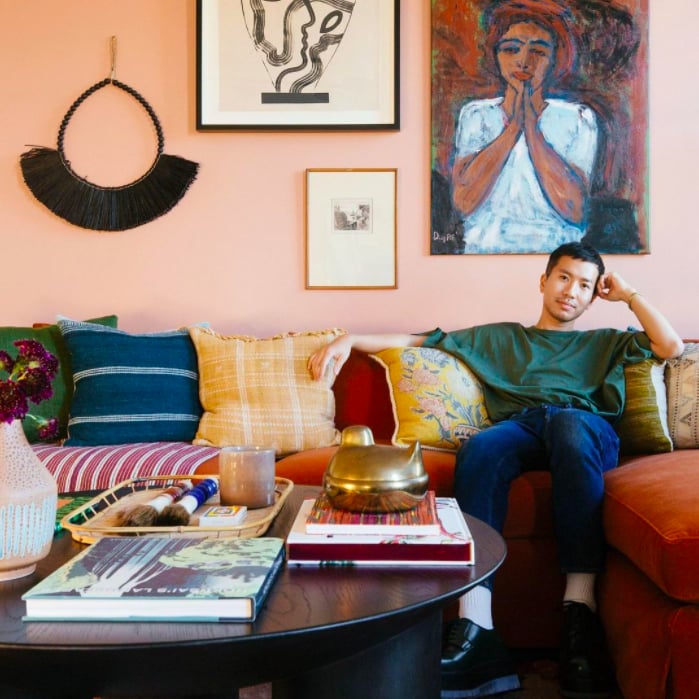 It was the summer of 2019 when I finally lost it. The "paper basket" in my parents' living room overflowed with untouched magazines and catalogs. As a devout Marie Kondo disciple, I hired myself as their very own professional organizer (free of charge considering they raised me) and started to purge what didn't bring me joy.
I was ruthless, except when it came to the design magazines. As a 30-something with an apartment of my own (no roommates! no boyfriends!), I look for inspiration, and deals, everywhere. Flipping through each back issue, the funkiest bathroom caught my eye. This tiny space mixed forest-green walls, even more green cement floor tiles, marble everywhere that wasn't green, champagne brass fixtures, and plants wherever they could fit.
Yes, the description sounds chaotic, but every element made sense together. It proved that interior design can be playful in any room. Put artwork over the toilet! Love orange and turquoise? Add both! No, you do not have too many ferns!
I scooped up my phone to stalk the designer's Instagram and was greeted by pattern mixer, plant daddy, and gallery-wall king Dabito, the founder and creative director of website Old Brand New. Recently, we connected online, where he was able to take time out of his schedule as an artist, art director, designer, blogger, and photographer to talk interiors.
Scroll through to see some of Dabito's coolest projects, uncover his inspirations, and discover his favorite APIA designers, artists, and creatives we should all be following.
01
Dabito Knows That Small Design Changes Can Go a Long Way
Along with sharing redesigns from his clients and friends, Dabito — whose work has been featured in Domino and Better Homes & Gardens and on CNN — continuously updates his more than 233K Instagram followers with renovations from his own home. "I created an arched hallway to give my cookie-cutter house some architectural details, and then painted it Faded Terracotta by Farrow & Ball to accentuate the arch," Dabito told POPSUGAR. "I [also] added more arches in my bedroom and en-suite bathroom plus built-in shelves to really make the space more unique."
02
Dabito Isn't Afraid of Bold Patterns in Small Spaces
"This is a rental, and I helped make over this bathroom so it could be more functional," Dabito shared. When it comes to personalizing an apartment or rental property, "everything is happening on the walls. Add paint, wallpaper, and artwork."
03
Dabito Is the Creative Voice Behind Old Brand New
Dabito's website Old Brand New is described as "a creative studio specializing in design, art direction, branding, photography, and brand partnerships." And if you want to get to know Dabito more than his Instagram allows, he shares tons more tips, tricks, and finished home makeovers here.
04
His Entire Kitchen Is Green!
"I decided to paint my entire kitchen green to define the space since I have an open-concept floor plan," Dabito explained. He even joked on Instagram that the space is "like Christmas all year round." Before selecting a bold color like this, he advises that you consider the other aspects of the kitchen like counters, backsplash, flooring, and appliances.
05
He Knows the Power of a Few Good Houseplants
"This is my guest bedroom — I wanted a lot of natural materials in here, so I hung a cluster of Binga baskets on the wall," Dabito told POPSUGAR. Many of his rooms feature bright (and thriving!) houseplants, both adding another pop of color and removing indoor pollutants. "I love my Ficus Audrey. It's still alive after two years, so I consider that a victory. I also love polka-dot begonias because they look like someone's painted them."
06
Dabito Knows How to Make the Most of Limited Space
"I helped my friends 'Dabify' their living room in NYC," he said. "They lacked storage, so I ordered two TV stands and placed them together to create one long unit. Not only did we get more storage, but it also helped anchor the TV gallery wall."
07
He Loves Mixing Patterns
"This bedroom makeover features tropical wallpaper from Walls Republic and furniture from All Modern," Dabito said. "You can really mix any pattern or prints by keeping them in the same color family." And his advice for overcoming a creative block when it comes to designing your space? Take a nap to find inspiration and rest your mind.
08
Dabito Recently Gave His Family a New Home
"This is my sweet mom. She's so happy that she has her own space now," he told POPSUGAR. "I finally helped my family upgrade from a one-bedroom apartment to a three-bedroom house rental last year so that everyone can finally have their own bedrooms."
09
Dabito Attributes His Design Aesthetic to Travel, Fashion, Plants, and Nature
"One of the biggest gallery walls I've ever created features my artworks and artifacts I've found during my travels," Dabito said. When it comes to your own gallery wall, he urges you not to overthink it. Arrange your pieces however you're called to, symmetry be damned!
10
He Knows There's Still More to Be Done to Make the Design Community Truly Inclusive
"The design community needs more diversity. We need to feature and support more BIPOC designers and artists," he said. In honor of APIA Heritage month, Dabito shared some of his favorite APIA designers, artists, and creatives: