Levity Scandinavian Side Table | Editor Review
I Built This Side Table in Less Than 10 Minutes, and It Looks So Pretty
As POPSUGAR editors, we independently select and write about stuff we love and think you'll like too. If you buy a product we have recommended, we may receive affiliate commission, which in turn supports our work.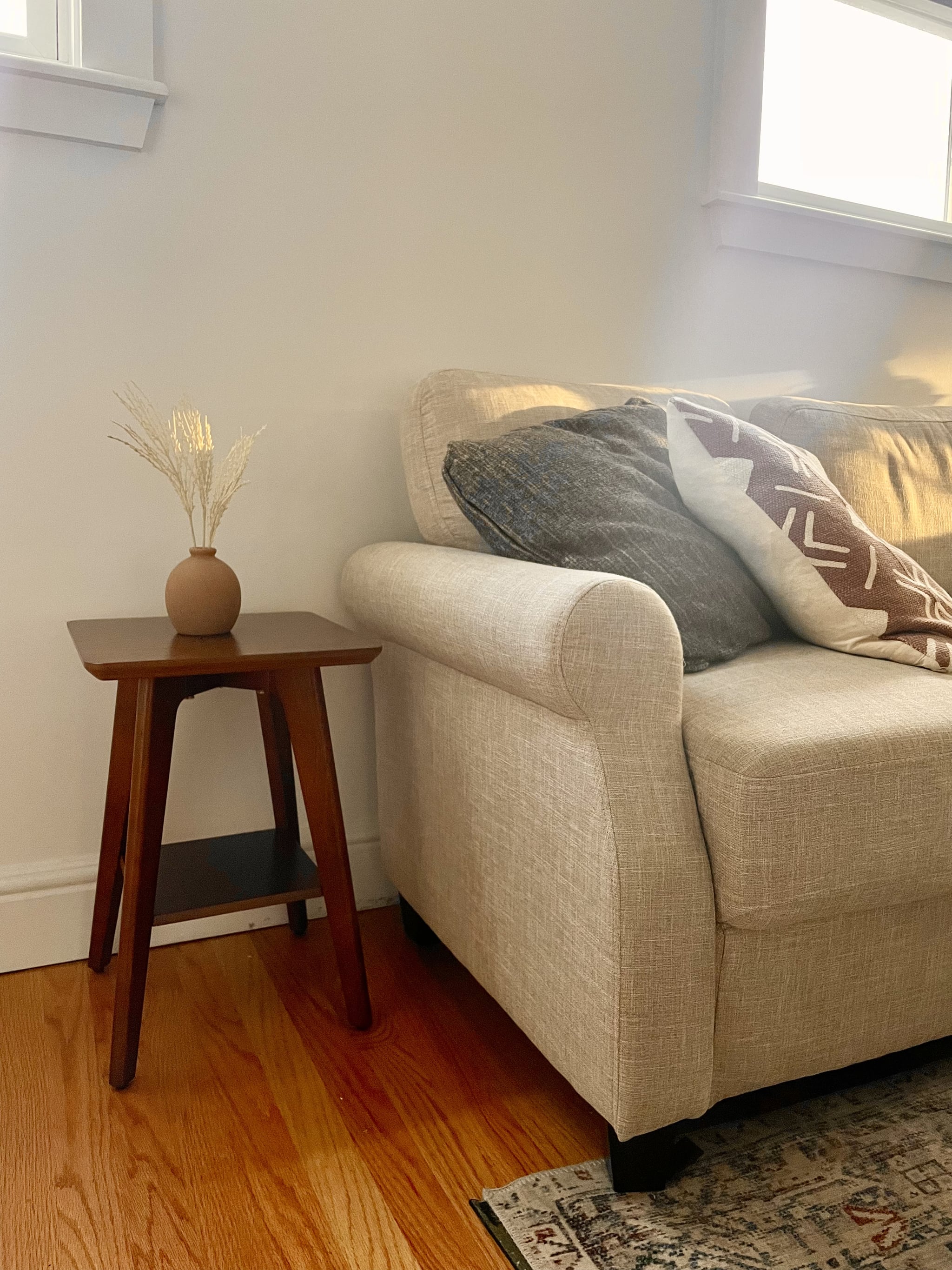 If there was anything apparent about my living room a month ago, it was that it needed a side table. I knew this well, and my friends did not refrain from letting me know either. The truth is, I'm lazy. Finding the perfect side table that was a good size, matched my other furniture, was easy to build, and could ship to my doorstep seemed like a lot of work. Instead, I decided to suffer without a side table (as if that was the better option). It wasn't until I came across this Levity Scandinavian Side Table ($159) that I felt the need to finally get one a whole year later. It checked all the boxes: compact size, minimalist Scandinavian style, quality material, and easy assembly. As the saying goes, "when you know, you know," and I truly knew this side table was the one.
What I Like About the Levity Scandinavian Side Table
I'm picky when it comes to decor, and when I moved into my apartment a year and a half ago, I was OK with leaving it bare in some areas until I found the right items. I, of course, wasn't expecting a whole year and a half to go by before hanging pictures and getting side tables, but hey, it happens. I held off on getting a side table because I had yet to find one that stood out to me. The direct-to-consumer market seemed like the best place to keep an eye out, and when I heard Levity was releasing side tables (and coffee tables), I knew I had to check them out.
This side table took me less than 10 minutes to build. Maybe eight, if I'm being precise. It was so easy, and it came with all the tools I needed to set it up. The package was light and comfortable to carry up my stairs, and while I was not looking forward to the assembly process, this table was a piece of cake. I'm so impressed with how expensive it looks.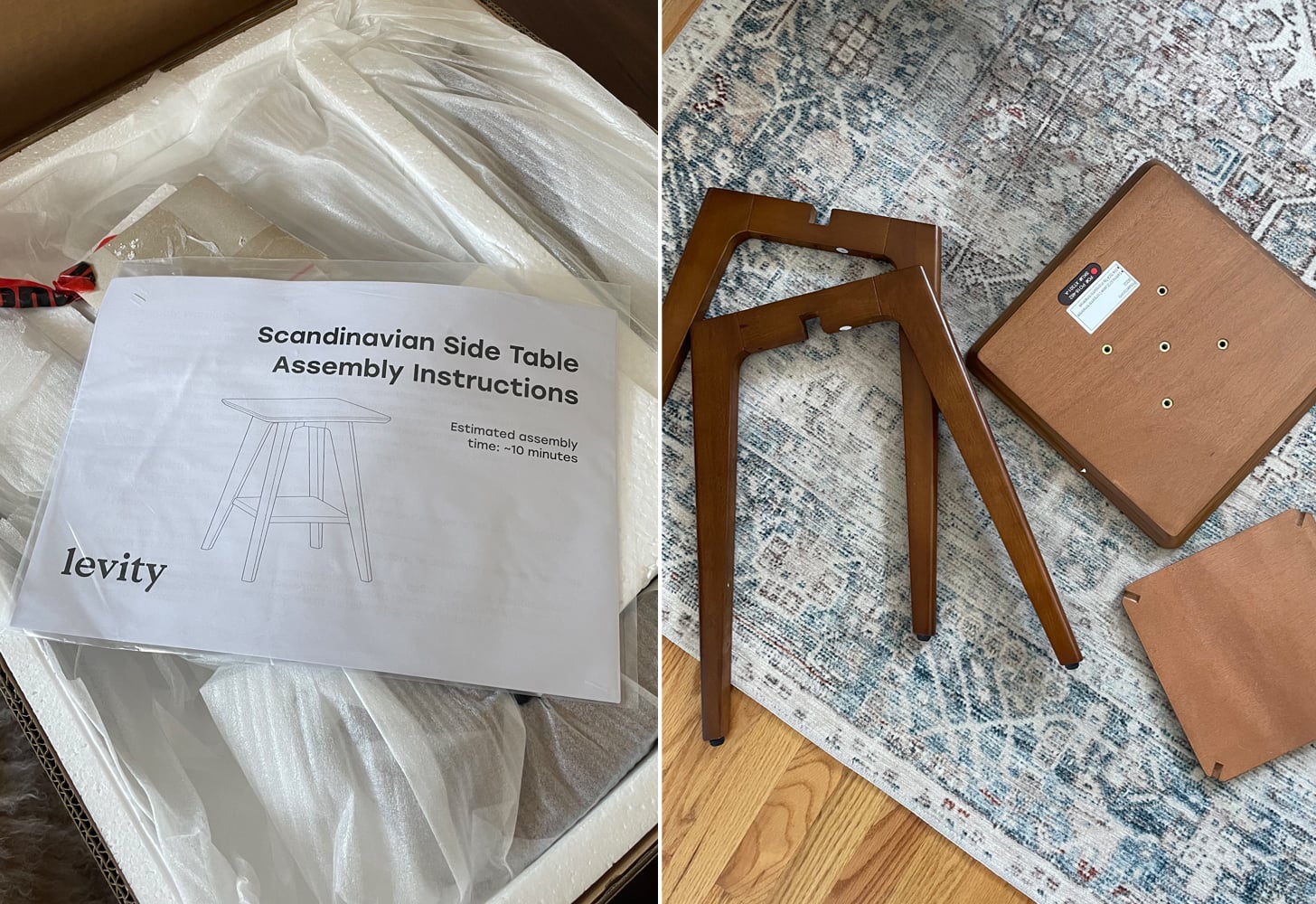 What's Worth Noting About the Levity Scandinavian Side Table
If you're an apartment renter, you'll probably love the size of this table. However, if you have a large living room, it's important to point out that this table is fairly small in size. It's great next to a love seat or accent chair, but next to a large sectional, I think it'd look out of place. It's almost 13 inches tall and 13 inches wide and barely comes up to my knee in height.
Who Is the Levity Scandinavian Side Table Best For?
Apartment dwellers, this side table is for us! It comes in a lightweight box that's thin and easy to carry upstairs and through doors, plus it's small in size. If you have a small living room or home in general, this table makes a great accent piece. It doesn't take up much room but provides just enough of a surface to place a small lamp or phone charger on top. Plus, it comes with a removable shelf that doesn't require tools to remove.
Additional Details:
The table is protected with a durable coating, so you don't have to worry about dents, scratches, rings, or wear.
This comes in two wood-stain options: walnut (which I have) and white oak.
Made with high-quality rubberwood, oak veneer, and MDF, this table is designed to last.
Editor's Rating
Image Source: POPSUGAR Photography / Haley Lyndes