These Dinner Plates Are Perfect For Hosting
POPSUGAR Photography | Jessica Harrington
POPSUGAR Photography | Jessica Harrington
As POPSUGAR editors, we independently select and write about stuff we love and think you'll like too. If you buy a product we have recommended, we may receive affiliate commission, which in turn supports our work.
When I first moved to New York City years ago, I found a red dinnerware set at a thrift store that I thought would do just the trick at my new place (and fit my tiny, just-graduated-from-college budget). I owned that set for years (minus one bowl that an old roommate broke), and many, many chips and cracks later, it was time for an upgrade. I was in search of a set of white dinner plates that would fit my clean, minimal aesthetic but would also withstand some serious use, as cooking is one of my favorite hobbies. Enter the Made In Black Rim Dinner Plates ($99).
Ahead, I share how this plate set from Made In totally leveled up my tablescape, why the plates are great for serious at-home cooks, and why they're worth the price.
What I Like About the Made In Black Rim Dinner Plates
When I took the Made In Dinner Plates out of the box, I was immediately impressed by two things: the quality and the appearance. The four-piece set is heavy duty yet sleek and minimal in design. I opted for the design with a black rim because it complements the rest of my kitchen. The plates are restaurant quality and made in England, and they promise a one-year no-chip guarantee. While you have to worry about some white plates becoming discolored, this set is stain resistant.
What's unique about this dinner set is it's oven safe up to 580°F thanks to the glossy finish, which you don't often see with tableware. You can also pop these in the microwave and dishwasher without worry. The Made In Dinner Plates look good on my table, but they're also super functional. As someone who loves to cook, this is an absolute must.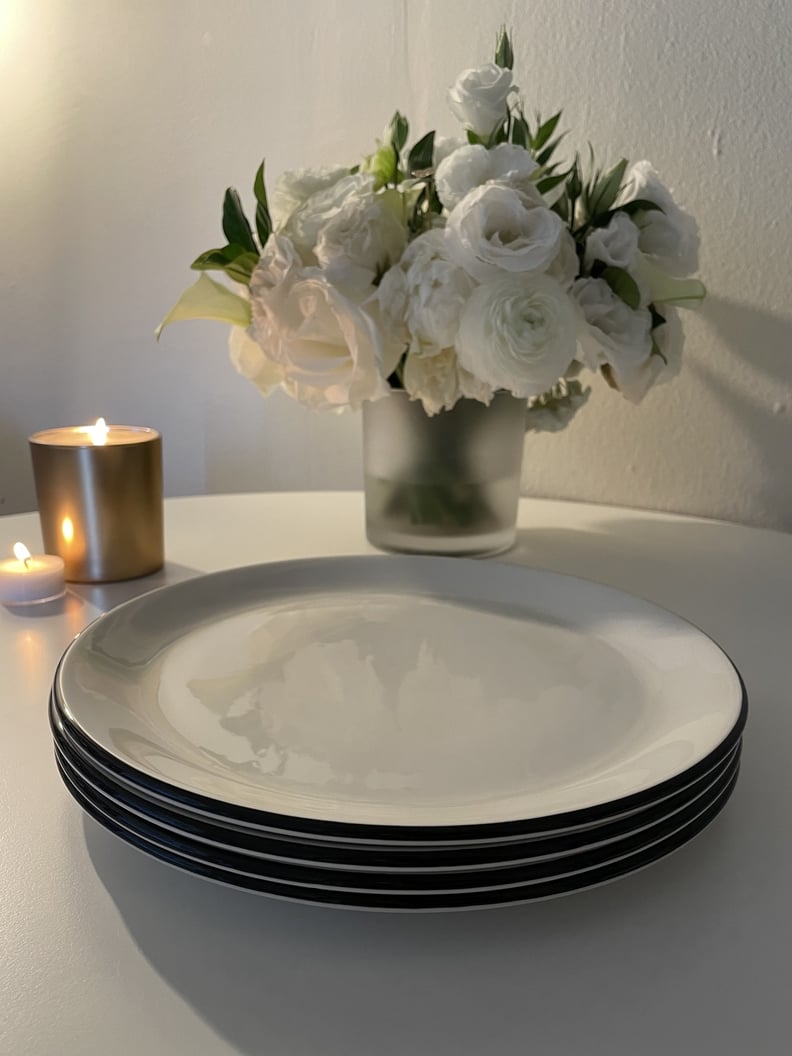 What's Worth Noting About the Made In Black Rim Dinner Plates
This set of Made In plates is perfect for my household, which consists of just me and my partner. We occasionally host friends for dinner, but at most there are usually only four people present, meaning this set has just the right number of plates in it. If you're a family of five or more, you'll need to get an additional set. That's important to note given that one set costs $99.
Who the Made In Black Rim Dinner Plates Are Best For
The Made In Dinner Plates are perfect for anyone looking to upgrade their tableware to a sleek yet functional set of plates. If you're a household of four or fewer, it will meet your needs perfectly, providing you with plates that can be used for both fancy dinner parties and everyday meals. The set is $99, but it's well worth the price because of its high quality. I don't doubt that these plates will last me years.
Additional Details
They're made of porcelain.
They come in four color options: plain white, white with a black rim, white with a red rim, and white with a navy rim.
The plates are dishwasher and microwave safe.
They can withstand a temperature of 580°F.
Rating: ★★★★★