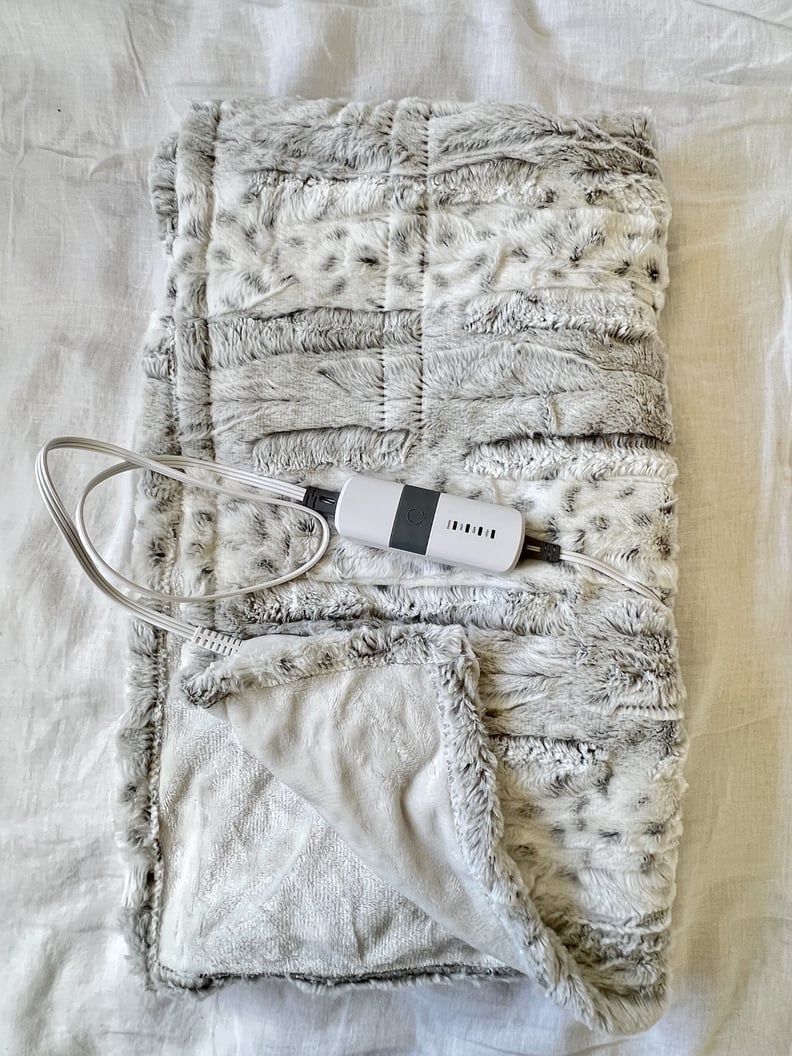 POPSUGAR Photography | Anvita Reddy
POPSUGAR Photography | Anvita Reddy
As POPSUGAR editors, we independently select and write about stuff we love and think you'll like too. If you buy a product we have recommended, we may receive affiliate commission, which in turn supports our work.
Throw blankets are one of my favorite home decor pieces, and I have an extensive collection to prove it. Most of them are impulsive buys, and I can't help but indulge in them because I'm all about a cozy vibe. You can elegantly drape it over a corner of your sofa, bed, or accent seating to give it an elegant yet comforting feel. Plus, it's the perfect accessory for cuddling up and staying warm in the chilly weather, especially heated ones. As someone who gets cold pretty often, throw blankets are a must in my life.
I appreciate the functionality of an electric heated blanket, but most of the time, these throw blankets aren't the best looking. Plus, electric throw blankets tend to be more expensive compared to regular throw blankets. As I was scrolling through Target's cozy section, I found the Threshold Faux Fur Electric Throw Blanket ($50), and I knew I didn't have to choose between function and style anymore.
What I Like About the Threshold Faux Fur Electric Throw Blanket:
The Threshold Faux Fur Electric Throw Blanket proves that electric throw blankets don't have to be an eye sore. I don't know what I love more, the chic wintry snow leopard print or the ultra-soft plush feel of the faux fur. It comes in two other colors as well, including ivory and gray. The neutral hues complement a variety of decor styles and home interiors, and the faux fur adds an elevated flair as well. This throw blanket is also reversible with a furry all-white side for a monochromatic moment.
The throw blanket is easy to use as well. Simply, attach the cord with the controller to the socket installed in the blanket, as shown ahead. Press the giant power button to turn it on and off, and adjust the heating levels to your liking. You can choose between warm, low, medium, and high.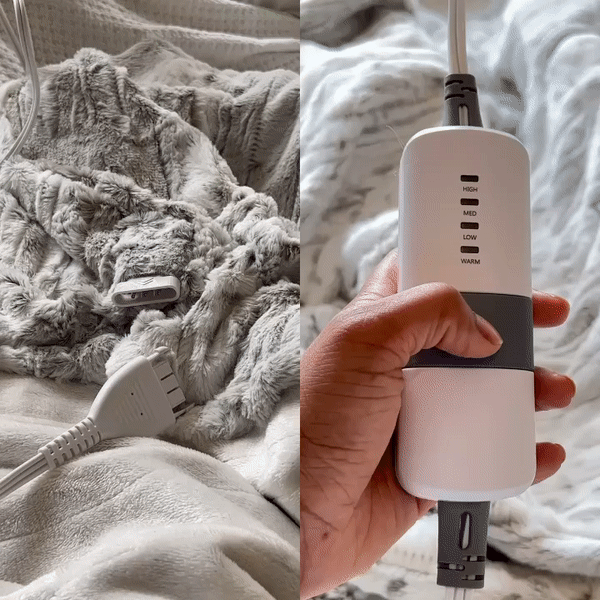 The best part? It heats up quickly, giving you the warmest cuddly hug in mere minutes. It delivers the most comforting and luxurious experience that instantly relaxes you. This throw blanket follows me around my home, whether it's catching up on Netflix on the couch, staying warm in bed, or even right now to keep my feet warm while I'm working. Threshold's Faux Fur Electric Throw Blanket has replaced all my others as my most used for the season.
What's Worth Noting About the Threshold Faux Fur Electric Throw Blanket:
The throw blanket is 60 inches long and 50 inches wide, which is a standard sizing for most throw blankets. That being said, it does not cover your entire body, especially if you're on the taller side. However, the faux fur throw is the ideal size to drape over your sofa or an armchair or place at the foot of your bed.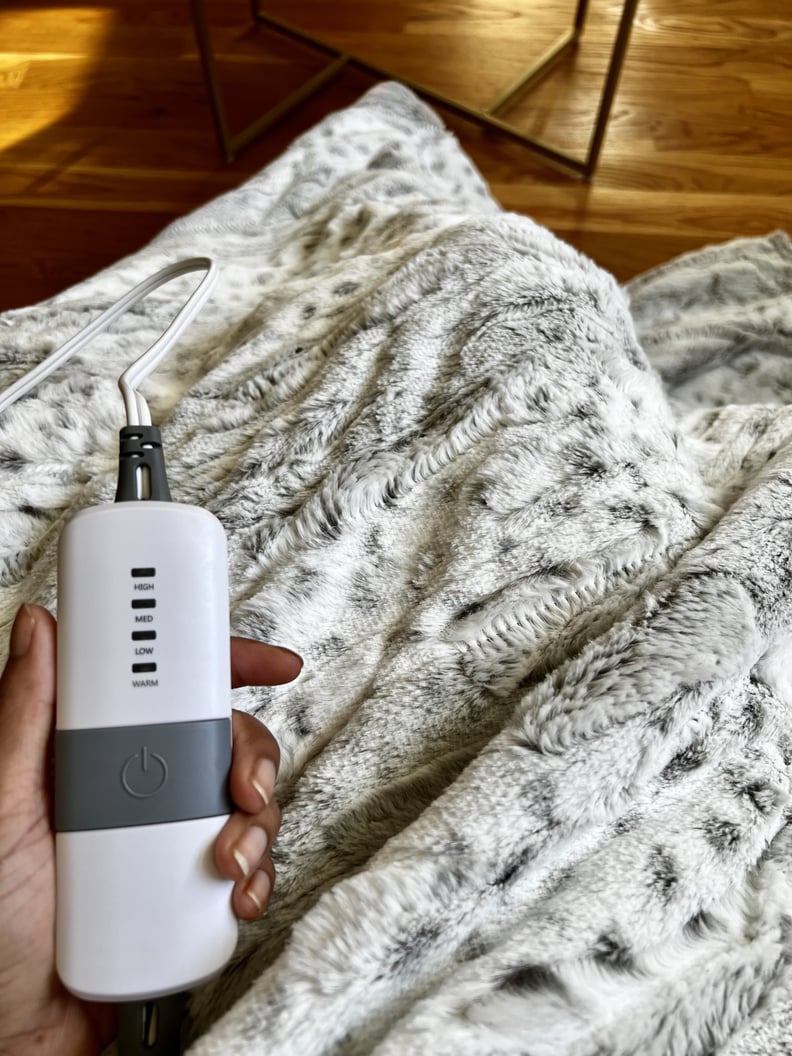 Like most electric blankets, there are safety measures and guidelines users should follow. Make sure you unplug the throw blanket when you are not using it to prevent accidentally turning it on without your knowledge. It's best to keep the heat on for no longer than an hour. To prevent overheating, the heat setting should be on the lower end, especially if you are using it for a longer timeframe. If you have pets, keep them away from this blanket, so that they don't damage the electrical wiring throughout the blanket.
You can machine wash this throw blanket on low with cold water and a gentle detergent. It's best to air-dry this; however, you can also tumble-dry on low for about 10 minutes.
All the safety and care information is on a patch stitched onto a corner of the blanket. Although knowing the safety and care information is important, it's not the best placement for a decorative piece.
Who Is the Threshold Faux Fur Electric Throw Blanket Best For:
If you're like me and feel cold often, this throw blanket will beat out the rest while looking chic on your sofa or bed. Your living space will feel warm and comforting just as much as you will. Plus, it makes for a useful and thoughtful gift for the holiday season, especially if they love to embrace all things cozy.
Where Is the Threshold Faux Fur Electric Throw Blanket Available?
The Threshold Faux Fur Electric Throw Blanket is available at Target.
Rating:
★★★★★