As POPSUGAR editors, we independently select and write about stuff we love and think you'll like too. If you buy a product we have recommended, we may receive affiliate commission, which in turn supports our work.
No matter your situation, college will look a lot different this year amid the ongoing coronavirus pandemic. If you were planning to live on campus and changed your mind, have been sent home by your university amid health concerns, are feeling uncomfortable being back and are thinking of heading home yourself, or are attending a community college, living with your parents or parent is a very realistic situation. Social activities have been canceled, classes are being held online, and your personal space is . . . limited. While you can definitely redecorate your childhood bedroom to be in line with your current vibe and style, you can also get your own separate space for the backyard (hear us out).
If you have any outdoor space at home, you might want to invest in a tiny home or shed to convert into your very own at-home dorm room! These miniature homes have four walls, a roof, windows, and just enough room for a tiny desk, bed, and wall decorations. The main thing worth noting about these is that they can be very pricey, but there are some options you can take to make it work, whether that be setting up a payment plan with your parents (it will most likely be cheaper than rent for a year!), or using a chunk of your own money to invest in something you might use for the foreseeable future. And if the weather gets cold and you have a hard time keeping it warm, you can always just use it as a place to study, attend Zoom lectures, or talk on the phone with friends instead of sleep. Keep reading to shop some tiny homes/sheds now.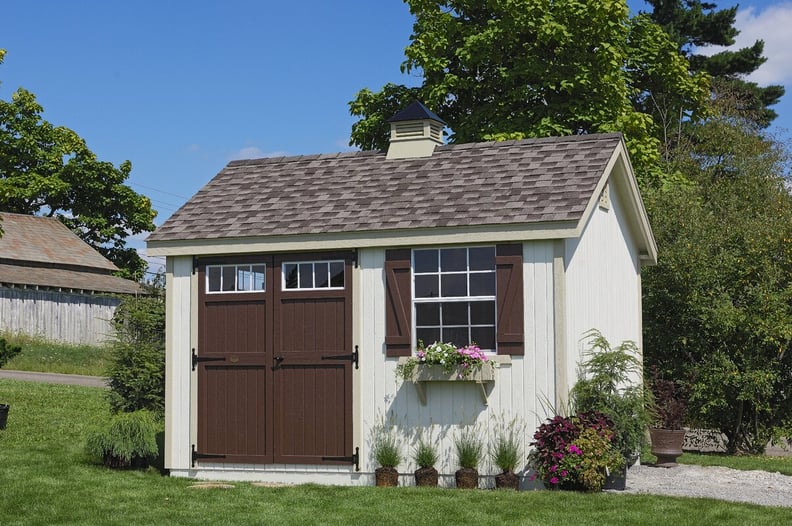 Colonial Pinehurst Solid and Manufactured Wood Storage Shed
You'll never want to leave this adorable wood shed ($5,600, originally $6,866) that looks like a grown-up dollhouse. It has a locking double door, a large window with shutters, a plant ledge, and built-in vents to keep you cool.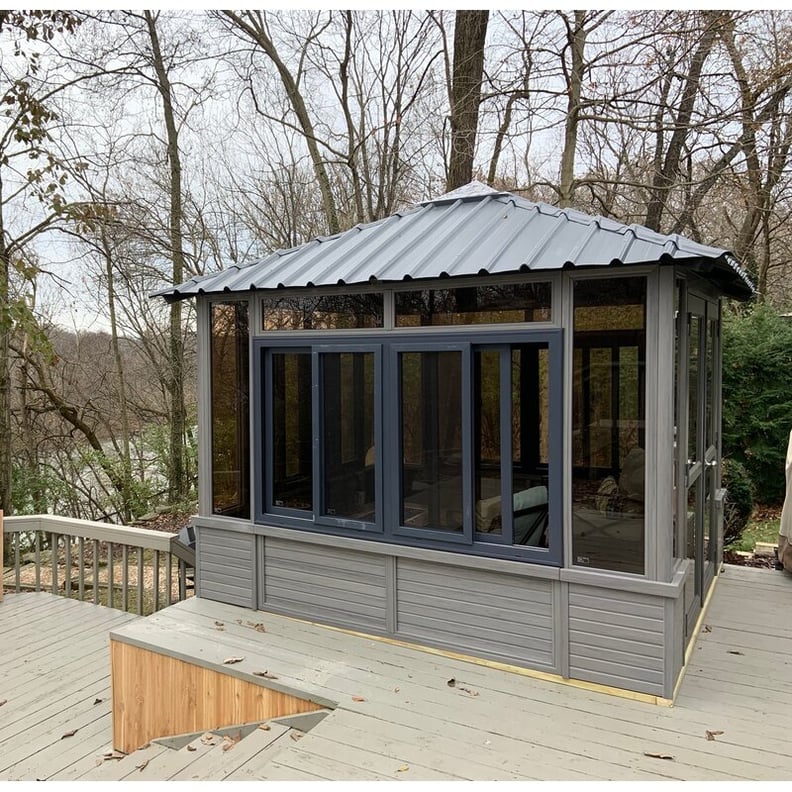 Denali Backyard Studio 9.5 Ft. W x 9.5 Ft. D Solid Wood Patio Gazebo
If you enjoy working in natural sunlight, then this patio gazebo ($5,720, originally $9,850) is for you. All four walls are covered with huge windows and there's a skylight in the roof. It is also weather-resistant, and it can handle heavy snowfall (up to 35 pounds!).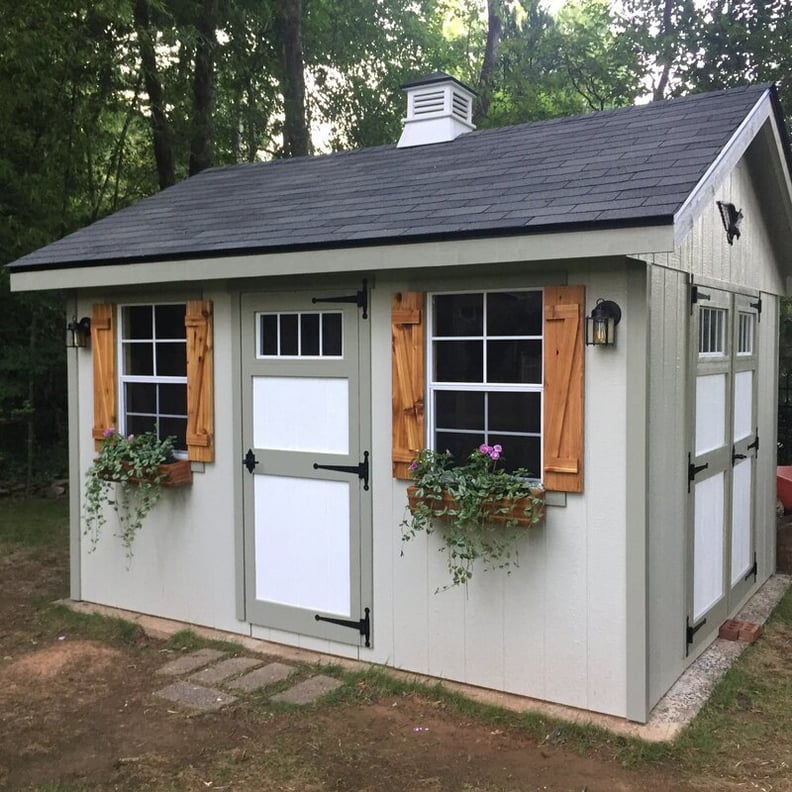 Riverside 10 ft. W x 12 ft. D Wood Storage Shed
This adorable little wood cottage ($3,160) looks like a summer country home. In addition to the usual suspects — lockable doors, windows, and vents — it also has pretty design details, like plant ledges, tiny lantern-style outdoor lights, and a metal eagle decoration.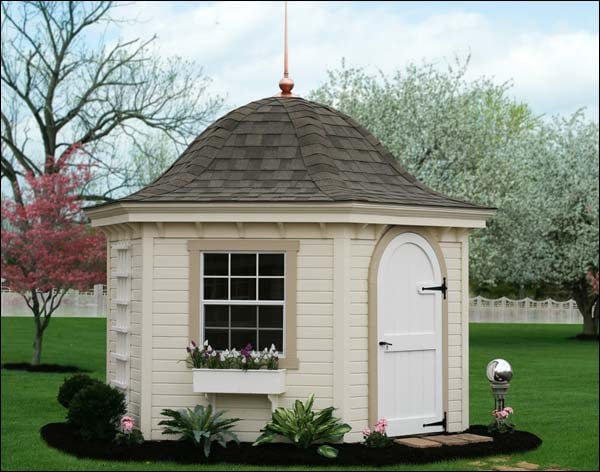 14' Dura-Temp Hexagon Belle Cabana
Living in your own private cabana? Yes, please! This hexagon-shaped cabana ($8,799) is totally customizable with 14 different color choices for the siding and three different roof color options. You can also upgrade it to get cute special features like windows, flower boxes, an arched door, finished interior walls, an electrical package, and more.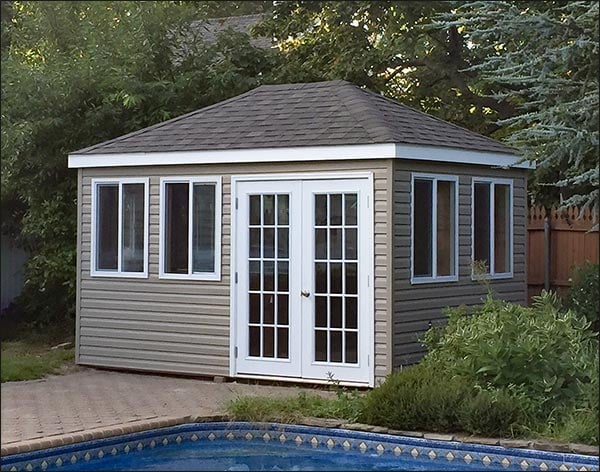 10' x 12' Vinyl Rectangle Cabana
The only thing that would make this cabana ($8,845) better is if it was set up right next to the pool (reading textbooks in a floatie, anyone?). Some of the cool features on this cabana include pretty French doors, six vertical windows, and decorative blue shutters. Upgrades are also available.
Best Barns Fairview Gable Engineered Storage Shed
Take your farmhouse-style decor obsession to another level with this adorable barn-style shed ($3,051). It has both a front door and double doors on the side so you can easily move all your stuff in. Add your own tiny porch and flower bed to make it feel even more like home.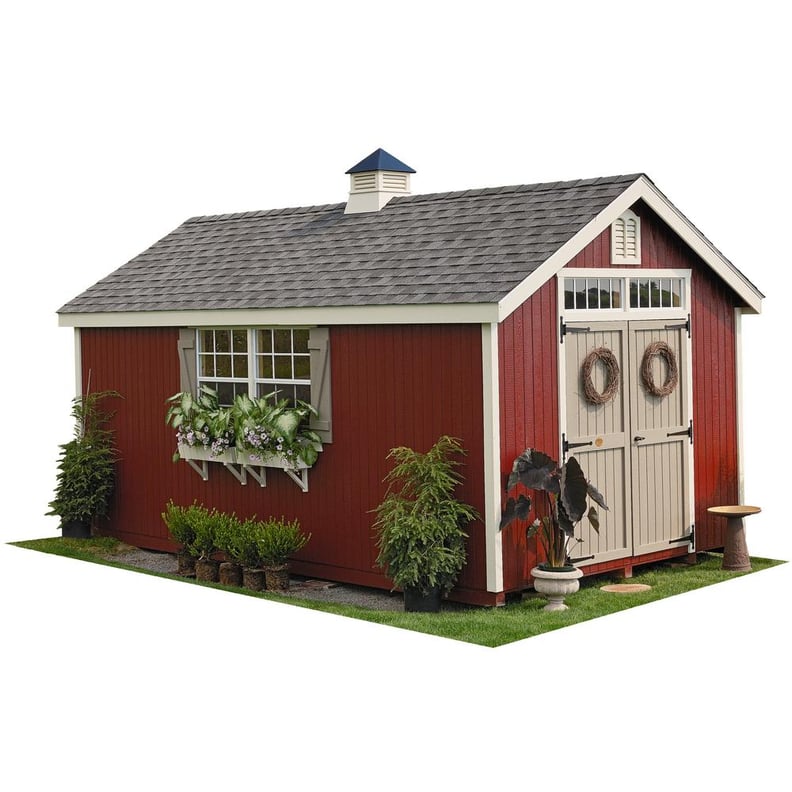 Colonial Williamsburg 10 ft. x 16 ft. Wood Storage Shed DIY Kit with Floor Kit
Not only would this storage shed ($6,865) be a great place to live, it would also improve the look of your parents' backyard. From the deep red color to the double doors in the front to the pretty flower box, this one is pretty picture-perfect.
12 ft W x 8 ft D Solid Wood Lean-To Storage Shed
This modern wooden shed ($7,300) features a sleek wood-paneled design, and it's made with Western red cedar for its beauty and natural resistance to bugs and decay. The black front door and multiple windows complete the look.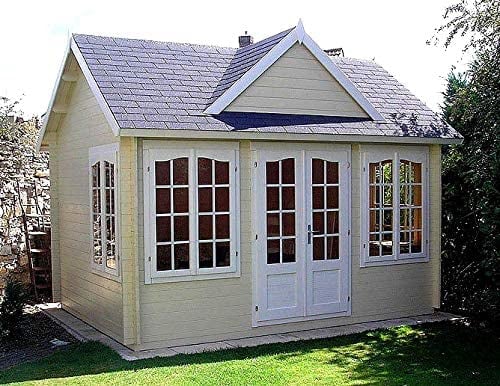 Allwood Chloe 123 SQF Kit Cabin Garden House
The spruce garden house ($6,190) is perfect for those who want a touch of elegance to their backyard residence. It features four windows and pretty double doors in the front, allowing plenty of natural light to flood the space.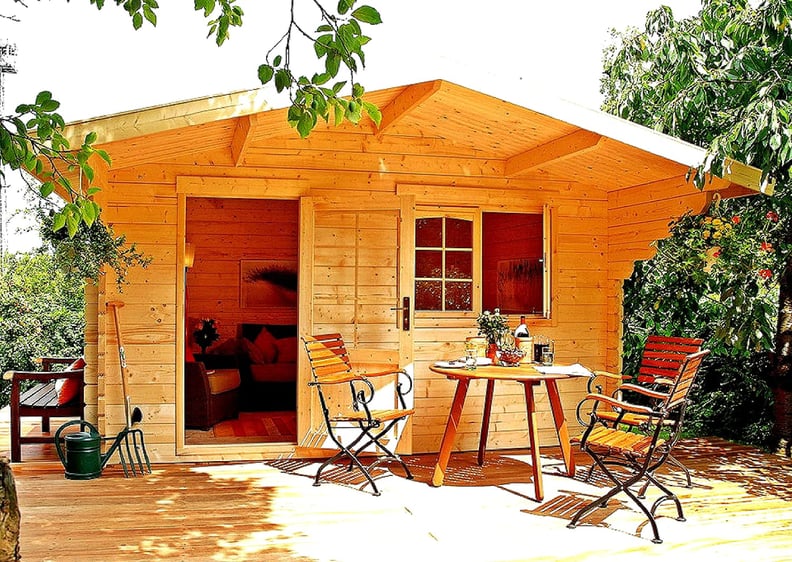 Allwood Escape 113 SQF Cabin Kit
Forget sheds: this rustic tiny home ($5,350) is a miniature cabin in your backyard! This cute home is made of solid wood, complete with an overhang in the front so you can have a shaded front porch area to study in.