As POPSUGAR editors, we independently select and write about stuff we love and think you'll like too. If you buy a product we have recommended, we may receive affiliate commission, which in turn supports our work.
If you're into astrology, you probably look to your zodiac sign to inform most aspects of your life from money and career to love and dating. But what about home decor? Now, since there's a candle for pretty much anything these days, you can purchase your sign's candle that perfectly speaks to you and your interests. Whether you're a water sign or fire sign, these candles know you well and come with hilariously accurate descriptions for each sign. They're all home-made, hand-poured, and perfectly packaged for their owners. Better yet, they each have about 50 hours of burn time, so you can relax at home with your candle for a long time.
So, if you've ever been curious about what your zodiac sign smells like, keep reading to find out.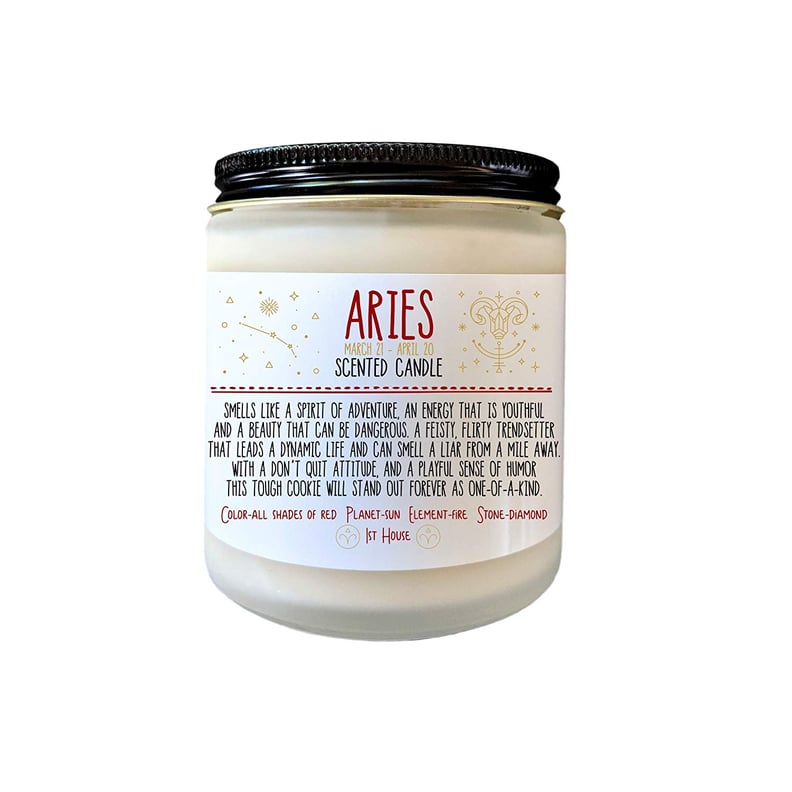 Aries Zodiac Candle
The Aries Zodiac Candle ($26) has a ginger apple spice scent, but is described as smelling like "a spirit of adventure, an energy that is youthful, and a beauty that can be dangerous." Aries are feisty, just like this candle.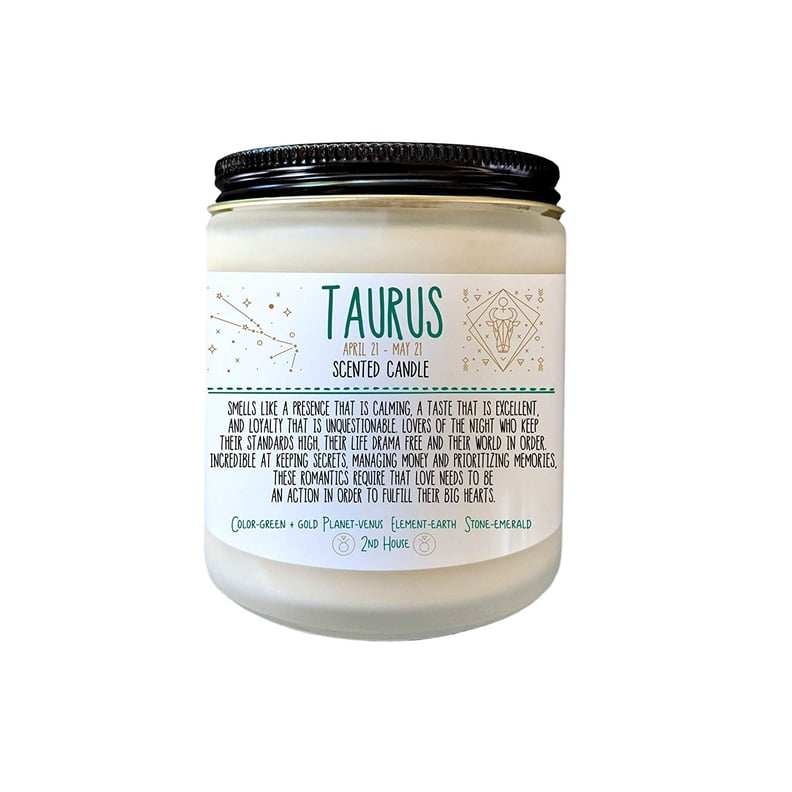 Taurus Zodiac Candle
The Taurus Zodiac Candle ($26) smells of mint and sage. Those with this zodiac sign are considered "lovers of the night who keep their standards high, their life drama free, and their world in order." This candle will be extremely calming to them.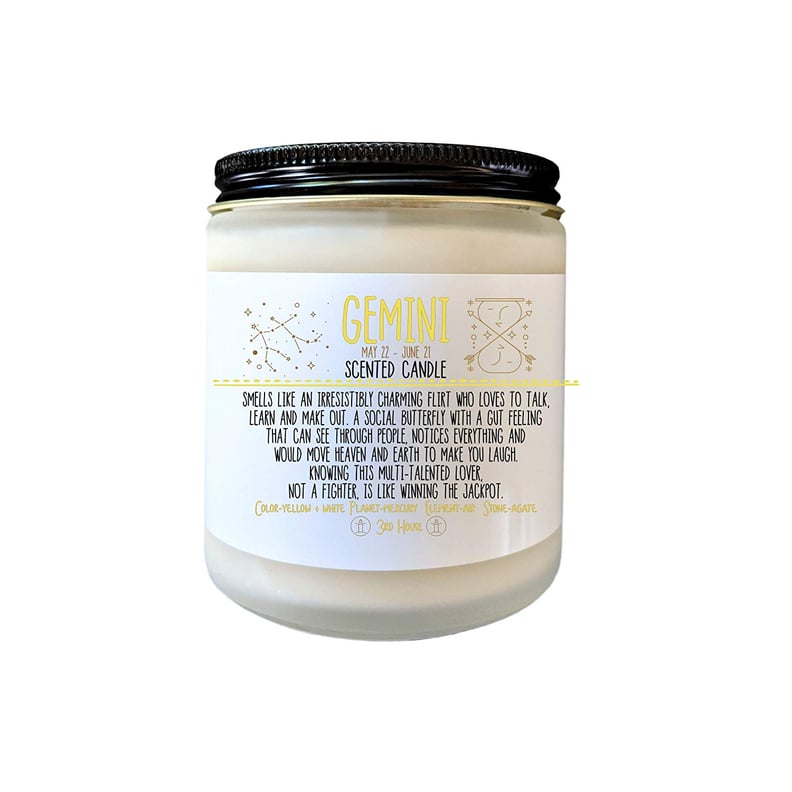 Gemini Zodiac Candle
Smelling like lemon pound cake, the Gemini Zodiac Candle ($26) attracts the social butterfly. Those who are this sign "would move heaven and earth to make you laugh."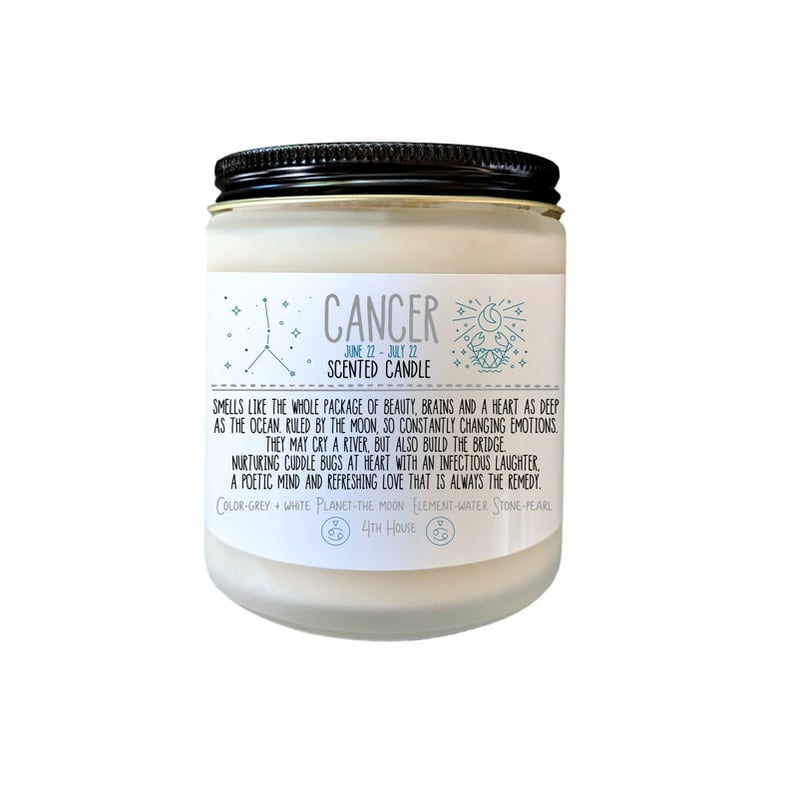 Cancer Zodiac Candle
The Cancer Zodiac Candle ($20) smells of sea salt and orchids. Cancers "may cry a river, but also build a bridge," so here's a candle for their "poetic mind."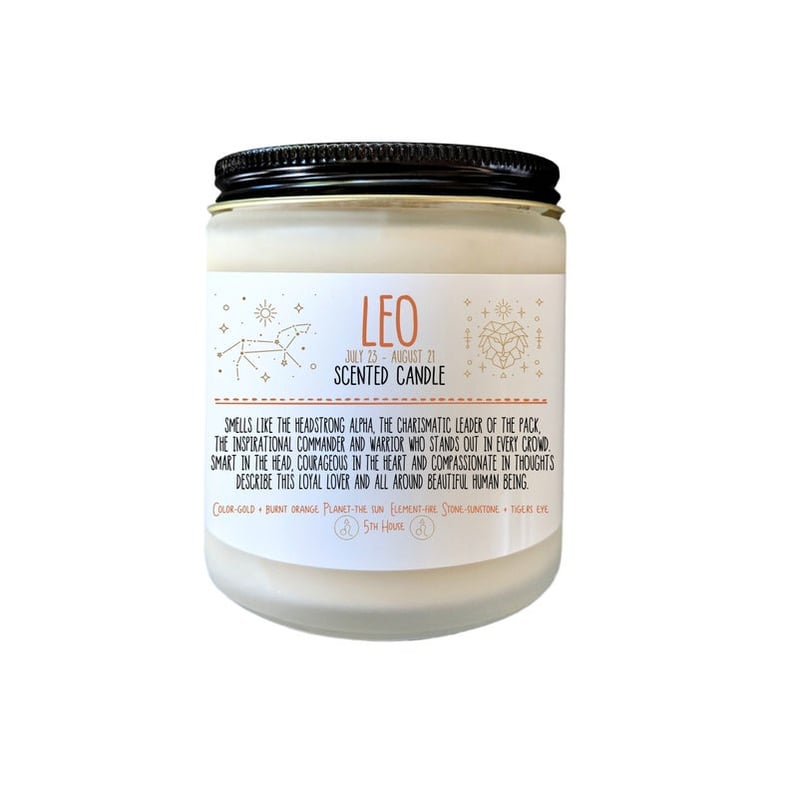 Leo Zodiac Candle
This cinnamon- and citrus-scented Leo Zodiac Candle ($20) is for the "headstrong alpha" and "the charismatic leader of the pack."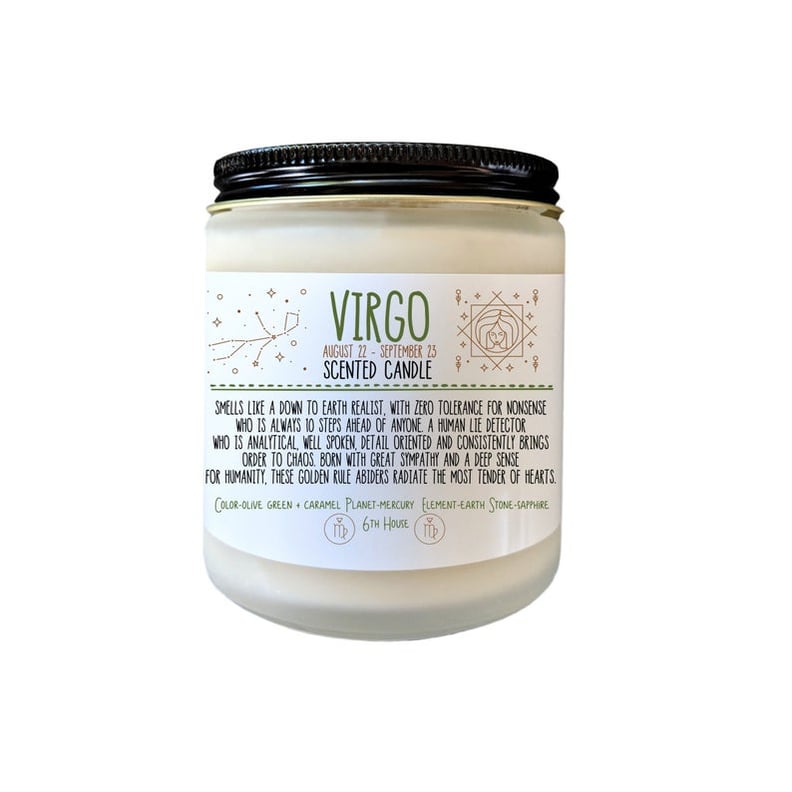 Virgo Zodiac Candle
The Virgo Zodiac Candle ($20) smells of brown sugar and hazelnut, which is the perfect combination for a "down to earth realist." This scent is perfect for anyone who's constantly trying to calm the chaos.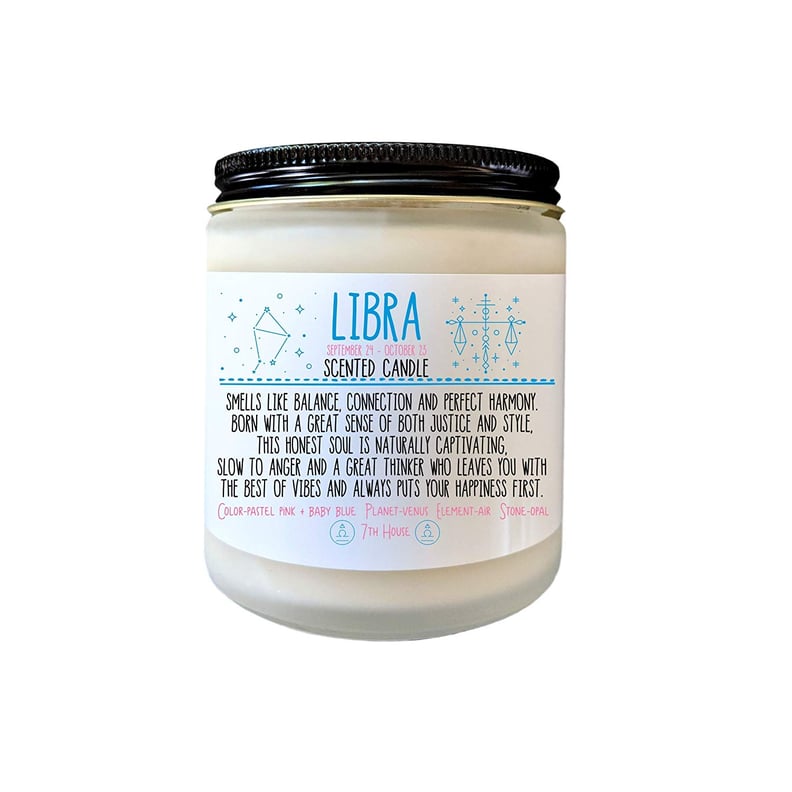 Libra Zodiac Candle
The Libra Scented Candle ($26) smells of raspberry sangria. Libras are "born with a great sense of both justice and style," so this fruity flavor fits them well.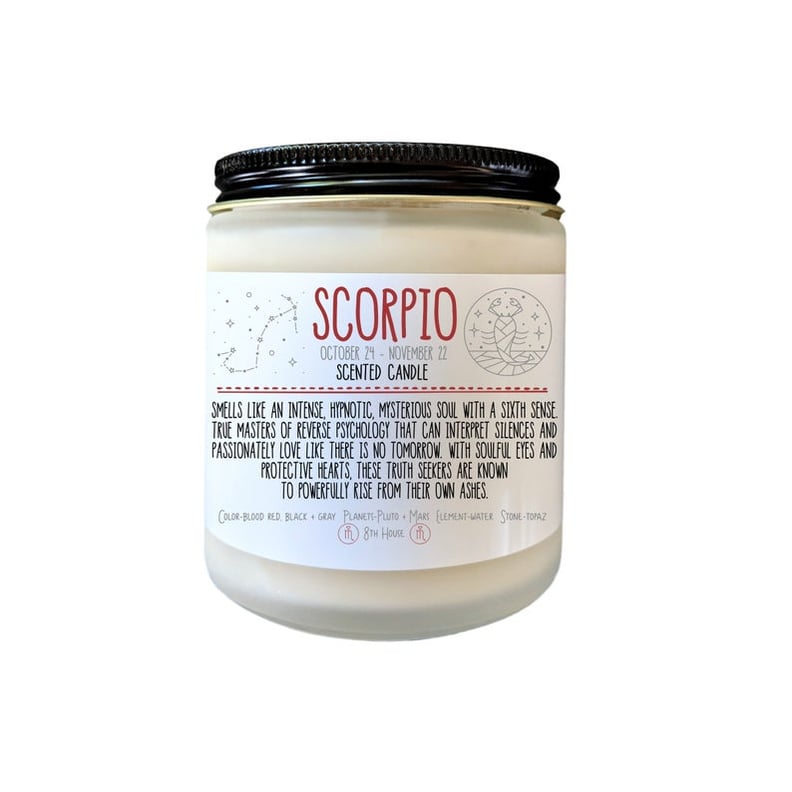 Scorpio Zodiac Candle
The hypnotic cinnamon, apple, and bourbon smell of the Scorpio Zodiac Candle ($20) is essential for this sign's "soulful eyes and protective hearts."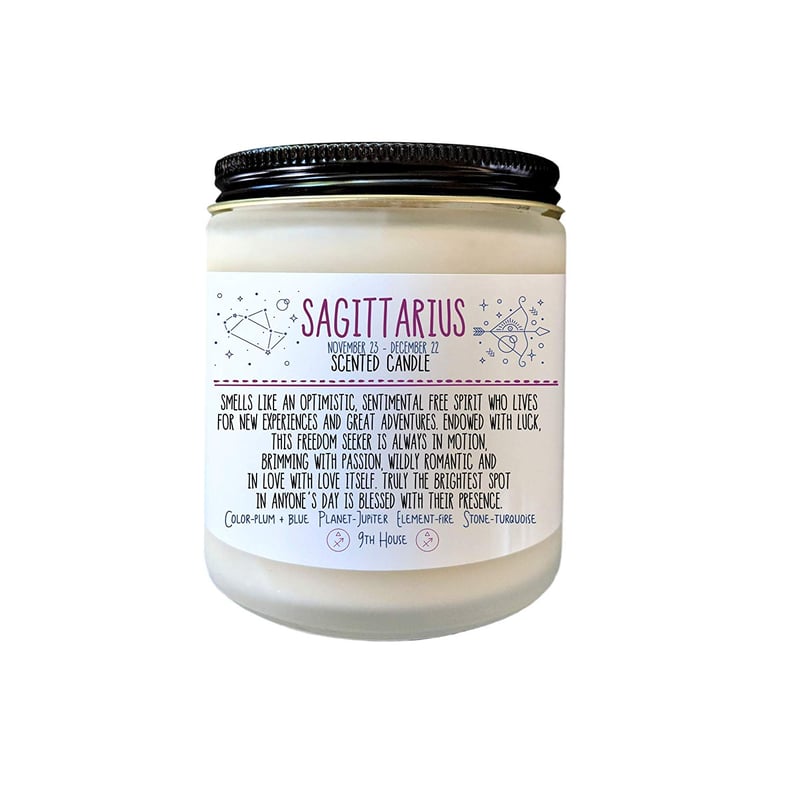 Sagittarius Zodiac Candle
The plum-scented Sagittarius Zodiac Candle ($26) is for this sign who craves "new experiences and great adventures." The wildly romantic and lucky Sagittarius will love this as a gift.
Capricorn Zodiac Candle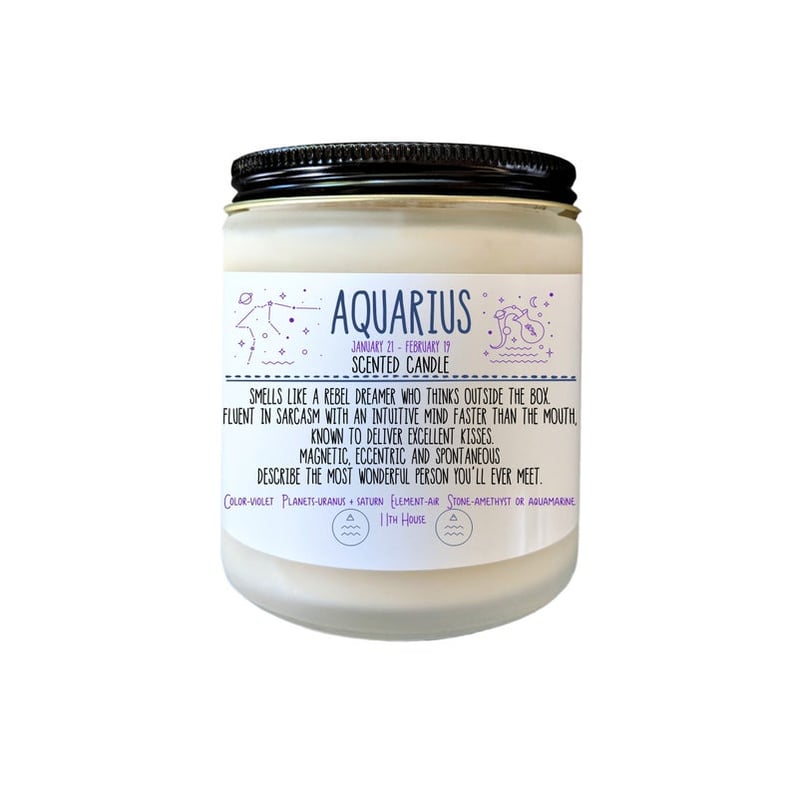 Aquarius Zodiac Candle
Smelling of desert wildflowers, the Aquarius Zodiac Candle ($20) is for the "magnetic, eccentric, and spontaneous."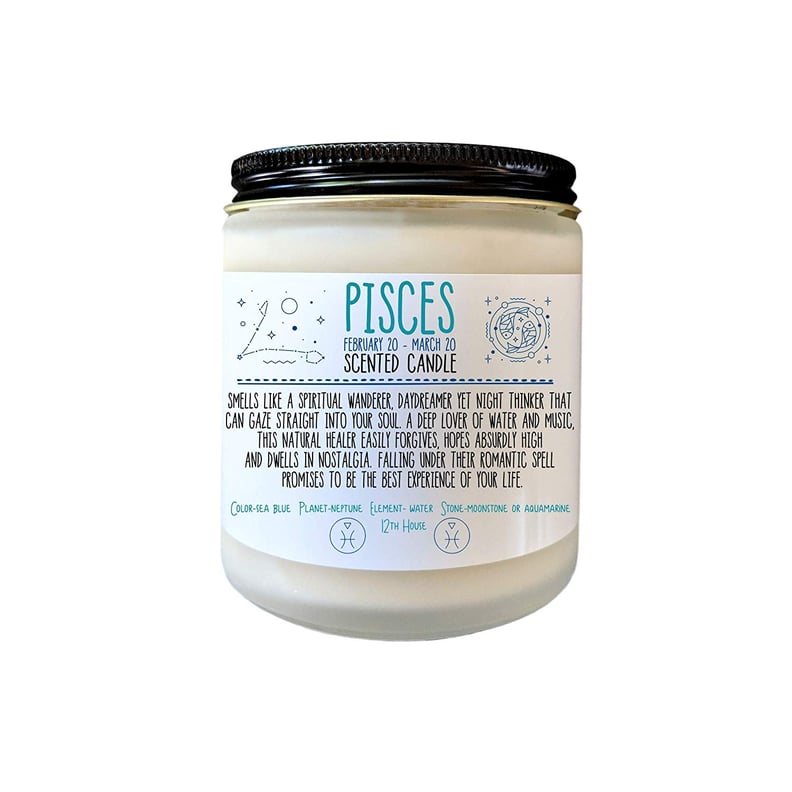 Pisces Zodiac Candle
The Pisces Zodiac Candle ($26) smells of the ocean breeze for "the deep lover of water and music and natural healer that easily forgives."