Alfajores Cookie Recipe
Why Peruvian Alfajores Take Me Back to My Roots — and the Best Recipe You'll Ever Find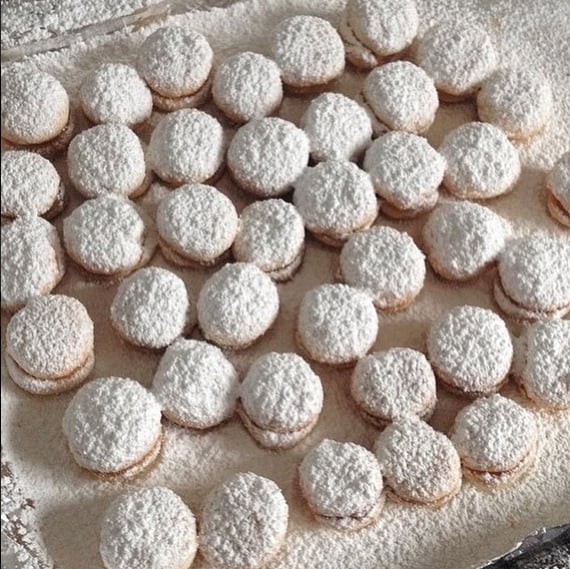 Of all the recipes my Peruvian mother prepared for my twin sister, Carla, and me over the years, alfajores (dulce de leche sandwich cookies) have always stood out the most in mind. My mom passed away when I was 11, but Carla, my dad, and I have gone back to Lima several times since to visit her family. With a set of grandparents, seven aunts, one uncle, and about a dozen cousins, there's always someone to share these little drops of heaven with. During my Christmas 2013 visit, not only did I have the chance to make alfajores with my 8-year-old cousin Micaela, but my aunts also sent me home with several boxes of cookies by the dozen from La Casa del Alfajor, a local bakery in Lima.
Now that it's wedding season, and a common traditions at bachelorette parties and bridal showers is to contribute recipes for a scrapbook for the bride, I'm sharing my family's alfajores recipe a lot — and you should too. They're a little labor intensive, and you can certainly find authentic alfajores at Latin American bakeries, but we can all agree that nothing compares to homemade.
Alfajores
From Emilia Benton, POPSUGAR Latina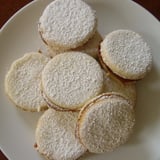 Ingredients
1 can (12-14 ounces) sweetened condensed milk (for the dulce de leche)
2 cups (4 sticks) unsalted butter, softened
4 cups all-purpose flour
1/2 cup confectioner's sugar, plus extra for dusting, sifted
1 teaspoon salt
Directions
For the dulce de leche: Bring a large pot of water to a boil. Remove paper label from the can and submerge in the water. Allow it to boil for 2-3 hours, adding more water as it evaporates. When finished, remove the can from the water, still unopened.
Let the can cool down until you're able to open it with a can opener. Transfer the dulce to a covered dish or container.
Store in the fridge overnight to allow the dulce to get thicker in consistency.
For the cookies: Combine all ingredients and blend with an electric mixer or food processor until dough forms into a ball. Wrap in plastic wrap and refrigerate for 30 minutes.
Preheat oven to 350°F. Once dough is chilled, form into 1/2-inch flattened circles on parchment-lined baking sheets. Bake for 15 minutes. Allow cookies to cool completely before spreading a dab of dulce de leche on half of them and forming sandwiches. Dust with more sifted powdered sugar and enjoy!
Information
Category

Desserts

Cuisine

South American

Yield

5 dozen mini cookie sandwiches
Image Source: Emilia Benton