Chorizo and Potato Empanadas Recipe
There's No Doubt About It! You'll Fall in Love With These Chorizo and Potato Empanadas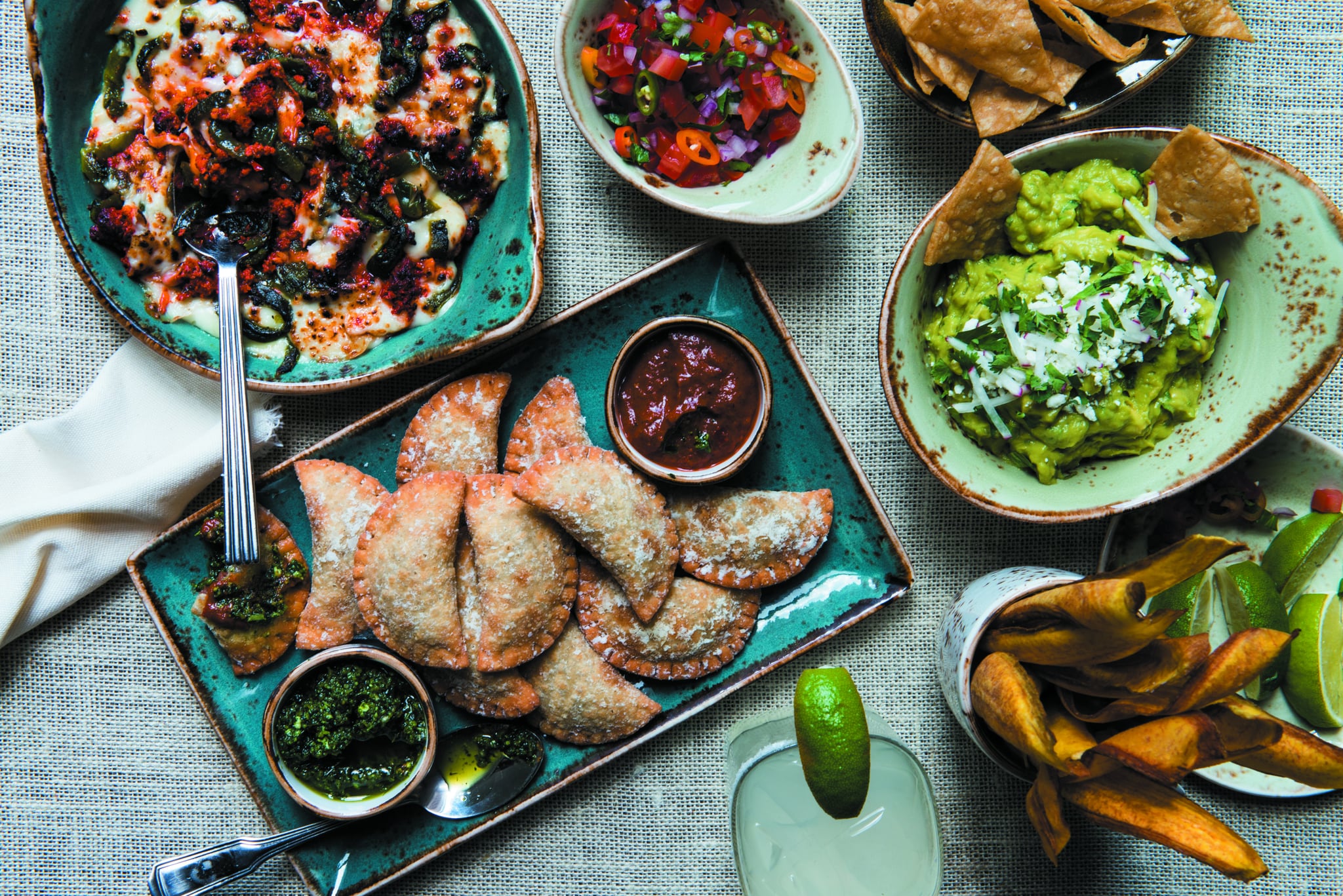 Empanadas might just be the best food ever invented. Consider this: You can eat them with one hand, which means never having to put down your drink at parties. They can be savory or sweet, meaty or veggie, and fried or baked, so there's a match made just for you. And the dipping sauce possibilities might actually be endless — salsas, aiolis, creams, mayos.
And though we have never met an empanada we didn't love, this chorizo and potato recipe by chef Aarón Sánchez, adapted from his restaurant, Johnny Sánchez, in New Orleans and cookbook Simple Food, Big Flavor, is seriously mouthwatering, mixing the spice of the meat with the softness of the veggie and adding a roasted tomato and chile de árbol salsa to create a delicious combination of flavor.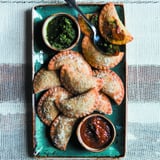 Ingredients
For the dough:
3/4 cup all-purpose flour, plus more for kneading
1/2 cup masa harina (corn tortilla flour)
1/2 teaspoon baking powder
1/2 teaspoon salt
1/4 cup vegetable oil
1/2 cup warm water
For the filling:
1 large boiled potato, peeled and cut into 1/2-inch cubes
1 generous cup of chorizo
1 small yellow onion, chopped
3 tablespoons sliced pimento-stuffed green olives
3 tablespoons golden raisins
1 teaspoon dried whole oregano (preferably Mexican)
Salt and freshly ground black pepper
1 egg beaten with 1 tablespoon water
For the roasted tomato and chile de árbol salsa:
1 pound plum tomatoes (about 4)
3 to 6 chiles de árbol, depending on how spicy you like it
2 tablespoons olive oil
1 medium white onion, chopped
4 garlic cloves, crushed
1/2 cup chopped fresh cilantro
1 teaspoon salt
1/2 teaspoon freshly ground black pepper
Directions
To make the dough:
Stir together the flour, masa harina, baking powder, and salt in a large bowl. Stir in the oil and water and mix well.
Turn out onto a floured surface and knead lightly to form a smooth, supple dough. (If you need more water, add it a teaspoon at a time to avoid making the dough sticky.) Wrap the dough in plastic and chill it in the refrigerator for 20 minutes while you make the filling.
To make the filling:
Put the potato in a small saucepan with lightly salted water, bring to a boil, and cook until tender, 5-7 minutes; drain.
Meanwhile, in a heavy skillet over medium heat, cook the chorizo, stirring and breaking it up, for about 5 minutes. Add the onion and cook for another 5 minutes, until the onion is tender and translucent.
Stir in the potato, olives, raisins, and oregano. Cook, stirring occasionally, until the mixture is heated through, 3-4 minutes. Season to taste with salt and pepper.
Preheat the oven to 375°F and lightly grease a large baking sheet.
Divide the dough into 10 balls. On a lightly floured surface, roll each ball out into a circle about 4 inches across. Place a couple of tablespoons of the filling just off-center on 1 circle, and fold the dough over to make a half-circle. Crimp the edges with a fork to seal, and transfer the empanada to a baking sheet. Repeat with the remaining dough and filling.
Brush each empanada lightly with the egg. Use the tip of a paring knife to slash a few holes in the top of each empanada. Bake until they are golden brown, about 25 minutes. Alternatively, you can fry them. Heat an inch or so of vegetable oil to 350°F in a large skillet. Fry in batches of 3, carefully flipping them over once, until they're golden brown and crispy, about 5 minutes. Transfer them to paper towels to drain, and let the oil return to 350°F before frying the next batch.
To make the salsa:
Preheat the broiler. Put the tomatoes on a baking sheet and broil, until the tomatoes are nice and charred, 10-12 minutes. Take the tomatoes out, and let them cool.
Transfer the tomatoes to a big bowl (don't forget the tomato juice that has leaked out and reduced on the baking sheet), slip off the skins, and cut out the tough cores, then roughly chop them.
While the tomatoes are broiling, heat a dry skillet over medium heat and toast the chiles (in batches, if necessary), flipping them over occasionally, until they just begin to smoke, about 5 minutes. Set them aside in a bowl.
Put the olive oil, onion, and garlic in a saucepan, set it over medium heat, and cook, stirring occasionally, until the onion is soft, about 7 minutes. Add the toasted chiles, tomatoes, and 2 cups of water, bring to a simmer, and cook for another 12 minutes, so the flavors come together. Let it cool a bit.
Carefully transfer the mixture to a blender. Add the cilantro, salt, and pepper, and puree until the mixture is very smooth.
Pour the mixture through a medium-mesh sieve into a bowl. Serve with the empanadas at room temperature or slightly chilled — or store the salsa in the refrigerator, tightly covered, for up to a week, or in the freezer for a month.
Information
Category

Appetizers

Cuisine

North American

Yield

10 empanadas

Total Time

1 hour, 29 minutes, 59 seconds
Image Source: Rush Jagoe