Cocoa Pebbles Churros Recipe
1 Bite of These Cocoa Pebbles Churros Will Leave You Drooling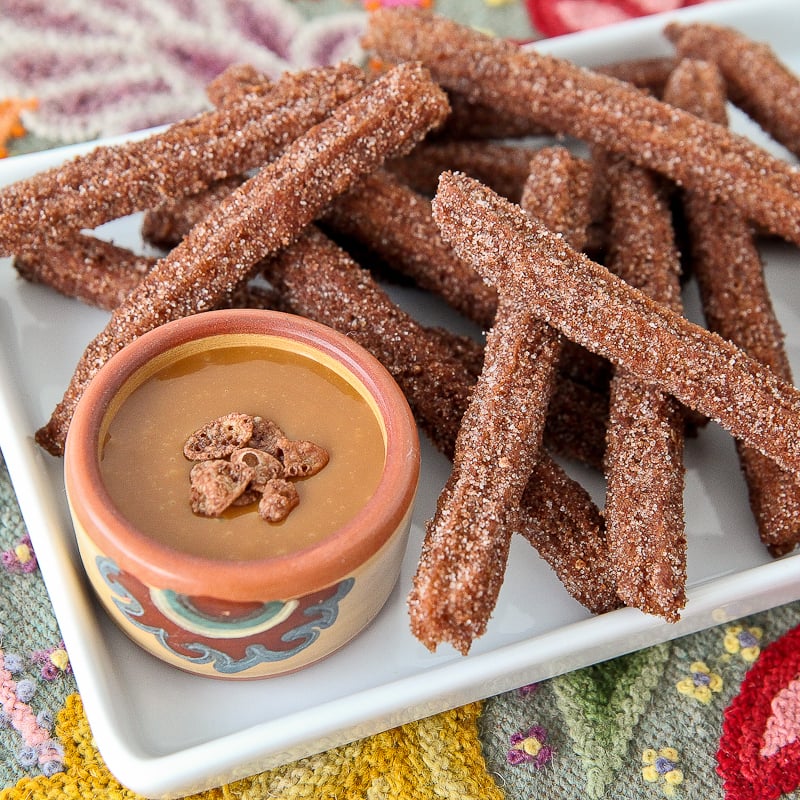 There's no denying the fact that churros are having a moment in popular food culture. With wild and crazy-delicious variations on the classic out there like ice cream sandwiches and lava cakes, it's hard to imagine another way to elevate this cinnamon-sugar dessert. But then we came across this Cocoa Pebbles Churros recipe. Yes, you read that right. It's churros made with cocoa pebbles for a hint of chocolate flavor. As if that wasn't enough to leave you drooling, they are paired with a dulce de leche dipping sauce. Quick — check your pantry for the ingredients, and keep reading for the full recipe!
Cocoa Pebbles Churros
From Post Pebbles Cereal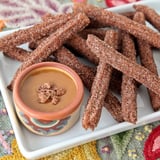 Ingredients
For the cinnamon and Cocoa Pebbles coating:
1/2 cup Cocoa Pebbles cereal
1/4 cup sugar
2 teaspoons ground cinnamon
For the churros:
1 cup water
2 tablespoons sugar
1/2 teaspoon salt
2 tablespoons butter
3/4 cup all-purpose flour
1/2 cup Cocoa Pebbles cereal
Vegetable oil
For the dulce de leche dipping sauce:
1/2 cup canned prepared dulce de leche
1/4 cup sweetened condensed milk
Directions
In a food processor, grind all of the cereal (1 full cup) into a fine powder.
Make the cinnamon and Cocoa Pebbles coating: Combine 1/2 cup ground cereal, the sugar, and cinnamon in a shallow bowl. Set aside.
Make the churros: Whisk together water, sugar, salt, and butter in a small saucepan over medium heat.
Bring the mixture to a boil, then remove it from the heat.
Stir in the flour and the rest of the ground cereal, mixing until it forms a ball.
Heat vegetable oil in a large, heavy-bottomed deep pot set over medium-high heat until it reaches 375°F. There should be about 3 inches of oil in the pan as well as 3 inches above the oil to prevent it from bubbling over.
Transfer the dough to a cloth or heavy-duty pastry bag fitted with a large star tip.
Pipe about 6 inches of dough over the pot of oil and fry until golden-brown.
Depending on the size of your pot, you can cook two or three churros at a time.
Transfer the churros to a paper-towel-lined plate.
Cool for about 2 minutes, then roll in the cinnamon-sugar mixture. Repeat process with remaining dough.
Make the dulce de leche dipping sauce: In a small saucepan over medium heat, combine dulce de leche and sweetened condensed milk.
Heat until melted.
Serve warm with prepared churros.
Information
Category

Desserts

Cuisine

Mexican

Yield

24 churros

Total Time

59 minutes, 59 seconds
Image Source: Post Pebbles Cereal