Latin Wedding Traditions
7 Easy Ways to Add a Touch of Your Latin Culture to Your Wedding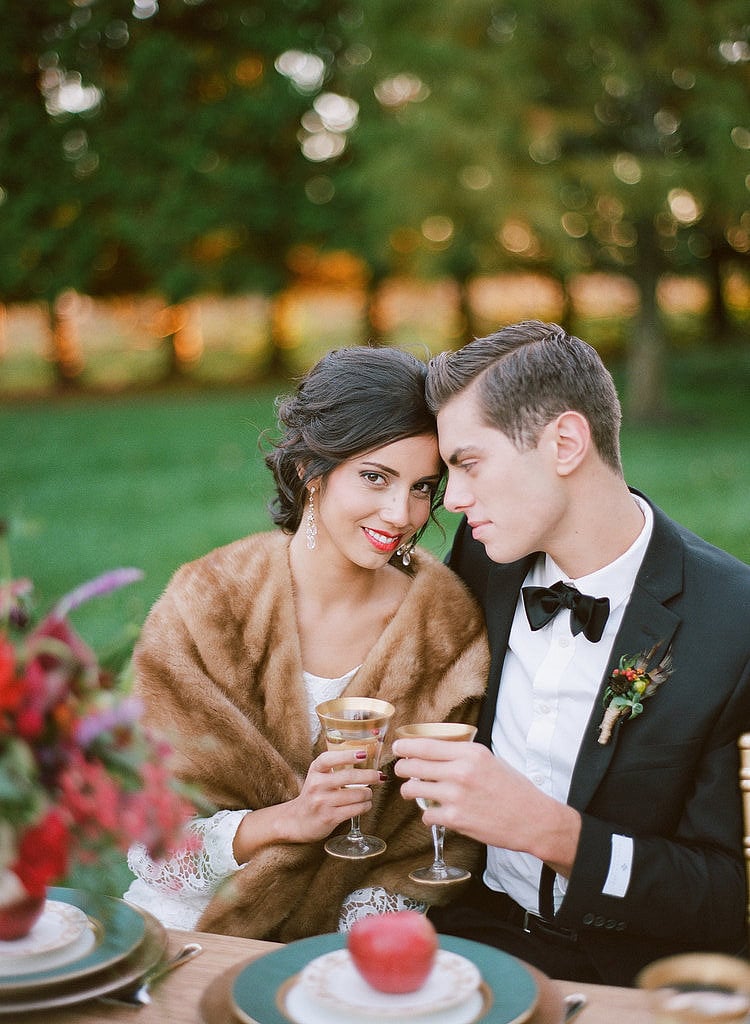 Chances are you'll have tons of American traditions at your wedding, whether it's the cuisine or the Electric Slide. But if you are looking to add some of your Latin roots to your big day and struggling to find the right balance, we've got your back. No matter what your background is, there are tons of ways to proudly add some Latin flair to the wedding without totally changing the ceremony and reception. We asked Xochitl Gonzalez, creative director of Brooklyn, NY, wedding planning group AAB Creates — which specializes in including your heritage in your big day — for some fun and easy ideas.
1. The ceremony:
"Even if you're not having a Catholic or religious ceremony, the lasso and arras rosary tradition is beautiful," Gonzalez says. In this traditional custom, you and your partner are wrapped in a beaded necklace (floral options are also common in tropical settings) to symbolize lifetime unity. "You can even make the speech more contemporary and feminist — there's plenty of inspiration online."
If you're looking for something a little more unique, "there's also the mantilla ceremony, which is typical at Cuban weddings but can work for any background." "It requires two women to drape the couple with a lace or silk scarf to symbolize their unity. That can be a wonderful way to include special relatives or friends who aren't necessarily in your wedding party," she adds.
2. The music — before the reception:
"In Mexican culture, nothing is more traditional than having a mariachi band serenade you as you get ready before the ceremony," Gonzalez says. But if you want a calmer prewedding time, "you can also have them sing to you right before or after you walk down the aisle."
3. The music — at the reception:
"You might not want a Latin band playing the whole night long, but pairing a conga or timbales player with your DJ is a fun and unique add-on for some flavor," Gonzalez says. You can also have a full hour of the reception dedicated to Latin music, referred to in some countries as "la hora loca," where your DJ plays from a selection of your favorite salsa, merengue, and bachata tunes. "When it comes time to dance with dad, consider a classic bolero, too. Super sweet and traditional!" Gonzalez adds.
4. The food:
This is the most obvious way to add a bit of your roots to the wedding. "The sky's the limit here, but cocktail hour is a great time to sneak in some Latin eats, just in case you want to stay more traditional at dinnertime. Think finger foods like empanadas, mini tortas, or Cubano sandwiches."
5. The drinks:
A great way to pay homage to your Latina roots is by having a signature cocktail. There are the classics, which everyone likes, like Cuba Libres (rum and Coke), but you can also serve mojitos, palomas, pisco sours, or even coquitos if you feel like it. Another idea? "See if there's a nonalcoholic drink regional to the area your family is from that your bartender can use as a mixer for your favorite alcohol." Think agua frescas or even Jarritos sodas.
6. The money dance:
"This is a standard in many Latin cultures (Americans and Europeans have their own versions, too), where the male guests 'pay' to have a dance with the bride." It doesn't need to be cheesy if you keep it light, and because lots of brides aren't doing this at weddings any more, your guests will probably think it's super original and fun. "It's also a good way to placate your mom or abuela," says Gonzalez.
7. The end of the night:
"For weddings we've planned, we've had Dominican cigar rollers show up to give everyone parting gifts and had a piragua guy roll around the dance floor during dessert," Gonzalez says. "If you're looking for a perfect drunken late-night snack that's even better than a slider? Try tostones, arepas, or churros." We're willing to bet your guests would really love that.