Source: Courtesy of MilkPEP

There's nothing like a Summer gathering with your family where you can reminisce about the good old times. We want to bring you the perfect postre for the occasion that will take your taste buds on a flavorful journey.
If you grew up Latinx, any get-together meant having your whole family over to gather in your backyard — including those tíos and tías that are not actually related to you, but you saw at every family event.
Obviously, you can't host a basic gathering. You have to go all out! And we have the perfect way to do it: the most decadent, flavorful gelatina you've ever tried — made with whole milk. Milk has always been a staple in Latinx culture as most of the dishes we love are made with it, making them creamier and more delicious, and this is the perfect excuse to add it to this treat most of us grew up enjoying.
The Gelatina de Leche Con Mango is the new It dessert for the Summer, providing a light, nutritious option that is easy to make. Elevate gelatina to a new level with this recipe from Chef Claudette Zepeda, adding a good source of protein and other nutrients, and you can even whip it up to surprise your mamá and do something nice for her.
While the recipe calls for mango, you can experiment with any fruit, and make it even more meaningful by adding your mom's favorite to the mix. Not only will she love it, but everyone from your primitos to your abuelos will want to get a taste of it.
Gelatina de Leche Con Mango
By Chef Claudette Zepeda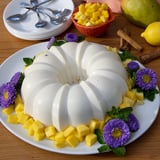 Ingredients
5 cups whole milk
4 gelatin envelopes
¾ cup unrefined sugar
1 cup cold water
2 fresh mangos, diced
Lemon zest
2 cinnamon sticks, preferably Ceylon cinnamon
Note: If you can't find Ceylon cinnamon sticks, you can use 1-1 ½ tsp. of ground cinnamon.
Directions
In a small pot, heat half the milk with the sugar, lemon zest, and cinnamon sticks until the mixture boils.
In a small dish, dissolve the gelatin in cold water until all the liquid is absorbed.
Turn off the heat and add the gelatin to the milk mixture. Stir until completely dissolved.
Add the remaining milk and strain.
Pour the gelatin into a dish and add the mango pieces.
Refrigerate until firm, serve with fresh mango, and enjoy!
Information
Category

Desserts

Yield

8 servings
Nutrition
Calories per serving

210
Image Source: Courtesy of MilkPEP