Amara La Negra Has Become a Voice For Afro-Latinx, and We're Here to Listen to All She Has to Say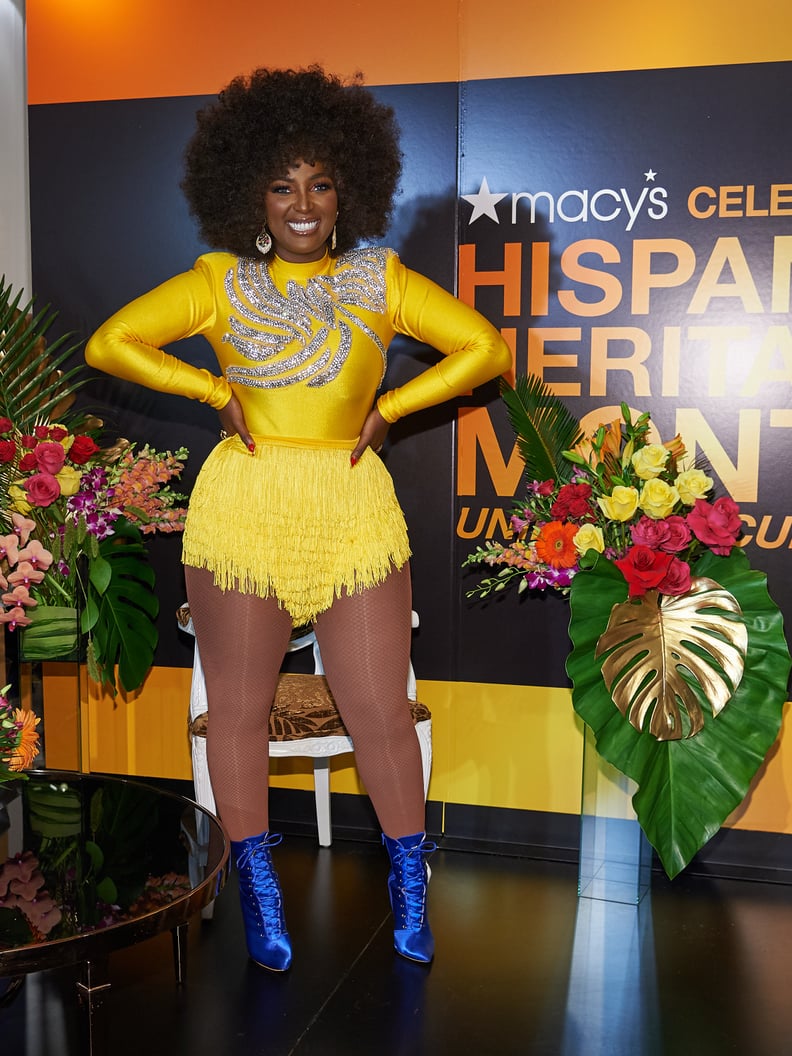 Kent Miller
Kent Miller
There is no one quite like Amara La Negra. Her style, charismatic nature, and the way she eloquently expresses herself make her stand out from the rest. Her multi-faceted résumé, which includes singing, dancing, acting, being an author, and star of the reality show Love & Hip Hop: Miami, keep her schedule jam-packed. However, the Dominican-American personality set some time aside to celebrate her heritage at Macy's Herald Square in New York City, where she opened up about her life and career to an enthusiastic crowd before performing some of her songs. Before this all went down, I had the opportunity to chat with her about being Afro-Latinx, her inspiration, and the source of her confidence.
Wearing a bright yellow ensemble and blue booties, Amara rocked her signature afro and got straight to business. "I embrace my Afro-Latinidad by talking about it, by educating others who don't know of our history and our background. I also embrace it through my music," she told POPSUGAR. And that she does. During the event, she got the entire audience pumped as she performed her latest single "There's No Way," featuring a fusion of dance hall and pop, which was released earlier this month.
There's no denying that performing is her passion. Growing up she looked up to the likes of Whitney Houston and Donna Summer, but the one artist that truly inspired her was Celia Cruz. "Celia was the only Afro-Latina that made it worldwide internationally," she said. "Till this day, we haven't had another artist make it as big as she did as an Afro-Latina, and I definitely admired that growing up."
Following Celia's example, Amara continues promoting diversity among Latinx, especially children who struggle to find themselves represented and need that extra motivation to know they're seen, they're heard, and they matter. She penned her children's book, Amarita's Way, to shed light on the Afro-Latinx community that she's so passionate about.
Although the entertainer loves to celebrate where she comes from, she admits that she does have to deal with negativity, like racism, sometimes from Latinx themselves. "Bueno mija, it's hard! I don't think there's an easy way to overcome racism, and I don't think anybody will ever understand unless you are born with as much melanin as I have in my skin," Amara said. The Miami native doesn't shy away from speaking out about the issue. "I feel like a lot of Latinx among our own community don't even know that they're being racist with their comments, like when they say, 'tienes que mejorar la raza' (you must improve the race) or 'para ser una negrita tu eres linda' (you're pretty for a black girl). It's a generational thing we need to fix."
Nevertheless, one thing is certain: Amara does not let others' opinions define who she is. One of her greatest traits is her strong confidence, which she says she developed through the positive and negative experiences she's dealt with in her life. "If I had any advice for anyone who looks up to me, I would say definitely don't care what others think about you. At the end of the day it's your life and your journey. Just live to be happy for yourself."
Amara is currently filming the upcoming season of Love & Hip Hop: Miami. She teases that there will be more drama and maybe a closer look at her personal life. She also gushes about starting her new skincare line, which will debut next year with more details coming soon. Right now all eyes are on Amara, and I can't wait to see what's in store for her.