My inner 17-year-old is jumping up and down at the thought of Enrique Iglesias and Ricky Martin getting together and doing a joint tour. For the first time ever, these Grammy Award-winning, multiplatinum powerhouses and global superstars are hitting the road together, and I already have a list of songs I *need* them to perform.
And if that wasn't enough, Sebastián Yatra — who makes me feel like a 17-year-old — is joining the tour as a special guest.
Produced by Live Nation, this historic event will kick off Sept. 5 in Phoenix and make stops in Houston, Los Angeles, Toronto, New York, Miami, and more, before wrapping in Atlanta on Oct. 30. Tickets will go on sale starting Thursday, March 12, at 10 a.m. local time, so I'm already writing my boss to tell her that day I'll be a little late for work.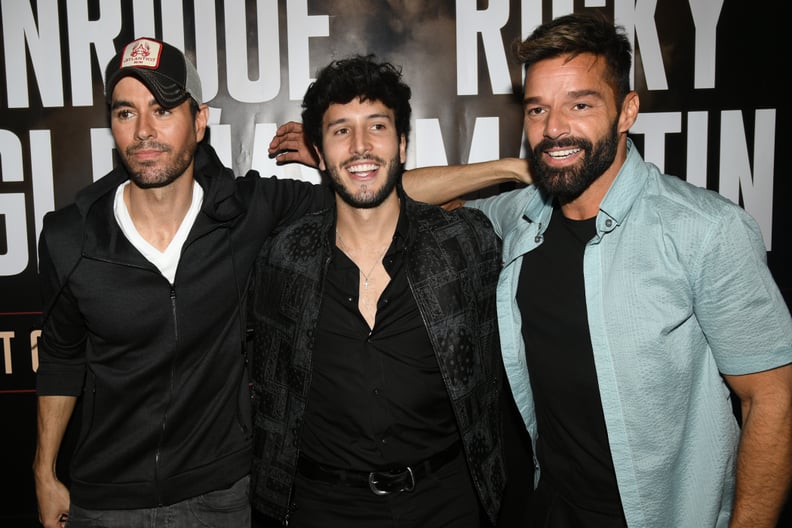 Now, while Enrique will probably sing "Hero," "Escape," "Bailando," "Tonight," "Subeme La Radio," and "Duele El Corazon," I really need him to go "vintage" and belt out some of his earlier hits. Don't get me wrong, I love a good "Hero," especially if he sings part of it in Spanish — which he should, because he sounds even sexier — but I need to feel like he's staring into my soul as he sings "Si Tu Te Vas," "Por Amarte," "Experiencia Religiosa," "Solo En Ti," "Esperanza," and "Nunca Te Olvidaré."
If you are a more recent Enrique fan and haven't heard these songs, I recommend you add them to your playlist, sit down, and relax while you listen. Then imagine yourself at the concert; you're in the front row, and Enrique is sweetly singing these tunes just for you. Yup, that feeling you're experiencing is called love. You're welcome.
As for Ricky — whose real name is also Enrique, and this is getting weird, because my dad's name is Enrique, too — he will probably sing "The Cup of Life," "Livin' La Vida Loca," "She Bangs," "Vente Pa' Ca," and his most recent, "Tiburones."
But I also think he needs to sing "Vuelve," because everyone just loves to belt out "Vuelve, que sin ti la vida se me va!" And again, I think he should go the oldie but goodie way and sing "Fuego Contra Fuego," "Te Extraño, Te Olvido, Te Amo," "Maria" — I'm biased with this one — "She's All I Ever Had," and "Asignatura Pendiente," and as a bonus, he should have Christina Aguilera come out to sing "Nobody Wants to Be Lonely." A girl can dream, right?
They need to do some sort of collaboration, because I can't believe they both have been some of the earliest proponents of Latin music in the general market since the early 2000s, when they both crossed over from Spanish to English — yup, that was a thing then — and became huge superstars in both languages, yet they have never collaborated on a song.
Hopefully, this will change now. I can picture a "Fuego de Noche, Nieve de Día" and "Hero" mashup with Enrique singing the former and Ricky the latter. Seriously, they should hire me to put together this setlist; I'm fully committed to this tour.
I also hope they include Sebastián a lot and invite him to sing some of their older material. He's proven he can take on the challenge when he released a cover of Maná's 1995 "No Ha Parado de Llover" together with the band and killed it! This tour is definitely going to be historic, and I'm just happy I'm alive to be a part of it.