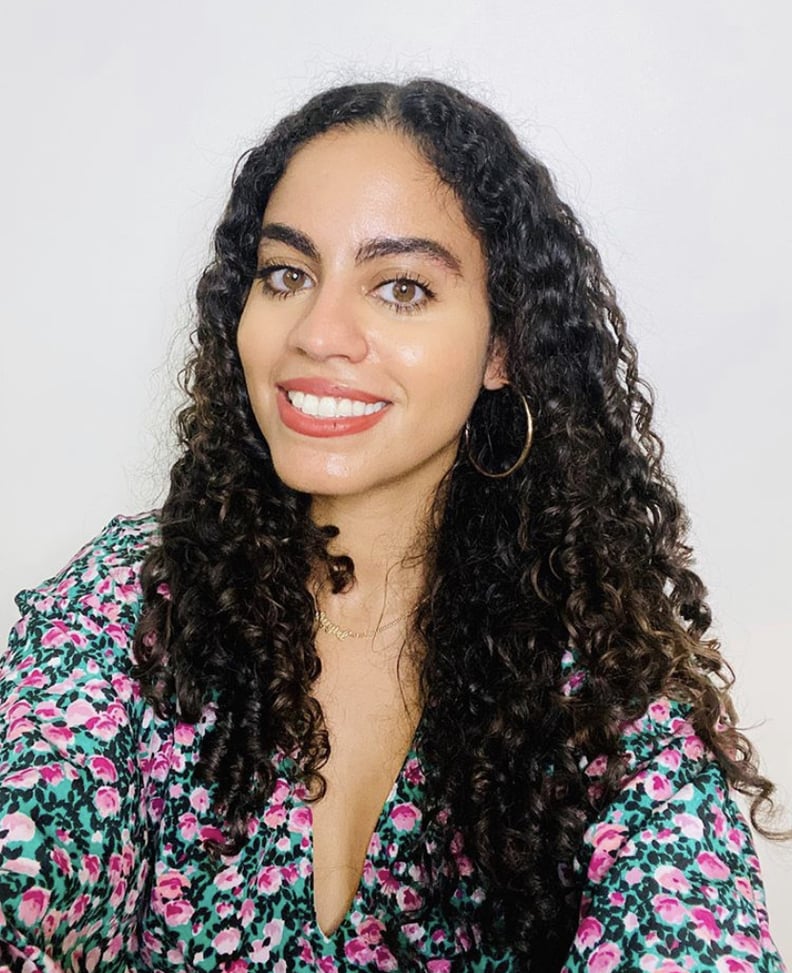 Johanna Ferreira
Johanna Ferreira
I was probably less than a year old the first time I wore hoop earrings. In fact, mami had my ears pierced by my pediatrician only months after I was born. She decorated them with pretty diamond studs, then eventually I graduated to small hoop earrings.
Mami had a few pairs herself, and I remember being in my pre-teens trying them on in the mirror and loving how they framed my face, brought out my sculpted jawline, and instantly added edge to my look. I felt pretty, I felt womanly, and I felt like I looked "really Latina" — whatever that meant.
But it actually makes sense if you really think about it. Latinas have been adorning their ears with hoops for centuries. It's part of our culture as a result of our African ancestry. My mom wore them, my older cousin Liza wore them, and many of my favorite artists like Selena Quintanilla, the ladies from TLC, and Jennifer Lopez wore them.
Putting on a pair of hoops filled me with confidence and pride.
Putting on a pair of hoops filled me with confidence and pride. Those heavy earrings, though, eventually started to take a toll on my delicate little ears.
In fifth grade, my left earlobe ripped from constantly wearing hoops and hanging earrings, and from forgetting to take them off before bed. A plastic surgeon had to stitch it back up. The surgery itself is referred to as earlobe repair surgery, and it's actually more common than you'd think, especially among women of color.
I went at least one full year without wearing anything but stud earrings, but eventually hoops were back in my life again. Once I started college, though, I put all my hoop earrings away again after hearing comments not just from white people but even by POCs themselves that referred to hoops as "hood" or "ghetto."
I didn't want to go into college being stereotyped as this "spicy" and "ghetto" Latina, and the pride I felt whenever I wore hoop earrings now turned into shame. Looking back, I'm sad I allowed myself to conform to what white society told me was stylish and acceptable.
I put all my hoop earrings away after hearing comments not just from white people — but even by POCs themselves — that referred to them as "hood" or "ghetto."
My left ear eventually ripped again my senior year of college, and after getting surgery the second time around, I told myself I was never going to re-pierce my ears again. However, I'd find myself occasionally craving earrings and would go on long internet hunts to find decent clip-ons.
I'll never forget the first time I found myself a pair of hoop clip-on earrings. I loved the way they made my face look but I retired them for a while after my boyfriend at the time expressed he didn't like them because they made me look like "Johanna from the Block." That was it. No more hoop earrings for me. I was going to pursue a career in journalism now. I needed to be taken seriously — not stereotyped.
My clip-on hoops days.
A lot has changed since my college days. For starters, WOC — Latinas included — have resisted the white beauty standards that have been pushed on us for centuries. We have reclaimed our pride and our beauty. And so many of us, regardless of age or occupation, proudly let our hoops dangle as we confidently stride down the street.
All the complejos I had when I was younger about being Latina and the fears I had about how white America viewed me have gone away. In fact, I proudly wear my Latiniad on my sleeve regardless of how uncomfortable it might make someone feel. So of course, it only makes sense that the time would be right for me to finally wear the hoop earrings I grew up wearing with so much pride.
I got my ears re-pierced in February, right before the pandemic really hit the US. I'm so glad I did because putting on a pair of hoops on my low days has really done a lot in terms of lifting my spirits. I feel beautiful, I feel proud, I feel like a badass Latina who can get through any obstacle that's placed in front of her. I love you hoops, and I'm just sorry I ever doubted your magic in the first place.