Infertility is Still Taboo in Latinx Communities
Why Infertility Still Isn't Talked About Enough in Latinx Communities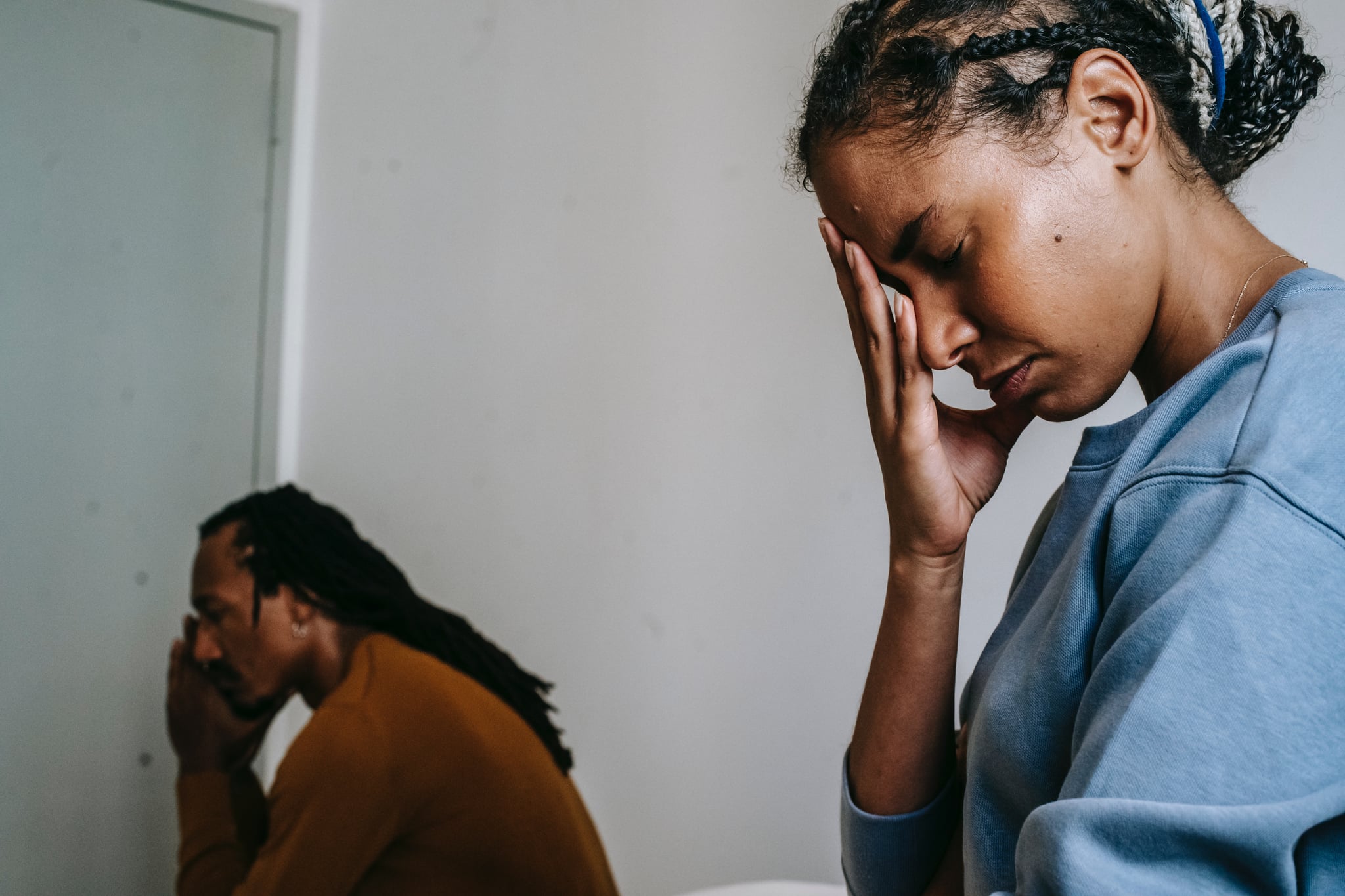 Not until I began working as a features editor at BET.com did I actually meet a Black woman seeking fertility treatments to freeze her eggs for a later date, when she'd be less busy fashioning a career in media and entertainment. Before then, I was convinced that egg-freezing was a rich, white woman's issue. The topic never came up with close girlfriends, and it certainly never came up between my Dominican mother and me. But learning about my coworker's approach to ensuring her future as a mother by preserving her eggs, made me realize how little we discuss fertility issues in Latinx families like my own and in other BIPOC communities.

It's way more common to hear about famous, white celebrities talking openly about their unconventional or challenging paths to parenthood. People like Maria Menuenos, Sarah Jessica Parker, and Nicole Kidman for instance, have shared their experiences with surrogacy and in vitro fertilization (IVF). Rarely, do we hear Black and Latinx women discussing the topic with the exception of a few celebs like Gabriel Union, Tia Mowry, and Tyra Banks.
Many cultural factors underpin and contribute to the silence and shame around Latinx infertility. Part of the stigma likely extends from the popular belief that Latinx women are naturally very fertile — a long-held stereotype with larger, more complex ties to colonization and slavery. Traditional and outdated religious views about the importance of procreation — and the notion that pregnancy is God's, not science's, gift to women — also underlie the fraught feelings we have about fertility.
"I was dealing with the fact that I might not be able to have children and I was talking about using science," says Emmy-winning host and TV personality, Lilliana Vazquez, who struggled to become pregnant for years. "To my very Catholic family that's going to be like I'm trying to play God."
Vazquez, the daughter of a Mexican mother and a Puerto Rican father, never imagined she'd struggle with infertility, but upon taking an anti-mullerian hormone test, which assesses a woman's ovarian reserve, Vazquez, then 35, learned that her egg count was virtually undetectable. "If I wanted a family, I was being advised to go straight to IVF."
We never learned about our bodies as young women.
For Jasmine Higgins, of the Infertilidad Latina podcast, sexual reproductive health was so religiously taboo that even menstrual cycles weren't broached: "We never learned about our bodies as young women. It was very hush-hush, even though the entire time growing up, it was almost reinforced that you're going to be a mom and that basically, the biggest accomplishment you could ever have is to be a mother," she recalls.
And, yet, making a family is often fraught for us. Black and Indigenous women and people continue to have higher rates of infertility. Some studies indicate that language barriers create obstacles to accessing proper medical information and care; other research shows a historical mistrust of white physicians or doctors (see the unethical birth control trials on Puerto Rican women), a lack of access to (and affordability of) fertility treatments, educational discourses that don't included or speak to the Latinx experience, and discrimination in the healthcare field, leading to a higher risk of maternal mortality.
"It happens when a woman walks in and is paying out of pocket to see her gynecologist. Or maybe she's going to see a reproductive endocrinologist and she doesn't have insurance. Those physicians, nurses, and billing offices make bad assumptions about whether or not you can afford the privilege of IVF or other reproductive services and advanced reproductive technologies. That is a huge problem because what they're ultimately doing is making a decision for you, and they're not educating you or giving you all of the options," Vazquez explains.
While there is little information related to the health disparities concerning infertility among Black and Indigenous women and people, studies show that women struggling with infertility issues, who have access to infertility services, are significantly more likely to be married, non-Hispanic white, older, more educated and affluent.
Non-Hispanic Black women, however, are nearly twice as likely to have infertility issues than either Hispanic or non-Hispanic white women, and little is known about how infertility impacts Black Latinx women and people.
The studies and resources that [medical professionals] have to base their decisions on are largely based on white women's bodies.
"The studies and resources that [medical professionals] have to base their decisions on are largely based on white women's bodies," adds Higgins, whose queerness created extra challenges and amplified feelings of alienation within the medical establishment. "For example, when you go into a protocol, which is your treatment plan, they do what they can to know your body individually. They'll scan it and they'll do all of this and that, but the hormones, the treatment, the typical cycle is based on how a white woman's body would react. There are no medical studies really on how Black and Brown women's bodies react to these hormones and whether or not they will be reacting similarly."
According to Progyny, infertility impacts one in eight women, but Black and Indigenous women experience infertility at even higher rates than their white counterparts, "even when taking into account socioeconomics or risk factors such as fibroids." Despite these higher rates of infertility, Black and Latinx women are less likely to access treatment and if they do, might wait two times as long before asking for help.
Recent statistics show that some of the largest declines in birth have been among Latinx women and people. The so-called Hispanic fertility rate, according to Statista, fell from 98.3 percent in 2006 to 65.3 percent in 2019, a drastic plummet.
In a political and social climate that continues to perpetuate anti-Black and anti-Indigenous sentiment, it is increasingly important to both raise awareness about how infertility disproportionately impacts BIPOC communities and increase access to medical information and treatment to tackle the problem.
For Vazquez, correcting some of the systemic issues related to Latinx infertility starts at home, with more honest and frequent conversations about reproductive health. "We need to create a safe space to say, 'Hey, listen, I don't know anything about this. Do you all know about this? Have you heard of egg freezing? What is intrauterine insemination (IUI)?' These are the conversations we need to include at the dinner table or brunch."
If you're getting a referral to see a specialist, which you most likely are, the people that are making those referrals are making judgments about you based on the color of your skin and based on what kind of insurance you have
It's equally, if not more, imperative to collectively hold physicians accountable for discriminating against communities of color at both micro and macro levels. "If you're getting a referral to see a specialist, which you most likely are, the people that are making those referrals are making judgments about you based on the color of your skin and based on what kind of insurance you have," Vasquez adds.
While the odds remain statistically stacked up against BIPOC communities in the field of reproductive health, Vazquez and Higgins see a silver lining. Take Kindbody, for instance, a fertility, gynecology, and wellness service that Vazquez personally collaborates with when she isn't running the entertainment circuit. Its clinics are sprouting up across major American cities, promising equal access and affordability to people seeking treatment regardless of race, ethnicity, and sexual orientation: "Kindbody is creating a reproductive health center for women of all colors, sizes, and backgrounds. Their core mission is to make reproductive health at all levels, affordable and accessible, through both education and access, with tons of free online content."
Another invaluable resource for people struggling with infertility, according to Higgins, is Resolve.org. "They are a foundation that helps women of all backgrounds and financial situations get access that pertains to their unique situation."
Resolve is a national infertility association and patient advocacy organization that provides free support groups in more than 200 communities and prides itself on serving as, "the go-to organization for anyone challenged in their family building."
Higgins has some words of wisdom (and forewarning) for Latinx and BIPOC folks facing fertility issues, offering her podcast as a guide for their journeys: "You will have to gear your mind up that this is going to be really confusing," she says. "We are hoping that Infertilidad Latina, the podcast, website, and Instagram page will allow people to ask questions, give them the support that they need because, without it, we suffered a lot. We still suffer, but at least now, we have each other and a larger community of people. The Latinx community is so wide and vast."