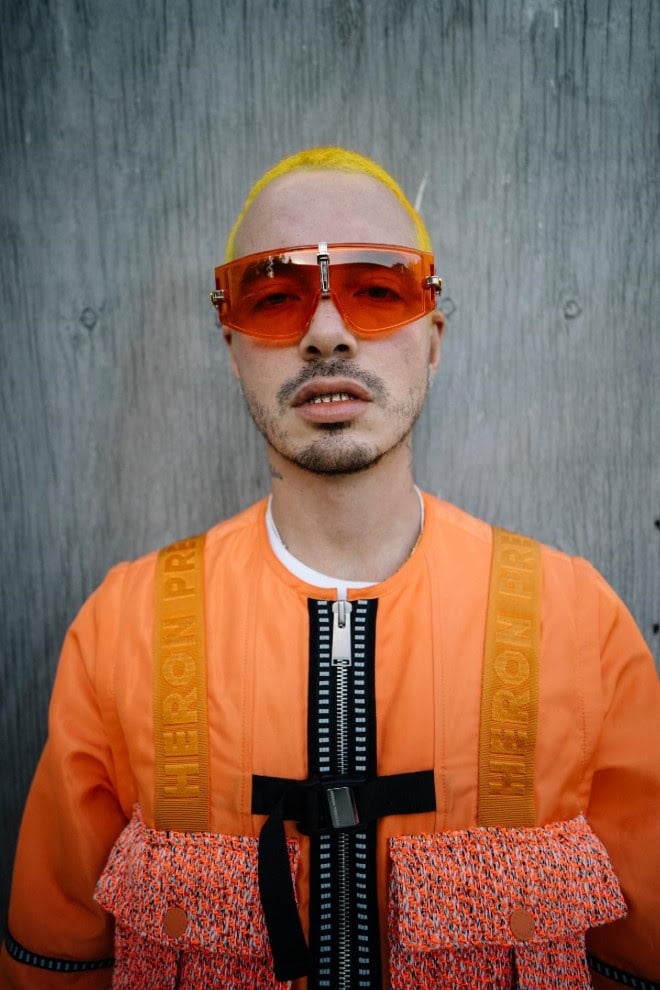 Orli Arias
Orli Arias
J Balvin released his highly-anticipated fourth album Colores today, a follow-up to his 2018 Vibras. This new album finds the reggaeton powerhouse going back to his roots, opting for only two features, one with Mr. Eazi, and another one with frequent producer Sky Rompiendo. Colores includes visuals directed by Colin Tilley for the singles "Rojo," "Morado," his #1 hit single "Blanco," and newly-released today, "Amarillo."
The Colombian sensation also teamed up with Spotify to develop an enhanced album capturing each color aura around him. With each short video, Balvin guides a short meditation that channels each color and explains the relationship between color and music, and how he's able to see and feel the music in a color spectrum by motivating listeners to open their hearts and minds to experience music the same way.
"The idea of making Colores came to me in a moment of leisure," J Balvin told Spotify. "I was calm and I got the idea of naming the album Colores. And I thought, 'Well, I have to bring more. And why not name each song after a color?'" He added that he thinks each person "will have their own perception of each color of the album. Maybe they can close their eyes and the song that's red isn't red to them, but blue."
Colores arrives just days after J Balvin made history becoming the Latin Urban artist with the most #1 singles on the Latin airplay charts after "Blanco" took the top spot this week. This continues to cement his status as a leader of reggaetón, and as a torchbearer of the new state of urbano, as Balvin is continually expanding the limits of the genre and paving the way for "la nueva escuela."
The album was creative-directed by contemporary artist Takashi Murakami, who created ten brand new flower characters — one for each song and color on the album. While Balvin has been long heralded as a commercial force, the album underscores the ways in which he's permeating all facets of culture — from music to art and style — without compromising his unique identity.
J Balvin also teamed up with Vevo to create four live performance videos to complement the album, kicking it off with "Amarillo." He joined Catalan artist Sergi Arbusa to create the concept, which consists of sets featuring vacant spaces that range from decadent halls to barren hallways, all coated in tinted plastic in the colors that go with the song titles.
"I take the visual presentation of my music very seriously," J Balvin said of the project. "It was great to work with a team of creators that hold their work to the same standard. Being able to share this special performance with you means everything to me since I can't perform for you in person right now!"
Colores continues J Balvin's reign as one of the biggest stars in the world. Last year saw him perform in the opening segment of The Grammy Awards, he was named the Premio Lo Nuestro Artist of the Year for an unprecedented third consecutive time, he collected his fourth Latin Grammy and the Favorite Latin Artist American Music Award, and became the first reggaetón artist on Saturday Night Live.
Throughout the year, J Balvin also connected with millions of fans live by taking his stunning "Arcoiris Tour" across the United States and throughout the world, while further etching his name in urbano music history as the first reggaetón artist to perform on the mainstage at Coachella, leading EDM festival Tomorrowland, and as the first-ever Latin artist to Headline at Lollapalooza. Most recently, J Balvin performed his hit "Mi Gente" in the Super Bowl LIV halftime show alongside Jennifer Lopez, notched another #1 single, and appeared on the cover of Billboard.