Kany García Talks Music, LGBTQ and Women's Rights, and PR
Kany García's Music Gets Us Through Life and Empowers Us to Make the World a Better Place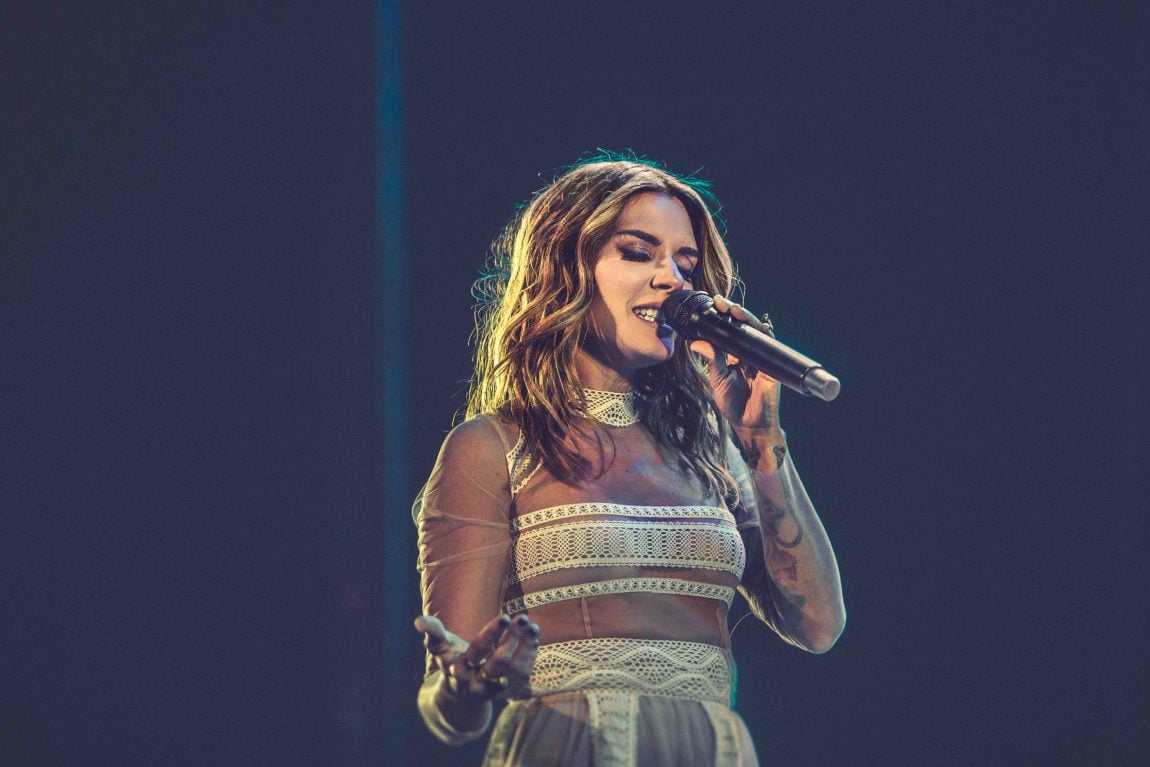 Image Source: Courtesy of HBO Latino
The sunset cast a luminous glow over Fifth Avenue in NYC moments before I saw Kany García in person for the first time. A violet hue poured through large half-moon-shaped windows overlooking the Empire State Building, beckoning the star to the stage. HBO Latino curated a special guest list to enjoy a conversation with the singer, and a short set so genuine, each member of the small audience swore it was a serenade just for them.
"Ay perdón, excuse me," a guest apologized after bumping into me in a panicked effort to record her singing "Confieso." "That's my song!" He yelled near tears as the crescendo lifted us all into a spell and goosebumps cropped up along my arms. You could see how much this song meant to him. Kany smiled warmly, reaching her long arm out as if to say, "I see you" before twirling into the chorus with a pound of her knee. I watched as he swooned, singing every word and I understood why she is so beloved: her musical canon is one that holds your hand through life.
Kany isn't just a multiple Latin Grammy-winning artist: she is a beacon of tolerance, activism, and acceptance in the Latinx community. She is a champion of Latin American talent, women's rights, and the LGBTQ community. Growing up in Toa Baja, Puerto Rico, the singer-songwriter was born into a highly religious family — her father was a priest, and two uncles are still priests — and inculcated with conservative values. After spending more than a decade in the spotlight, Kany decided to come out as gay via social media in 2016. Bucking the commonly held social mores of our community, she shared her truth with inimitable grace and was met with full support by her family, friends, and fans.
I had the opportunity to talk to Kany, and I listened as she described her commitment to being a role model transcending bias and thereby changing hearts and minds. This is how our conversation went.
POPSUGAR: Your show in Puerto Rico at the José Miguel Agrelot Coliseum sold out! Congratulations! How do you feel?
Kany García: So happy. I'm very happy because it's not easy to have a space so immense, with so many people and at the same time be able to capture a sense of intimacy — that it feels personal for each one of us. Obviously that sentiment has a lot to do with the fact that it's in my homeland. To perform with your people is something incredibly intimate and to have HBO there capturing everything so that the whole world will be able to see is just . . . a super experience.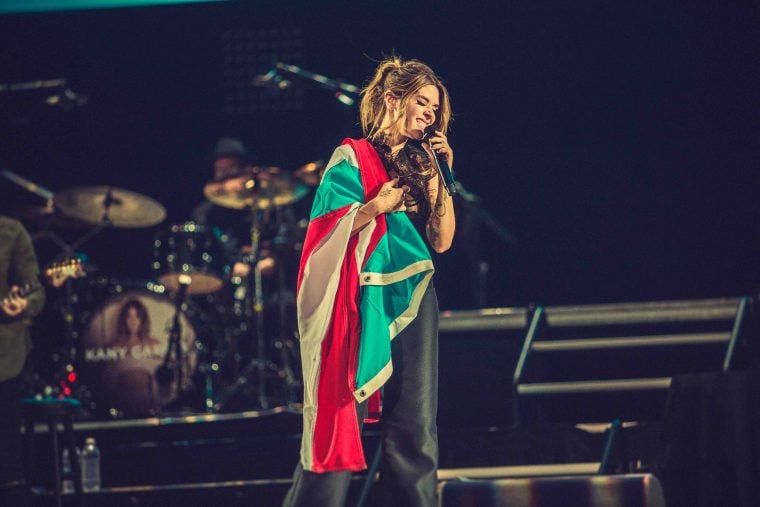 Image Source: Courtesy of HBO Latino
PS: You've spoken on many occasions, explaining that you don't gender your songs so each person can assign their own story to your music. There's one in particular called "Bailemos un Blues" that has been adopted as an anthem for the LGBTQ+ community. How does that make you feel?
KG: Well, for me it's important to move the needle. I would love for it to not be necessary to speak of sexual orientation, not to be necessary to speak of identity, but we continue to live in a world where we still have a long way to go. Sadly, there is much to be done. So we have to do it, to come forward, so that knowing someone's sexual orientation will be less important for the next generation.
We still have a long way to go and we're lacking anthems. "Bailemos un Blues" has been a song that has been so easy for me to sing because I belong to this community. We suffer as a community. Even in 2019, there's so much negative commentary online.
People hide behind religion. They use so many things like tradition and fundamentalism. Ultimately, music isn't just a vehicle for entertainment. Music is a vehicle to raise consciousness and we have to see it that way, as a responsibility. We have to. We have to make songs that speak to the times in which we are living and the community continues to experience complicated moments. We have to step up to these positions, take on responsibilities, and for me, it's an honor. It's a privilege. It's a great point of pride for me to be part of this community.
PS: It's Domestic Violence Awareness Month, and I know fighting for women's rights is important to you . . .
KG: Yes, because as much as they tell us we're equal, we still have a long way to go, especially for Latinas who have been presented with a highly misogynistic society, and violence [against women] has been so normalized. People think if they are catcalled on the street, that's normal. That is not normal. That should never be perceived as normal. Until we give it a label and call it what it is, we won't make any progress.
I identify with many communities. I'm part of a community of women who have kept quiet for many years. There's nothing worse than to think of what could befall the next generation of women. We have to begin with our self-esteem. To believe there's no reason to tolerate, there's no reason to remain silent. Men should as well. This isn't just a community of women, but also of men who must learn to see women as equals. Not a person beneath. We're equals. A woman asks for nothing more than to be seen as equal.

PS: You cut your vacation short and went to Puerto Rico to take part in the recent protests there. Why was that so important for you to be a part of?
KG: We must remain active, and I say this because today we live in a world where we're constantly told what's happening in the news. You see something, you give it a retweet and a repost — which is all good — but what are we actually doing, really? How big a part are we in a foundation or charity? How much time are we spending on social activism? Because if we all were doing our part, our impact would be greater. So, for me, what happened that day in Puerto Rico was something so beautiful, because we all stopped our agendas and took action together. And we found a clear image of how united, unimaginable change is possible. And it's the only way we'll be able to achieve it.
Kany García: Soy En Vivo is available to stream on all platforms, HBO GO/HBO NOW/On Demand.