10 Prints by Latinx Artists to Revitalize Your Workspace
As POPSUGAR editors, we independently select and write about stuff we love and think you'll like too. If you buy a product we have recommended, we may receive affiliate commission, which in turn supports our work.
According to a report by remote work platform Upwork, one in four people in the U.S. will be working remotely in 2021. By 2025, the freelancing platform suspects about 36.2 million workers will be laboring from a distance, an 87 percent uptick from pre-pandemic levels.
With at-home offices a new, and for some permanent, reality, many of us can no longer make do with makeshift sofa workstations. Whether you have a corner in your bedroom or a proper home office, it's time to create a workspace that will help you focus and be more efficient. According to business coaches, having art on and around your desk is an ideal place to start. Warm or vibrant imagery can act as a vision board, keeping you inspired and motivated to achieve goals while also emphasizing your work's meaningfulness. Moreover, giving your eyes a break from your computer screen to glance at charming art pieces can also prevent them from strain and decrease stress.
If you're ready to revitalize your workspace, we curated a list of 10 stunning prints that'll bring color into your at-home office. All by Latina artists, these pieces spark encouragement, creativity, and affirmations needed to shine in your career and passion projects.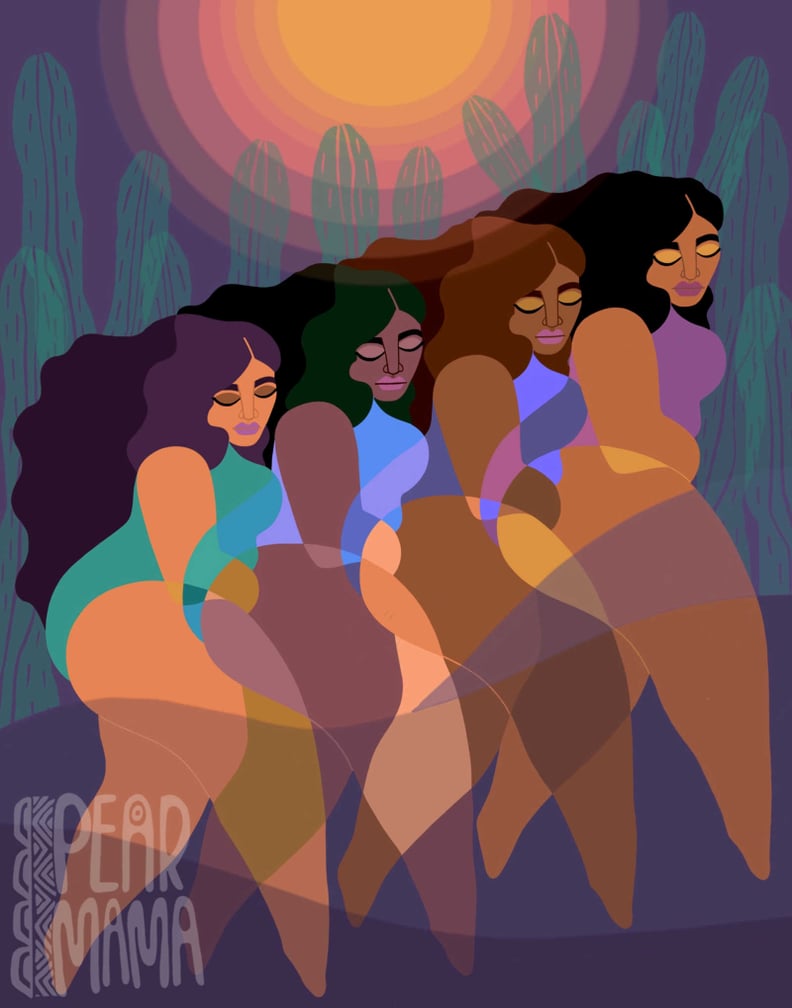 Higher Self
Pearmama's glorious piece Higher Self ($25) will motivate you to carry out the inner work needed to return to your wisdom and rise to your true self. This 8 x 10 illustration by Mexican-American artist Denise Cortes is printed on gloss ink.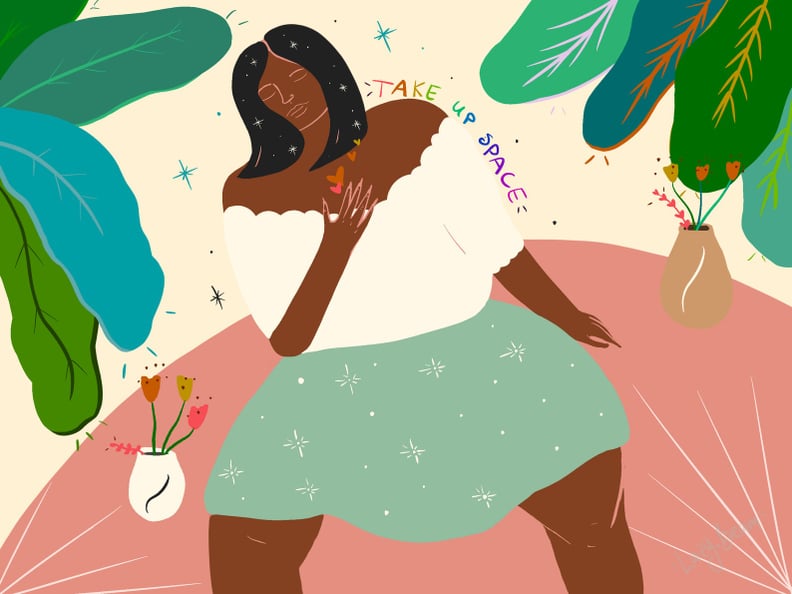 Take Up Space
It's not news that women of color, especially those of us who grew up in working-class homes, experience impostor syndrome throughout our careers. As a result, many of us silence our voices and shrink our bodies, keeping the world, and ourselves, from experiencing our greatest potential and brilliance. With Manuela Guillén's Take Up Space ($13) above your desk, you will be prompted to consider the ways you are making yourself smaller every time you glance at the gorgeous print and, hopefully, feel encouraged to speak a little louder and take up space.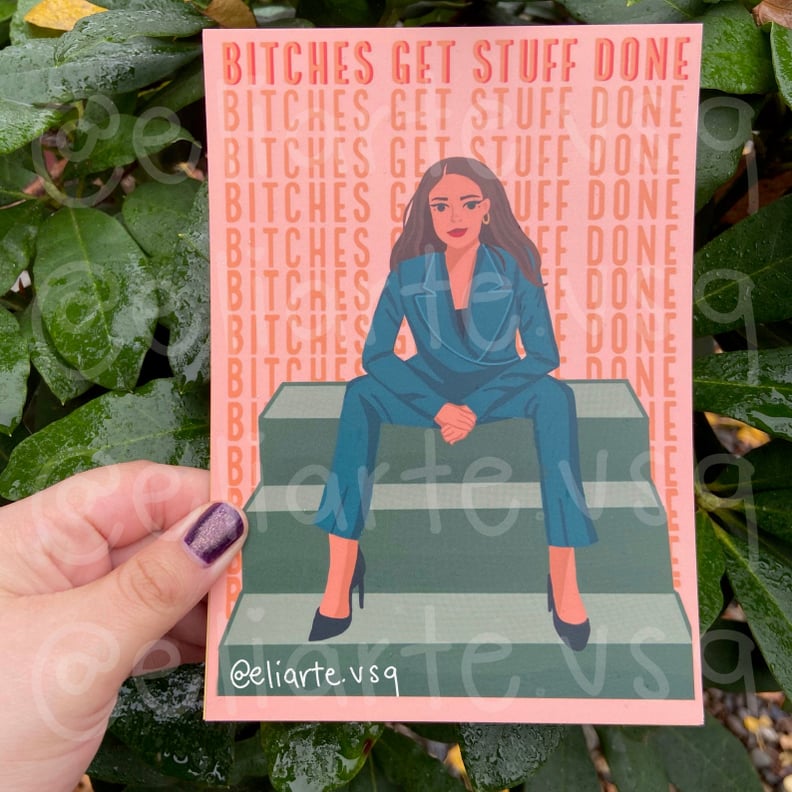 B*tches Get Stuff Done
If your source of inspiration comes from the stories of other powerful women, Eliana Vasquez's B*tches Get Stuff Done ($10) print, which features a suited Alexandria Ocasio-Cortez donning her signature red lip and gold hoops, is the piece you need on your desk.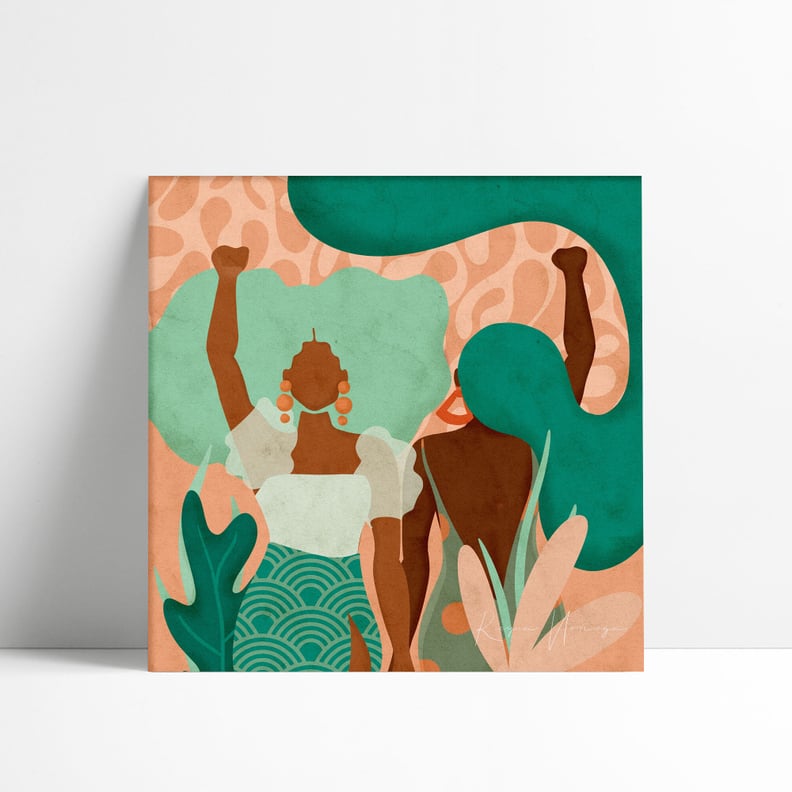 Unity
Your work, dreams and passions are bigger than you are, but doing it all by yourself, away from colleagues and friends, can make you forget about its collective goals and the importance of community. Cuban-Bahamian artist Reyna Noriega's Unity ($35) is an awe-inspiring prompt that'll help you remember the communities that inspired you to do work that matters.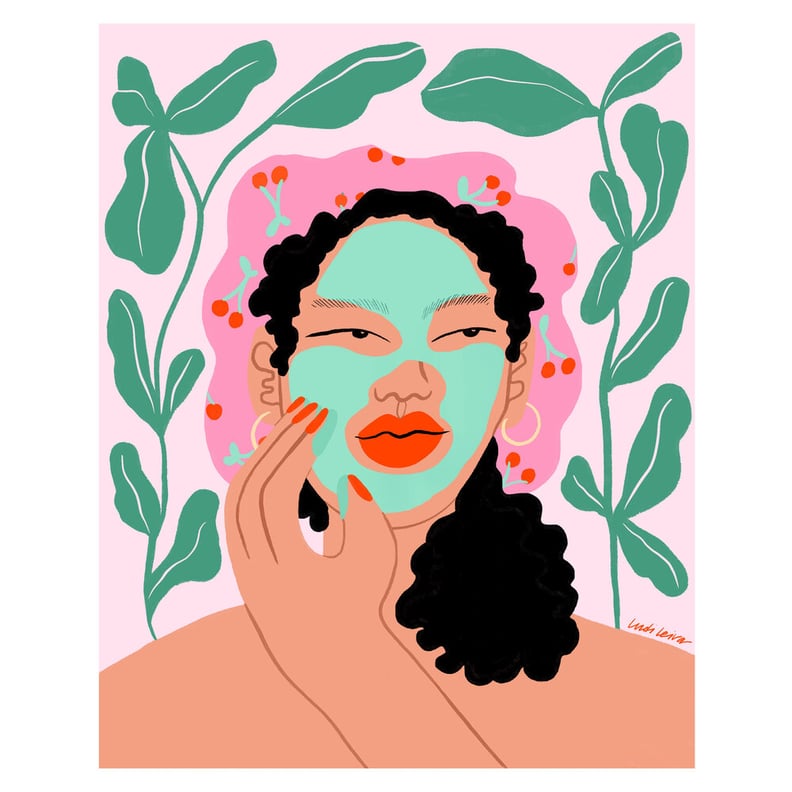 I Take Care of Me
Ludi Leiva's I Take Care of Me ($35) offers a much-needed reminder to prioritize self-care. Glancing at the gorgeous 8 x 10 print could help you take a moment for yourself amid a busy workday to breathe, drink water, eat a nice meal, stretch, or simply enjoy a break. As the Guatemalan-Slovak illustrator says, "Taking care of ourselves is the foundation that allows us to show up and create a better world."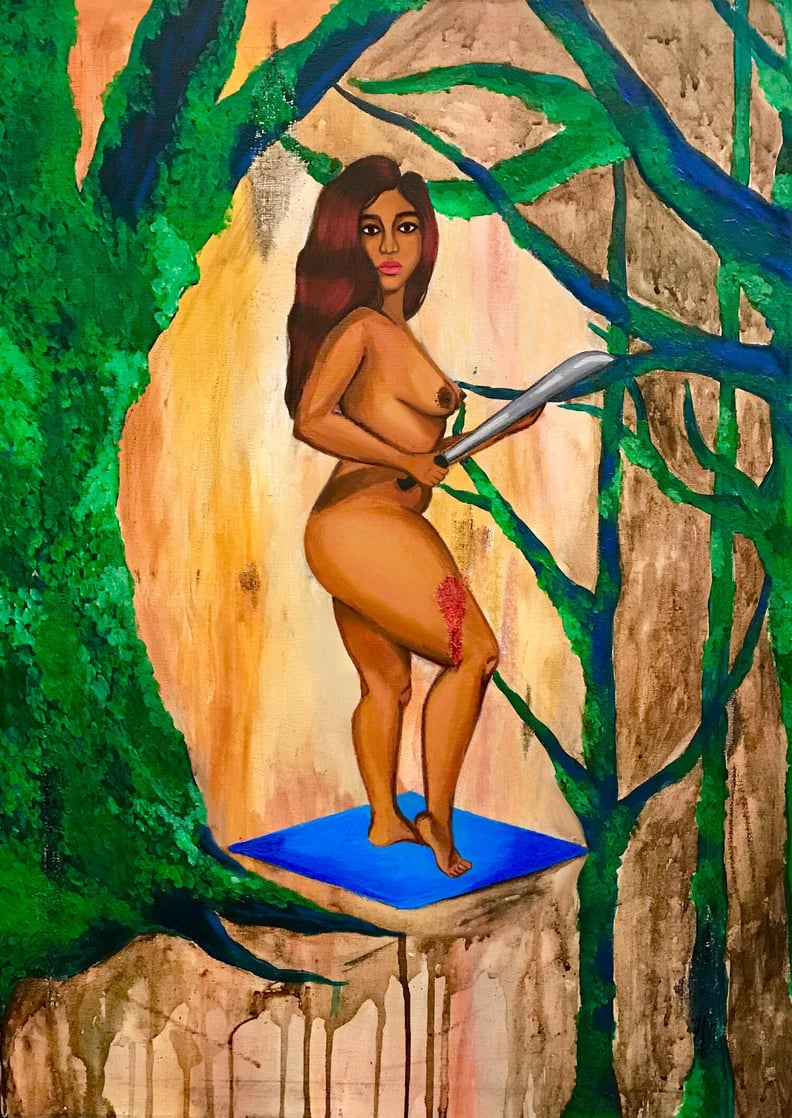 Machete
Dominican-American artist Crystal Rodriguez's print Machete ($55) provides two powerful messages, one of raw self-love and another of paving your own way. Isolated at home — without afterwork cocktails, weekend conferences, or industry events — this print encourages you to use your inner machete to forge a career path that makes sense for you.
Sandra Cisneros
If your motivation comes from reminding yourself of where you've been and where you want to go, then you'll want to pick up Angélica Isai Becerra's Sandra Cisneros ($4) piece. Printed on 4 x 6 high-quality matte paper, it's technically a postcard, but its small size makes for an ideal burst of color and power in a desk picture frame.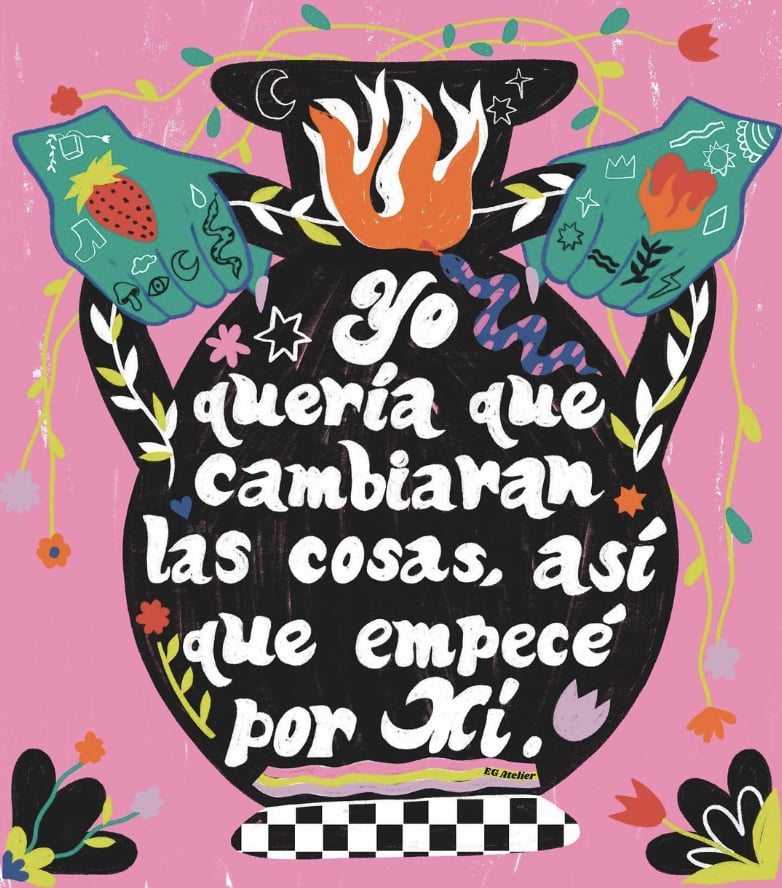 Cambio
While many of us fight to create a more just and equal world, we can't fix every problem. Although this reality can be frustrating to swallow each day, Be the Change ($13) print by Puerto Rican artist Emmalynn González (aka E.G Atelier) reminds us of a critical transformation we are always in control of: that which takes place within ourselves.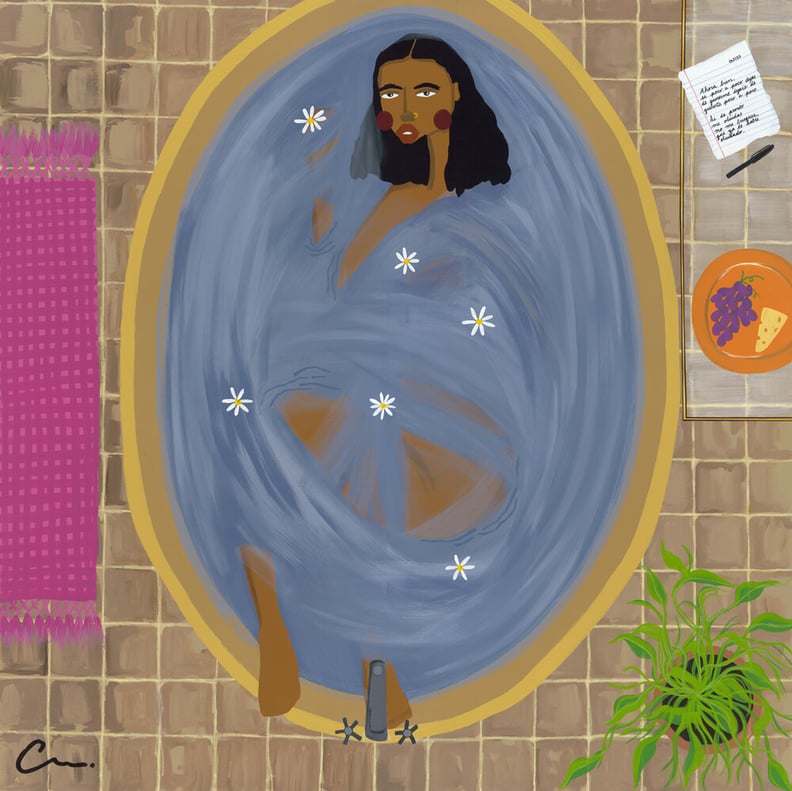 Water Me
While working from home, many of us labor for longer hours and take fewer breaks. Having Cristina Martinez's cold-pressed watercolor print Water Me ($110) nearby will act as an essential reminder to indulge and enjoy yourself by giving your body and mind the nutrients it needs to do important work.