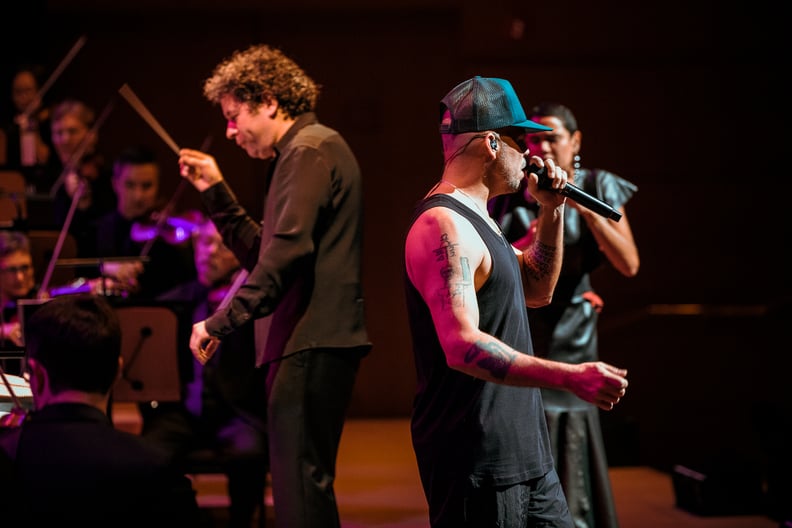 Courtesy of Residente
Courtesy of Residente
Leave it to Residente to continue to redefine the boundaries of music in any genre. Last weekend, this man, who has become a living legend in the género urbano, first gaining recognition with his provocative reggaetón then later exploring a more conscious hip-hop, just took some of his most-recognized hits and performed them with the Los Angeles Philharmonic, directed by acclaimed Venezuelan conductor Gustavo Dudamel.
It was definitely a night to highlight the power of Latinxs in music, especially when it comes to radically different genres. Residente and Gustavo Dudamel merged their respective styles into a historic evening of celebration, proving music has no boundaries when done right. Just imagine: Residente's raw lyrics — which move gracefully from heartbroken to empowered to justice-seeking — paired with graceful instruments like violins, cellos, flutes, harps, and more, adding impact and drama to the performance.
Residente performed "Latinoamérica," "Guerra," "Apocalíptico," "Desencuentro," "Baile de los Pobres," "La Perla," "Atrévete-Te-Te," "El Aguante," "Bellacoso," and "Pecador." He also performed his newest single, "René," which gives listeners a glimpse of his real life all while advocating for mental health — still a taboo in Latin American societies, especially among men. The track is deep, poignant, and extremely personal, and it definitely gets people talking.
At this point, I'm going ahead and calling Residente the King Midas of Latin music, because everything he touches turns into gold. He has 25 Latin Grammys under his belt — more than any other artist in history. He won a Nobel Peace Summit Award in 2015 for his dedication to education and native rights in Latin America. And he's truly leading this generation by using his music to teach us it's OK to be true to ourselves, to feel whatever we feel, and to fight for those who don't have a voice. Residente continues to push boundaries and experiment with outside-the-box ideas that end up being successful.
Keep scrolling to see pictures from Residente's performance with the Los Angeles Philharmonic.