Rizos Curls Collaborates With Thalía on New Hair Products
Rizos Curls Partners With Iconic Mexican Superstar Thalía For Amor a los Rizos Collaboration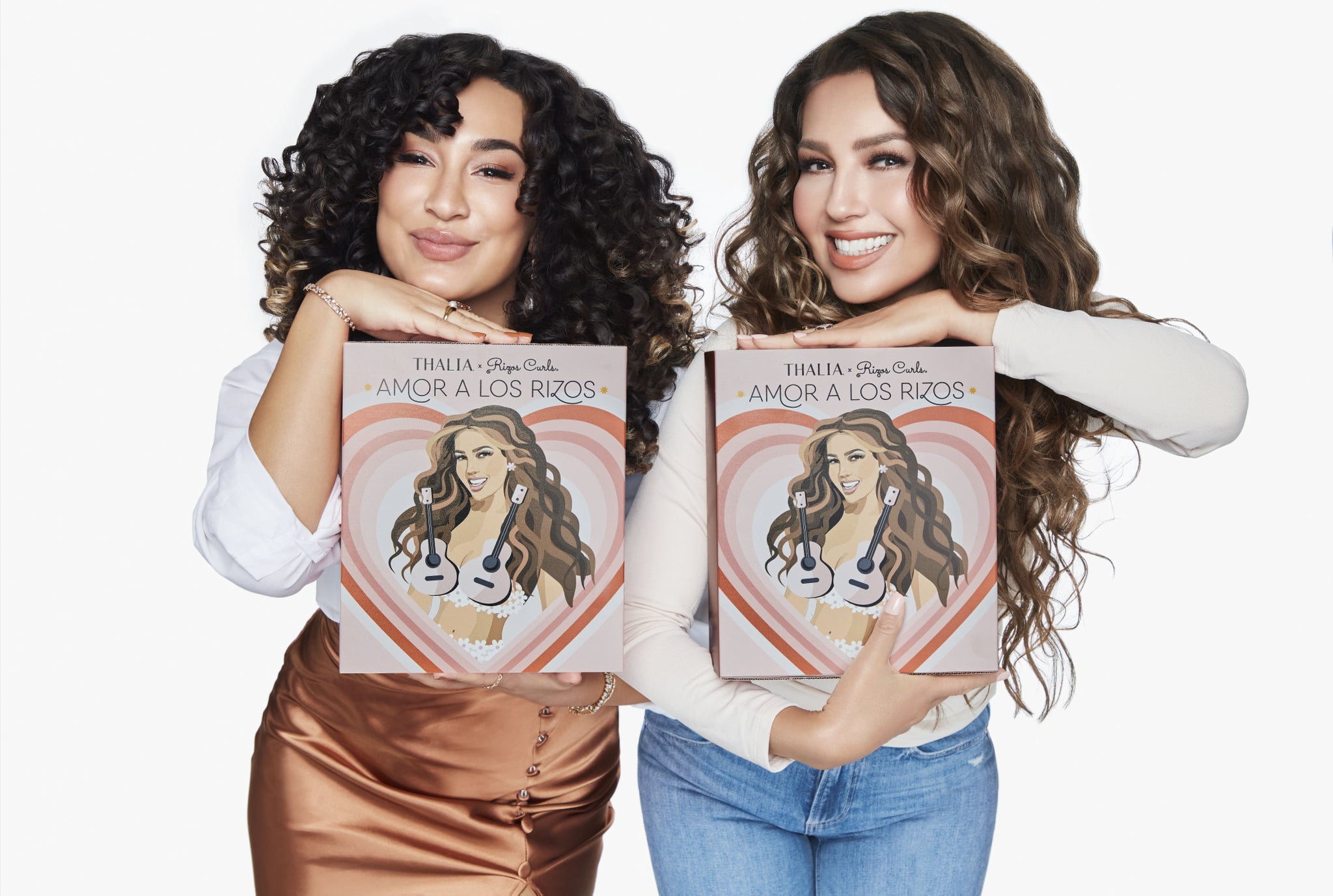 Four years ago, if you would have told Rizos Curls founder Julissa Prado that she would eventually collaborate with iconic Mexican telenovela and global superstar Thalía, she would have probably laughed in your face. But the universe has clearly been on her side, because this isn't a hypothetical — this has actually become Prado's reality. The clean hair-care brand that specifically creates products to help women embrace and celebrate their curls, coils, and waves recently partnered with Thalía for its Thalía x Rizos Curls VIP Box, Amor a los Rizos ($125), which will be sold for a limited time exclusively on Rizoscurls.com starting today!
"When quarantine started, Thalía was trying to get back her curls and wear her hair natural more. And her stylist, Jennifer Matos, is the one that told her about Rizos Curls. She started wearing her hair natural and going through that [transition process] at the beginning of quarantine, and she said that she loved the products and that it actually worked for her hair and made her feel comfortable and confident after straightening it for a long time," Prado exclusively told POPSUGAR. "Her team reached out to us, and we were talking with them and providing tips for her hair, and I was talking with Jenny directly, and she wanted to do a collaboration at this stage of our business because we're Latina-owned and I'm Mexican and we're a small business. Thalía really wanted to bring this to life and do something together. We were so happy that her team was willing to work with us and be very understanding that we're still a small business, and so it's been great."
Every little detail behind this recent collaboration has been very intentional, from the name of the box, Amor a los Rizos, an ode to Prado's favorite Thalía song, "Amor a la Mexicana," to the adorable illustration of Thalía sporting loose curls and guitars on her chest in reference to her iconic "Amor a la Mexicana" 1997 live performance, to the products included in the box. The limited-edition box features everything from classic Rizos Curls products like the Curl Defining Cream ($22) and Refresh & Detangle Spray ($20) to newer products like the Light Hold Gel ($20, originally $22), which released earlier this year, and recent launches like the Nourish Oil for Hair, Scalp and Body ($25), the Detox Scalp Scrub ($28), and the Vitamin C Hair Repair Mask ($30). According to Prado, every single product included in the box is exactly what Thalía was using during the pandemic to get her curls back.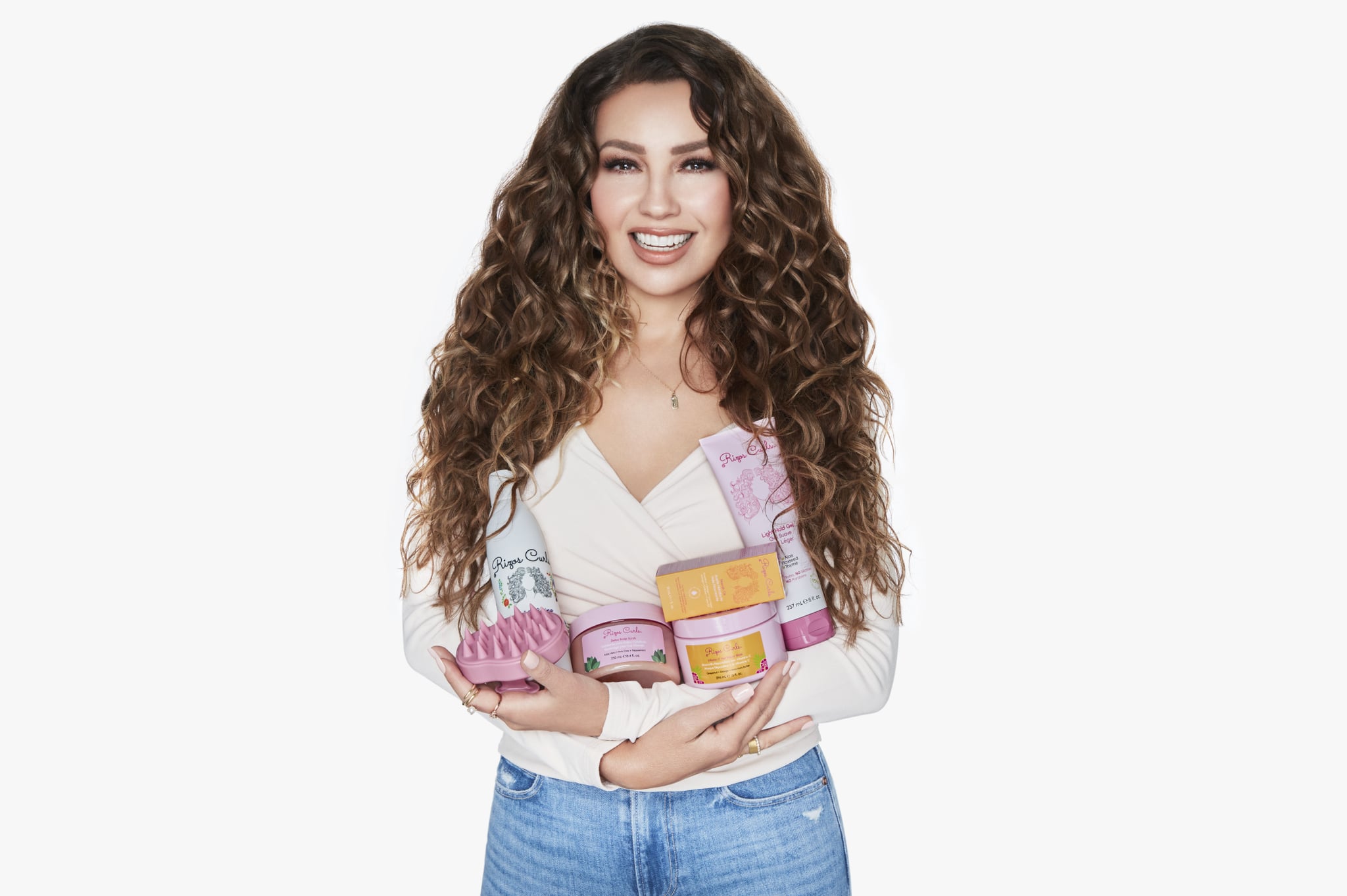 "The new products, I had already been working on for about two years. I had already been working on them even before starting on the collaboration with Thalía. They've been really big testaments on love, in regards to my team and production wise, and trying to figure out the best ingredients that are very healing and reparative for hair," Prado said. "It kind of worked out perfectly when we did talk to Thalía because at that moment, I was working on these samples and she was also trying to repair her hair. I was like, wow, these products that I'm working on are exactly what she needs as well." Prado started creating a hair recipe for Thalía along with her stylist Matos to guide the superstar on nourishing her curls back to health, while also sending her samples of the new Rizos Curls formulations she was working on.
Prado said that not only has Thalía been able to get her curls back, but the products have also helped her to keep her hair healthy even when she occasionally does straight styles. "It's a journey, and it's a process for everybody, and it's not like she's fully committed to always having her hair curly all the time. She straightens it and does different things depending on her responsibilities, and that's the beauty of curly hair," she said. "That's the beauty of having good-quality ingredients, and that's why we wanted to prioritize the products that are in the box to be really reparative and healing, because we get it. It's so easy to be like, 'I'm never going to damage my hair again. I'm never going to straighten it or put heat on it. I'm never going to dye it or do anything,' but it's OK to live a little and find balance. Let's focus on keeping it healthy and using really great ingredients for your scalp and hair so you do have the freedom to do what you want while keeping your hair healthy."
The incredible illustration featured on the box was created by Guatemalan illustrator and artist Claudia Argueta, who also illustrated the cool set of stickers found in the box to celebrate the collaboration. Another very intentional move on Prado's part was she really wanted to use this collaboration to elevate and celebrate Latinas overall.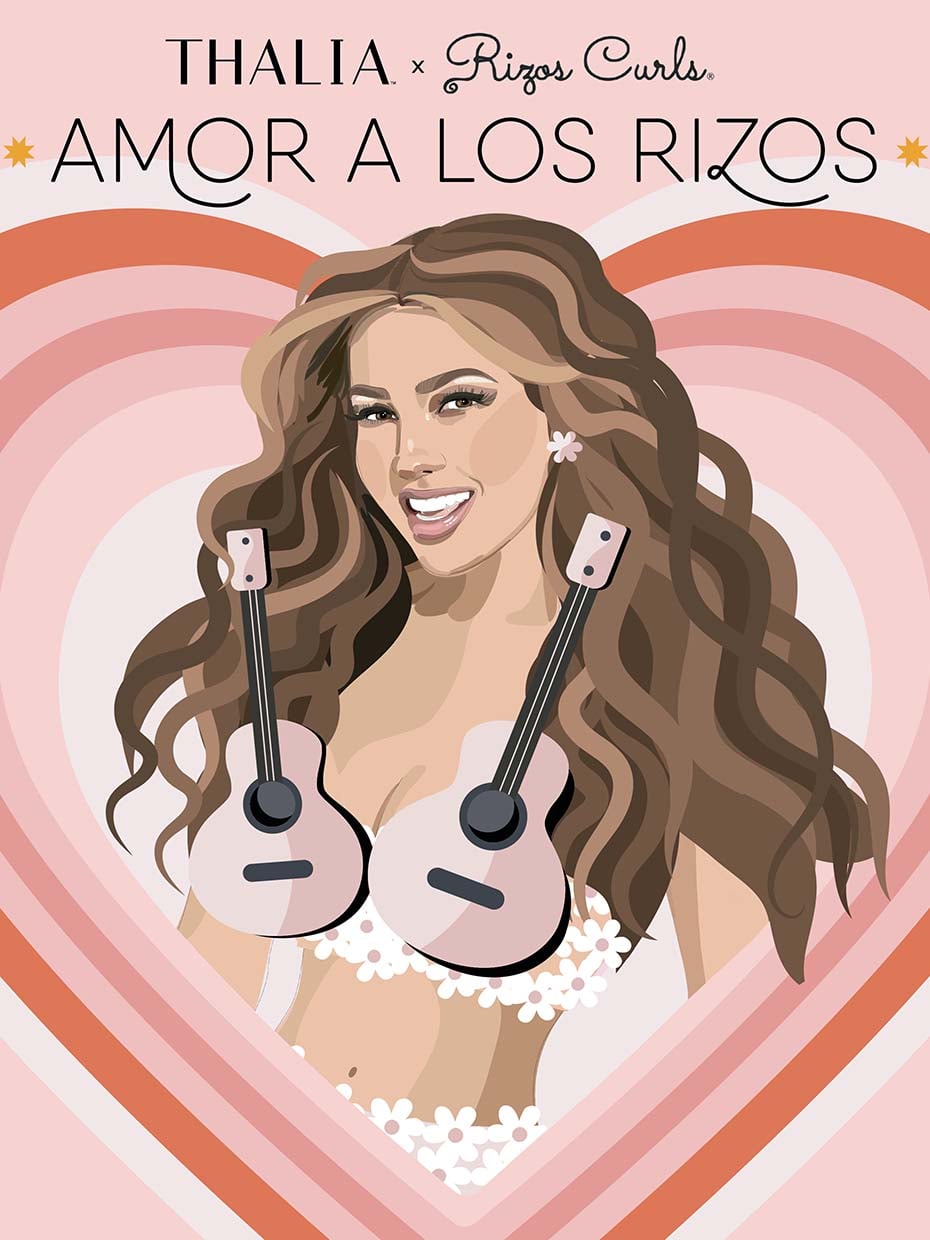 "For me, it's just such a full-circle moment because I remember watching her on TV and having that connection to that song and her as an artist, actress, and entrepreneur. And just so many things that she embodies, and now full circle I have my own business and I'm working on a collaboration with her," Prado said. "And I'm just honored, and we are now four years old and this is happening, and we're at the place where we were able to bring this to life. I hope to be able to continue growing and continue being creative."
Image Source: Enrique Vega