Vivo Normalizes Latinx Representation in Animated Film
Netflix's Animated Musical Vivo Normalizes Latinx Representation For Us All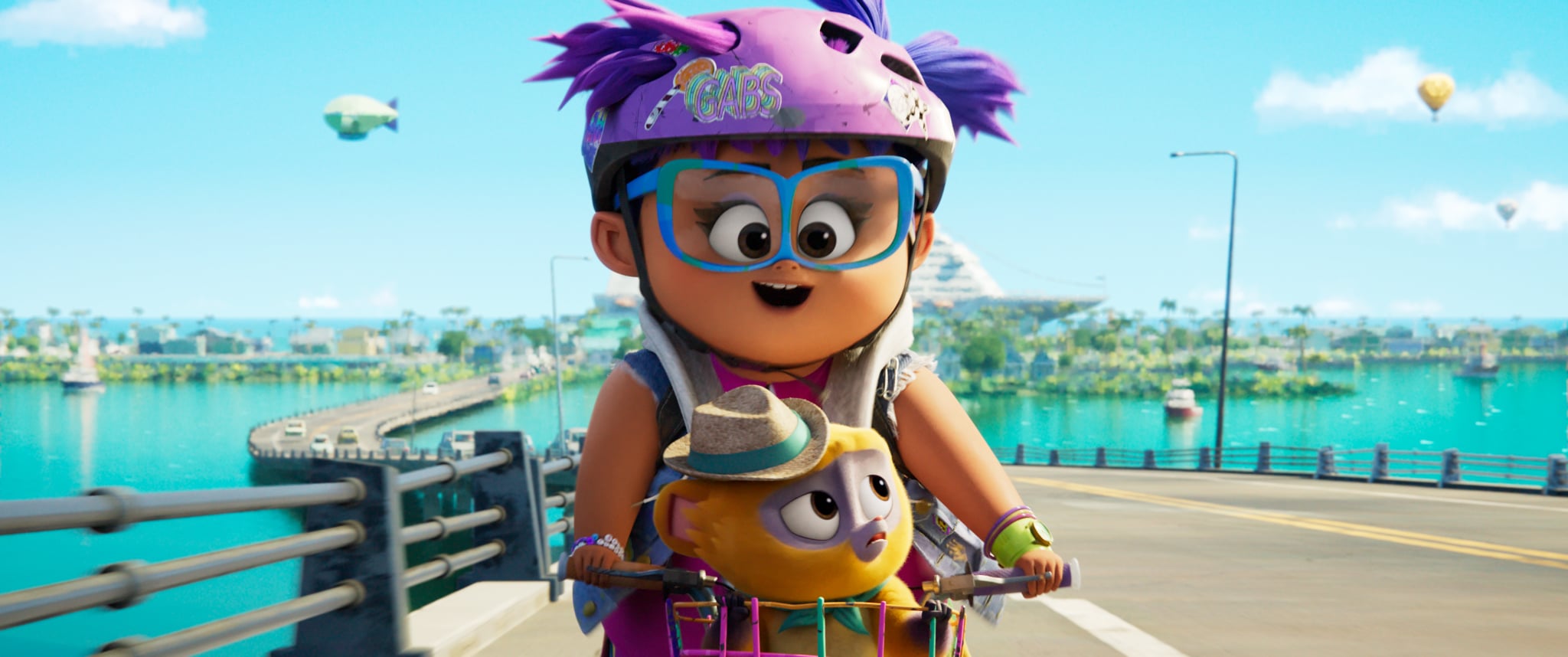 "I like the girl and the monkey the best," says my 4-and-a-half-year-old daughter after watching Vivo. The latest film from In the Heights creators Lin-Manuel Miranda and Quiara Alegría Hudes follows a kinkajou or Latin American "honey bear" named Vivo on his quest to complete the dying wish of his first human friend, Andrés. Along the way, he reluctantly teams up with Andrés' grand-niece Gaby, a purple-haired misfit and the girl my daughter particularly liked. And she's not wrong to zero in on these two — their developing friendship is particularly sweet and poignant.
But what really struck me about Vivo is the way the film portrays Latinx identities as normal. It's not that the film takes them for granted: it's more like la cultura functions as its baseline. It is woven throughout the movie in details that makes the story especially resonate with our communities. For starters, every main character in the film is Latinx and voiced by a Latinx actor. Gaby is played by 13-year-old newcomer Ynairaly Simo, whose talent is matched by a who's who of Latinx stars including: Lin-Manuel Miranda, who plays Vivo; Zoe Saldana, who voices Gaby's mom, Rosa; and Gloria Estefan, who voices the love interest.

But Vivo isn't a movie about being Latinx: at least not in the way In the Heights, STARZ's Vida, or Netflix's Gentefied are. Those all deal with identity directly and explore what it is to be uniquely Latinx while pushing at or reinforcing our identity markers. While that type of representation is important because it helps us sort out who we are and why our community matters, it can't and shouldn't be the only time we see ourselves on screen. Because the truth is, we Latinxs don't spend all day worrying about what it means to be who we are. Most of the time we just are and it's important to see that represented too, especially in kids' films that reach a generation who hasn't (and hopefully won't) soak in all the negative messages "mainstream" US culture sends about what it means to be Latinx. Vivo is an especially good film for kids because it subtly shows them that there isn't anything "different" about having family members who speak Spanish or hail from Latin America.
Yes, there are some jokes that will ring louder to Latinx audiences than others (light spoilers coming). In the beginning, there's a scene where someone almost gets hit by a car and starts yelling. But in a matter of seconds, the driver and pedestrian go from being adversarial strangers to great friends. Towards the end, our girl Gaby tries to get out of a tricky situation by telling a blonde-haired grown-up she doesn't speak English. But this being Miami, the grown-up's Spanish winds up being better than Gaby's. These gags play with pretty common Latinx experiences, winking at our understanding of ourselves but can still be appreciated by non-Latinx audiences as well. At their core, these moments highlight the funny flexibility of human nature and the awkwardness of being caught in a lie. Who can't relate to that?
I also appreciated how the characters in Vivo don't struggle with their identities or at least not their racial or ethnic background. No one makes fun of their accents or scoffs at the food they eat. Instead, these things are either celebrated or normalized. In the film, everyone adores Gloria Estefan's Marta Sandoval as a masterful singer and beloved star. In fact, she sings exclusively in Spanish using Latin American styles, and yet it's not something that's ever addressed or questioned. Likewise, when Zoe Saldana's Rosa embodies the fiercely protective Latina mom. We sympathize and we laugh not at her, but with her. Rosa is every mom, doing what she has to do to protect her kid.
On the other hand, Gaby is labeled as "different." She has wild hair and doesn't want to sell cookies or wear her troop's uniform. But that's just who she is as an individual — she even sings about it. "I bounce to the beat of my own drum. I'm a wow in a world full of ho-hum. I'm a wild young lady, but you know 'sum? I'd rather be at home with my own drum!," she raps. So yes, Gaby is unique in her own right but that's all due to her bold personality. It has nothing to do with the racial or ethnic group she was born into.
There's so much freedom in simply being able to be yourself — flaws and all — without being hyper-defined by our culture's narratives. And that freedom is without cause or commentary in Vivo. That's the type of world I want my daughter to grow up in. Not the one I had where Latinxs were largely invisible in media and when they did show up, they often played drug dealers or overtly sexy bombshells. It gives me hope that my daughter likes Vivo because the monkey is cute and the songs are catchy. She's growing up seeing families like ours represented all over the place and if that isn't progress, I don't know what is.