What It's Like to Be an Immigration Attorney
As an Immigration Attorney, I'm Fighting to Protect the American Dream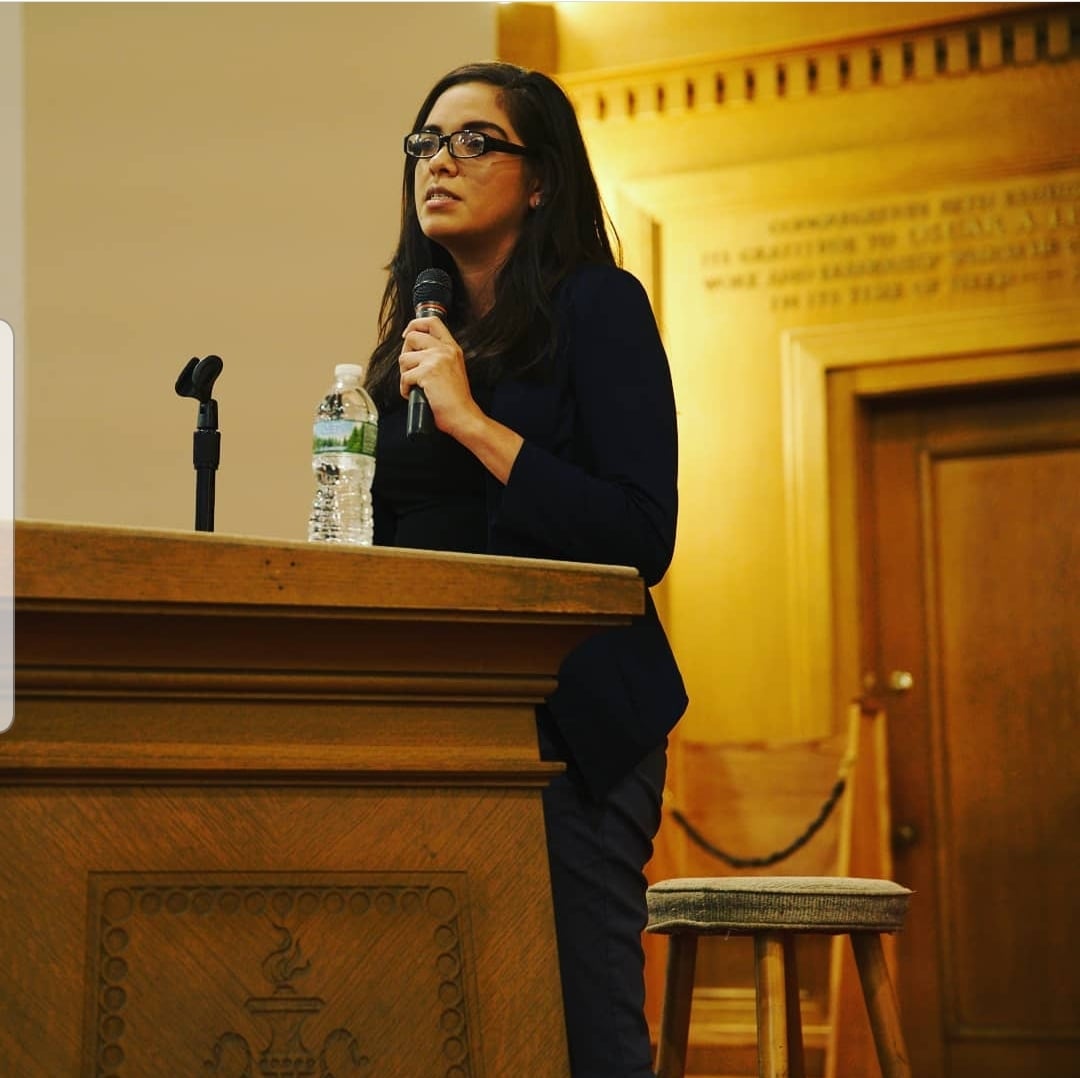 Anilu Chadwick is a senior attorney for special programs at Kids in Need of Defense (KIND), which offers pro-bono legal support to children who come to the United States alone seeking safety.
As a toddler in a border town in Mexico whose early words included repeating "chicle, chicle, un peso" (gum, gum, one peso), few would have thought that the words I would most often say these days are "may it please the Court" as an immigration attorney in New York City representing young immigrant children forcibly separated from their parents at the US border.
The odds of my life turning out this way should have been low as a Latinx immigrant. But for my adoption and receiving a white last name from my father, it's unlikely I would have had the privilege to remain in the United States with legal status, let alone dedicate myself to making sure others like me have that same opportunity.
Separation and the physical and societal barriers that immigrants face have been running themes in my life that have spurred me to devote my career to helping those seeking safety, family unity, and opportunity.
As a little girl growing up in New Mexico, I did not understand that many believed I did not have a right to be in the United States or an inherent right to succeed. But as Anilu Chadwick, I could glide past the many barriers that would otherwise have been created by my birth name and national origin.
I first learned about these barriers from my elementary school counselor, who explained that I was neither white nor an American. I went home and patted my face with Tinker Bell fairy dust from the Disney store. At the time, it seemed a simple solution to being viewed as different, but now I realize that it was a moment that foreshadowed a lifetime of living in a world that often feels exclusionary.
Throughout my childhood and adolescence, it became abundantly clear that while I existed in spaces not designed for me, I had no less reason to be there. However, time and time again, I was reminded of what people saw when they looked at me and of my status in the world as an immigrant Latinx. From high school counselors who refused to discuss college plans with me out of certainty that I would never graduate high school to employers who told me "my people" were only interested in cheating them out of money, I had to sidestep the narratives of those around me and write my own story here in America.
The deportation of my cousin, who also came to the United States as a toddler, and her separation from her infant daughter was a turning point in my life. She was like a big sister to me but did not have the chance to gain legal status as I did. I was able to pursue my education while my cousin was given a life without legal status and forced into the shadows, foreclosed from pursuing her dreams. Now, we had reached our starkest contrast — I was preparing to apply for law school, while she was fighting for her right to stay with her daughter.
I instantly knew I had no choice but to pay my privilege forward and fight for those who are excluded from the opportunity to pursue one's purpose in life and provide a safe, hopeful tomorrow for loved ones — to me, the American Dream.
It's these experiences, and more, that have given me strength in my work representing very young children who were forcibly separated from their parents at the US border before, during, and after the Trump administration's 2018 Zero Tolerance Policy. It has helped me as I tried my best to represent my 18-month-old client who was taken from her mother before an immigration judge who yelled at me for daring to pick her up when she raised her arms asking to be held. It helped me as I tried to determine how best to help my 6-month-old client who was taken from his mother at 4 months old, even as a judge reprimanded me for challenging the government's actions toward my client lest I wanted to prolong the child's separation from his mother. It gives me strength as I continue to fight for my other 40 child clients separated from their parents. Their average age is 5 years old.
Becoming an immigration attorney was the only way I knew I could ensure equal access to the American Dream for all. Realizing that this was a fight for civil rights, a fight fought by so many within and beyond the Latinx community, I set off to harness the historical power that comes from standing on the shoulders of giants and enrolled at the flagship institution for civil rights, Howard University School of Law. I carried the invaluable knowledge that there were countless others like me, not only at Howard but across the country, also fighting against the tides of injustice. Together, maybe we had a chance, I thought.
Becoming an immigration attorney was the only way I knew I could ensure equal access to the American Dream for all.
In 2018, four days after I became a first-time mother, the administration implemented the forcible separation of immigrant families under its Zero Tolerance Policy. While I bonded with my newborn daughter, I was pained by stories from colleagues doing everything in their power to reunite families. I was conflicted by my privilege to bond with my newborn while so many parents had their bonds with their children suddenly, and irreparably, obliterated. While I was nursing my baby and enjoying the American Dream, others were specifically, purposefully, systematically being reminded that this was not their American Dream, that it never would be, and that even the simple pursuit of safety would be met with the highest price a person can pay, the loss of a child. It made my life's mission even more personal and urgent.
The contrasts in my own life between safety and danger, privileged and disadvantaged, included and excluded, drive my commitment to helping restore a sense of safety and opportunity for Latinx children and families who I work with that the administration is continually trying to deny.
I lived these contrasts regularly: one day hiding from cartel members while caring for my abuelita during a visit to Mexico, and a few days later seeing people casually walking down city streets in the US; taking a taxi in New York City when my cousins had been kidnapped in Mexico under similar circumstances; being safe in my community when my family members were being tortured and murdered.
I draw my strength from those who remind me of why this work is so important. I'm empowered each time someone in court confuses me for the Spanish interpreter or the client, while the white intern is addressed as Counselor. I am empowered because I know that had it not been for my Spanish that survived assimilation, for the way I look, for my migrant status, for all the things I thought held me back, I would not be standing between Latinx children and this administration. I am empowered because without everything that makes me who I am, I would not be reaching for the American Dream, let alone fighting so that everyone in our communities and future generations can confidently reach for it as well. Without Latinx determination, resiliency, and labor, this country would be missing a vibrant piece of the social fabric that weaves us all together as one nation. I feel lucky that I can use the specific skills that I was privileged to gain to fight for separated children.
I'm empowered each time someone in court confuses me for the Spanish interpreter or the client, while the white intern is addressed as Counselor.
While the road toward effectuating change remains challenging and at times painful, the fact that this administration continues to separate children and exclude them from protection, children who easily could have been mine, my cousin's, or yours, fuels my outrage and action.
Fortunately, every day, I see others with this same mindset. Every day, I see others acting out of love, not fear or hate, even in their most tired moments. From ensuring immigrant children have a fair chance at US protection to all that I witnessed at JFK airport in early 2017 at the outset of the Muslim ban: the offering of free legal assistance, baked goods, and hugs. I am comforted by how people relentlessly and collectively fight for the right to the American Dream.
As I now look at my own daughter, who is close to the age I was when I came to the United States, I can't help but think how different her life will be from mine and that of my clients. I am thankful that my pursuit of the American Dream has given her a chance at a life of hope and opportunity. I know there will be difficult times, but I also know she will take strength, as do I, from the many who have preceded her who have fought to protect the American Dream so she can live her life's purpose, as we all deserve, wherever we are born.
Image Source: Anilu Chadwick