Reactions to Donald Trump's Muslim Ban at Airports
The Powerful Way Americans Responded to Trump's Muslim Ban Will Make You Proud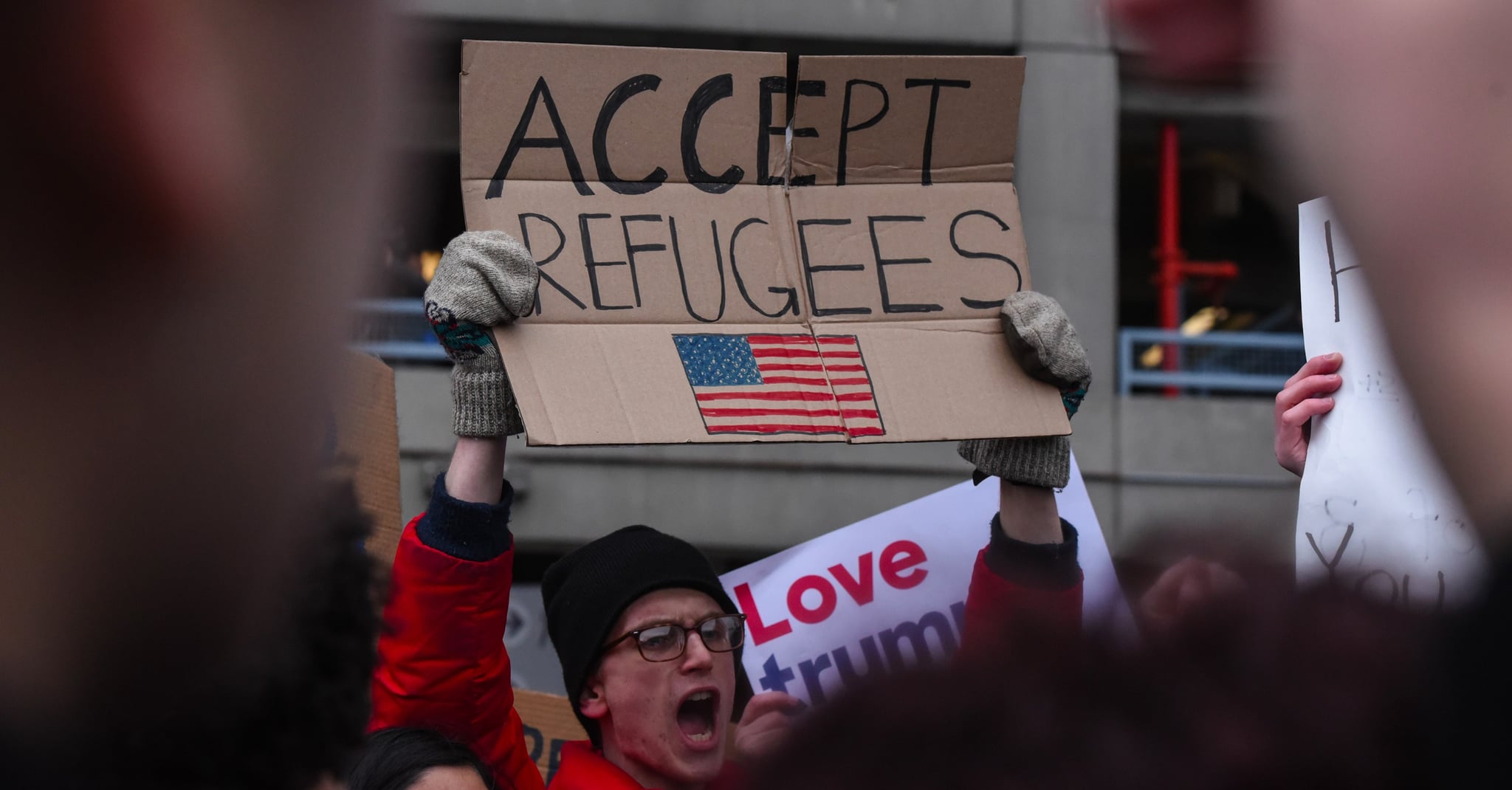 On Friday, Jan. 27, President Trump signed an executive order to indefinitely ban the United States from accepting Syrian refugees. Other provisions in his executive order include a temporary ban on refugees from other countries of predominantly Muslim faith and a 30-day visa suspension for residents of Libya, Syria, Iraq, Somalia, Yemen, and Iran.
Americans who were outraged by Trump's decision arrived in droves at airports around the country to voice their support for detainees being held because of the executive order. Many of the protesters chanted, "Let them in!" and held up signs which read "#NoBanNoWall" in a powerful display of solidarity against the order. Watch some of their responses to President Trump's ban ahead.
Protesters applauded as detainees were released from Washington Dulles International Airport in Virginia.
Love is what makes America great! This is happening at Dulles right now. #MuslimBan #Dulles #NoBanNoWall pic.twitter.com/WP3XrzeCeo

— Annabel Park (@annabelpark) January 29, 2017
Protesters cheered after the first detainee from Iran was released from San Francisco International Airport.
First SFO detainee from Iran has just been released! Protestors overjoyed! #NoBanNoWall #letlawyersin pic.twitter.com/BFonBBSJOn

— Rebecca Pierce (@aptly_engineerd) January 29, 2017
ACLU Executive Director Anthony D. Romero spoke to the crowd in front of a courthouse after ACLU lawyers argued and won their case to block the ban.
Refugees will not be deported.

VICTORY: ACLU blocks Trump's unconstitutional Muslim ban. WATCH: ACLU Executive Director Anthony D. Romero coming out of the court where the ACLU argued their case.

Posted by ACLU on Saturday, January 28, 2017
Crowds of protesters chanted, "Let them in!"
NOW: Crowd outside O'Hare terminal 5 arrival doors chanting "let them in." Of 16 reported detainees, at least 4 released. @nbcchicago pic.twitter.com/QVzFWvFRJh

— CHRIS HUSH (@ChrisHushNBC) January 29, 2017
Applause erupted after the last person detained at Logan International Airport in Boston was released.
Boston announces last person being detained has walked out#NoBanNoWall pic.twitter.com/kUuXUJ9doJ

— Daniel Parmer (@dparmer) January 29, 2017
Protesters held "Refugees Welcome Here!" and "Immigrants Make America Great!" signs at San Francisco International Airport.
Release of the first detainees #SFO #TheResistance pic.twitter.com/5BWXgxctU8

— Jeremy Daggett (@jeremy_daggett) January 29, 2017
Hundreds of protesters at John F. Kennedy International Airport in New York City gathered to voice their support.
The scene at JFK Terminal 4 right now, where protestors chant in support of those detained following Trump's exec order: "Let them in!" pic.twitter.com/pvg7wr0FJw

— Azmat Khan (@AzmatZahra) January 29, 2017