Baby, It's Cold Outside Book Excerpts
Warm Up With Sexy Excerpts From Baby, It's Cold Outside
Baby, It's Cold Outside (out Oct. 28) is a collection of steamy narratives by authors Jennifer Probst, Emma Chase, Kristen Proby, Melody Anne, and Kate Meader. We're sharing two enticing excerpts from the hot new read. Keep in mind: if you wouldn't want your co-workers spying on you reading Fifty Shades of Grey, these excerpts should be considered NSFW. Here's a little more about the book:
Outside it may be frosty, so turn the heat way up with these stories of desire! New York Times and USA TODAY bestselling indie authors Jennifer Probst, Emma Chase, Kristen Proby, Melody Anne, and debut author Kate Meader come together to write a sizzling romance anthology.
Read the two excerpts below, and for more information on the hot holiday-themed read, visit XOXO After Dark.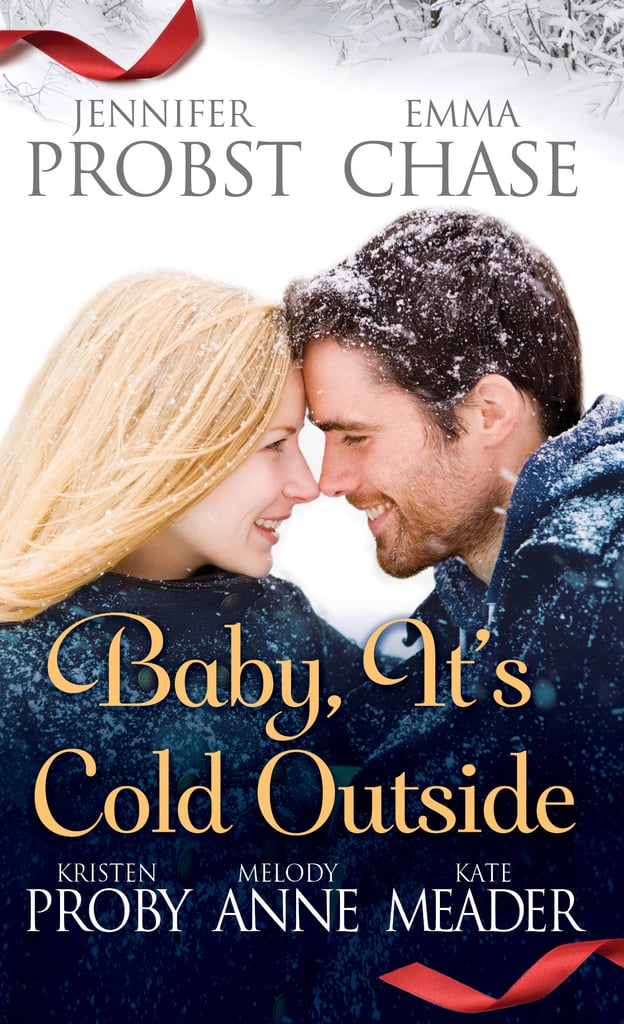 PG-13 Excerpt
From "Rekindle the Flame" by Kate Meader
Their lips met again in a rush of heat and desire, and this time he abandoned his misguided attempt at coolness. It had never been a game with her. She clutched his shoulders, digging into his skin, and he couldn't get enough of the bite of her. Her soft mouth, her clawing fingers, the fight in her body. She let loose a groan he felt all the way to his balls.
Crowd noise filtered through from the bar, reminding him that they were in far too public a place. Lifting her, he headed a few short feet to the back office and pushed his way through, kicking the door shut behind him. Too small for anything, it was perfect for this. He sat her on the desk, on top of a pile of invoices. Her purse hit the floor. She was breathing heavily, the swells of her breasts lifting her pearls.
"Is there someone else?" he asked, needing to know for a million reasons, none of them good for his sanity.
"Not at the moment." She reached for his belt and undid the buckle while he pushed her skirt up her thighs. Thick woolen tights covered her legs, and the memory of her peaches-and-cream skin made his mouth water.
"Hurry," she said, her eyes wild. "Please."
X-Rated Excerpt
From "Safe in His Arms" by Melody Anne
Walking around the front of his line of fire engines, Hawk stopped in his tracks.
"What happened?" Natalie's voice came out huskily as she began sitting up on the front bumper of the fire engine before him.
So Hawk didn't have to go anywhere to find Natalie. She was within grasping distance. At the sight of her sleepy eyes and tousled hair, he could think only of taking her, right now.
"Everyone's gone," he said, his voice a low growl.
Her eyes widened, and then, even under the dim lights, he could see the change in her expression. She knew what came next. They both did.
He stopped trying to fight himself. This was inevitable from the moment he'd caught her in his arms that first day on the cold front porch of his rental property. He stepped forward, grasped her hands, and pulled her to her feet before kissing her, knowing this time he wasn't going to be interrupted.
Urgently, almost frantic, Hawk reached for the hem of her sweater and yanked it over her head. He had to see her body, had to feel her naked skin against his as soon as his own clothes came off.
Her moans of pent-up desire encouraged him, and he grabbed her wool slacks and slid the zipper down. Within minutes she was standing before him in nothing but a lacy bra and matching fire-engine-red panties. Whoever had invented women's underclothing should be thanked profusely, he told himself.
He'd get on that. Well, maybe not right now. He'd get on her instead.
"Let's go inside," he said, feeling a sudden urge to take her in his favorite fire engine. Yes, he knew that some of his men, just for the thrill of it, brought women to the fire department for a night of sex, but Hawk hadn't even thought once about doing such a fantastical thing.
He doubted it was a great idea now—he'd never walk through these doors again without thinking of her—but they were hurtling forward at breakneck speed, and there was no reverse for the ride they were on.
He opened the door to the fire truck, and Natalie wobbled in that direction. She reached the first step on the truck, leaving her bent over with half her body inside the truck while her luscious behind presented itself right in front of his face, hanging outside the door.
Gripping her hips to stop her from going any farther, he ran his fingers along the smooth skin of her thighs, delighting in the panties that barely hid anything from his view. Her pleased gasp encouraged him to continue.
Spreading her thighs, he moved his fingers along the seam of those delectable panties, touching her moist folds and reveling in the slow purr she gave in response.
"So ready," he whispered, wondering how he'd managed to wait this long to make love to this woman. Passion like this didn't burn out. No. The only way to extinguish the fire burning within them both was by coming together in a blaze unlike anything he'd ever battled before.
As Natalie arched her back, lifting her derriere higher into the air, her hands clutching at the diamond-patterned floorboard of his truck, Hawk leaned forward and caressed the smooth skin of her behind with his tongue. He took a slight nip at one perfectly round cheek, and she wiggled her hips in return, wanting more. So much more.
He was more than willing to give it to her. Running his tongue down and around toward what he wanted so badly, he pulled on her hips so he could get a taste of her sweet, boiling-hot core.
So wet.
So willing.