A Couple Who Met in Preschool Gets Married
2 Preschool Sweethearts Got Married 20 Years Later — and They Called It From the Start
When you meet the love of your life, you just know, and Matt Grodsky knew he wanted to spend the rest of his life with his classmate Laura Scheel since they were just 3 years old. The now-23-year-olds go all the way back to preschool in Phoenix, AZ, where young Matt told his classmates that he was going to marry her. "Just you wait," he said to them.
"One of our favorite memories is our preschool field trip to the public library," the couple told us. "We were told to find a buddy and not let go no matter what. So we held hands the entire time, until there was a pillar in the way of our hands and we were like, 'Do we let go?' And it took us a second to let go and then regroup really fast on the other side. We think that is kind of a fun metaphor for our relationship. We never wanted to let go, and we always find a way back to each other."
The two hit it off right from the start, going on play dates together and watching movies. But when they went off to separate elementary schools, Matt and Laura lost touch, and it wasn't until their freshman year of high school that they started communicating again.
"One of our last memories as kids was walking opposite ways with our moms after seeing Atlantis the Lost Empire in theaters in 2001," they told us. "We waved goodbye and that was it. We didn't see each other again until 2008."
Laura noticed Matt's number in a friend's phone, and it turned out that she had gone to middle school with him. The friend reconnected them, and two weeks later they started dating. The preschool sweethearts were forced to split again for college after being together for four years, but this time with 1,600 miles between them. Though long-distance wasn't easy, they made it work, and on May 23, 2015, as they were just about to begin their senior years, Matt proposed.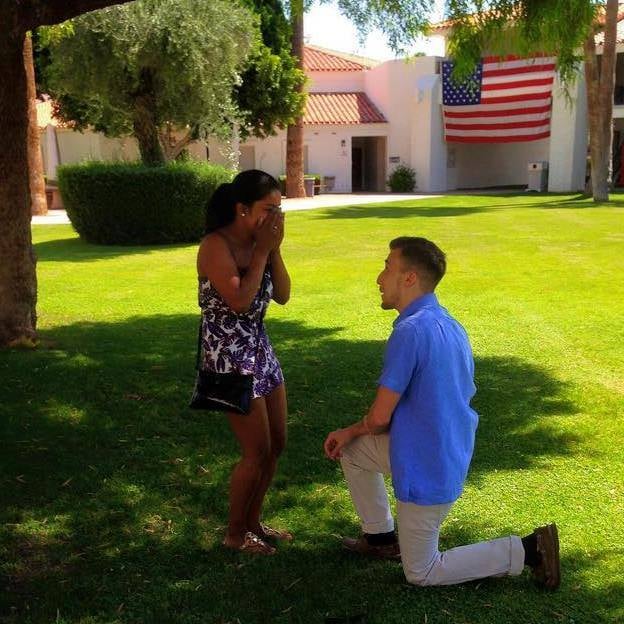 The two got married on Dec. 30, 2016, 20 years after Matt declared his love at school. If someone had told Laura in high school that she would marry Matt, she would've said, "Tell me something I don't know." "We always knew that this is what we wanted to do," she said. But she might have asked, "Were my nails done for the proposal?"
See their adorable childhood and wedding-day photos ahead!