Echoes of Dollanganger by V.C. Andrews Book Excerpt
Delve Deeper Into This Mysterious Story With the Newest V.C. Andrews Novel
From author V.C. Andrews comes a story of jealousy, tragedy, survival, and revenge. Picking up where Christopher's Diary: Secrets of Foxworth leaves off, Kristin Masterwood and her boyfriend up the ante by going into her attic to reenact scenes described in Christopher Dollanganger's journal. Read on for two sexy excerpts from Christopher's Diary: Echoes of Dollanganger before its release on Jan. 27!
For more on this mysterious romance novel, visit XOXO After Dark!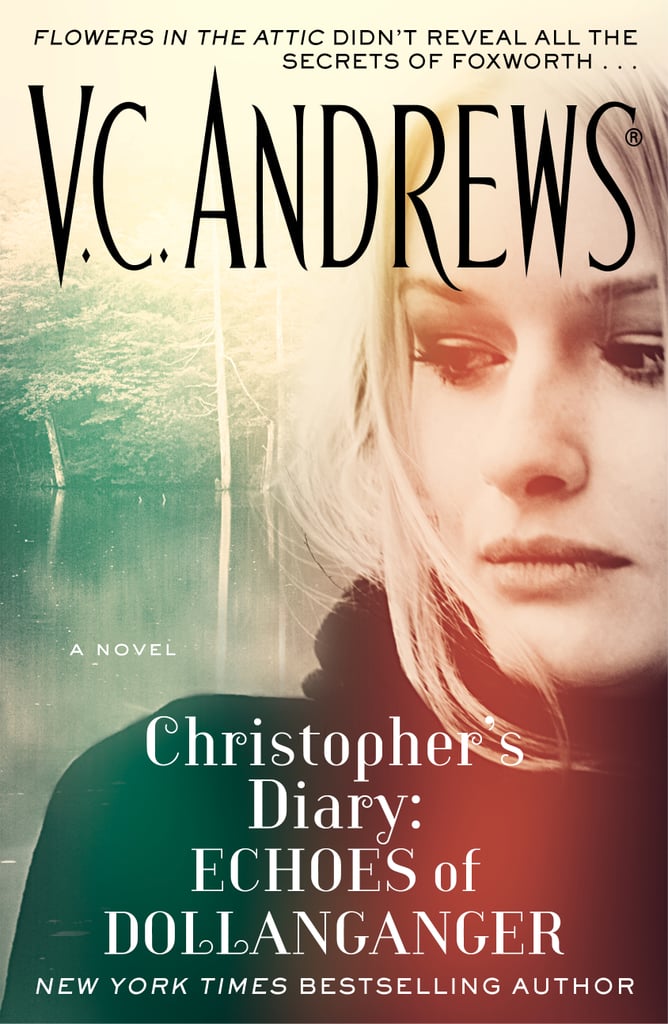 PG-13 Excerpt
To my surprise, Kane lowered the diary and looked at me. He had been reading so well and was so into it that I truly felt as if I was there alongside Christopher. I hated for him to stop. We still had plenty of time.
"What?"
"That sofa you're on."
"What about it?"
"It's a pull-out."
"So?"
He rose. "Let's do it," he said. I sat looking up at him. "Re-create the scene," he added, and held out his hand. I took it, and he helped me up and then removed the cushions and lifted out the sofa bed. There was a cloud of dust. We waved our hands in front of our faces. "We should clean up this place a bit. They cleaned up their attic," he said.
"Just what I need, more housework."
"I'll help." He looked around and went to one of the trunks, opened it, and took out an old comforter. "This will work for now," he said, and spread it on the sofa bed. Then he put the pillows back on the bed. "Ta-daaaa."
"What are we doing?"
"We're Christopher and Cathy lying on that mattress." He picked up the diary. "Come on," he said, and lay down on the sofa bed.
I remember thinking that maybe we were going too far with this, but it also intrigued me. I did what he asked. He sat up, pulled off his shirt, and lay back again, patting his chest. I knew what he wanted and laid my head against him. He held up the diary to begin reading again, his right arm slipping comfortably around my shoulders.
"Wait," he said.
"What?"
"You've got to get more into it, get closer to the way Cathy was at this point."
"I don't exactly have a nightgown up here, Kane."
He looked at my mother's wardrobe. "Maybe there's something in there."
I hesitated.
"I'm overdressed, too," he said, and sat up to take off his pants.
My heart began to race. I could feel a warm sensation of excitement building in the pit of my stomach and spreading like tepid water just beneath my skin, into my thighs. I rose quickly and went to the wardrobe. Two nightgowns were hung on the right. I plucked one out and began to undress. He was in his underwear, lying back, watching me and waiting. With my back to him, I went down to my panties and slipped the nightgown over my head. Smoothing it down, I returned to the sofa bed and lay beside him, placing my head on his chest. He ran his fingers through my hair and then began to read.
There was no longer a doubt in my mind.
We were in the Foxworth Hall attic.
X-Rated Excerpt
In this excerpt straight out of his actual diary, young Christopher Dollanganger begins to have dangerous feelings for his sister.
When I turned to her again, she had put on one of Momma's bras and stuffed it with tissues, was wearing high heels, all that makeup, and a ridiculous amount of jewelry, dozens of bracelets and rings. In my mind, it was like someone turning my mother into a cartoon. "Take all that off!" I told her. "You look like a streetwalker. Ridiculous."
Her joy collapsed like a balloon with a hole in it, but she took everything off.
"And put it all back neatly enough so no one will know it was used, Cathy. That's very important."
I didn't notice what she was doing next, but when I turned to her, I saw she was engrossed in a book. I stepped up behind her and looked at what she was reading. It was a book depicting couples having sex, showing a variety of positions, even pictures of multiple people having sex. For a moment, I couldn't breathe or take my eyes from the pages. She turned and looked up at me.
"We've got to get out of here now," I told her, and took the book out of her hands. "Put this where you found it!"
She said nothing, and I said nothing. I took her hand and quickly led her out of the room, through the halls, and back to our small bedroom.
"Chris, that book."
"Don't think about it," I said. "Go take your bath."
She checked on the twins and then went into the bathroom. I sat there, my body still trembling from seeing those vivid and explicit sex pictures. I was unaware of how much variety there was to what I thought was the simple act of intercourse, and those women, with their firm and large breasts, the curves in their waists, and what my father used to call "butts," quickened my heartbeat. I felt myself getting more and more aroused, and when Cathy finally emerged, looking soft, lithe, and graceful, her robe opened just enough for me to see most of her breasts, I quickly turned away and tried counting and multiplying numbers. Then I rose quickly and went into the bathroom to take my bath, but I couldn't help it. I had to relieve myself first. I was afraid I would appear again with my erection still firm, and Cathy would see. Now that she had seen those pictures, she would know exactly what was happening. She was still brushing her hair when I came out. I avoided looking at her until we were both in our beds. She was staring at me strangely. My mind was reeling with images and thoughts. I could simply slip in beside her, just to feel her against me. Maybe . . .
I was arousing myself again.
"Good night," I said quickly. She said good night, and we turned away from each other. Sleep couldn't come fast enough for me this night, I thought.
Get Christopher's Diary: Echoes of Dollanganger here.