How to Flirt Over Text Message
The Dos and Don'ts of "Flirtexting"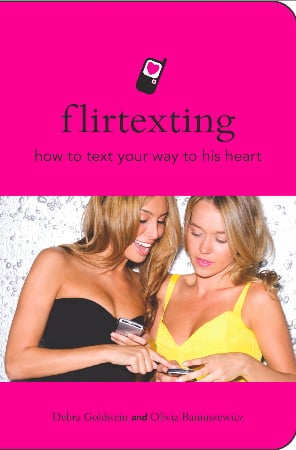 When they noticed love interests were no longer picking up the phone to call, best friends Debra Goldstein and Olivia Baniuszewicz figured they needed to turn the texting craze in their favor. The NYC singles decided to embrace texting and use it as a way to flirt with guys they were just getting to know. They wrote up their method in their book Flirtexting: How to Text Your Way to His Heart, and I chatted with Olivia to get the quick run down of dos and don'ts. While you probably know their rules already deep down, consider this your flirting cheat sheet!
Do use humor: "Instead of writing back with smiley faces or hahas, guys typically use humor to flirt. So women should come up with good lines and joke back with them."
Don't rely solely on texts: "Texts should turn into phone calls, and then you'll hopefully start dating these guys. We realized that texting became a new first step in dating today, but you should look out if a guy is only texting you."
Do ask someone out over text: "Today asking someone out over text has become the norm, so it's definitely OK to ask someone out or accept a date invite that way. A recent Bing survey said that nearly one-sixth of young people will be asking their Valentine out this year via text or a call. Since we both started dating before the texting craze hit, we understand the significance of a phone call. But if we wanted to continue dating, we had to reframe our mind set about the informal nature in which a date invite might arrive. Had we not, we would have gone on a lot less dates!"
Don't TUI (text under the influence): "We can all relate to waking up the next morning and going through your phone and thinking 'Oh no, I didn't.' It's just never a good thing. It always works to your benefit to text during daylight."
Do have a texting sponsor: "Debra and I always say appoint a sponsor, and she's my sponsor. Whenever we go out and get the impulse to text a guy, we text each other instead. And it actually works."
Get the rest of the tips after the jump!
Don't wait more than 24 hours to respond: "Anything longer than 24 hours sends the message that you're not interested in a guy. But don't be too eager! You should probably wait an hour or so."
Do beware of the text-based emotional affair: "We realized that a lot of cheating happens over text. A friend of ours was having not a physical, but an emotional affair over text. It's a totally detrimental thing for a relationship."
Don't hold emotional conversations over text: "Keep it light and flirty. There should be no 'I love yous,' 'Let's get serious,' or 'Let's break up.'"