How to Save Money on Wedding Flowers
How Much Couples Spend on Average on Wedding Flowers (and How You Can Cut Costs)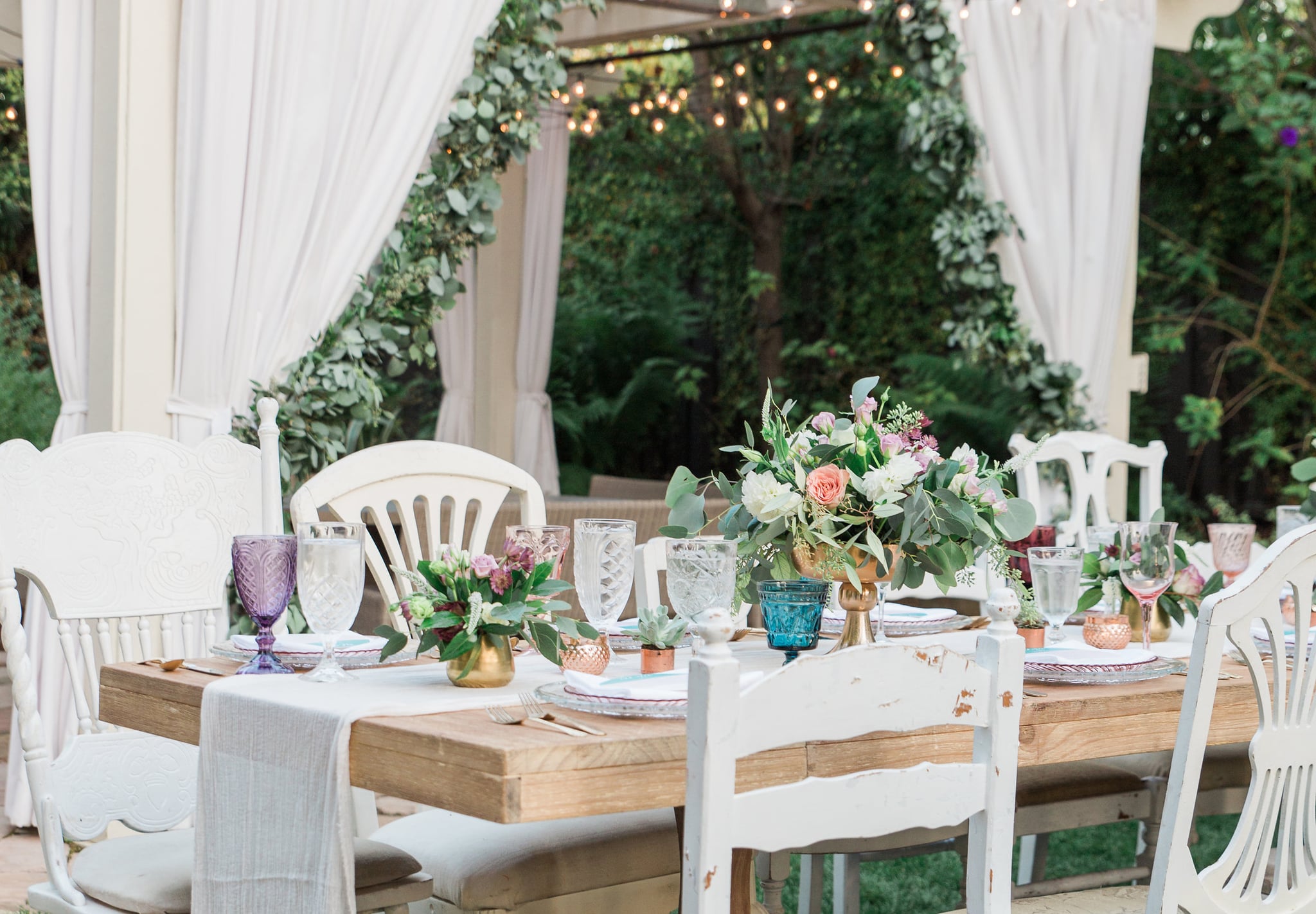 Having a wedding can be a huge financial burden to take on — in fact, the national median has jumped to $35,329, according to The Knot 2016 Real Weddings Study. And of that total, couples splurge on an average of $2,534 just on their wedding flowers. In the grand scheme of things, spending nearly three grand on florals is less than 10 percent of your entire budget, but that's a pretty big expense when you look at the cost individually. We spoke with the founder of Farmgirl Flowers, Christina Stembel, about ways you can save big on your wedding day, and she offered three tips to help bring those floral costs down.
1. Skip those large table centerpieces.
Traditionally, reception tablescapes feature giant centerpieces that guests can take home at the end of the evening. But Christina explained why you should consider skipping them all together.
"I think expensive table centerpieces are a waste of money, I really do," she told POPSUGAR. "Nobody is really at the table very much anyway; they eat their food and then they're up on the dance floor, so that's first place you can really knock off 2 to 3 thousand dollars from your budget because people spend a lot of money on table centerpieces."
Instead, Christina recommends opting for a simple bud vase for each table instead or even lining thin garland down a long farm table.
"It brings the cost way down and a green garland is beautiful," she told us. "You don't need anything but eucalyptus and maybe magnolias for the Fall [for example]. It's beautiful down the center of a table; all you need is candles and it's gorgeous."
2. Don't go big on your bridesmaids.
Christina suggests using nosegays (or smaller bouquets) for your bridesmaids instead of full bunches.
"That's another huge cost when you're doing big bouquets for every bridesmaid," she said. "Some people have six to eight bridesmaids and at $200 a pop, you could be spending $1,600. Nosegays are great because they'll make the bridal bouquet pop even more."
Not only will they set you back only around $65 to $75 each, but it also allows you to splurge on your own bouquet.
"I tell brides to put their money in things that they're going to remember, and they're not going to remember table centerpieces, they're not going to remember their attendant bouquets, but they are going to remember their bridal bouquet," Christina said. "So put your money in your bridal bouquet — get what you really want."
3. Consider statement pieces that can be repurposed instead of an archway.
According to Christina, more customers have been asking for a large arrangement on each side of the aisle that can be later be moved into their reception.
"Whereas if you're having a big archway — which is still really popular — they can't really be moved easily," she said. "But if you do two huge arrangements on either side, they could be moved to your main table or your entry way at your reception, and you'll get more bang for your buck that way."