I Was Slut Shamed in My Wedding Dress
Finding the perfect wedding can be a huge struggle. In an article from xoJane, one woman shares the trouble she faced after choosing the wedding dress she dreamed of.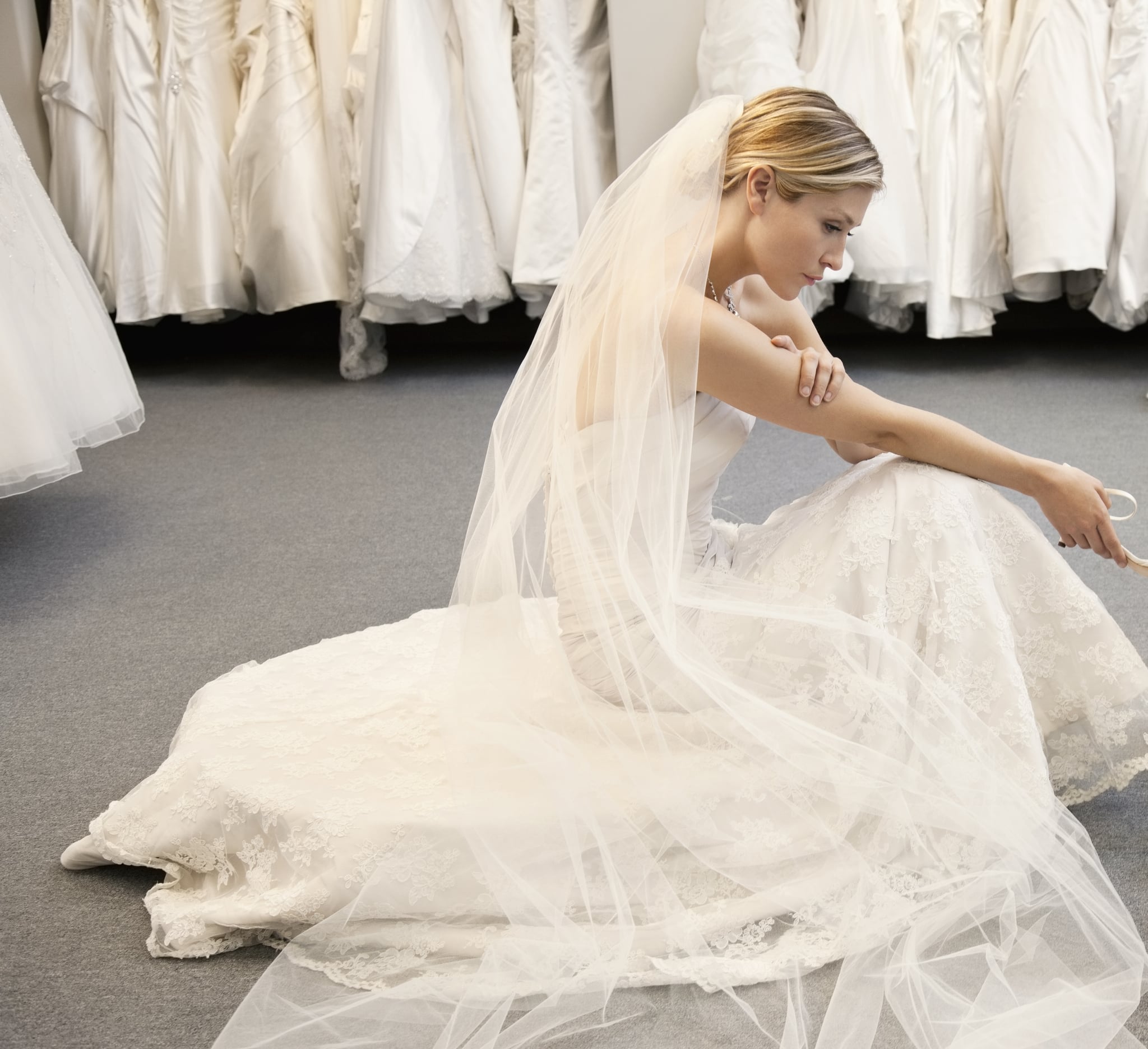 I was never the little girl who dreamed about having a wedding. A child of multiple divorces, I found the whole concept ridiculous — and anyway, my X-Men toys were much more interesting. So it came as quite a surprise to me when, at 25, I found myself planning my own big day. I was most shocked at how, despite my inner child's innate cynicism, I became infatuated with finding the perfect dress.
Turns out, it was really important to me. Like, really, really important. Emotionally compromisingly important. It needed to be understated yet stunning, classic yet unexpected. And most of all, I needed to look hot as hell in it.
"If I'm going to pay tons of money for a huge party," I reasoned, "I want to leave people speechless." So the hunt began!
For those who don't know, bridal is some tough terrain to navigate. Throughout the first two years of our engagement, I tried on over 30 dresses. But I found that each one was either too blinged-out or overwhelming in some other way. Of course, being halfway through a personal weight-loss journey didn't help either, since I was uncertain how my body would be shaped by the time the wedding rolled around.
There were a few near-purchases, though. Once, during an obsessive mermaid gown phase, I came very close to making a snap decision on this beauty: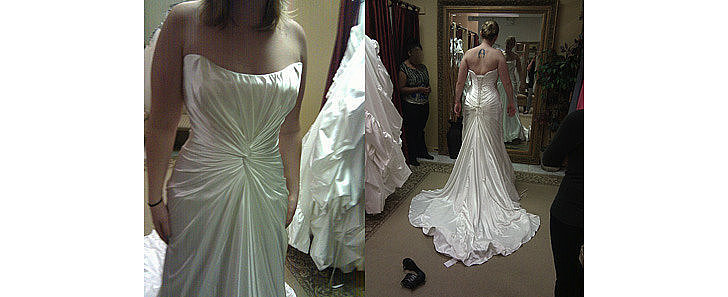 Source: xoJane
But it didn't happen. Alas, none of the dresses I found were "just right."
Then, during a late-night, Red Bull-fueled online window-shopping spree, I stumbled upon the dress. The dress to end all other dresses. The dress I needed to have.
It was everything I wanted! Simple yet breathtaking. Plus, a plunging front and back? To die for! And the best perk of all: It was unlike anything I'd seen thus far. Of course, it came with a hefty $10,000 price tag — almost double my entire wedding budget. Heartbroken but hopeful, I took pictures of the gown to my local bridal boutique (shout out to Long's Bridal in Orlando!) to see what we could do. Knowing nothing like that existed in my price range, we pored over every bridal catalogue in the store looking for inspiration. Within just 30 minutes, we'd hit the jackpot.
It would require a few alterations — remove the jeweled bustier, line the front, open the sides, and remove a few layers of tulle — but we could turn it into the dream dress. The seamstress figured the alterations would only run me an additional $200. I was ecstatic. I tried on the floor model, which was about eight sizes too big, and decided right there on the spot.
As an employee charged the most expensive piece of clothing I will ever buy to a freshly paid-off credit card, unexpected relief washed over me. It was done. The decision was made. Next came the waiting game.
After eight grueling months, I finally received a call announcing the gown's arrival. I made an appointment for a date the following week, when a bridesmaid would be in from out of town, and practically vibrated out of existence with happiness. My fierce-ass wedding dress was finally here, and it was going to be awesome. When the day came I practically skipped into the store, with two of my closest friends in tow.
We headed back to the changing rooms, where a middle-aged woman was being fitted for her mother of the bride dress. Floating on a cloud of hearts, arrows, and other cupid cliches, I remember thinking to myself, "How nice, we're all here celebrating love." I crowded into a dressing room with my friends, and pulled several layers of fluffy ivory fabric over my head.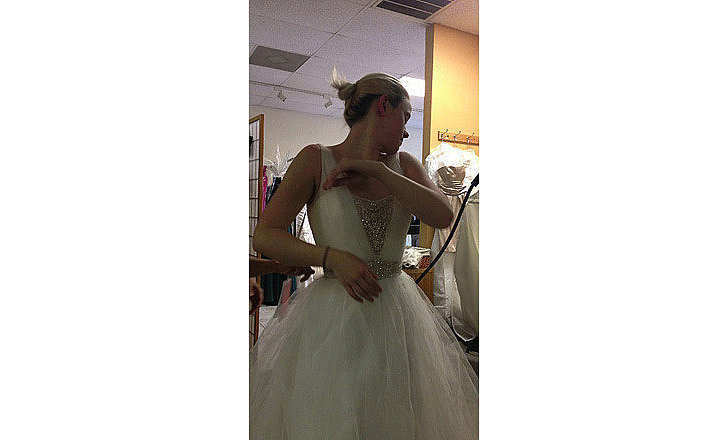 Source: xoJane
The dress was beautiful even without the alterations, and we took a few minutes to '"ooh" and "aah," as is customary. Even the MOB, standing nearby, gushed about how elegant I looked. I thanked her for her gracious compliments, then quickly got down to brass tacks with my seamstress.
The bustier would need to come out. We could make a purse with the leftover fabric. The front and back would be opened up, and required extra lining. We debated a bit on the subject of opening the sides, and I ultimately insisted that we'd need to "free the pits." This would create a significant amount of exposed skin, so we also discussed the possibility of nip slips. But since I planned to be taped into this sucker on the big day, it wasn't a huge concern.
It was around this time that my middle-aged fellow shopper, who'd been listening, decided to speak her mind.
"What is this going to be, a nude beach wedding?"
You know those moments that you really wish you had your wits about you? Those moments where, years later when you're in the shower, you're still coming up with all the badass things you wish you'd said? This was one of those moments.
I was so stunned I couldn't even be angry at the audacity of the question. I really couldn't believe that someone would say that to a woman trying on her wedding dress — especially someone who'd been so nice to me just moments ago. So instead of something witty, or well-thought-out, I stammered, "No, I've just uh . . . worked really hard on my body and I'm not, uhm . . . afraid to show it in the dress I want."
I'm still angry that that was my response. Get it together, past-Nina! Don't justify anything to this woman! But instead of telling her to mind her own damn business or to learn some manners, I remained timid. And she kept talking.
"I understand that, dear," she said patronizingly. "But think about the pictures. One day your children are going to be looking at them."
I seriously couldn't believe this was happening. Until that moment, it hadn't occurred to me that someone might find my beautiful, custom-sewn dress so scandalous.
Restraining myself from getting into a full-on white trash wedding salon brawl, I pasted on a thin grimace and snipped back, "I'm not planning on having any children, ma'am."
"Oh." she managed through her own strained smile, nodding in mock understanding.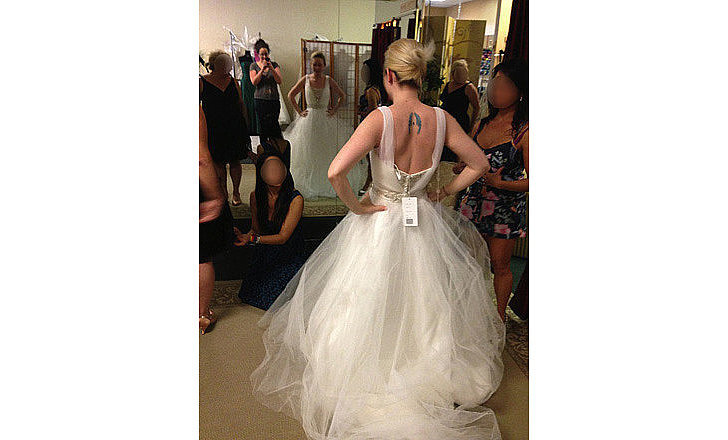 Source: xoJane
**Writer's note: I took a break from the trauma of reliving this experience to get drunk and eat pizza with friends. The rest of this story may or may not be saturated in moscow mules.**
The next 45 minutes of my life were incredibly tense, both of us shooting the other judgmental looks while maintaining tight-lipped smiles.
However, as I sat off to the side with my friends, whispering about what a bitch she was, I realized something. As misguided as her efforts may have been, she was honestly trying to be helpful. I've had plenty of time to be outraged by this stranger — and it might just be the vodka talking — but I've since decided to forgive her.
She didn't know me, my wedding plans, my fiancé or my family. She was just living her life, trying to offer the best advice she could to a young, engaged woman. I look back on the whole encounter in an oddly maternal light now, which makes sense I guess. Sometimes moms are judgmental b*tches, too.
I tied the knot last November, and my dress was everything I wanted it to be. My now-husband loved it, and in the end I think that's probably all that matters. I'm sure the dress provoked a few additional wagging tongues, but no one could deny that it was gorgeous wedding or that I was a beautiful bride.
It's also possible that my judgmental psuedomom just couldn't imagine the eventual magnificence of my dress. I felt especially vindicated when Lupita Nyong'o showed up at the Oscars five months later in the exact same silhouette. Clearly, my taste is impeccable.
—Nina Talley
Check out more great stories from xoJane: