NYC Marathon Couple Seeks Their Perfect Engagement Photo
Can You Help This Couple Find Their Perfect Engagement Photo?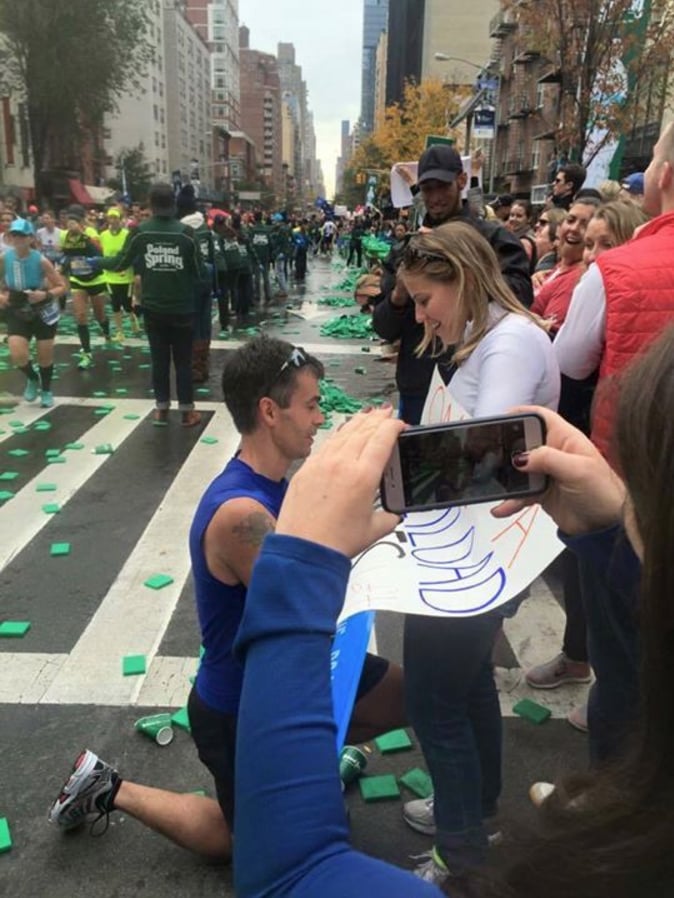 Were you at the New York City Marathon this year? If so, you might be able to help this couple find their perfect proposal photo! Katie Mascenik and Joe Duarte, who got engaged as Joe reached mile 17 of the race, are using the most powerful tool out there — the Internet — to track down the bystander who snapped a flawless shot of their happy moment.
Using social media in an attempt to find the woman who took this "picture within a picture," Katie, Joe, and their loved ones desperately want the woman's perfect shot to share the special moment with family. "He ran over, he kissed me, he proposed, and he kept running," Katie told the NY Daily News of the proposal. "I was really surprised. It all happened in like 30 seconds at most." Because the big question happened so fast, it was hard to snap decent photos of the moment, which is why the couple hopes they can track down this mystery photographer.
Based on this video of the proposal, the woman taking the photo is seen to be brunette, wearing a gray vest. Do you know her? If so, email the NY Daily News (mchan@nydailynews.com) with your tip! You might just help this happy couple become even happier.